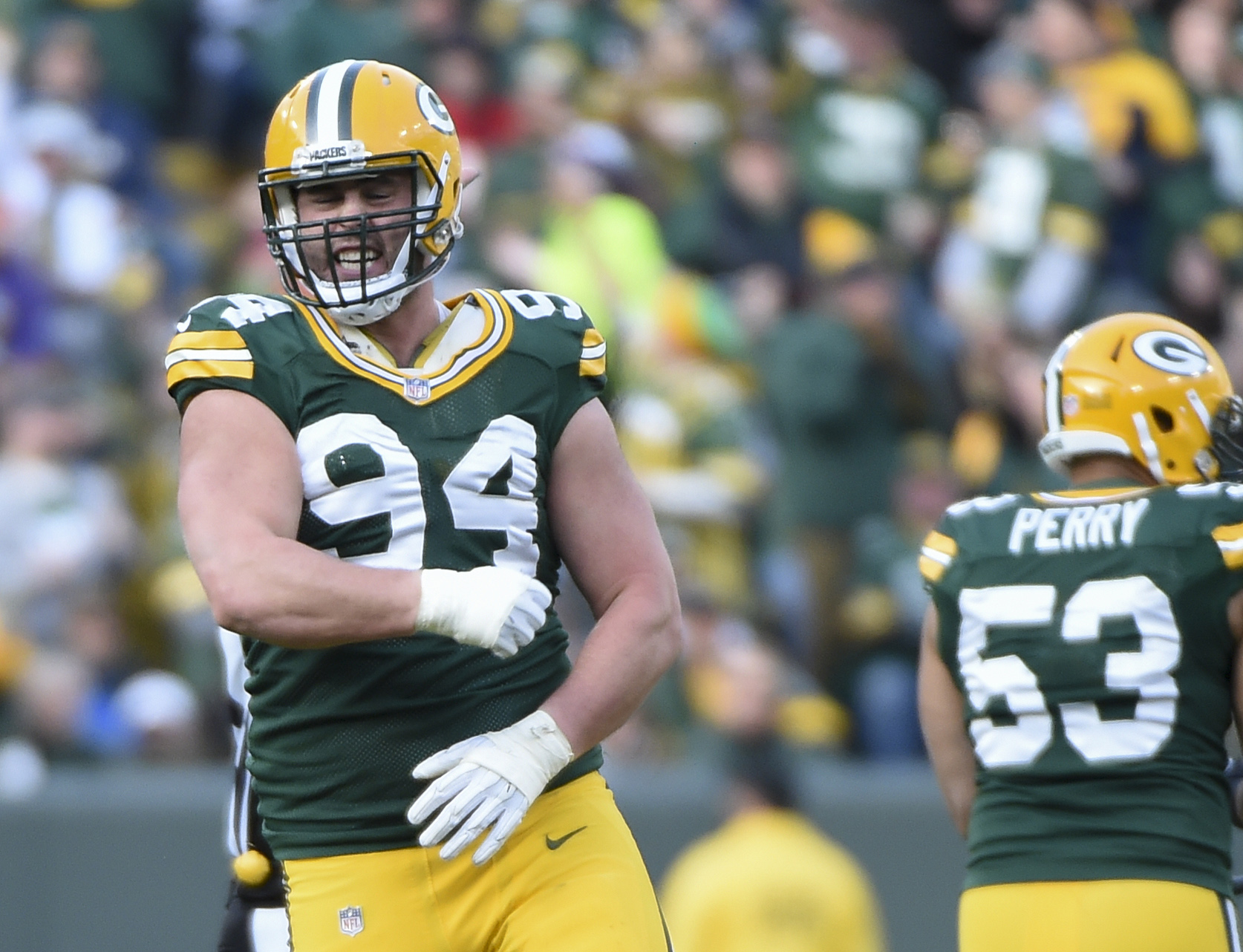 Dec 3, 2017; Green Bay, WI, USA; Green Bay Packers defensive end Dean Lowry (94) reacts after a sack in the third quarter during the game against the Tampa Bay Buccaneers at Lambeau Field. Mandatory Credit: Benny Sieu-USA TODAY Sports
The Green Bay Packers overcame a 10-point fourth quarter from the Tampa Bay Buccaneers, scoring the game's final nine points in an overtime victory over the Bucs, 26-20.
Rookie running back tandem of Jamaal Williams and Aaron Jones shined for the Packers as QB Brett Hundley only completed 13 passes for 84 yards in the game. Williams ran the ball 21 times for 113 yards while Jones received his first carry on the game's last play, a 20-yard touchdown run to seal the victory.
Bucs QB Jameis Winston's return to the lineup was spoiled, but he still carried the team when it mattered most, albeit some mistakes along the way. He completed 21-of-32 passes for 270 yards and two scores while running back Peyton Barber, who was filling in for the injured Doug Martin, registered 102 yards on 23 carries himself. With that, we give you our PFF-exclusive takeaways from the contest for each team.

Top 5 Grades:
DI Dean Lowry, 85.2 overall grade
LB Jake Ryan, 84.8 overall grade
CB Josh Hawkins, 84.7 overall grade
Edge Nick Perry, 83.9 overall grade
G Lane Taylor, 83.1 overall grade
Performances of Note:
Williams forced three missed tackles rushing and averaged 3.10 yards after contact per attempt, while he also had a "breakaway" run over 15 yards, and he finished with 113 yards on 21 carries. He was fun to watch as he ran behind Green Bay's mostly-zone blocking rushing attack mixed in with some downhill power runs that fit his style
Hundley finished 13-of-22 with two throwaways and two interceptions, finishing with just 84 yards passing. However, Hundly made plays with his legs as he kept a couple drives alive with his mobility. Green Bay's offensive script was relatively conservative, relying on the ground game and quick screens in the flat.
Lowry's biggest play came as he had the wherewithal to quickly catch a Jameis Winston fumble, and return it for a touchdown. He also had a sack, two pressures, and a run stop that contributed to probably the best game of his career.
Ryan played really well against the pass. He was targeted twice in the game, and both times managed to beat the screen blocker to make a quick tackle as both passes went for a combined two yards. He added two pressures as a pass-rusher, and three stops in run defense, for five defensive stops in the game overall.

Top 5 Grades:
S Justin Evans, 83.9 overall grade
CB Ryan Smith, 82.8 overall grade
HB Peyton Barber, 82.1 overall grade
TE Cameron Brate, 81.1 overall grade
LB Lavonte David, 77.5 overall grade
Performances of Note:
Barber helped churn out long drives for Tampa's offense as he topped 100 rushing yards in Doug Martin's absence. Barber averaged three yards after contact per carry, with two-thirds of his rushing yards coming after the first hit. He also added another 41 yards on four catches through the air.
After a hot start to the year, Brate had been pretty quiet in the passing game. While he only had two catches in the game, it was his first multiple-catch game since Week 8, and both went for touchdowns for his first multi-TD game of the season.
Safety Justin Evans chipped in two stops in run defense, while yielding just one reception on two targets for 0 yards. Evans nearly had another stop on the last play of the game but slightly over pursued Packers running back Aaron Jones cutback on a designed run to the right that Jones brought back all the way to the left for the game-winning score.
Bucs cornerback Ryan Smith was solid on the day, yielding just one reception on three targets thrown into his coverage for all of five yards. Smith struggled stuffing the run at times but that was partly schematic as he was left to fill the void on runs that came his way while also having to respect the pass as well. All-in-all, Smith was solid in pass defense for the stingy Bucs defense today.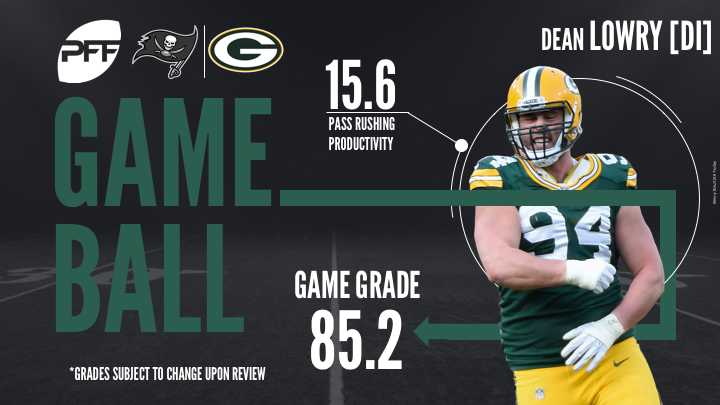 *Grades are subject to change upon review