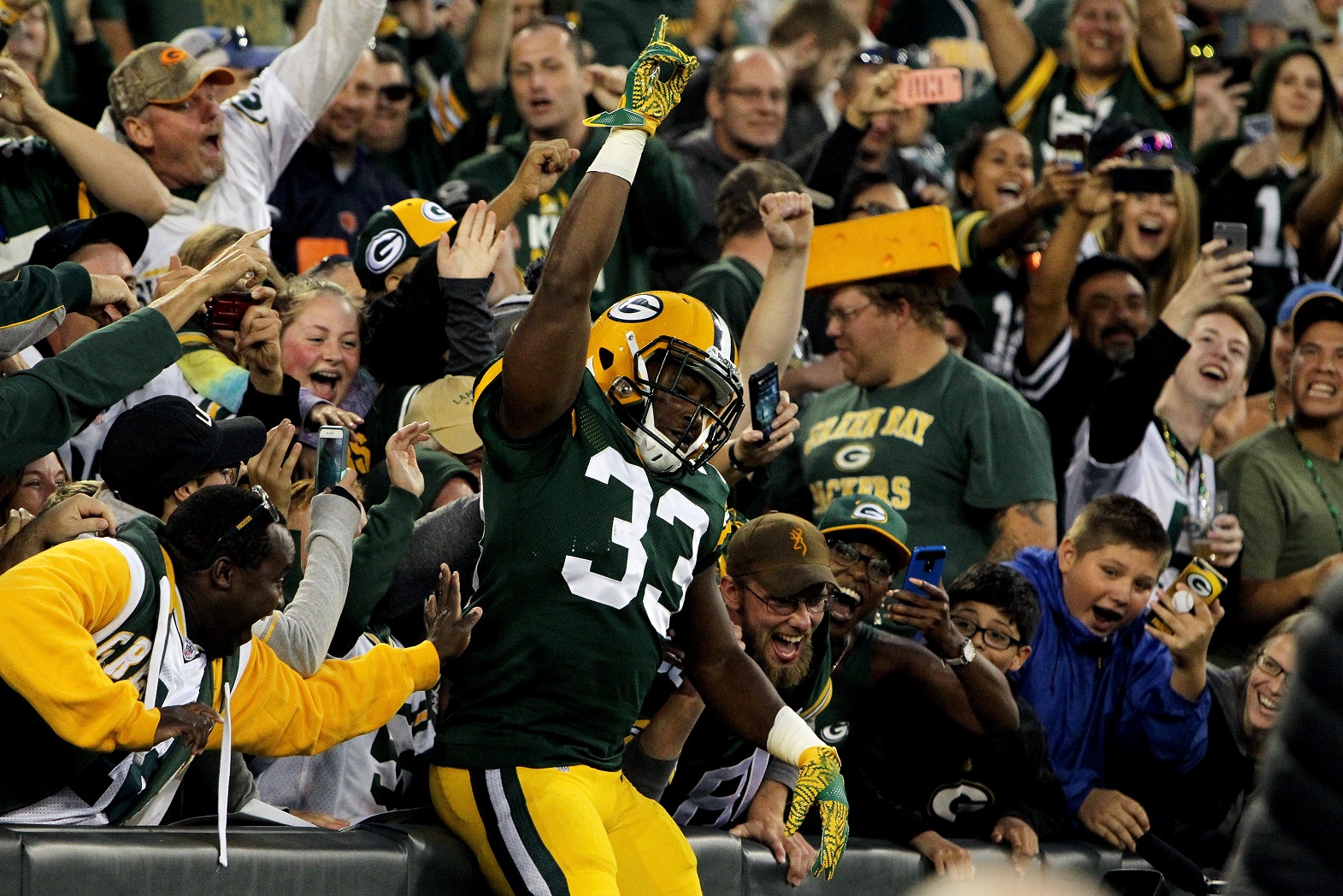 GREEN BAY, WI - AUGUST 31: Aaron Jones #33 of the Green Bay Packers celebrates after scoring a touchdown in the second quarter against the Los Angeles Rams during a preseason game at Lambeau Field on August 31, 2017 in Green Bay, Wisconsin. (Photo by Dylan Buell/Getty Images)
No Aaron Rodgers, no Jared Goff, but there were strong quarterback results by Green Bay Packers QB Brett Hundley, seeing the end zone twice as Hundley led the Packers to a 24-10 victory over the Los Angeles Rams.
Rookie RB Aaron Jones found the end zone on the ground and through the air as two Rams turnovers couldn't be overcome in the loss. With that, we give you our PFF exclusive takeaways from the contest for each team.
Top 5 grades
CB Kevin Peterson, 83.4 overall grade
DT Tyrunn Walker, 80.9 overall grade
S John Johnson, 79.5 overall grade
DE Louis Trinca-Pasat, 78.0 overall grade
HB Justin Davis, 75.0 overall grade
Performances of Note:
Davis broke two tackles for the second straight week to close out the preseason. Topping 50 yards on 17 carries was as noteworthy as a skill position performance got in this match between the Packers and the Rams.
Orlovsky played the entire game, giving Jared Goff and Sean Mannion the night off, and did little to apply any pressure. A pair of interceptions were paired with some wild inaccuracy with Orlovsky completing only one of his five passes targeted 10 or more yards downfield.
Trinca-Pasat matched his production through the first three weeks of preseason in one night by racking up 3 pressures (all hurries) against the Packers. Trinca-Pasat's fourth pressure, a hit on Brett Hundley, was nullified by his own roughing the passer penalty.
On his return to Lambeau Field, former Packers' OLB Mulumba racked up his second sack of the preseason and finished third on the defense with 3 stops, bettered by only S Marqui Christian and LB Nicholas Grigsby.

Top 5 grades
CB Donatello Brown, 84.6 overall grade
S Josh Jones, 84.4 overall grade
DE Christian Ringo, 83.9 overall grade
CB Lenzy Pipkins, 83.4 overall grade
C Justin McCray, 82.4 overall grade
Performances of Note:
Hundley compounded a poor preseason with an erratic showing against the Rams. His touchdown pass to Aaron Jones forced him to roll into the end zone and Hundley completed none of his four pass attempts aimed 10 or more yards down the field.
McCray has featured at C (67 snaps) and RG (70 snaps) to this point in preseason but played all 66 snaps Thursday night at C, catching the eye with some powerful run-blocking.
Brown wrapped up an impressive preseason by facing down 7 targets, surrendering only 3 completions while collecting his first interception and a pass defense. For the preseason Brown allowed 7 completions on 19 targets for 57 yards, allowing a passer rating of 23.4 on passes into his coverage over the last month.
Ringo finishes his third preseason with 11 total pressures (4 hits, 7 hurries), topping the production of his first two preseasons combined. He racked up four hurries Thursday night, bettered only by Geneo Grissom on the final night of preseason.

PFF Game Ball: CB Donatello Brown, 84.6 overall grade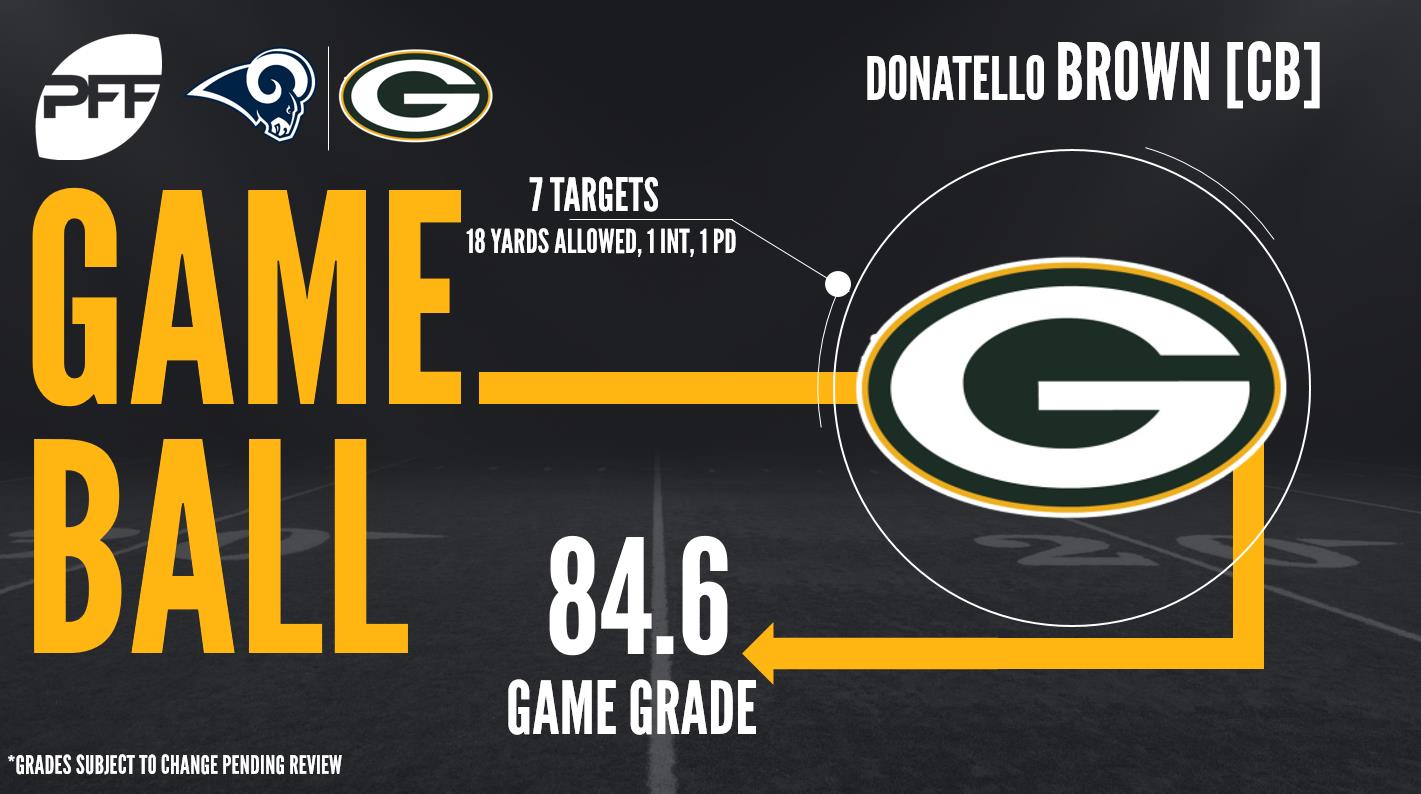 *Grades subject to change pending review