Quietly, the Carolina Panthers are tied atop the NFC South standings at 9-4, after knocking off the Minnesota Vikings, 31-24. Carolina utilized a strong rushing attack in the victory, including three touchdowns from veteran running back Jonathan Stewart and another 70 yards from quarterback Cam Newton.
Up 24-13 to start the fourth quarter, Minnesota connected on two quick scoring drives in the game's final six minutes to even things at 24 points, however a game-winning drive orchestrated by Newton and Co. would eventually prove enough. Stewart punched in a run up the middle for the game-winning score, his third touchdown of the day on just 16 carries. With that, we give you our PFF-exclusive takeaways from the contest for each team.

Top 5 Grades:
DE Mario Addison, 92.5 overall grade
DE Julius Peppers, 83.4 overall grade
S Kurt Coleman, 81.7 overall grade
RT Daryl Williams, 80.8 overall grade
LG Andrew Norwell, 79.2 overall grade
Performances of Note:
If anything summed up this contest, it was the battle between the quarterbacks. Newton was largely outplayed by Case Keenum, but what he was able to do was make the big play when it mattered most. And none were more important than when he made Andrew Sendejo miss in the open field to set the Panthers up for the win. However, it would be wrong to ignore that Newton again struggled throwing the ball, completing just four passes further than 10 yards in the air. In games where the Panthers don't win the turnover battle so comfortably, that won't be good enough.
Much of the talk in Carolina this year has been about the play of Matt Kalil. While he has warranted criticism, it has acted as a means to ignore the breakout year for Daryl Williams at right tackle. The former Oklahoma tackle is in his third year as a pro and is developing into an excellent right tackle, giving up just one pressure against Minnesota. That's just five total pressures in his last four games, and while the Panthers rush based offense may protect him somewhat, he's still holding up when asked.
Working on guards and tackles, Addison had himself his most productive day of a productive pass-rushing season, picking up a sack, two hits and five hurries. He had most of his success against Riley Reiff, but Jeremiah Sirles was exposed by his speed. Addison isn't a guy who gets a lot of publicity, but when you make plays like the strip-sack that put points on the board, the spotlight will find you.
An up-and-down day for Kuechly as he was his usual active self around the line of scrimmage, leading the team with four defensive stops. But he left plays on the field, missing three tackles that could have proven costly late. In another tremendous season (as his custom), this isn't a performance that will be remembered as fondly as others.

Top 5 Grades:
CB Xavier Rhodes, 89.4 overall grade
QB Case Keenum, 87.2 overall grade
CB Trae Waynes, 82.2 overall grade
DT Linval Joseph, 81.6 overall grade
DE Everson Griffen, 81.4 overall grade
Performances of Note:
For those waiting for Keenum to implode, it seemed like this might be the game after he threw an early pick. But rather than bringing on a regression, it brought out the best in him. The stat line might not be the most eye-popping but Keenum was evasive when pressured and accurate when throwing, only to be consistently let down by his receivers (five drops including one that was intercepted) and his protection (24 plays under pressure on his 55 dropbacks). The result was not what the Vikings wanted, but in defeat they learned more good things about the man who has earned the right to lead them in a potential playoff game.
So often the bright spot for this offense, the two picked the same day to have arguably their worst games of the season. Thielen redeemed himself with a long catch and run for a touchdown, but it can't be forgotten that he dropped a ball in the endzone and then failed to secure another that left the team settling for three. As for Diggs, his day will be remembered for the drop that became an interception, taking points off the board essentially with Minnesota in field goal range. An abherraiton by both? Vikings fans will certainly hope so.
If there was a sequence that summed up the talents of Rhodes, it came with 10:01 left in the second quarter. He broke up passes on first and second down, before tackling Chris Manhertz for a shot gain on third down that brought the Panthers punting unit out on the field. You'll be hard-pressed to find a better series for a cornerback all year and it was indicative of the day Rhodes had.
A mixed day for Griffen who recorded five wins rushing the passer but also had a costly face mask penalty that extended a drive on third down. He had some quick wins against Matt Kalil but for those expecting him to dominate, they were left disappointed as the Panthers heavy run-focused attack limited him to just 25 pass-rushing opportunities.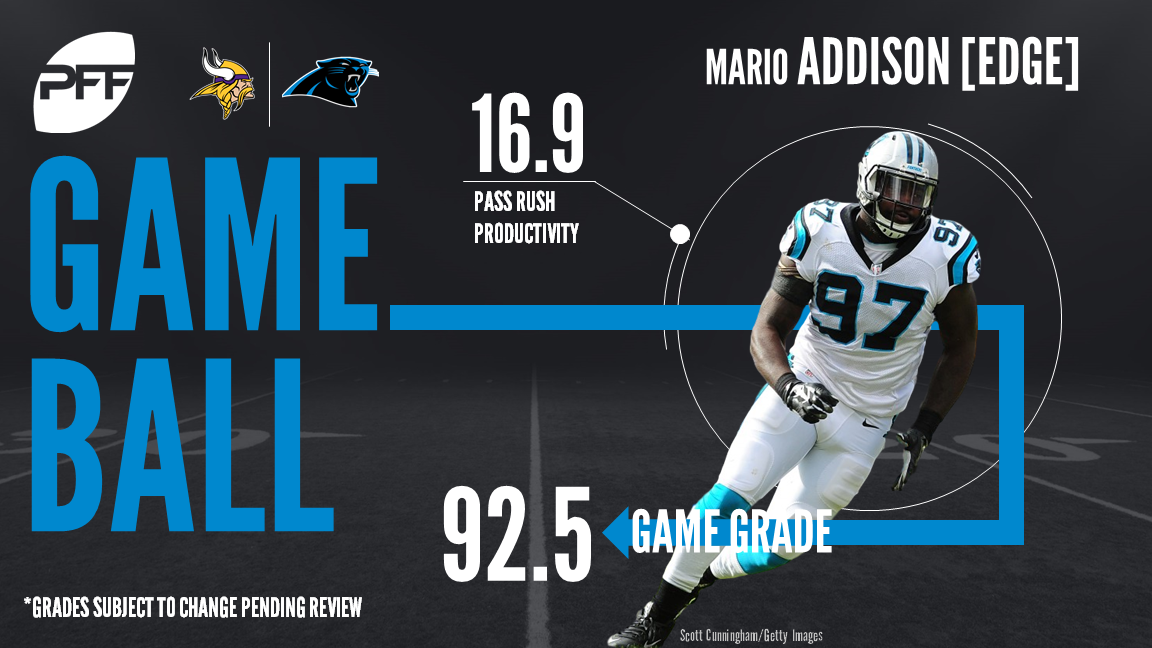 *Grades are subject to change upon review