After starting the season 5-0, the Kansas City Chiefs have dropped five of their last six games and fallen to 6-5 on the season, their most recent tally in the loss column being provided by the Buffalo Bills, 16-10.
Now becoming a trend, quarterback Alex Smith and rookie running back Kareem Hunt simply couldn't get enough going offensively to put points on the board. Smith completed 23-of-36 passes for just 199 yards and one touchdown against one costly interception in the fourth quarter, while Hunt rushed for just 17 yards on 11 carries (1.54 YPC).
Bills rookie cornerback Tre'Davious White, a budding star in today's NFL, put the game on ice with his interception of Smith and he now has two picks on the season. Chiefs wide receiver Tyreek Hill, formerly a spark plug within Kansas City's offense, led the team in receiving with just 41 yards on seven catches.
Returning as the starter under center after a one-game stint behind rookie Nathan Peterman, Buffalo's Tyrod Taylor completed 19-of-28 passes for 183 yards and one touchdown in addition to his 27 rushing yards. With that, we give you our PFF-exclusive takeaways from the contest for each team.

Top 5 Grades:
CB Terrance Mitchell, 84.1 overall grade
T Mitchell Schwartz, 83.5 overall grade
Edge Frank Zombo, 80.2 overall grade
LB Reggie Ragland, 79.4 overall grade
CB Steven Nelson, 78.0 overall grade
Performances of Note:
QB Alex Smith, 48.8 overall grade
Smith finished 23 of 36 for 199 yards with a touchdown and interception. He also had 2 dropped passes and was sacked twice, one of which was charged to him. Smith finished 1-of-7 on passes under pressure for 4 yards. The Chiefs QB completed one deep pass attempt for 25 yards. Smith used play action to his advantage as he finished 6 of 7 for 42 yards and a touchdown.
Schwartz did not surrender a pressure on the day, although he did struggle a bit in run blocking. Schwartz was a bright spot for a Chiefs offense that never found its rhythm.
Ragland appears ready to assume greater responsibility. After being rotated in during the early part of the season, he has now posted back-to-back games with over 40 snaps. He is a master shooting gaps, transitioning quickly when he diagnoses a run to make tackles at or behind the line of scrimmage. Ragland tied for second on the team with 5 defensive stops. There are times he plays a little out of control, but when he reads the running lane correctly, Ragland can be highly destructive at the point of attack.
Injuries have undoubtedly derailed the Chiefs' defensive unit, but their top players aren't performing at their peak either. In the past three games, Peters has allowed 14 of 17 targets to be complete for 190 yards and one TD (116.3 QB rating). He missed a huge opportunity for a turnover on a floater into his zone, and gave up four further completions throughout the game. The Chiefs need their studs to step up.

Top 5 Grades:
TE Charles Clay, 86.2 overall grade
S Micah Hyde, 85.6 overall grade
CB Tre'Davious White, 84.2 overall grad
LB Preston Brown, 81.0 overall grade
Edge Jerry Hughes, 78.8 overall grade
Performances of Note:
Playing tackle in the NFL as a rookie is far from easy, but Bills' second-round pick Dawkins has adjusted well to life as a pro. He wasn't at his best against the Chiefs, but his mauling run-blocking skillset remained evident. Dawkins earned a grade of 85.0 in the ground game, using his stout frame to dominate on the front foot. In pass protection however, Dawkins looked less comfortable. He gave up five hurries, including a handful of quick pressures, only bailed out by Tyrod Taylor's quick feet. So far though, it's a positive start for the Temple product.
Returning to the starting lineup after a brief hiatus, Taylor showed he remains a viable NFL quarterback. Although far from spectacular, Buffalo's signal-caller took care of the football, unlike his counterpart in red. He was methodical underneath (missing only three passes shorter than 10 yards) and quick to pickup yards on the ground when opportunities presented themselves. Taylor was fortunate on one throw, tossing a risky pass that Marcus Peters really should have picked. He also missed a couple of open passes low, perhaps through being overly conservative. Ultimately however, Taylor gives Buffalo a chance to win low-scoring games.
S Micah Hyde, 85.6 overall grade
Hyde was only targeted twice and did not yield a reception thrown into his coverage. Hyde also added a run stop in defense and had another tackle as well. Nothing will pop out on the stat sheet for Hyde but his consistency is notable.
White yielded one reception for 6 yards on 3 passes thrown into his coverage. White also had the game-sealing interception on an in route that was thrown behind the receiver. Time and time again White and the Bills defense forced the Chiefs offense off the field on third down
PFF Game Ball: Micah Hyde, 85.6 overall grade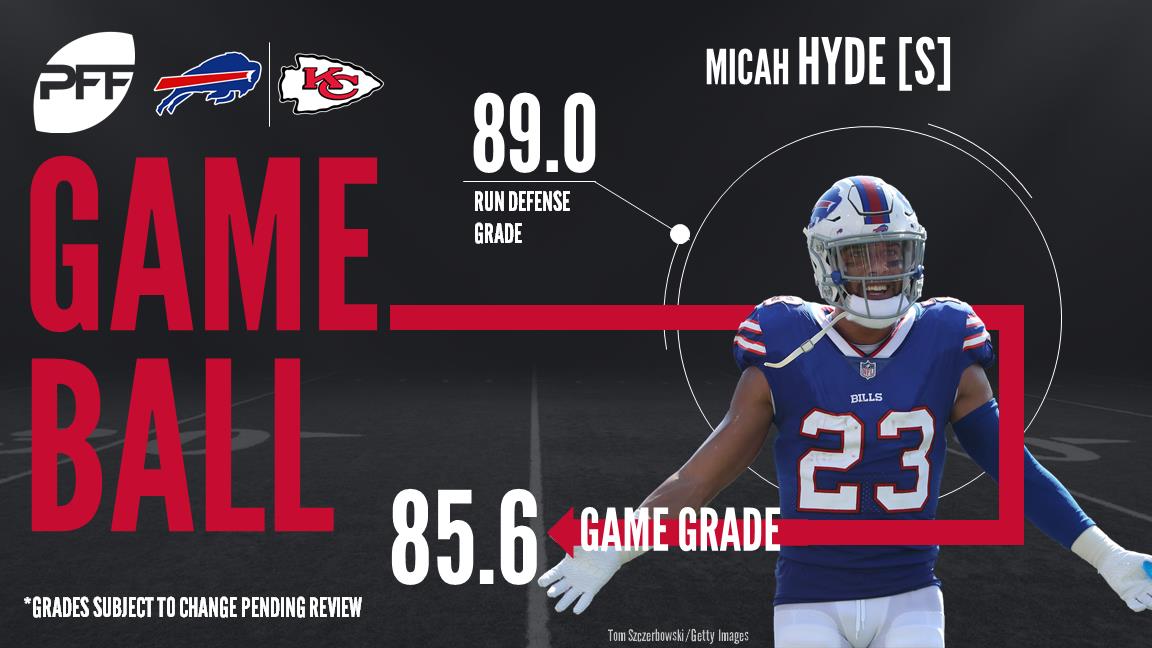 *Grades are subject to change upon review