Baltimore Ravens' Joe Flacco and Alex Collins combined for 344 yards and four touchdowns in their 44-20 win over the visiting Detroit Lions on Sunday.
Conversely, the Lions' backfield combined for just 78 rush yards on 24 carries. Quarterback Matthew Stafford completed 24-of-29 passes for 292 yards and one touchdown, but his efforts simply weren't enough to overcome the Ravens' onslaught.
With that, we give you our PFF-exclusive takeaways from the contest for each team.

Top 5 Grades:
HB Alex Collins, 89.1 overall grade
S Eric Weddle, 88.2 overall grade
Edge Terrell Suggs, 87.3 overall grade
QB Joe Flacco, 86.8 overall grade
T Ronnie Stanley, 84.1 overall grade
Performances of Note:
Collins was the Ravens' biggest offensive weapon in this game, though his 75 yards on 15 carries may not make that obvious. But Collins managed to gain those 75 yards despite averaging just 0.6 yards before contact per rush. He forced five missed tackles and gained 66 yards after contact, which worked out for an impressive elusive rating of 129.4
Flacco hasn't had the greatest season, but he played very well in this game. He finished the game with an adjusted completion percentage of 78.8 percent and wasn't just checking the ball down. He attempted 12 passes more than 10 yards downfield. Flacco was especially solid when he was kept clean, as evidenced by his 8.5 yards per attempt average and 118.2 passer rating when clean, compared to 1.0 yards per attempt and a 39.6 rating on pressured plays.
Weddle made two huge plays, the first was a sack and forced fumble when the Lions were driving, saving his team at least three points. Then, when Jake Ruddock was hit, he intercepted an arrant pass and returned it for a touchdown to put the game well out of reach of the Lions.
Suggs manages to roll back the clock on a weekly basis. He is still a force in the run game and also recorded five total pressures (one sack and four hurries) to bring his season total to 48 total pressures, which is the 16th-most for edge rushers this season.

Top 5 Grades:
TE Eric Ebron, 82.8 overall grade
C Graham Glasgow, 82.7 overall grade
TE Michael Roberts, 81.7 overall grade
QB Matthew Stafford, 79.7 overall grade
DI A'Shawn Robinson, 78.1 overall grade
Performances of Note:
The Lions where unable to get much going on offense in the first half, but once they got behind and started throwing, the play of Matthew Staford was very good. Stafford only had five incomplete passes all game, two of which where dropped and 4-of-5 incompletions where passes over 20 yards downfield. Stafford had an adjusted ompletion percentage of 89.7 percent.
Jones was the the big play reciever for the Lions, where everyone else struggled to get chunk yards Jones recorded 90 yards on four receptions on just eight targets. Jones was matched up most of the game against Marlon Humphrey, where he recorded 89 yards on six targets.
While the Ravens' defensive line absolutely manhandled the Lions defense in the pass game, Robinson was able to find success against the run. Despite making just one solo run stop, Robinson finished the game with an 84.8 run defense grade. He was a constant disrupting factor on inside runs and frequently forced Ravens' RBs to bounce runs outside.
Ansah was another player who got very little going in the pass rush game, failing to record a single pressure on 20 pass-rushes. However, he finished the game with a team-high 90.9 run defense grade. Ansah had two solo run stops and three more tackles, on top of multiple plays in which he forced the Ravens' RBs to change their point of attack.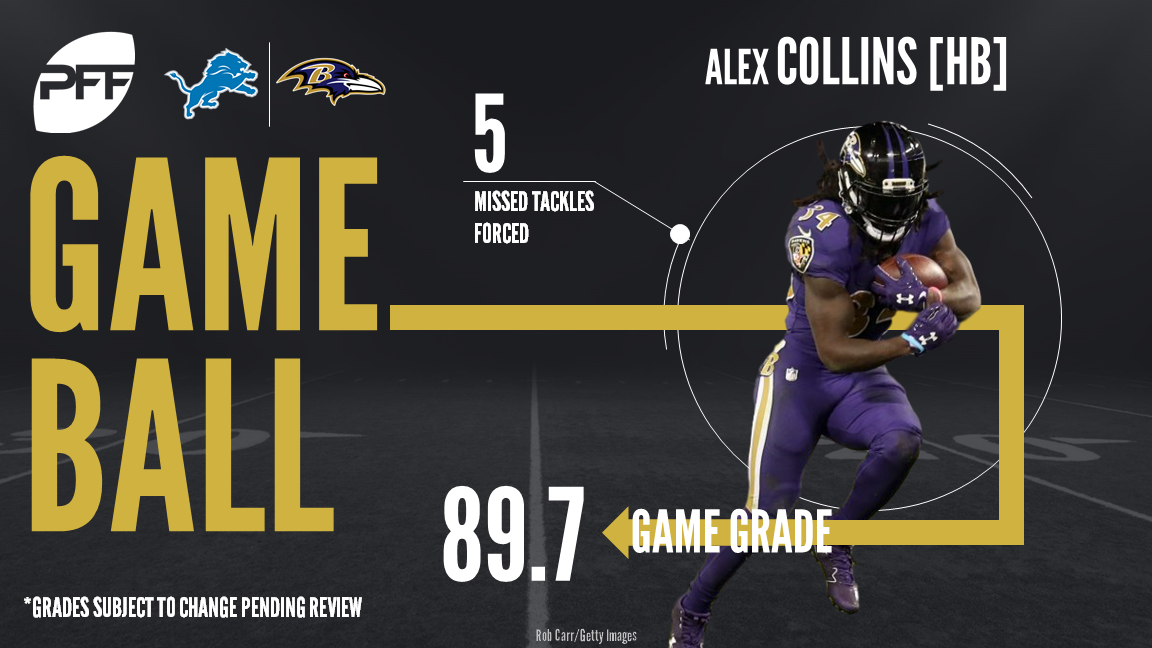 *Grades are subject to change upon review