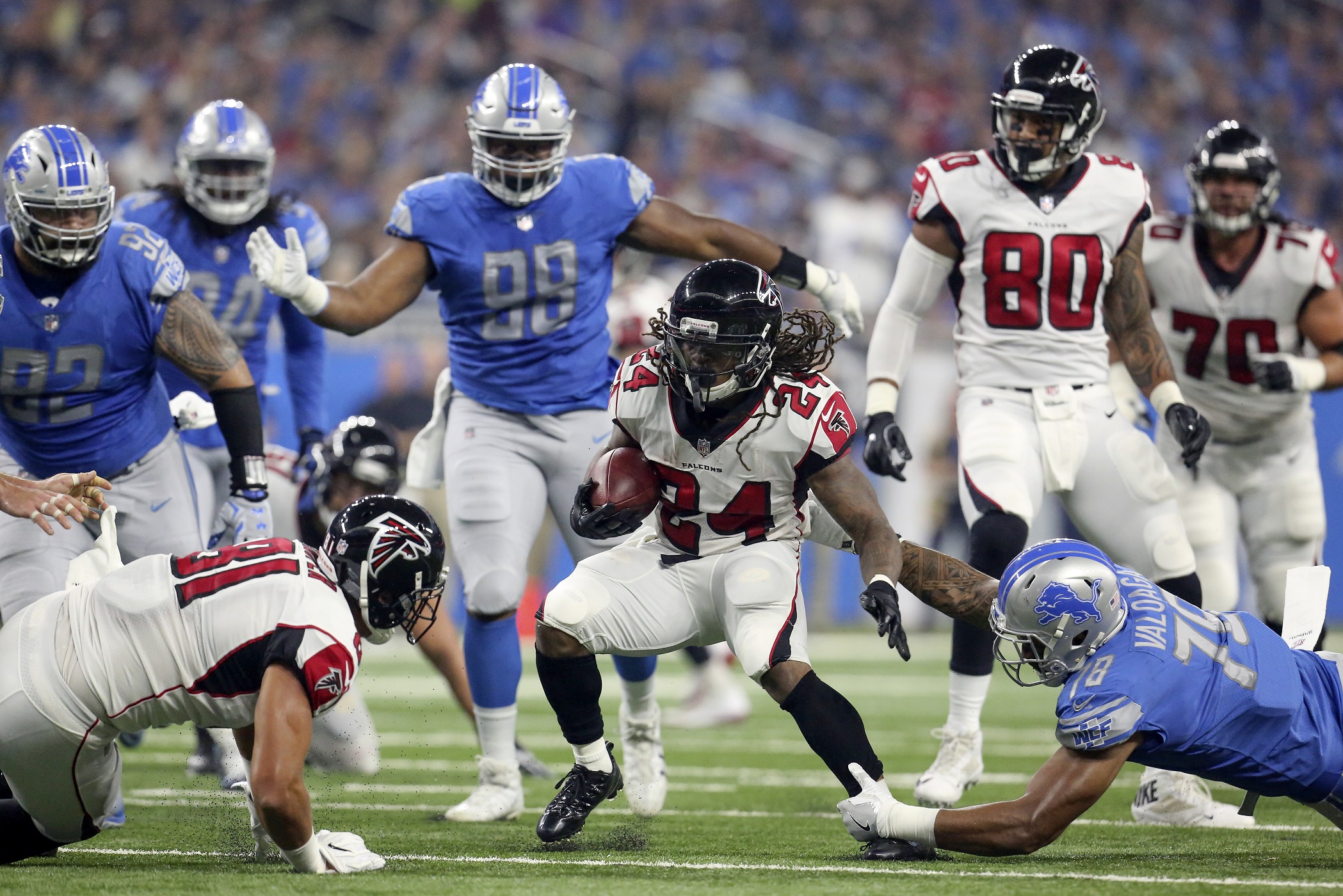 DETROIT, MI - SEPTEMBER 24: Devonta Freeman #24 of the Atlanta Falcons runs the ball against the Detroit Lions at Ford Field on September 24, 2017 in Detroit, Michigan. (Photo by Rey Del Rio/Getty Images)
The Falcons opened the scoring with a WR Mohamed Sanu touchdown catch from QB Matt Ryan. RB Devonta Freeman would add a rushing touchdown and the Falcons would get two field goals as well. The Lions would keep the game close at halftime though, with a S Glover Quin interception return for a touchdown and a pair of field goals.
WR Golden Tate would catch a touchdown pass from QB Matt Stafford as part of a massive comeback effort by the Lions. However, they would fall just short of the goal line to end the game, losing 30-26. With that, we give you our PFF exclusive takeaways from the contest for each team.

Top 5 Grades:
G Andy Levitre, 86.7 overall grade
C Alex Mack, 84.5 overall grade
CB Robert Alford, 84.0 overall grade
HB Devonta Freeman, 83.8 overall grade
T Jake Matthews, 83.8 overall grade
Performances of Note:
The Falcons offensive line opened up some pretty good holes in the running game, but their running backs did plenty to earn more yardage as well. Freeman gained half of his 106 rushing yards after contact, and forced six missed tackles on 21 carries.
C Alex Mack, 84.5 overall grade
Another week, another solid outing from Alex Mack. He did not allow a pressure for the second straight week, and has allowed allowed one all year. But his biggest impact still comes as a run blocker, where he continues to help create massive running lanes and can consistently wall off linebackers at the second level due t his athleticism.
Alford had a solid day on the outside for the Atlanta secondary. On 53 snaps in coverage, he only allowed three receptions on six targets for 45 yards, only 10 of which came after the catch. Alford also added in a pass defense and was a large reason for the sub-par day by the Lions' outside receivers.
Campbell lands on this list not for the typical work of a linebacker, but for his work in coverage. Campbell was covering Eric Ebron for much of the game and although he was aided by some drops, he did not allow a catch in 34 snaps in coverage and earned a 83.4 coverage grade. Ebron finished with just two catches on seven targets for nine yards and a game worst 29.5 overall grade.

Top 5 Grades:
S Glover Quin, 86.3 overall grade
LB Tahir Whitehead, 84.9 overall grade
WR T.J. Jones, 83.6 overall grade
G T.J. Lang, 83.5 overall grade
T Rick Wagner, 79.4 overall grade
Performances of Note:
G T.J. Lang, 83.5 overall grade
On a day when the Detroit offense was consistently behind on the scoreboard, they were forced to throw the ball often. Lang provided the best pass protection for Stafford on the day, allowing no pressures on 53 snaps in pass protection for an 85.2 pass protection grade. Lang also added in a positive run blocking grade of 82.6
WR Golden Tate, 77.0 overall grade
Tate was the most reliable weapon for the Detroit offense against the Falcons. He was targeted ten times, hauling in seven receptions for 58 yards and a touchdown. Stafford's passer rating when targeting Tate was 117.9. Tate came inches away from scoring the game winning touchdown when his knee touched the ground just before the ball crossed the goal line.
Quin directly put points on the board with his pick-six of Matt Ryan, which certainly contributed to his high grade. Outside of the interception, he gave up just one 16-yard screen pass on 39 total snaps in coverage.
Ansah followed up his three-sack performance last week by getting completely shut out against the Falcons. He did not register a single pressure on 18 pass-rush snaps. Ansah also did not make a defensive stop, and missed a tackle on his only tackle attempt of the game. It was only the third time of his career in which he played double-digit snaps and was held without a single pressure.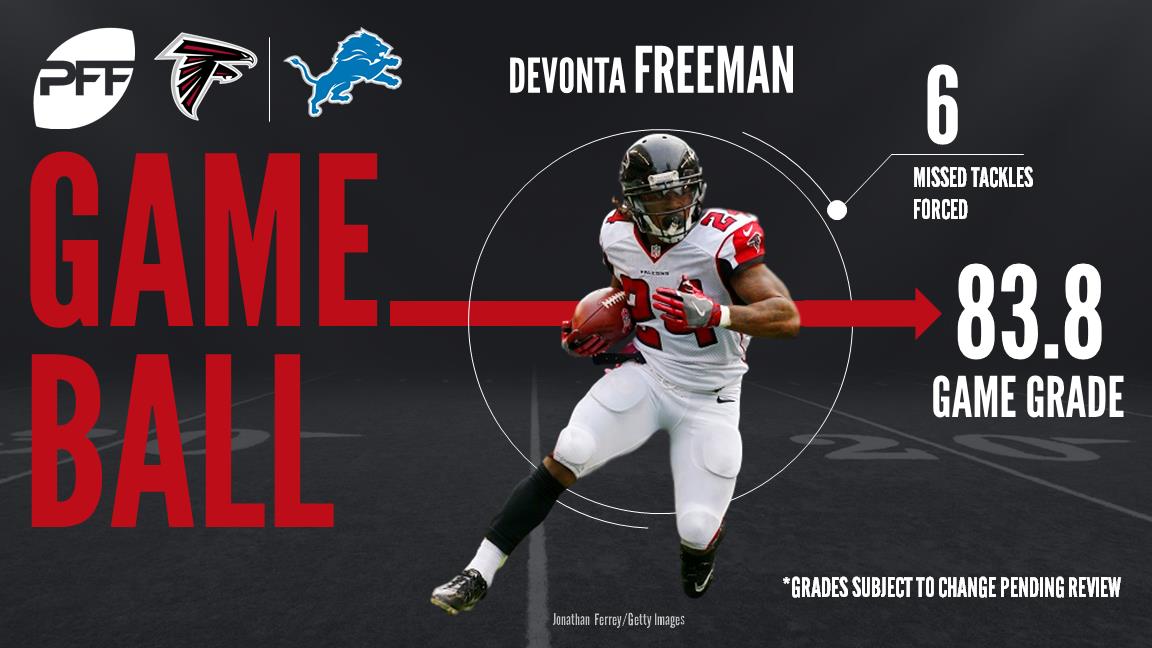 *Grades are subject to change upon review