The Atlanta Falcons put together a strong second half performance to sneak out of East Rutherford with a 25-20 win over the New York Jets  Sunday. Trailing 17-13 at the half, the Falcons' defense put forth a strong effort in the final two quarters, as the unit held the Jets to just three points and 139 total offensive yards in the second half.
Quarterback Josh McCown helped New York take flight early in the contest with two first-half touchdown passes, but he received little help from his backfield. The Jets' running backs combined for just 42 yards on 16 carries (2.63 YPC) in the game.
Falcons RBs Tevin Coleman and Devonta Freeman on the other hand totaled 123 rushing yards, allowing QB Matt Ryan to pick apart a worn-down Jets defense. Ryan completed 18-of-29 passes for 254 yards and two touchdowns in the victory. With that, we give you our PFF exclusive takeaways from the contest for each team.

Top 5 Grades:
DT Dontari Poe, 82.8 overall grade
LB De'Vondre Campbell, 82.8 overall grade
DE Adrian Clayborn, 81.9 overall grade
RT Ryan Schraeder, 80.9 overall grade
QB Matt Ryan, 80.8 overall grade
Performances of Note:
Whisper it quietly, but have we seen the return of the 2016 Matt Ryan? This was his best performance passing the ball of the year and that it came in such tricky conditions made it all the more impressive. Botched exchanges were the big negative on a game where his stat line would have looked much better if not for an uncharacteristic six drops, including would-be first downs and a touchdown from Austin Hooper. Still he moved the ball downfield and the accuracy there returned, with him completing all three of his attempts over 20 yards in the air, and going 9-of-11 on everything over 10 yards in the air.
It was a tough day for Freeman by his standards. He did run the ball well without breaking anything big off, getting far more than his blocking should have allowed for (75 percent of his yards came after contact). Yet with two dropped passes he walked away with just one reception on a busted play, to leave fantasy owners around the country wondering what happened.
Picking up three pressures (including one that pushed the quarterback into the arms of Desmond Trufant for a sack), there was definitely more zip to Beasley's game than we have seen in recent weeks despite what the sack count will say. With Takkarist McKinley picking up a strip sack, that bodes well for the Falcons as they look to mount a playoff charge.
In 2016 it was all about Keanu Neal and Deion Jones, and rightfully so with their level of play. But it is another of the class of 2016 who is stepping up right now and it's Campbell doing that. He recorded four defensive stops, including two tackles for a loss, and after playing 71 percent of snaps as a rookie has played so well as to become a true every-down player for the team. He's up to 85.1 percent of snaps on the year and enjoying his sophomore leap.

Top 5 Grades:
DI Leonard Williams, 87.0 overall grade
DI Muhammad Wilkerson, 83.2 overall grade
RG Brian Winters, 82.0 overall grade
WR Robby Anderson, 81.6 overall grade
LB Darron Lee, 80.4 overall grade
Performances of Note:
In tough conditions, McCown acquitted himself well enough, but ultimately he just couldn't make enough plays with the Jets presented good starting field position. He largely avoided mistakes, though was lucky to get away with a dropped interception courtesy of Robert Alford while benefiting some by and large excellent pass protection (pressured on just eight of 36 dropbacks). McCown continues to be what the Jets hoped for even with expectations a little less than high.
Anderson topped triple-digit yardage for the first time in his career, and he did it while making some big plays. For his touchdown, he made Desmond Trufant look like anything but the player we've come to expect from him while saving his most impressive play for a great sideline grab with Robert Alford in coverage.
There's been plenty of disappointment in the play of Wilkerson since he broke out in his sophomore season. The past two years he hasn't gotten close to that level, but there are signs from the past two weeks that we're seeing a resurgence in the former Temple standout. He created havoc for the Falcons in the first half, walking away with a sack, a hurry, and four defensive stops in the run game.
Lee has been something of a punching bag for his play since being drafted in the first round of the 2016 draft. But much like Wilkerson, the past two weeks things have started to look like they're coming together for him. He may never be the stoutest meeting blockers, but his speed gives him an edge, especially when bigger linemen are trying to get to him at the second level. Against Atlanta he showed how effective he can be with that.
PFF Game Ball: Matt Ryan, QB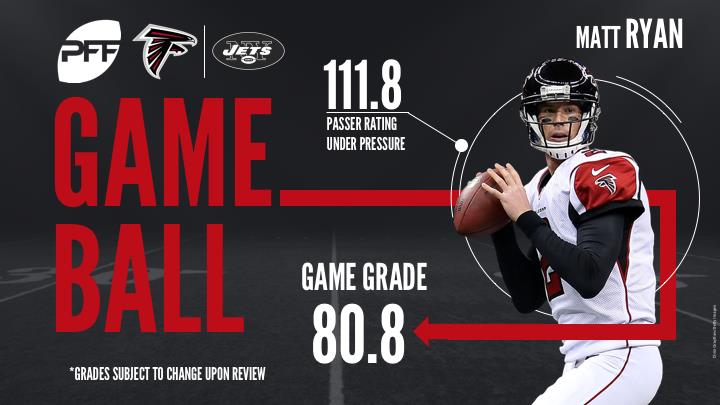 *Grades are subject to change upon review