Arizona Cardinals kicker Phil Dawson's four field goals pushed his team past the visiting Tennessee Titans, dropping Marcus Mariota & Co., 12-7.
Cardinals quarterback Blaine Gabbert out-dueled Mariota by virtue of keeping the ball away from the defense, as he completed 17-of-26 passes for 176 yards while Mariota tossed two interceptions.
Defensively, Arizona rookie linebacker Haason Reddick hauled in one of Mariota's interceptions and recorded a sack.
With that, we give you our PFF-exclusive takeaways from the contest for each team.

Top 5 Grades:
CB Tramon Williams, 91.7 overall grade
LB Karlos Dansby, 83.4 overall grade
G Earl Watford, 81.7 overall grade
S Antoine Bethea, 79.8 overall grade
TE Jermaine Gresham, 78.7 overall grade
Performances of Note:
Gresham was only targeted twice in the passing game, catching both for 27 yards. He made the most of his second reception, forcing two missed tackles on his way to a 21 yard gain. Gresham did have his troubles when asked to stay in and pass protect, allowing a sack which led to a 40.3 pass block grade.
Gabbert could've had a much better game statistically had he not missed some open receivers with inaccurate throws, notably a seam route to Jaron Brown and a fade to Larry Fitzgerald in the end zone. Gabbert was under duress throughout most of the game and was sacked eight times. When given time, he put up decent numbers, completing 13-of-21 passes for 134 yards.
The Cardinals have had issues at the No. 2 cornerback position all season, but today, Williams was outstanding. On eight targets into his coverage, he gave up just three receptions for 23 yards, picked one off, batted away another and prevented a third-down conversion on the final drive of the game by laying out Walker just after the ball arrived.

Jones was one of the most active players on Arizona's front seven despite not posting a huge overall grade. On the pass rush, he tallied a sack and four quarterback hurries, and for the game, he posted four total defensive stops.

Top 5 Grades:
DI Jurrell Casey, 83.5 overall grade
LB Wesley Woodyard, 82.8 overall grade
OT Jack Conklin, 81.6 overall grade
CB Brice McCain, 81.4 overall grade
TE Delanie Walker, 77.3 overall grade
Performances of Note:
Mariota just couldn't seem to get in a rhythm, specifically on intermediate and deep throws. He completed just 5-of-16 attempts of 10-plus yards through the air for just 88 yards and two interceptions. Working from a clean pocket on 26-of-35 dropbacks didn't seem to help him either, as he completed just 14 of his pressure-free passes, including both of his interceptions and had a passer rating of just 33.2.
Walker had a relatively uneventful four-and-a-half quarters, but the final two drives of the game proved rough for him. On Tennessee's penultimate drive, Mariota tried to hit Walker up the seam, but he didn't see Josh Bynes dropping into zone coverage and threw the ball right to him. On the final drive, Walker dropped an excellent wheel throw downfield. Then, on the next play, Walker was unable to hold onto another ball he should have caught after absorbing a big hit from Tramon Williams.
Casey presented a problem for the Cardinals' offensive line throughout the game, as he registered five total pressures and recorded two sacks, giving him six on the season. Casey accumulated a team-leading pass rush grade of 84.7 but the entire Titans defense was effective rushing the passer, totaling eight sacks and nine hurries.
Woodyard once again showcased his ability as a stout run defender, tallying four stops and recording a run defense grade of 82.5. Woodyard has recorded 45 stops so far this season, only eight away from his career high of 53 coming in 2012.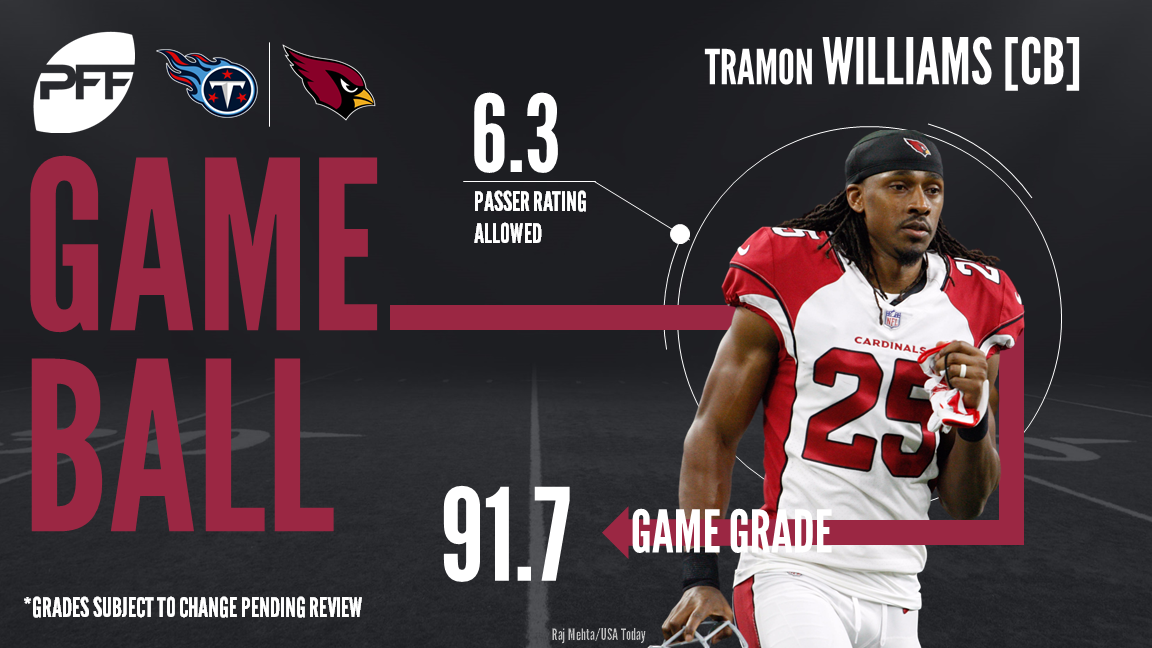 *Grades are subject to change upon review