The Baltimore Ravens defeated the Los Angeles Rams on Thursday night, 33-7 opening the first full week of preseason action in the NFL.
PFF's ReFocused series this season features immediate takeaways and a key to the victory from two Senior Analysts who graded the performance, watching every player, on every play of the game. For more data and analysis from the game, utilize our Premium Stats 2.0 dashboard to expand your knowledge on the key players, signature stats and much more.

FINAL SCORE
Baltimore Ravens 33, Los Angeles Rams 7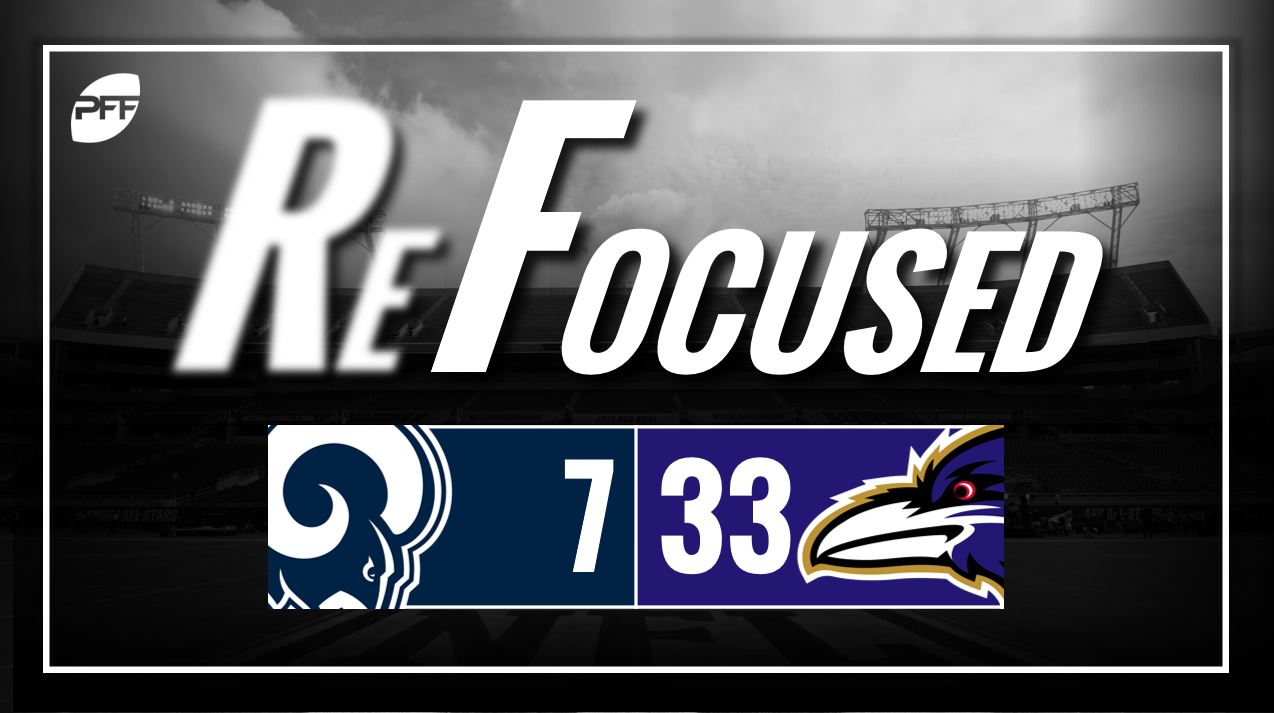 Analyst Takeaways

Rams QB Sean Mannion had a game to forget. He struggled to complete any passes as he went just 3-of-13 with an interception through the first half. He also had quite a few passes batted at the line of scrimmage, as well as a fumble. The offensive line did not help much, but Mannion did not look comfortable at all.
John Kelly should see more touches next week as he made the most of his opportunities in his professional debut. He turned a pitch play to the right side into a huge gain for a Rams offsense that had been struggling all night. He also showed good vision and good cut ability as he made the most of his chances.
The Rams struggled on defense, in particular the secondary as Baltimore rolled up 403 yards including 263 yards passing. Edge defender Samson Ebakum was a bright spot as he was nearly unblockable rushing the passer. His athleticism and quickness with his hands give him an array of moves to use on blockers

Joe Flacco looked like the clear No. 1 in his short duty while Lamar Jackson made plays with his feet but also looked inconsistent passing the ball including some errors in judgement that could have resulted in interceptions. Orlando Brown struggled from his right tackle position as the rookie from Oklahoma got stood up at times in run-blocking and seemed a bit slow out of his stance in pass-blocking. He will need more work to be a consistent player at tackle in the NFL.
The Ravens defensive line as a unit dominated the Rams offensive line. Aside from one long run by Kelly, the Ravens line shut down the run and batted multiple passes at the line of scrimmage throughout the game.
Ravens cornerback Maurice Canady had a solid play in coverage. On a 1st & 10 midway through the second quarter, he baited  Mannion to try and throw a corner route in his coverage and hauled in an interception to stop the momentum.
KEY TO THE GAME
Baltimore: Ravens' quarterbacks made plays most of the night even when things broke down. Jackson flashed his athletic ability with scrambes and Flacco looked as sharp as he has in a long time. The Rams defense seemed to be a step behind most of the night.
Los Angeles: While the offense struggled overall, Kelly was the lone bright spot. He averaged 5.9 yards per carry and had nice plays in both the running and passing game, proving his worth on the roster.