Los Angeles Rams RB Todd Gurley's stellar 2017 campaign is more than deserving of the PFF Comeback Player of The Year Award.
This award is usually awarded to players who missed the majority of the previous season through injury, only to perform impressively when they return. However, this year, our winner isn't coming off season-ending surgery or a career-threatening injury. Rather, our comeback player bounced back from finishing the 2016 season as the 53rd-ranked running back in football to ranking first among players at his position after putting together an elite-level season that has ultimately seen him mentioned as a candidate for league MVP. This year, Gurley's electrifying performance is more than deserving of the crown.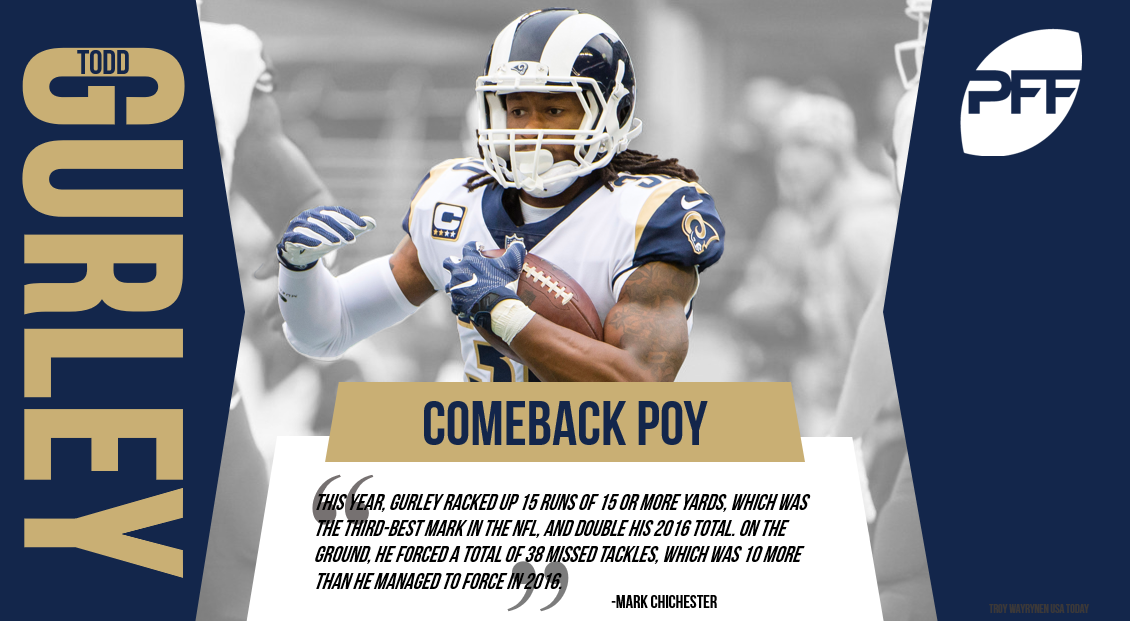 After watching Gurley excel this year, the memories of his struggles that came just a season ago have mostly been forgotten, but to really do Gurley's resurgence justice, we have to look back at a disappointing 2016 campaign that ended with a PFF overall grade of just 50.7, which ranked 53rd among 61 qualifying backs in the league.
Held captive by a generally underwhelming offensive scheme, Gurley logged 278 rushing attempts in 2016 (the fifth-most among running backs) but was held to just 3.2 yards per carry and 2.18 yards after contact per carry, which ranked the 55th and 50th among the 58 players with at least 75 rushing attempts that year, respectively.
A major factor in his lack of production was the offensive line's inability to open up holes and get Gurley into open space, which is where he's undoubtedly at his best. All told, he managed to grind out just seven breakaway runs (runs of 15-plus yards) all year, and he was held to an average of just 1.00 yard before contact every time he carried the ball, which was the league's fifth-worst mark. To heap even more salt in the wound, Gurley was stuffed for zero or negative yardage on a whopping 62 of his carries, which was second only to LeGarrette Blount (69), who had 21 more rushing attempts to his name.
However, the ground attack wasn't Gurley's only Achilles heel that year, as he ended the season with 43 catches for just 327 receiving yards and put up an average of just 0.98 yards per route run in the passing game, which ranked 38th among 43 running backs with at least 28 targets.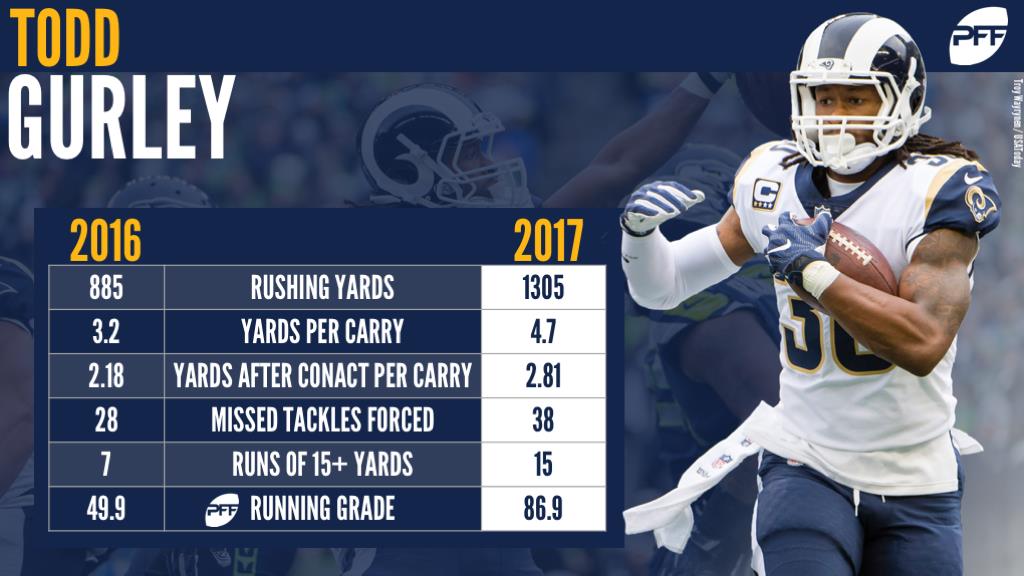 However, from the ashes of a down season would come this year's body of work, which would put him back among the very best in the game.
Armed with Sean McVay's innovative zone scheme and a re-tooled offensive line that combined to give him 1.87 yards before contact per carry (the sixth-best mark among running backs), Gurley ended the regular season averaging 4.7 yards per attempt and 2.81 yards after contact per carry, which were good for the 12th and 18th marks, respectively, among the 59 players with at least 75 carries.
This year, however, Gurley's best trait was his game-changing ability to break into open space, make players miss and ultimately take it the distance. He racked up 15 runs of 15 or more yards, which was the third-best mark in the NFL, and more than double his 2016 total. On the ground, he forced a total of 38 missed tackles, which was 10 more than he managed to force last year.
Todd Gurley thrives in open space. Here, on 3rd and 20, he took the ball 57 yards for the score. pic.twitter.com/DWXphXIClC

— Mark Chichester (@chichester_mark) January 25, 2018
Gurley also enjoyed a spectacular year in the passing game. At the close of the regular season, Gurley had put up 788 receiving yards (the second-most among running backs) at an average of 2.15 yards per route run, which ranked fifth among backs with at least 27 targets. On average, Gurley put up an incredible 12.6 yards after the catch per reception, first among all pass catchers with 35 targets.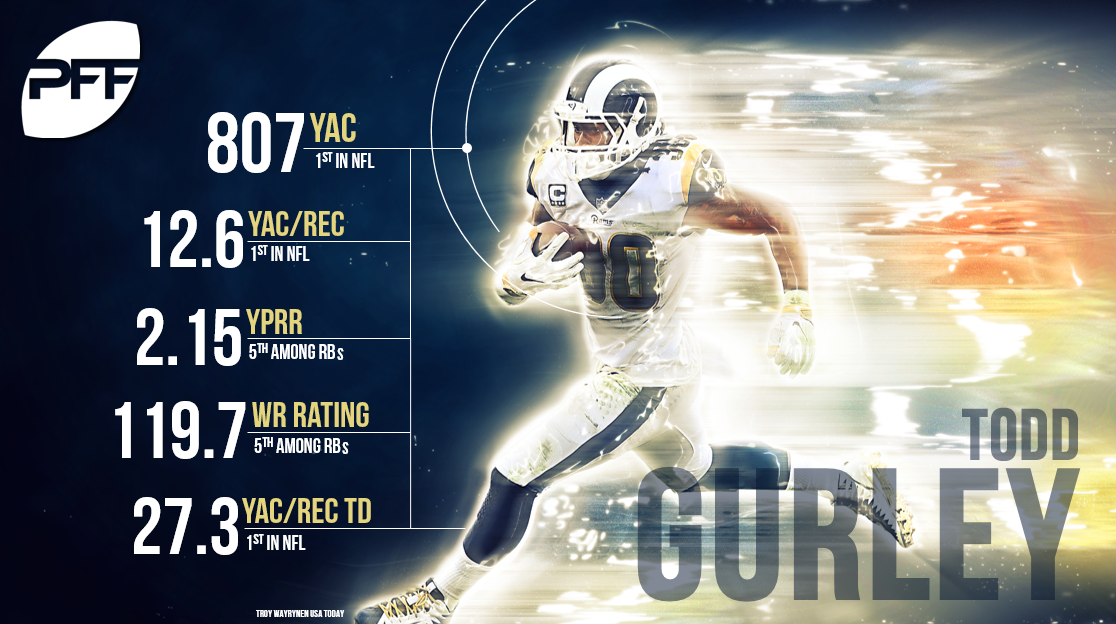 When we add all of this together, we get a season that could stand eye-to-eye with any great player that came before him, which ultimately led to his selection for this award. All told, Gurley led the league in touchdowns scored (19), all-purpose yards from scrimmage (2093) and ended the 2017 campaign with an elite 91.9 overall grade that is not only the best among backs this year, but he tied with Le'Veon Bell (2016) for the ninth-highest grade ever recorded by a running back.
No matter whether you look at the tape, the box score or the advanced analytics that PFF provides, all signs point towards Todd Gurley being the obvious choice for not only Comeback Player of the Year but quite possibly the league's Most Valuable Player.