Heading into the 2019 NFL Draft, the Baltimore Ravens' wide receiving corps featured just three players with at least one NFL reception to their name. It was obviously a position of need, particularly with the reports that players at the position were avoiding Baltimore in free agency due to their struggles in the passing game and their style of offense after quarterback Lamar Jackson took over midway through his rookie season.
Still, this was a team who had used just two top-100 draft picks on wide receivers in the 11 NFL drafts between 2008 and 2018. In their history, dating back to the 1996 NFL Draft, they had used just seven top-100 draft picks at the position and had never once used two top-100 picks in the same draft. Instead, they opted to take late round shots and add to the position through free agency and trades. The problem with this philosophy is that wide receiver is a position that makes sense to take shots early in the draft. We're often told that it's a position with a high bust rate, but it's also the best place to find top-tier talent. Of the top six wide receivers in PFF three-year grade since 2016, only Antonio Brown was drafted outside of the top three rounds of the draft.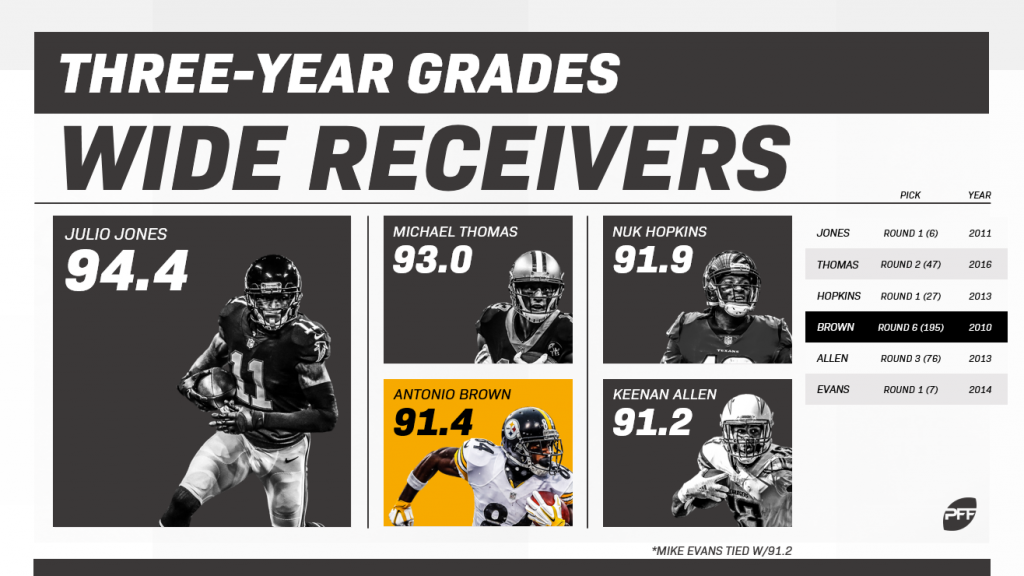 So while there are no guarantees in the NFL draft, if you're looking for a top player at the position, it's likely that they are drafted in the top three rounds, which is why the Ravens' lack of attention to the position was so puzzling. Whether it was due to former General Manager Ozzie Newsome being put off by previous failures or any other reason, how little they have used top draft picks on receivers for over a decade has contributed to their struggles at the position, with just one wide receiver going over 1,000 yards in the past four seasons in Baltimore.
The philosophy changed this year though, and the Ravens matched their 11-year total of wide receivers drafted inside the top three rounds of the draft in 2019 alone, using the 25th and 93rd overall selections to add Oklahoma's Marquise Brown and Notre Dame's Miles Boykin. Brown was the first wide receiver off the board, while Boykin was the 12th.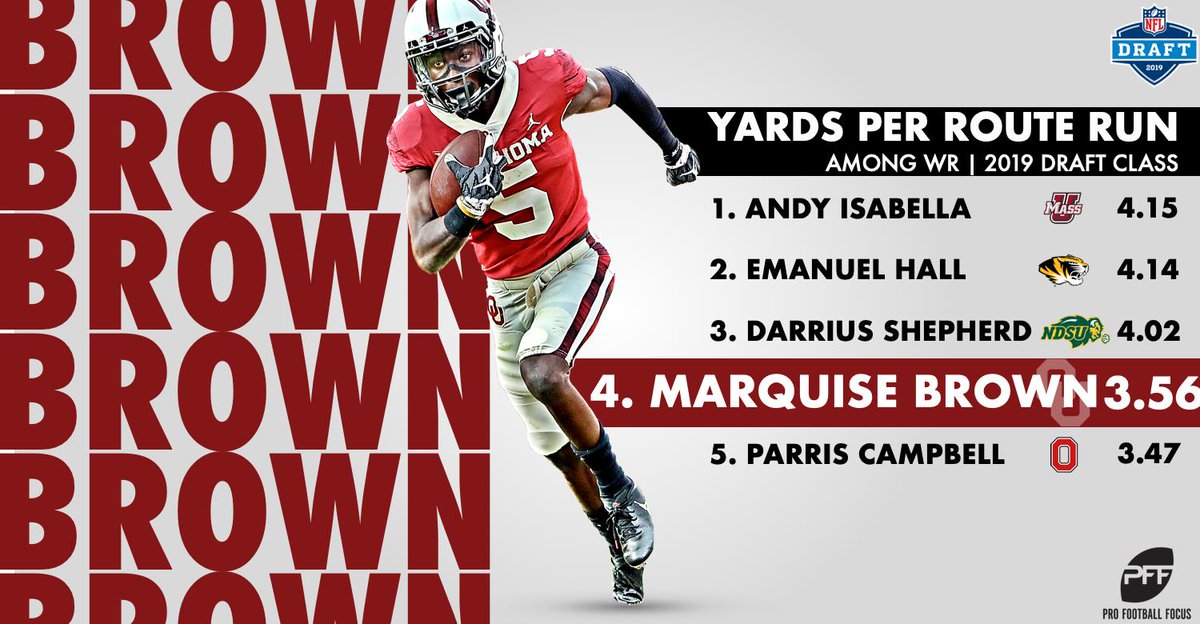 Brown was the 31st-ranked player of the final PFF Big Board heading into Thursday night. He ranked sixth in the class in receiving grade, and he is a player who can do damage both on short passes and on throws downfield. Brown ranked second in the draft class behind only Ohio State's Parris Campbell with a PFF grade of 90.4 on throws behind the line of scrimmage, while he produced a PFF grade of 90.8 on throws of 20-plus yards downfield, which also ranked in the top 15 in this class. Producing 592 receiving yards on throws 20-plus yards downfield, he adds a big-play element that the Ravens severely lacked in 2018, as John Brown picked up 266 yards on deep passes, and no other wide receiver picking up more than 60 yards. The Brown known as 'Hollywood' was also tied for sixth with 18 missed tackles forced in 2018 and ranked third with an average of 3.56 yards per route run. In short, he was a very productive receiver in college and does the things that the Ravens offense has been lacking.
Boykin was the 87th-ranked player on our big board and had some of the safest hands in the draft, with just three drops from 62 catchable targets in his final season at Notre Dame. He is a very different receiver to Brown, coming in at 6'4 and 220 pounds at the combine while forcing just one missed a tackle and averaging just 3.5 yards after the catch in 2018. Despite that, he still had at least one reception of 20-yards or longer in 10 games last season; he produced 296 yards and a PFF grade of 90.9 on deep passes.
The Ravens offense is going to be one of the most interesting units to watch in 2019. They are still set up as a team who have big question marks in the passing game, and Lamar Jackson's development along with how they scheme around that will be key to their success. With the 2019 NFL Draft though, they showed that they are willing to use premium draft picks to find playmakers, increasing their chances of finding success at the position.