Back-to-back games with 100-plus rushing yards, a two-game 5.8 yards per carry average and 80.4 overall grade across Weeks 11 & 12 have Baltimore Ravens running back Gus Edwards standing tall as one of the hottest names in football. But is the Brooklyn, NY native here to stay or just a flash in the pan?
Arguments in favor of the Edwards hype train staying on the tracks all revolve around his ability to create yards for himself on the ground. The undrafted Rutgers product ranks first in forced missed tackles per carry (0.33) and third in yards after contact per attempt (4.1) among the 25 NFL backs with 20-plus carries in Weeks 11 & 12. His NFL-high 133.3 elusive rating in the two-week span also leads the same group of backs.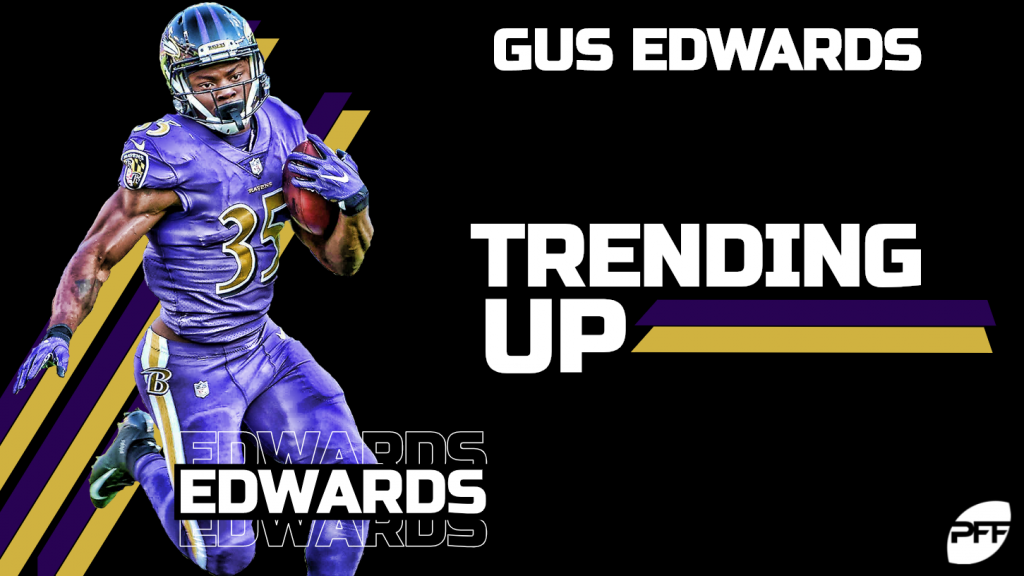 Edwards' unparalleled elusiveness led to high box-score production, as he finished fifth in percentage of carries resulting in a first down or touchdown (30.0) and fourth in total rushing yards among the stable of backs with at least 20 attempts the past two weeks. His 5.8 YPC average also ranked seventh.
Adding to his two-game feat, all but one of the backs (Saquon Barkley) listed ahead of him in first down/touchdown percentage, total rushing yards and yards per carry averaged more yards before first contact per attempt than Edwards. The Baltimore back averaged just 1.78 yards before first contact per carry across his 40 carries in Weeks 11 & 12, good for just the 14th-most among qualifiers. Of the 16 backs to average fewer than two yards before first contact per carry in the two-week span, only Barkley, New Orleans Saints' Mark Ingram and Edwards averaged more than 5.0 yards per carry.
Edwards gained just 29.6% of his 233 rushing yards before first contact in the previous two games, the fifth-lowest percentage among the 19 NFL backs with at least 100 rushing yards in said span.
Of course, understanding Edwards' trajectory requires more than a two-game sample size against sub-par defenses like those of the Cincinnati Bengals and Oakland Raiders. But, even when turning back the clocks on Edwards' football career, all signs point to similar game-breaking ability on the ground.
Originally a Hurricane with the University of Miami (Fla.), Edwards rushed for 977 yards across 186 carries (5.3 yards per carry) over the course of three seasons as a primary backup in the team's offense. In search of a lead role, Edwards transferred from Miami and played out his final collegiate season at Rutgers, where he earned an impressive 79.3 rushing grade that ranked 30th in the country.
The Scarlett Knight version of Edwards ran similar to the one running amok in Baltimore. He averaged 0.20 forced missed tackles per carry and 3.5 yards after contact per carry, both ranking inside the top-40 among the 132 FBS backs with 125-plus attempts in 2017. More impressively, Edwards gained a whopping 80.5% of his yards after contact at Rutgers, good for the second-highest mark among the same 132 FBS backs.
Now, arguments against Edwards' sustainability in this league all start in the passing game, as he has just 16 receptions in the last two years (includes Rutgers) and zero targets in the last two weeks. And he allowed one sack across six pass-block snaps in Weeks 11 & 12.
There's no doubt that Edwards' one-dimensional play won't last in today's pass-happy NFL if he aspires to be the Ravens' every-down back moving forward, but drawing a magnifying glass to his weaknesses 123 offensive snaps into his NFL career may be a bit premature. Edwards' strengths are shining bright as of late, which will surely give him the opportunity to improve on his faults as he continues to run over doubters and defenders alike.