There should be plenty of teams looking to upgrade along their offensive lines this offseason, and this year's crop of free-agent linemen is one of the best in recent years. It's a particularly interior-heavy group, but there are still good options at either tackle position, as well.
Here's the list of the top offensive linemen set to hit free agency:
1. Kevin Zeitler, G, Cincinnati Bengals
Zeitler may be just below the "elite" tier of guards, but not by much. He has earned a top-10 overall grade among guards in each of the last three seasons, and is pretty balanced in having success as both a run and pass blocker. Zeitler has allowed just one sack over the past two seasons, and recorded the fifth-highest pass-blocking efficiency among guards in 2016. At age 27, he likely has a whole contract's worth of good years ahead of him, which gives him the edge over the next two players.
2. T.J. Lang, G, Green Bay Packers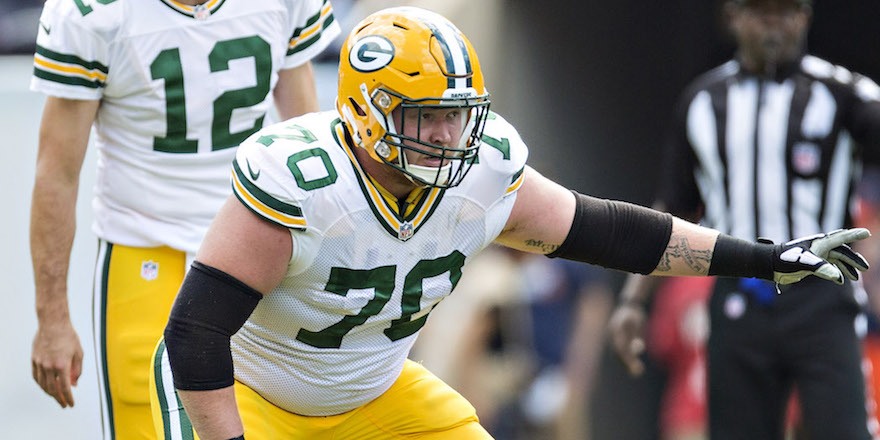 Lang dealt with some injuries this past season that probably contributed to a slight dip in his play, but he still finished as our eighth-ranked guard in 2016 after earning a top-five spot the previous two years. Lang is consistently one of the best pass blockers in the league, and in this past season, did not allow a single sack or hit despite Aaron Rodgers holding onto the ball longer than all but one other NFL quarterback. While Lang is a noticeably better pass protector than run blocker, he's still well above average in the ground game. He's two years older than Zeitler, but could still be a better fit for a team that is pass-heavy and looking to upgrade its pass protection.
3. Andrew Whitworth, T, Cincinnati Bengals
At age 35, Whitworth may not be a long-term solution at this point. However, at worst, he can be an exceptional short-term answer for teams needing help at the tackle position. Whitworth has graded among the top-10 tackles for eight consecutive seasons, and his best play has actually come in recent years, as he's ranked among the top-five tackles for the last four seasons. He remains one of the better pass-protecting left tackles, having allowed just 14 total QB pressures last season. Even though it may only be for a limited time, Whitworth could be a difference-maker for a playoff contender.
4. Larry Warford, G, Detroit Lions
Warford put together one of the best rookie performances for an offensive lineman in 2013, enough to earn PFF's Rookie of the Year award. Unfortunately for the Lions, he hasn't been able to replicate that season since then. However, Warford remains a solid guard who is above-average as both a run and pass blocker. There's also still a chance that a change of scenery and coaching could help him get back to his rookie level.
5. Ronald Leary, G, Dallas Cowboys
Leary has been fortunate to play between two of the best players at tackle and center. That said, he's actually shown to be a pretty good one-on-one blocker when given the opportunity. Leary managed to not allow a single sack on nearly 500 snaps in pass protection last season, and didn't allow a hit until Week 14. As impressive as that is, he's actually been a better run blocker than pass blocker. He has ranked among the top-15 guards in run-blocking grading in his last two full seasons as a starter. Leary would be a good fit for a team that runs a zone-blocking scheme and is looking to upgrade its run blocking.
6. J.C. Tretter, C, Green Bay Packers
Tretter is somewhat of a wildcard, given that he's barely played a full season's worth of snaps in his four-year career. However, when he has been on the field, he's performed pretty well. After starting just a handful of games at the end of the 2015 season, Tretter was able to unseat Corey Linsley in the offseason to take over as the starting center for the Packers. Through eight weeks, it looked like Green Bay had made the correct choice, as Tretter was the fifth-ranked center at the time, but a knee injury abruptly ended his season. Whoever is willing to give Tretter a chance likely will end up with a solid starter. He may also provide some positional flexibility, since the Packers' original plan was to used him at guard.
7. Ricky Wagner, T, Baltimore Ravens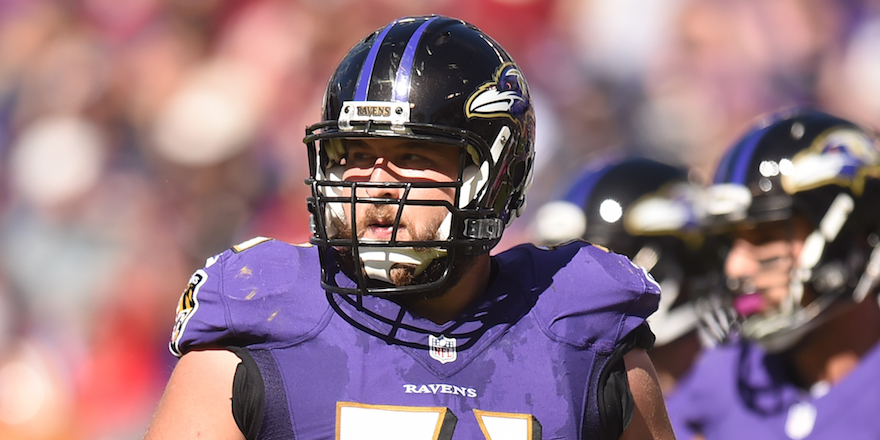 Wagner has been a starter for the Ravens for three seasons now, and his play has been all over the place during that time. His best season came in 2014 when he just missed the top-10 in overall grade, but did rank eighth as a pass blocker, along with an above-average run-blocking grade. Wagner is coming off a similar performance in 2016, with just slight steps back in both aspects of blocking. Sandwiched between those two seasons was a disastrous year in which Wagner allowed a career-high 52 total QB pressures, 20 more than his next-highest season. He also struggled as a run blocker on a fairly regular basis. Wagner very well may be the player we saw in 2014 and 2016, but teams will also need to be wary of what exactly happened in 2015 that caused such a stark drop in performance.
8. Stefan Wisniewski, C/G, Philadelphia Eagles
Wisniewski has bounced around among teams the last few seasons and was relegated to a backup role last year before stepping in as a starter for a few weeks. He is a few years removed from his best performances, though he's never really had a below-average season as a starter. Oddly, teams have been willing to move on after just one season anyways. He's probably still best-suited as a center, but he did show last year that he's a capable guard, and that positional flexibility should only be an added value for a team.
9. Kelvin Beachum, T, Jacksonville Jaguars
The Jaguars decided to move on from Beachum after one season. He had easily the worst season of his career, but he should still be worth a look. Beachum's poor performance came in his first year returning from an ACL injury sustained early in the 2015 season, as well as his first in a different offensive system. Prior to the injury, he had a breakout year in 2014 when he was the fifth-ranked tackle in the NFL. He had a rocky start to the 2015 season, as he allowed four total QB pressures in the season opener against the Patriots, but he settled down and allowed just two over his next four-plus games before the season-ending injury. At age 27, he is still young and worth taking a chance on with limited guaranteed money in hopes that he can get closer to his 2014 level.
10. John Sullivan, C, Washington Redskins
Sullivan played just 98 snaps last year after missing the entire 2015 season with a back injury. At age 31, Sullivan is now more than three seasons removed from the top of his game. He finished among the top-three graded centers from 2011–2013. In his last full season in 2014, Sullivan still earned above-average grades as both a pass protector and run blocker to finish as the seventh-ranked center. He may not be an elite center anymore, but he's definitely worth a look from a team trying to upgrade at the position.
To see Pro Football Focus' full NFL free-agent rankings featuring the top 50 players set to hit the market in 2017, click here.