Six weeks of the NFL season are in the books, so we're going to dive into the PFF database for some of our more in-depth numbers and take a look at defensive rankings by man coverage.
One of the data points that PFF tracks is coverages on defense. There are a plethora of different coverages that can be run, but they all fall into several broad buckets that you can use to build up a picture of what that team likes to do schematically.
While PFF tracks this data on a more granular level than this, we are going to look at how often teams play man coverage based on these broad bucket concepts.
For these purposes we are going to look purely at Cover-0, Cover-1 and 2-Man coverage shells, with everything else either going in the zone or 'misc' bucket (quirky goal line and red zone defenses with situation-specific rules and coverages).
Here is how much man-coverage each team has played on defense so far, ranked by most man coverage as a percentage of total passing snaps.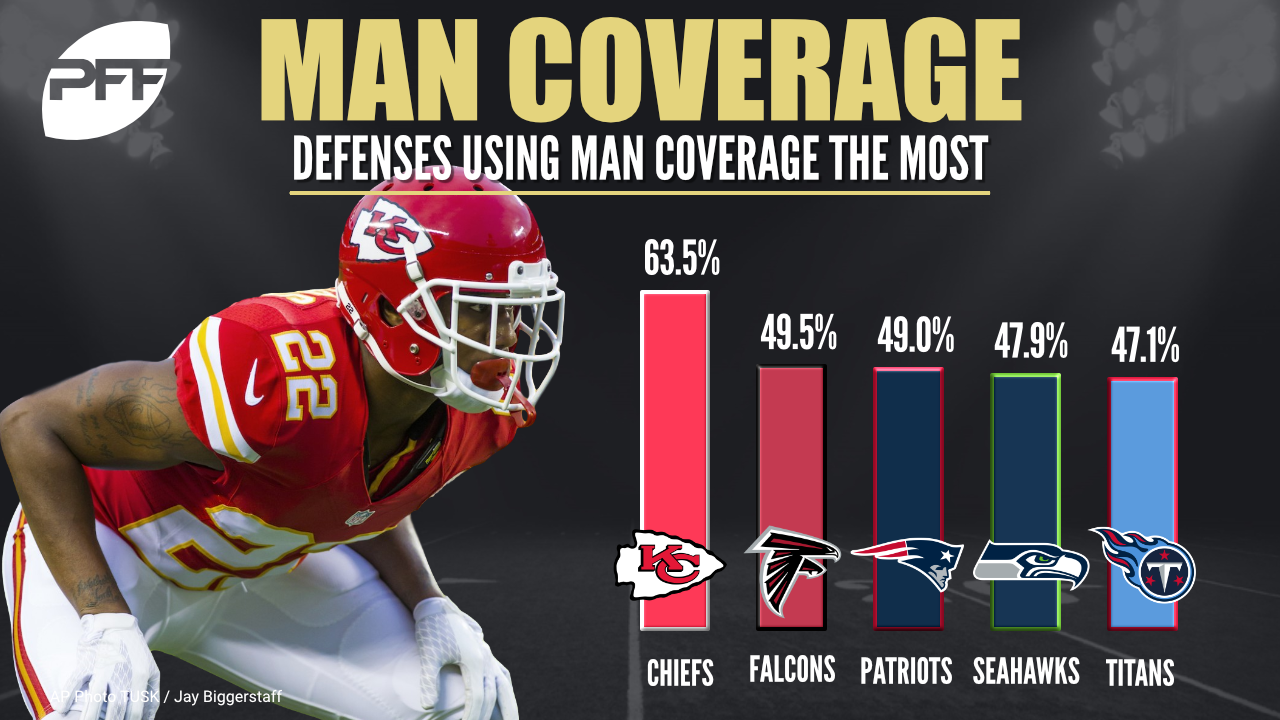 Man Coverage Rate: 63.5 percent
No team plays more man-coverage than the Chiefs. The Chiefs use Cover-1 (man coverage with a single-high safety) as their staple coverage, and run it more than any other side. They have allowed three passing touchdowns in this coverage shell and five touchdowns in man coverage overall, allowing just 50 percent of the passes thrown against their man coverage to be caught.
Man Coverage Rate: 49.5 percent
The Chiefs were the league's only side to play man coverage on more than 50 percent of their coverage snaps, but the Falcons are right at that borderline at 49.5 percent. Atlanta has allowed just three touchdowns against their man coverage, but have seen 15 fewer coverage snaps than the Chiefs defense.
Man Coverage Rate: 49.0 percent
The New England Patriots were among the leaders in man coverage a season ago and despite their defense leaking badly over the first portion of 2017, they remain an aggressive unit in terms of how much man coverage they play. They have allowed a league-leading 11 touchdowns while in man coverage, five more than any other side.
Man Coverage Rate: 47.9 percent
Seattle is seen as a zone coverage team that just plays Cover-3 all game long, but that has never really been true, and they play a lot of man coverage in their defense. This season they have been even more aggressive with that man coverage and have allowed just one passing touchdown against their man coverage shells.
Man Coverage Rate: 47.1 percent
The Titans have been an aggressive team in terms of man coverage for a while, but they are moving towards having the players that can execute it better, albeit slowly. They have allowed a first down on 48.2 percent of their targets against man coverage, the fourth-worst figure in the league.