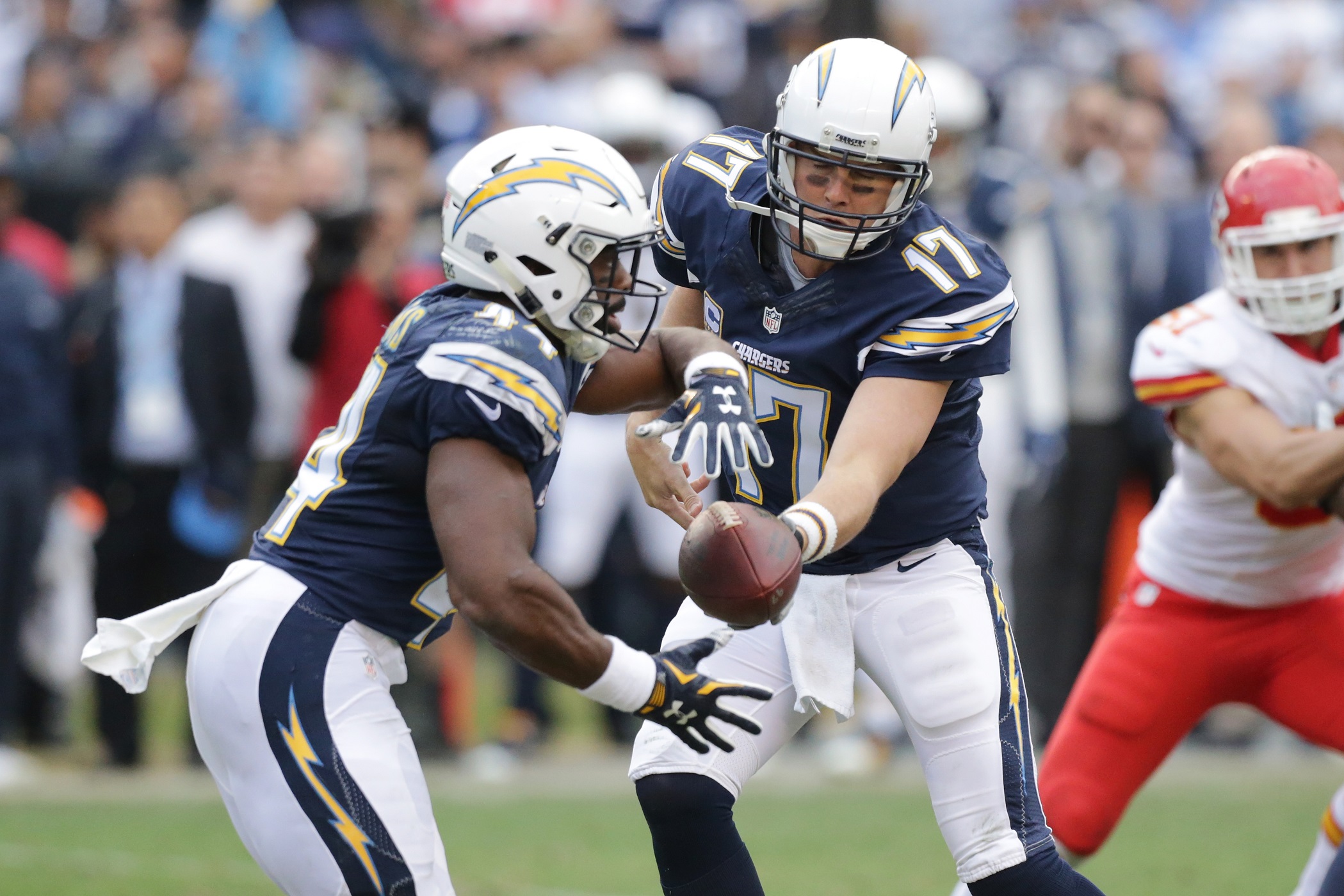 SAN DIEGO, CA - JANUARY 01: Philip Rivers #17 hands of the ball to Andre Williams #44 of the San Diego Chargers against the Kansas City Chiefs during a NFL game at Qualcomm Stadium on January 1, 2017 in San Diego, California. (Photo by Leon Bennett/Getty Images)
The final week of the preseason continues with the Los Angeles Chargers at the San Francisco 49ers. This is the last chance for many players to make their case to be on the opening season roster, whether it be as a role player, as part of a position rotation, or as a special teams player. Our team of PFF analysts have all the most important position battles and players to watch for each team:

Coverage by : Andrew Fleischer
Andre Williams performed well on limited offensive snaps in 2016 for the Chargers, with an 87.1 overall PFF grade on the season. Williams has not translated that success into the 2017 preseason, earning a 37.1 overall PFF grade through three preseason games so far. His 1.23 yards after contact per attempt is the second-lowest mark among 51 running backs with at least 17 attempts.
Austin Ekeler is an UDFA out of Western Colorado. He might not have the draft pedigree or the veteran status, but he's definitely opened some eyes this preseason. He's posted a 72.1 overall PFF grade in three weeks of preseason games on 7 snaps as a runner and 20 snaps as a receiver. In his five pass-blocking snaps, Ekeler hasn't given up a single pressure.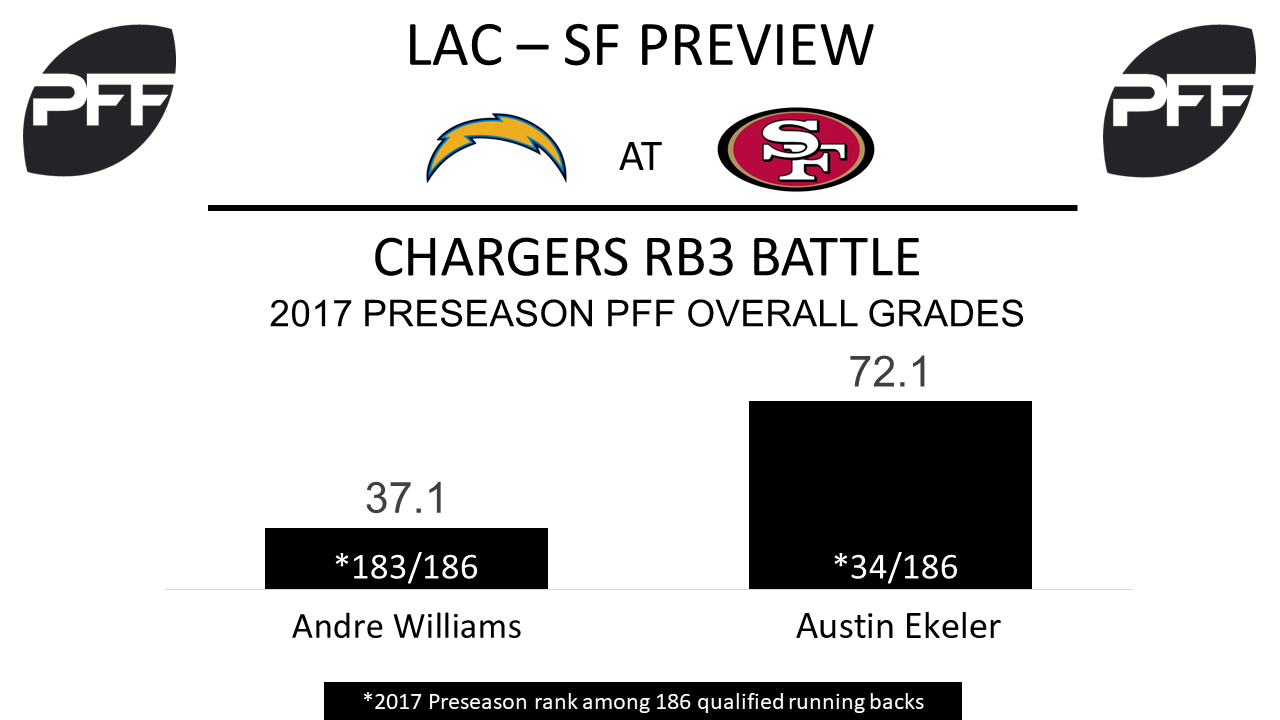 Players to Watch:
Darius Philon, DT – Darius Philon has earned a 78.0 grade in his preseason performances so far, tied for the 79th best mark out of 271 eligible defensive tackles. His 5.4 pressure percentage is the 10th highest mark among eligible defensive tackles. Another strong performance against the 49ers could be enough to make the team, especially in light of Tenny Palepoi's one game suspension to start the season.
Kellen Clemens, QB – Kellen Clemens has performed fairly well this preseason, with a 71.6 overall PFF grade for the first three games, but his adjusted completion percentage of 66.7 was 54th among 85 qualified quarterbacks. He'd do well to show his value to the coaches in this final preseason contest; the Chargers traded for Cardale Jones in the offseason, who performed well last week against the Rams, and it's not a given that the Chargers will keep three quarterbacks on the roster.
Dexter McCoil, S – Dexter McCoil competes with a deep safety group for the Chargers. He's played well this preseason, as evinced by his 72.9 overall PFF grade. He has been in pass coverage for 39 of his 77 snaps on offense so far, but has yet to be targeted. His pick six against the Saints in the second preseason game didn't hurt his case for making the roster, and while his 61.2 overall PFF grade last week against the Rams wasn't great, his coverage grade of 73.4 was still notably strong.

Coverage by: David Neumann
Offensive line has been a key position to watch in San Francisco this preseason, and that remains the case even with most starters expected to sit. It's been an uninspiring few games for both Gilliam and Theus, who have earned 63.9 and 47.8 overall grades, respectively. That poor play has primarily been a result of struggles in pass protection, where both have sub-50.0 pass-block grades this preseason.
Results have been better in the run game, where they've produced the top two run-block grades among 49ers offensive linemen. Gilliam's strong effort against the Vikings stood out in particular for a unit that has struggled to open many lanes in the run game this preseason — his 91.3 run-block grade was the best given to a tackle last week.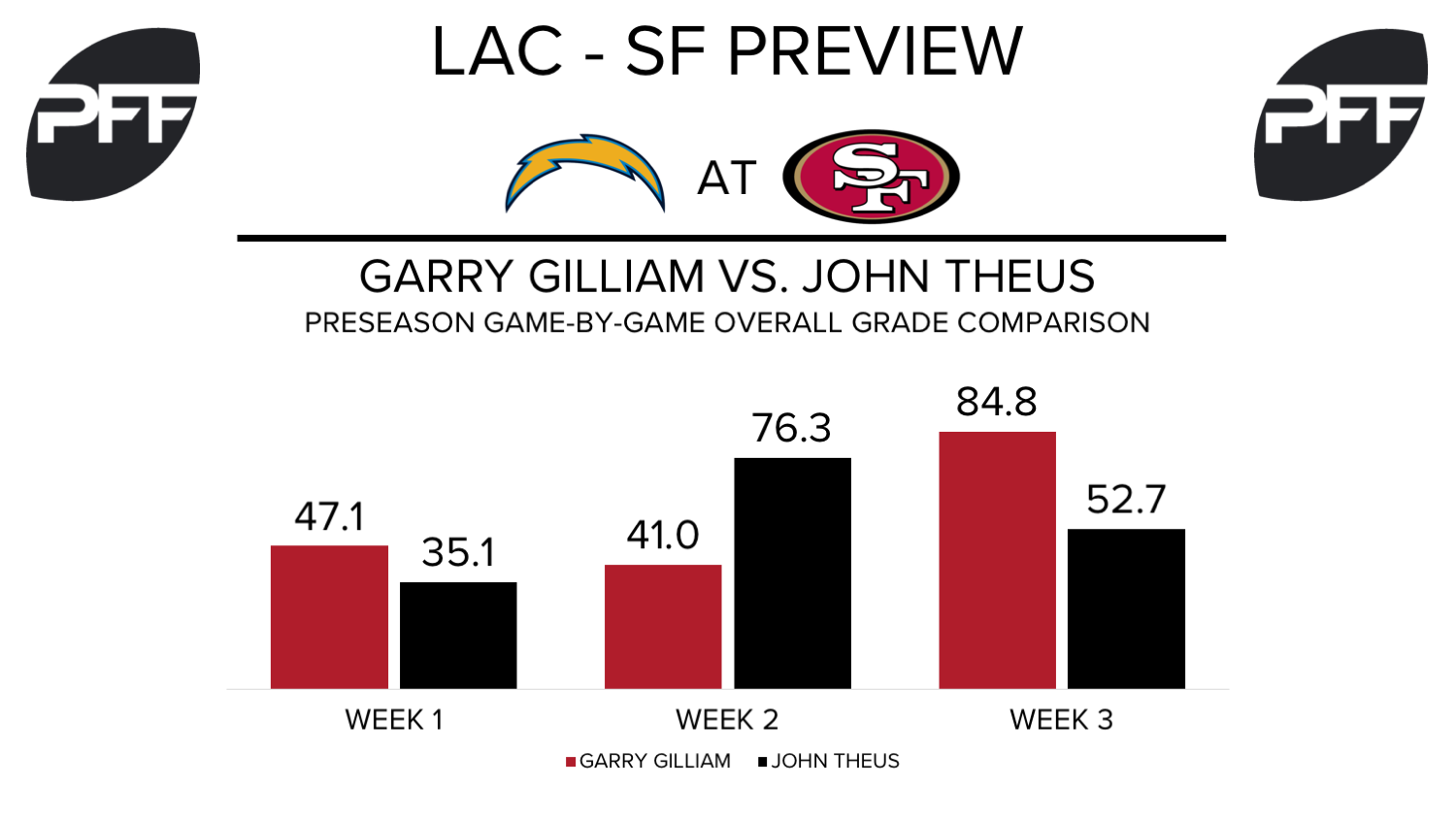 Players to Watch:
Ronald Blair, ED — After a rough rookie season (48.4 overall grade) where he played primarily on the interior, Blair has transitioned to the edge in the 49ers' new defense and performed admirably this preseason. Blair's 83.9 overall grade ranks 28th among 169 edge defenders with at least 40 snaps, and second on the team behind Aaron Lynch. He may very well be a long shot to make the roster, but his positional versatility and play this preseason make him worthy of consideration for one of the final defensive line spots on final roster.
Raheem Mostert, RB — On the heels of a big game against the Vikings — his 82.1 overall grade was the third-highest given to a running back last week — Mostert is making a solid case to be the final back on the roster. Mostert is averaging 3.68 yards after contact per attempt this preseason, forcing six missed tackles across 21 touches. He figures to see plenty of action against the Chargers and another big game could ultimately give him the nod over veteran Tim Hightower.
Kendrick Bourne, WR — There's a strong chance the 49ers will only keep five wideouts on the 53-man roster — spots that are all but locked up — but if any player has done enough this preseason to make John Lynch & Co. consider keeping a sixth, it's Bourne. His 80.8 overall grade across 58 snaps this preseason is tops on the team and ranks fifth out of 203 qualifying receivers. When targeting Bourne, 49ers quarterbacks are 6-of-9 for 113 yards and a touchdown, good for a 146.8 passer rating.