Free agency can be about simply paying premium money to secure a proven NFL talent and production level without gambling on the draft, but it can represent a different type of investment as well. While the draft is a gamble because players sometimes don't project to the pro game well, free agency can provide opportunities to gamble on players that haven't performed as well as they could in a new environment.
There have been a number of moves in this free agency period that could dramatically improve production in 2018 and beyond because of a better player fit in new surroundings.
Damarious Randall to Cleveland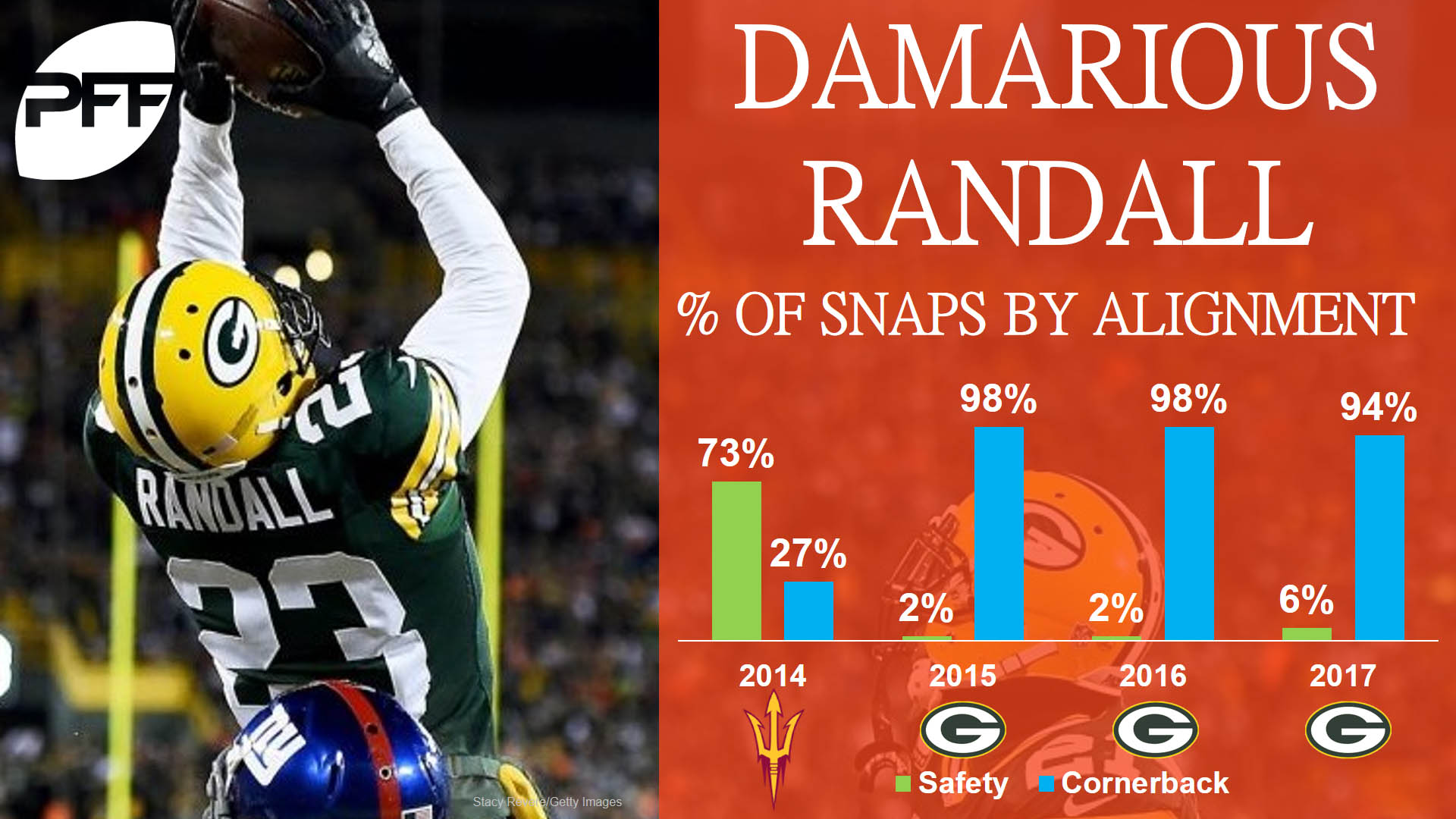 When Damarious Randall was acquired by the Cleveland Browns via trade, this move took on a significantly more interesting slant when a position switch was considered. Randall has struggled as a cornerback for the Packers since coming into the NFL, surrendering a catch on 61.1 percent of his targets and a passer rating of 95.6 over his career. As a cornerback, his value is questionable at best, but he was a free safety in college and could help the Browns upgrade at both safety spots by occupying their free safety position. That would also allow last year's first round pick, Jabrill Peppers, to move closer to the line of scrimmage where he can have a far bigger impact on games. Defensive coordinator Greg Williams claimed Peppers was only in that position because he was the best player in that role, but it diminished the impact he had on that defense.
Chris Hubbard to Cleveland
The Browns had one of the best offensive lines on paper heading into last season, but their weakness at tackle ended up derailing them. Joe Thomas has just retired, and Shon Coleman surrendered 64 total pressures over the season in addition to being flagged 14 times over the year, so both tackle spots need major attention again, but they at least addressed one with the addition of Chris Hubbard. Injuries to the Steelers' offensive line last season forced Hubbard into action for 847 snaps including the playoffs, and he surrendered just three sacks and 35 total pressures over that time (with only three penalties). His overall PFF grade was 69.6, which is more than 16.0 points higher than Coleman's was, but Hubbard was actually significantly better than that as a baseline, with a disastrous 32.5 overall grade against Baltimore dragging him down overall. Hubbard looked like a capable starting tackle and should solidify Cleveland's issue on one side of the line.
Chris Baker to Cincinnati
A season ago, Chris Baker was one of our favorite signings of free agency. He was supposed to provide the run-stuffing complement to Gerald McCoy in that defensive front and was coming off back-to-back seasons in which he had shown he could not only do that, but also bring a little bit of pressure. Baker then played significantly worse in 2017, posting an overall PFF grade of 68.4, 15.0 points lower than his two-year average before that season. Baker notched just 14 total pressures all season and 13 defensive stops, both dramatically worse than the seasons before, but in Cincinnati he has another shot to rediscover that form as the nose tackle complement to a formidable three-technique, pass-rushing defensive tackle, this time in the shape of Geno Atkins.
Sammy Watkins to Kansas City
If there was one player last season that didn't receive the boost in performance that came from Sean McVay's arrival, it was Sammy Watkins. He caught just 39 passes for 593 yards and gained only 1.3 yards per route run, 68th in the league. On deep passes, Watkins caught only three of 16 targets for 145 yards and a touchdown, but that doesn't show the volume of misses that were on Jared Goff rather than Watkins. In Kansas City, he is going to be paired with the big arm and big-play ability of Patrick Mahomes and put into an offense that is going to need to develop a secondary target – particularly deep – to Tyreek Hill. In 2017, Hill was targeted deep 24 times, and the next-highest figure among wide receivers on the team was just five. Teams may have failed to adjust to Hill's deep threat last season, but they won't make the same mistake in 2018, so the Chiefs will need to find ways to attack those adjustments in coverage. Watkins could be the answer to that.
Michael Bennett to Philadelphia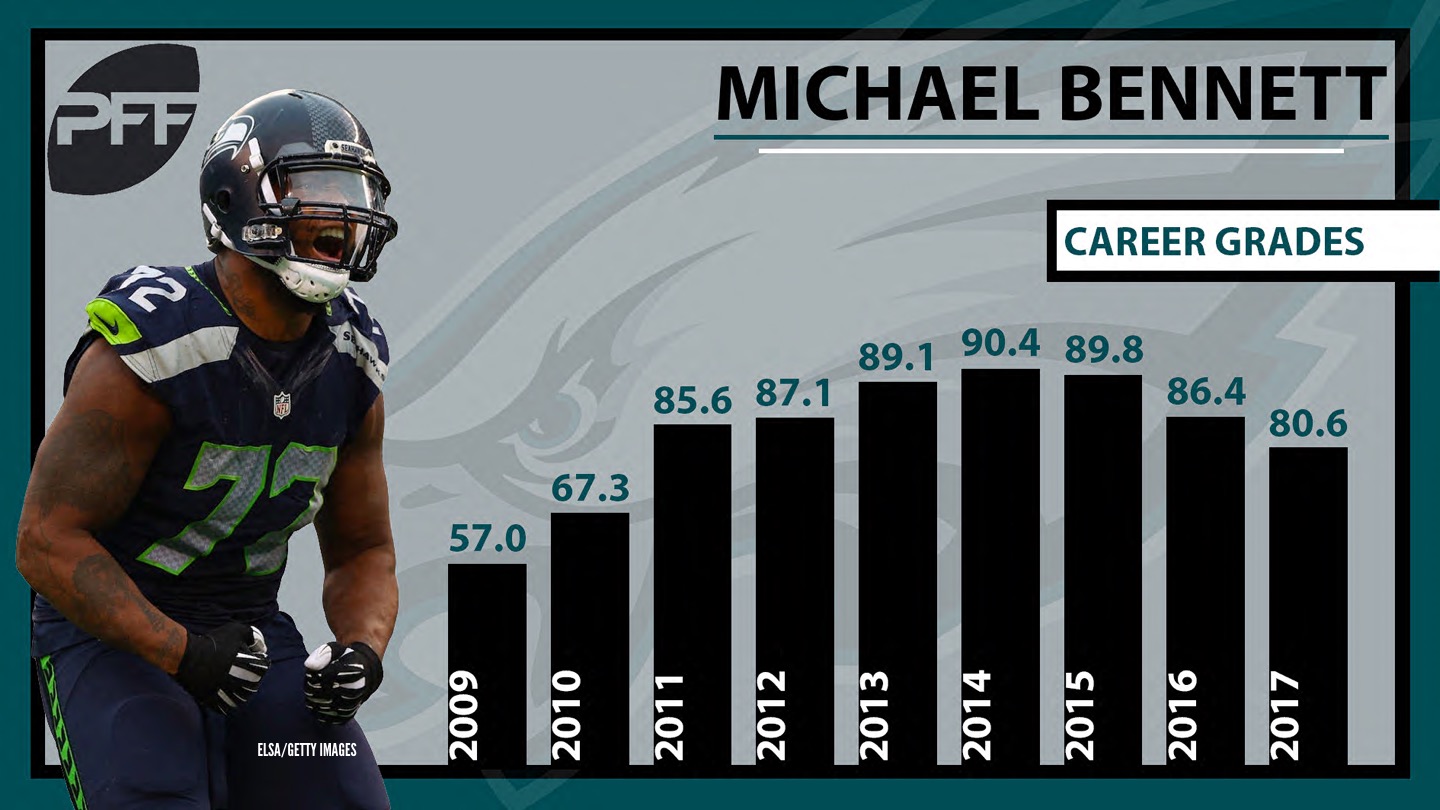 Last season represented something of a downturn in Michael Bennett's NFL career, but prior to that he had been one of the league's most dominant players for six straight seasons and won in a variety of different ways. He still racked up the pressures in 2017, notching 70 in total, but his overall PFF grade was his lowest since 2010. The Eagles had the best defensive front in the game last season, racking up 27 more pressures than any other team in the league during the regular season and they owned the best pressure rate of any team (41 percent). Bennett will be a like for like replacement for Vinny Curry, whose pass-rush productivity score of 10.8 was marginally higher than Bennett's 10.2. With the myriad of other weapons on that defensive line, Bennett's production should only go up next season, especially if he bounces back from his 2017 performance. Plus, given Philadelphia's cap situation this offseason, any move that seems to maintain their defensive line dominance should be considered a win.
Trey Burton to Chicago
Chicago's addition of Trey Burton represents one of the most speculative additions in free agency. Burton played just 345 snaps last season, including the playoffs, and his career is only 741 snaps old. There are 16 tight ends in the league that played more than that during the 2017 regular season alone, so the Bears are gambling significantly on a very small sample size. That being said, the potential is significant. He caught 72.7 percent of the passes thrown his way last season during the regular season and dropped only one of the 33 targets thrown his way. The Bears are looking for a dynamic matchup weapon at tight end to pair with Adam Shaheen in their multiple tight end sets, and Burton could represent a steal if they have evaluated his skill correctly.
Muhammad Wilkerson to Green Bay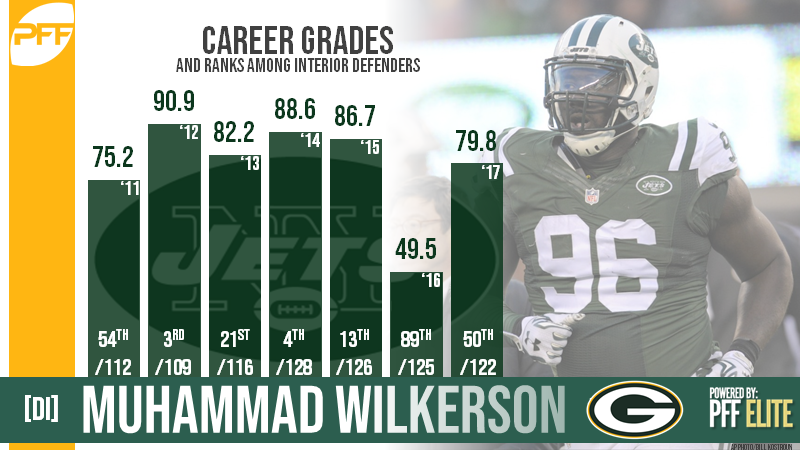 It seems a long time ago now, but Muhammad Wilkerson was once one of the most dominant and versatile defensive linemen in the league. His career has gone off the rails in recent seasons, and we are two years removed from quality play, but in 2015 he notched 80 total pressures. The Packers already have Mike Daniels and Kenny Clark on their defensive line, and Wilkerson represents a high-upside addition that could easily give them one of the best defensive fronts in the game.
Jimmy Graham to Green Bay
I'm not entirely convinced that Jimmy Graham has left anything in the tank, but we're likely going to see the best version of him possible now that he is paired with Aaron Rodgers in Green Bay. He was ill-suited to the Seahawks offensive scheme and ended up being little more than a red zone weapon for them. He scored 10 touchdowns, but only two of them came from the slot. He doesn't have the athletic dynamism he used to have, but he could become a vertical threat down the seam again with Rodgers exploiting back shoulder throws the way he has done for years on the outside.
Sheldon Richardson to Minnesota
Sheldon Richardson doesn't look like the answer to the Vikings pass-rushing interior spot based on notching just one sack last season, but he had a total of 36 pressures for Seattle, which was the largest number of total pressures posted by anybody with one or fewer sacks. Richardson had a four-game stretch where he looked dominant for the Seahawks and has been a consistently strong run-defender over his career. Surrounded by that Vikings defensive front, he should have the best situation possible to excel, even more so considering the Vikings propensity to align linebackers in the A-gaps, forcing one-on-one matchups with their defensive tackles against guards.