Not long ago, the Cincinnati Bengals had reached the playoffs in five straight seasons, culminating in a spectacular 2015 campaign and a 12-4 record. A.J. Green was thought to be one of the best receivers in the league and national pundits everywhere praised the talent on the roster. 
Now, three seasons below .500 later, the Bengals have fallen out of the national spotlight. Due to the lack of team success paired with a recent string of injuries, many have forgotten about Green's ability, too. Green recently went down with an ankle injury on the first day of training camp, and the NFL and the Bengals were robbed of an elite receiver. Unfortunately, nothing can be done about this injury, but what can — and should — be done is not lose sight of how good Green has been when on the field — and what the Bengals are getting back when he returns.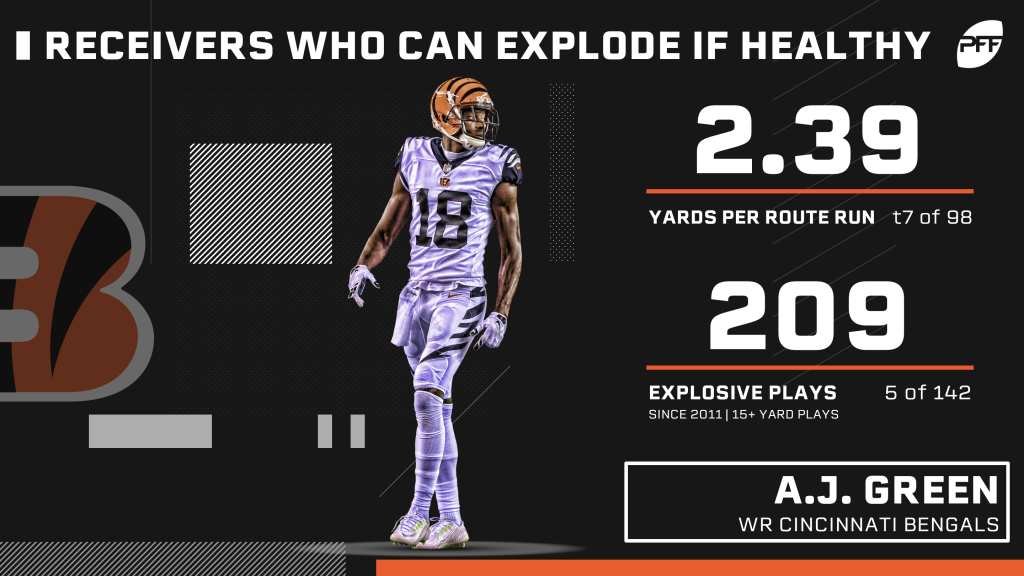 Earlier this week, A.J. Green underwent surgery to repair damaged ligaments in his ankle, and the most recent estimates have him missing at least the first couple of weeks. While Green was very healthy through his first three seasons, playing over 950 snaps in each, concern is growing over whether the veteran receiver will be able to maintain his health as he gets older. The former Georgia Bulldog has dealt with a myriad of lower-body injuries in three of his past five seasons and has missed a combined 13 games in the past three years.
Though Green has struggled with injuries as of late, they do not take away from the impressive career he has put together so far. He has been one of the league's most productive and efficient receivers since being drafted, averaging over 2.00 yards per route run every season he has been in the league. His mark of 2.47 yards per route run since 2014 ranks third among wide receivers, and he leads the league in yards per route run on slant routes in that span, as well. And while Green has missed significant time over the last five seasons, his 3,272 total deep yards is still the third-most accrued by any receiver since 2008.
Despite playing through a nagging injury last year, Green still managed some very impressive numbers. Through the first eight weeks of the season, he produced an 86.7 overall grade and six receiving touchdowns, which ranked seventh and tied third among qualifying receivers, respectively. Green was still a threat to stretch the field vertically, averaging 15.3 yards per reception, all while maintaining exceptional efficiency, as evidenced by his mark of 2.39 yards per route run (T-8th among WRs).
The former Bulldog has been as productive as he has efficient, generating four seasons with an overall grade of 85.0 or higher, along with a receiving grade of 80.0 or higher in all but his rookie season. It's easy to forget, but Green has gone over 1,000 yards in six of his eight seasons and pulled down double-digit touchdowns in three of them. 
One area where A.J. Green has been remarkably productive throughout his career is the slot. Green saw increased usage in the slot last season, taking 29% of his snaps from the position compared to his previous career-high of 20.2%. He responded with absurd efficiency, producing a whopping 4.30 yards per route run from the slot, which easily ranked first among receivers, to go along with four touchdowns.
Over the last three seasons, 109 wideouts have taken 200 or more slot snaps. A.J. Green's 90.1 receiving grade and average of 2.60 yards per route run from that area on the field both rank second, while his 113.8 passer rating when targeted ranks 22nd. Should the worst-case scenario come to fruition and Green comes back from injury with less explosiveness and athleticism, there is reason to believe he could transition into taking on a larger slot role while still maintaining high-level production in the twilight of his career, à la Larry Fitzgerald.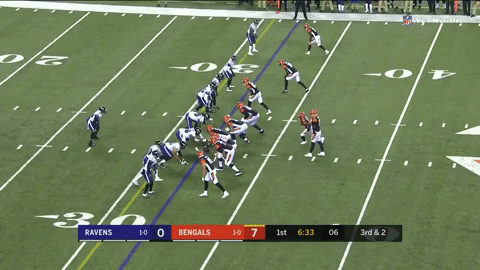 Considering his quiet demeanor, recent injuries and the Bengals' struggles over the last few years, it is easy to see why Green fell to the backs of the minds of pundits and fantasy players alike. Though he is not the perfect picture of health, he has been one of the NFL's elite receivers since entering the league in 2011, managing both remarkable production and efficiency. Green has played through injuries and bounced back from others previously, all while maintaining his exceptional efficiency and productivity. Even if it takes some time for Green to return to his explosive form, the Bengals will still be gaining one of the league's best at receiver upon his return.