Every year, NFL teams sign marquee free agents at every position while they draft younger players to fill other holes in their roster. Contract language sometimes delays even the most "NFL-ready" rookies while other disputes in contracts take centerstage during the league's offseason periods (see Roquan Smith, Le'Veon Bell, respectively).
With all that in mind, we at PFF have devised a method of looking at the league's best contracts as we enter the 2018 NFL season. We wanted to know which teams have the league's best players under the lowest amount of guaranteed, annual money and which of those athletes had been standouts at their respective positions. To do so, we utilized our data scientists Eric Eager & George Chahrouri's recently revealed Wins Above Replacement metrics for every NFL player who has signed a contract after their rookie deal.
To qualify for this study, a player must be at least one year into their second contract in the league, under contract for at least the 2018 and 2019 seasons and logged at least 1,000 snaps over the past three seasons.
Combining all of the data with PFF grades from Premium Stats 2.0, the question still remained: which NFL players at each position produced top-level WAR values, based on the amount of guaranteed money per season and the amount of money they'll be due after the 2018 calendar year. The formula developed was essentially that, and the results were very appealing. Are teams paying the premium for top-notch players at each position? Are there individuals who are currently outplaying their contract value?
All of that information granted us the ability to isolate a player's three-year average WAR value over their guaranteed salary (both this season and remaining) to take a look at which players are signed to the best contracts at their positions, with respect to their peers. All contract data comes from overthecap.com.

Here are the top five safety contracts headed into the 2018 NFL season:
An undrafted free agent in 2013, Heath might not be an elite safety, but he is still a very good value player at the position, with just $450k per year guaranteed. Heath started 15 games for the Cowboys in 2017, and he produced his best season so far in coverage. He set career bests in interceptions, pass breakups and PFF coverage grade, ranking tied for 18th among safeties in the NFL with an 80.8 coverage grade. While he's unlikely to emerge as one of the top players at the position, his price tag is perfect for the Cowboys defense.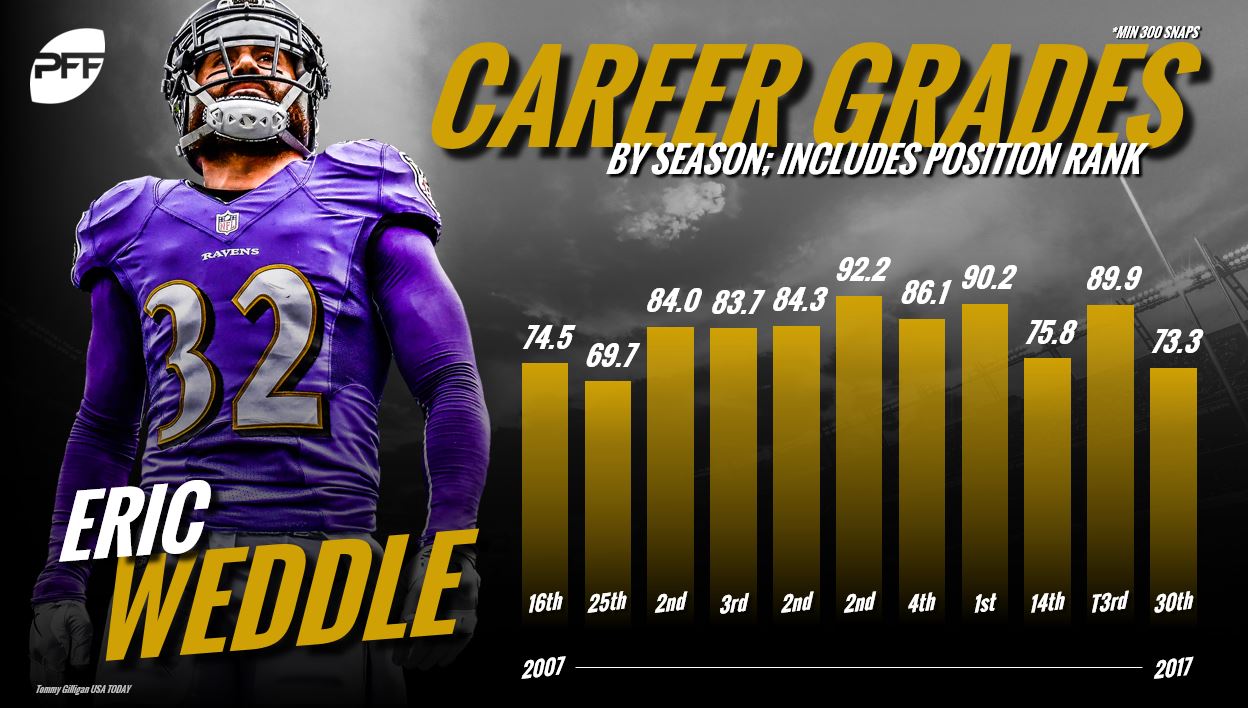 One of the best safeties of the PFF era, Weddle represents great value for the Ravens, with just $2.25 million per year of his salary guaranteed. Weddle did not have a great 2017 campaign, as he earned a 73.3 defense grade, which ranked 30th among safeties. A slow start is largely to blame for Weddle's lackluster defense grade. Using the weekly filters in Premium Stats, you can see that from Weeks 1 through 7, Weddle ranked 67th among safeties to play at least 100 snaps, producing a PFF grade of just 57.5. Over that span he missed seven tackles too. From Week 8 through the end of the year, however, his PFF grade of 81.9 ranked ninth at the position, while he missed just three tackles during that period. If he performs like he did in the second half of the year in 2018, the Ravens should be just fine at safety.
Burnett was a solid pickup for Pittsburgh, with just 30.0 percent of his contract being guaranteed. He missed some time due to injury last year, and it seemed to impact his performance, with the former Green Bay Packers safety producing his lowest PFF grade (68.3) since 2013. Burnett is a sure tackler who can make an impact close to the line of scrimmage. He has racked up 128 tackles resulting in a defensive stop over the past four seasons, and he missed nine or fewer tackles every year in that span. His PFF run-defense grade has been 70.0 or higher since 2014, so expect him to make an impact at strong safety for the Steelers.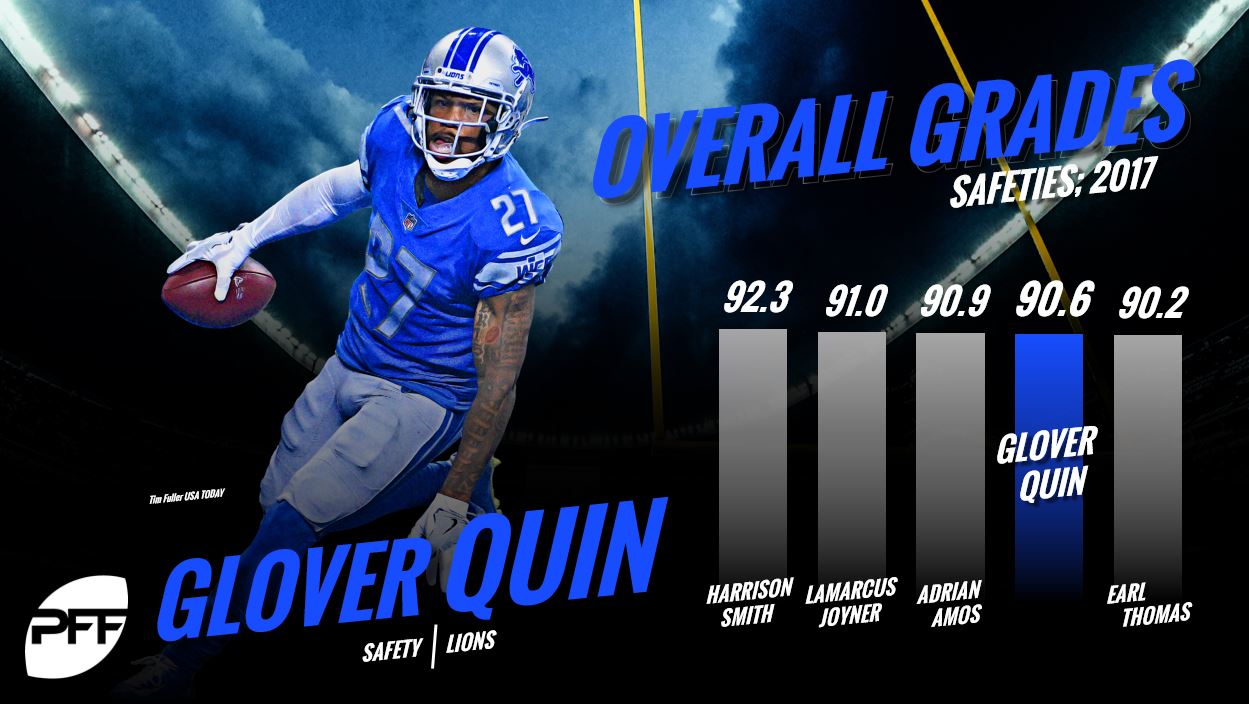 Quin is coming off the best season of his career, producing a PFF grade of 90.6 to rank fourth at the position in the regular season. Quin excelled in coverage, producing a PFF coverage grade of 91.3, tied for second among safeties behind Harrison Smith. Quin allowed just 16 receptions on plays where he was the primary defender in coverage. He has produced PFF grades of 77.5 or higher in four of his five seasons in Detroit.
With just $1.8 million per year of his salary guaranteed, Chung is the right player at the right price in New England. A force in the box, Chung has racked up 124 tackles resulting in a defensive stop over the past four seasons, and he has produced a PFF grade of 70.6 or higher in three of those four years. He's been solid in coverage too, posting PFF coverage grades of 70.9 or higher in three of the past four seasons, and he has missed 11 or fewer tackles in all but one of his nine seasons.