Now that the fourth and final week of the preseason is behind us, we here at PFF have put together an All-Rookie Team to showcase the first-year players who performed best at their respective positions. From a top-10 pick to a tryout player, these were the NFL's best rookies over the month of August.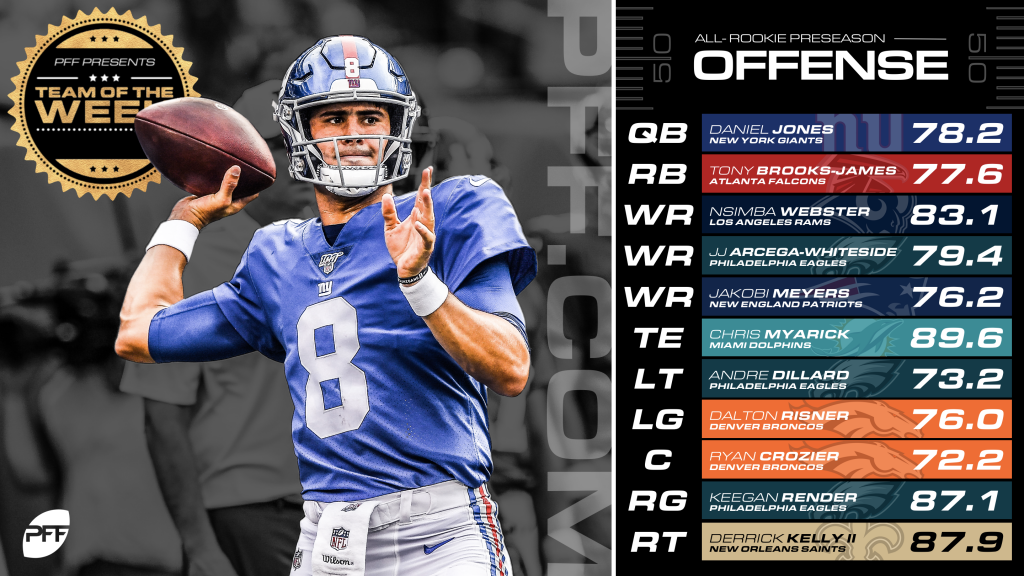 OFFENSE
The New York Giants selected Jones with the sixth overall pick of the draft, but we here at PFF thought him to be more of a third-round prospect. Even so, Jones outperformed his expectations in the preseason, earning the highest grade among rookie quarterbacks. No first-year signal-caller posted a better big-time throw to turnover-worthy play ratio than Jones at 4:0. There were a few mistakes — including a bad fumble in Week 2 — but his 90.8 passing grade from a clean pocket was the best among all quarterbacks in the preseason and should give the Giants a glimmer of hope for the future of the franchise.
Tony Brooks-James made a name for himself during the final preseason game where he tallied four rushes of 10-plus yards, two broken tackles and 6.0 yards after contact per attempt on 15 total carries. As an undrafted free agent out of Oregon, Brooks-James failed to make the Falcons 53-man roster, but he is one to keep an eye on as he plays the most replaceable position on the field and can step in for any team if needed.
Nsimba Webster was arguably the most reliable rookie wide receiver this preseason, catching every single catchable pass thrown his way. Webster showed superb production with 2.24 yards per route run, four explosive plays (15-yard plays), three broken tackles and a 123.0 passer rating when targeted. It's no surprise the Los Angeles Rams kept the undrafted Webster on the 53-man roster.
Arcega-Whiteside got off to an unfortunate start in his first two weeks of preseason action, as five of his 10 targets over those weeks were uncatchable, but he was able to rebound behind some solid quarterback play in Week 4, catching eight of his nine targets for an 89.0 overall grade. With his preseason performance overall collecting 2.30 yards per route run, 5.0 yards after the catch per reception, three explosive plays and three broken tackles, Arcega-Whiteside seems destined to make some noise for Philly in the near future.
No wide receiver saw more action this preseason than Jakobi Meyers, who saw 28 targets over the month of August. Meyers played a decent amount in both the slot (80 snaps) and out wide (124 snaps), and he was still an effective receiver at both alignments, finishing in the top-three among rookies in receiving grade at each. He ends the preseason with seven explosive plays and an average of 2.30 yards per route run.
The former Temple Owl caught all eight of his targets for the Dolphins this preseason, turning them into 102 yards and six first downs. He may have been waived by the Dolphins during the roster cutdown, but his preseason performance makes him a name to look out for in the future: He recorded two elite receiving grades across his four games' worth of action. 
Andre Dillard showed well in both pass protection (83.8 grade) and as a run-blocker (78.8). The only knock on his play so far has been his four penalties. A month into the season, and he already looks like the best backup tackle in the NFL. 
The Broncos' left guard was impressive across his 62 preseason snaps. He earned 70.0-plus grades in both the running game (71.8) and in pass protection (76.8), and he didn't allow a single pressure on 35 pass-blocking matchups. 
The undrafted Ryan Crozier started slowly — with a 33.8 pass-blocking grade against the Falcons in the Hall of Fame Game — but he went on to finish it with three straight pass-blocking grades of at least 79.0. He didn't allow a single pressure all preseason, and he got called for just one penalty.

Keegan Render earned showed well as a run-blocker this preseason, earning a 91.1 run-blocking grade, and he allowed only one pressure as a pass-blocker to boot.
Derrick Kelly II earned a 92.8 run-blocking grade across his 35 run-blocking snaps and a 79.5  pass-blocking grade across 48 pass-blocking snaps. Kelly's preseason consisted of four games and four single-game grades over 70.0; fortunately for New Orleans, they were able to stash the undrafted free agent on their practice squad following the roster cutdown.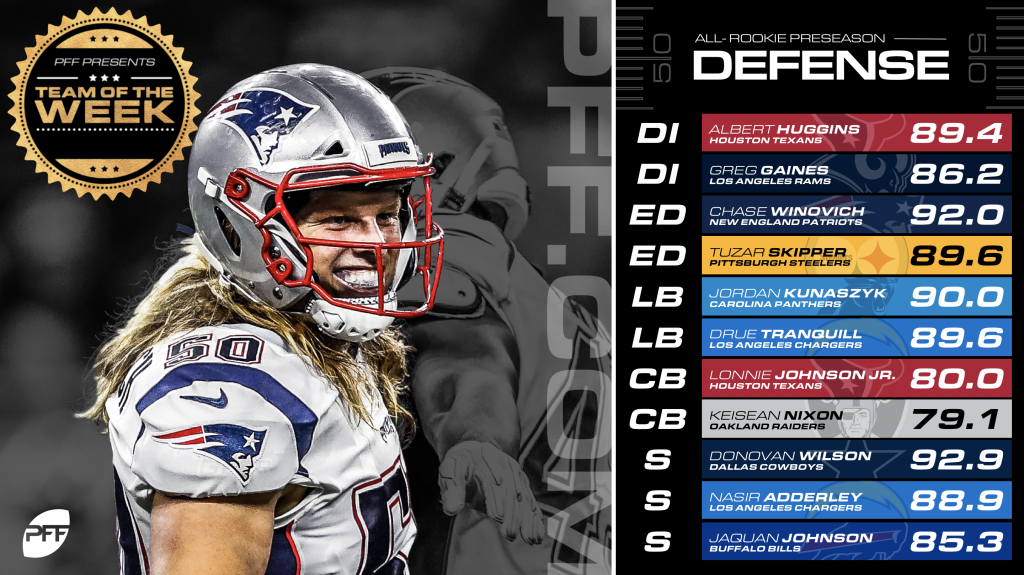 DEFENSE
Albert Huggins put on a great show in the preseason as an undrafted free agent and was a force in both the pass-rush and against the run. Against the run, Huggins came away with a 79.4 grade and six defensive stops. As a pass-rusher, Huggins totaled six pressures and finished with an 81.3 grade.
Fourth-round pick Greg Gaines was stout against the run throughout his preseason and earned an 85.3 run-defense grade for his efforts. The former Washington Husky wasn't too shabby in the pass-rush either, with five total pressures and a 14.3% win rate.
Winovich put on a show from the get-go, earning a 91.6 pass-rush grade off the back of 12 quarterback pressures and a 36.7% pass-rush win rate. It's safe to say the Patriots found their long-term replacement for Trey Flowers.
There may not be a better feel-good story from this year's undrafted free agent pool than Tuzar Skipper. Originally a tryout at the Steelers rookie camp, the odds were stacked up against Skipper of being able to make the 53-man roster, but he proved everyone wrong and made the cut. Throughout his dominant preseason, Skipper recorded 13 pressures, 10 defensive stops and an 87.1 pass-rush grade. 
Jordan Kunaszyk was a multi-faceted force this preseason, finishing with a grade above 75.0 in run-defense, in the pass-rush and in coverage. With a 43.1 passer rating allowed and 10 defensive stops, the undrafted free agent was able to sneak his way onto the Panthers' roster. 
During his 2019 preseason, Tranquill showed great sideline-to-sideline abilities with 14 instances of being the first defender to contact. Tranquill has a bright future in Los Angeles.
After allowing a 27-yard touchdown in his preseason debut, the Texans' second-round pick was on lockdown his final two weeks, allowing just one catch and breaking up two passes on his five targets in coverage. 
Nixon got picked on in coverage during his three preseason outings and was targeted on 15 of his 90 coverage snaps. Nixon, however, won that battle by allowing just five catches and a 42.4 passer rating. 
With two of his three overall game grades surpassing 90.0, Donovan Wilson has gotten the attention of everyone at PFF, and he should be getting everyone else's attention too. Wilson intercepted three passes while lined up at free safety for the Cowboys.
Nasir Adderley only saw one game of preseason action, but he was excellent across those 52 snaps. While in coverage, Adderley had one interception and one pass breakup and figures to be a force as a part of one of the league's top secondaries.
Bills sixth-rounder Jaquan Johnson made a name for himself in Week 3 of the preseason when he recorded a 97.7 overall grade. Johnson played all over the field during the preseason, but really shined at free safety with a 94.3 overall grade, three pass breakups and a forced fumble.
[Editor's Note: All of PFF's player grades and advanced statistics are finalized and made available to ELITE subscribers before 5 pm ET on the Monday following each weekend's slate of games during the season. Sign up today to gain access!]