The 2019 NFL preseason is in finally in the books, so we at PFF have put together our 2019 NFL All-Preseason Team to highlight the best performances at every position around the league from this year's preseason games.
[Editor's Note: All ELITE subscribers have access to advanced stats and grades for all NFL players in the preseason, regular season and postseason. Subscribe today to gain access!]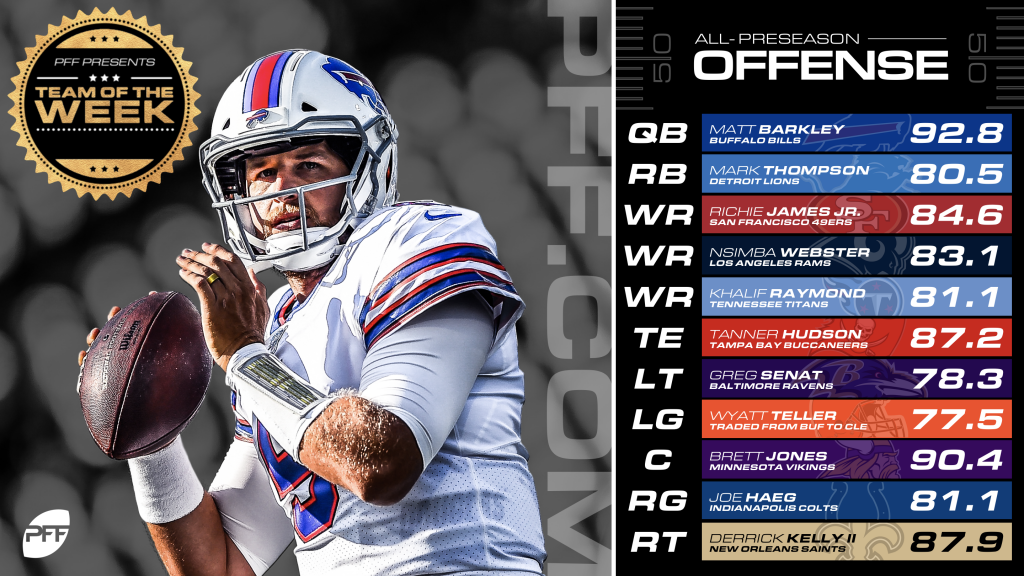 Offense
Barkley enjoyed a stellar preseason, particularly when it came to throwing the ball downfield. On throws 10-plus yards downfield, he went 10-for-14 for 195 yards, with three touchdowns and no interceptions. That included going three-for-six for 98 yards on throws 20-plus yards downfield.
Thompson saw 28 carries this preseason, averaging a modest 4.1 yards per carry. He also averaged a whopping 3.1 yards after contact per carry and forced seven missed tackles along the way.
James averaged just 9.8 yards per catch this preseason, but 5.4 of those yards came after the catch. He forced a missed tackle on one reception, and six of his 12 receptions resulted in a first down. He also showed himself capable of making plays downfield, with a 33-yard grab in the third preseason game against the Kansas City Chiefs.
Webster didn't have any one big game in particular this preseason but still earned a spot on this list after four solid performances in August. He caught all 15 catchable passes thrown his way, with seven of those going for a first down, and forced three missed tackles in the process.
One of the stars of the preseason, Hudson made the most of his 27 targets, racking up 19 receptions for 245 yards with three touchdowns. Along with those three scores, another 10 receptions went for a first down. He was a force between the numbers, with 14 of his receptions, including two touchdowns, coming there.
Raymond dropped a pass in the Titans' preseason opener, but he showcased solid hands in the final three games. 10 of his 13 receptions in August resulted in a first down and, while he didn't force any missed tackles, he did have a reception of 20-plus yards in all four games.
Senat saw time at both tackle spots, but 97 of his 122 snaps came at left tackle. The 2018 sixth-round draft pick out of Wagner allowed just two hurries from 71 snaps in pass protection, while his 78.3 PFF run-blocking grade ranked third among tackles that saw at least 50 run-blocking snaps this preseason.
Teller played 121 snaps for the Bills in their opening three preseason games before being traded to the Cleveland Browns, and the most surprising part of that trade is that he was playing well. He didn't allow a single sack, hit or hurry from 64 pass-blocking snaps in those three games. 
*Buffalo traded Wyatt Teller and a 2021 seventh-round pick to the Browns in exchange for a 2020 fifth-round pick and a 2020 sixth-round pick.
On the field for 131 snaps this preseason, Jones excelled in pass protection and as a run blocker. From 72 pass-blocking snaps, he didn't allow a single sack, hit or hurry, while his 88.3 PFF run-blocking grade was the highest among centers who saw at least 50 run-blocking snaps.
Haeg allowed a sack and three hurries in the preseason opener against the Buffalo Bills, but he rebounded to allow just one hurry on 67 pass-blocking snaps in their final three games. He split time between right tackle and right guard, with 77 of his snaps coming when lined up inside.
Kelly finished the preseason of a high, earning a spot in our final preseason Team of the Week for his work against the Miami Dolphins. All 83 of his snaps came at right tackle and, along with producing a stellar PFF run-blocking grade of 92.8, he allowed just one hurry from 48 snaps in pass protection.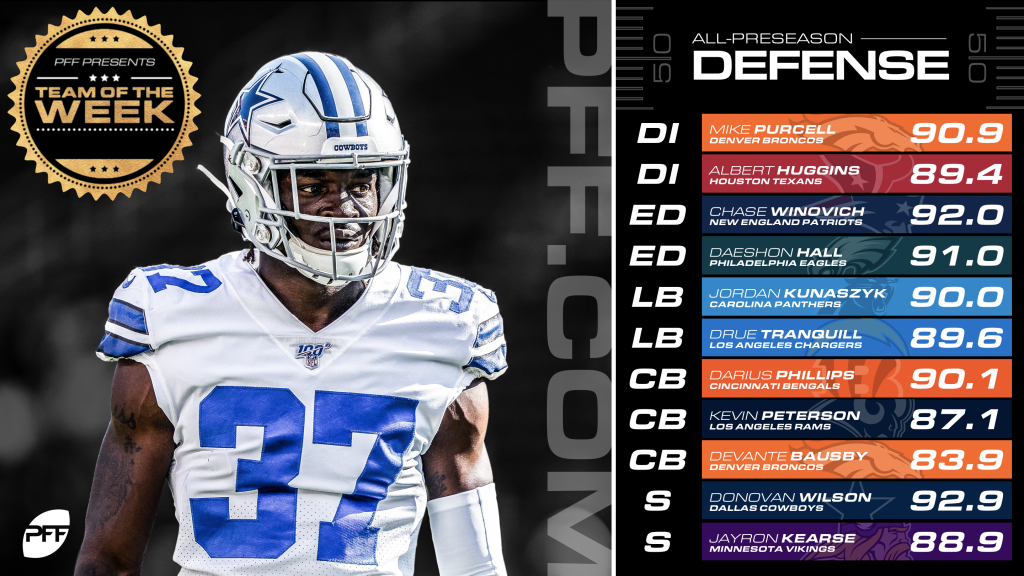 Defense
Purcell recorded three hits and three hurries on 64 pass-rushing snaps this preseason, but it was as a run defender where he really stood out. His 92.2 PFF run-defense grade was tied for the best mark among players on the defensive interior, and all seven of his tackles resulted in a defensive stop.
The undrafted free agent out of Clemson was impressive all round for the Texans this preseason. Six of his seven tackles resulted in a defensive top, helping him to a 79.4 PFF run-defense grade, and he racked up three hits and three hurries from 80 pass-rushing snaps.
Winovich was a force for the Patriots this preseason, with three sacks, a hit and eight hurries on 53 pass-rushing snaps. He wasn't just a force as a pass-rusher, though, as he finished the month with four tackles resulting in a defensive stop, as well.
Hall rushed the passer 69 times for the Eagles this preseason, racking up four sacks, eight hits and three hurries. That means that he knocked the opposing quarterback down once every 5.8 pass-rushing snaps. If that wasn't enough, he also forced three fumbles.
An undrafted free agent out of Cal, Kunaszyk had two big performances this preseason, coming against the Buffalo Bills and Pittsburgh Steelers. He finished preseason with 10 of his 12 tackles resulting in a defensive stop.
The Chargers' fourth-round draft pick out of Notre Dame had an impressive preseason that included forcing a fumble and coming away with an interception. Even when he wasn't forcing turnovers, he was still solid, racking up nine tackles resulting in a defensive stop.
Phillips' preseason numbers in coverage were ridiculous. On the field for 63 snaps in coverage, he saw seven passes thrown into his coverage. Those seven targets netted just two receptions for eight yards, with Phillips recording two pass breakups and an interception. All of that added up to a 0.0 NFL passer rating allowed on throws into his coverage.
Peterson was another player who put up the sort of numbers that mean quarterbacks would have been better just avoiding throwing into his coverage. He allowed two receptions for 24 yards from four targets, adding a pass breakup and two interceptions.
An undrafted free agent back in 2015, Bausby might not have recorded any interceptions this preseason, but he did still get his hands to the ball and produced three pass breakups. He was targeted seven times in August, allowing just two receptions. One of them went for 51 yards, while the other went for just four.
The Cowboys' sixth-round draft pick made a name for himself this preseason, leading all safeties with three interceptions in August, helping him to lead the position with a PFF coverage grade of 92.1. The former Texas A&M Aggie also saw two of his six tackles result in a defensive stop.
Kearse was the primary coverage defender for two targets this preseason, and the lone reception he allowed went for -4 yards. He also had two pass breakups, and three of his six solo tackles resulted in a defensive stop.
Special Teams
Slye was good on seven-of-eight field goal tries this preseason, and he also didn't miss any of his four extra point attempts. Most impressive was his 59-yard field goal against the Pittsburgh Steelers, which should give the Panthers confidence going into the season.
O'Donnell punted 22 times for the Bears this preseason, averaging 51.2 yards per punt. Seven of those punts landed inside the opposing 20-yard line, while his 4.66 seconds of average hang-time was the highest among punters with more than 10 punts.
We saw several big returns this preseason, but Harris finished with the highest grade thanks in no small part to a 78-yard punt return for a touchdown.
Gilbert saw 53 snaps across five phases on special teams, but it was his work in the final preseason game that really stood out. His blocked field goal against the Panthers was one of the top plays by anyone on special teams this preseason.