Carolina Panthers
Pass Game Supporting Cast – Tier 3
Overall Team Supporting Cast – Tier 2
[Editor's note: The Supporting Cast metrics measure performance of players other than the quarterback, utilizing PFF grades and clustering analysis to group them into tiers from best (Tier 1) to worst (Tier 4). Passing Game Supporting Cast is indicative of supporting players contributing more to passing stats while Overall Team Supporting Cast includes other portions of team performance as well. For more information on support cast rankings, listen in weekly to the PFF Forecast podcast.]
Explosive players – new and old – on both sides of the ball will make 2018 a fun year for the Carolina Panthers. But it will also make for an intriguing training camp in which multiple positions are up for grabs. The biggest questions for the Panthers lie on the offensive line after the departure of stalwart left guard Andrew Norwell while the additions of three receivers, D.J. Moore in the draft, Torrey Smith through a trade and Jarius Wright in free agency, bode well for what was a subpar 2017 pass-catching crew. On defense, multiple returning players and multiple signings in the secondary and on the defensive line put the Panthers in a great position in terms of depth.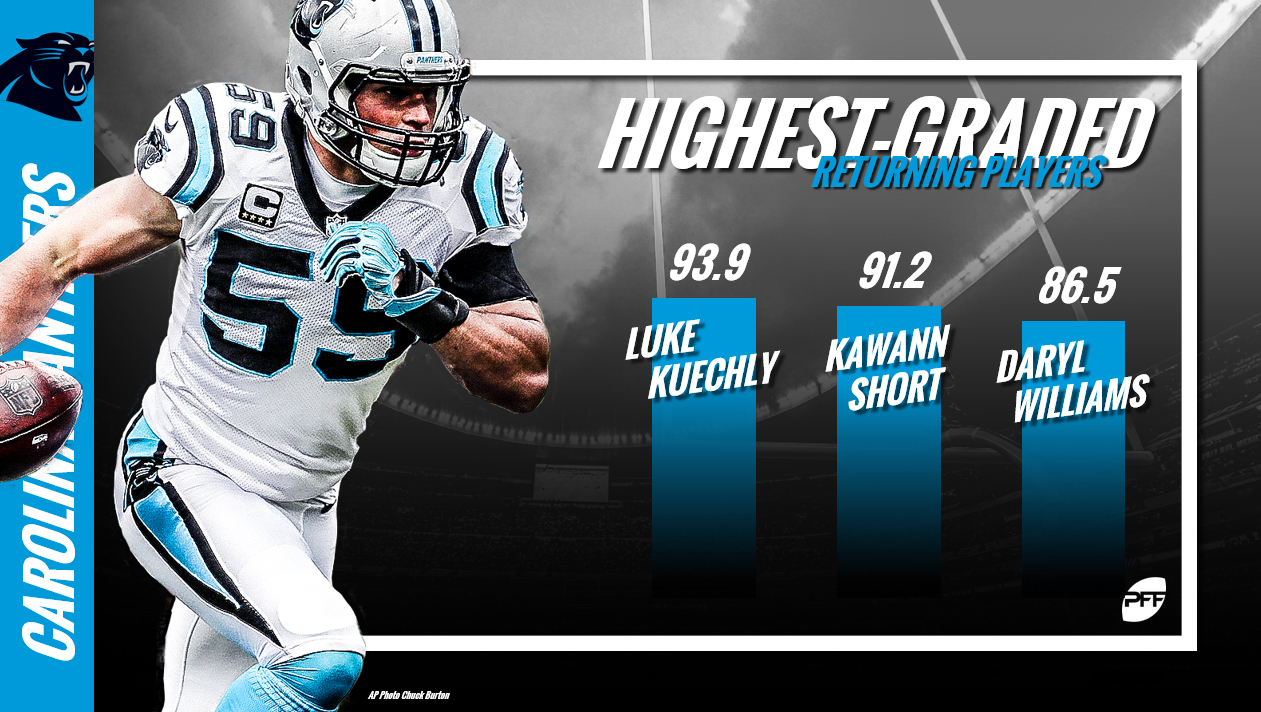 The Panthers will be one of 23 teams on June 25 to have their veterans report for training camp. Many eyes will be on flashy first-round receiver Moore, and other eyes may be on new defensive pieces such as Dontari Poe, Ross Cockrell and Da'Norris Searcy. But one of the most important battles will be at the left guard spot.

Norwell was unsurprisingly fantastic in 2017, but the rest of the offensive line was far from it. Collectively, the Panthers allowed 161 pressures as an offensive line. Norwell allowed just 13. The poor play in pass protection was particularly evident in tackles Matt Kalil and Daryl Williams, who combined to allow 10 sacks, 11 hits and 58 hurries. Williams and Kalil finished 33rd and 52nd in pass-blocking efficiency, respectively. Norwell is no longer the bandage for their play, which means whoever takes over the left guard position among Jeremiah Sirles, Taylor Moton, Tyler Larsen, Amini Silatolu and a handful of rookies will need to exceed expectations.
It would appear Sirles is the favorite for the job, and his numbers at left guard are slightly more promising than his ones at right tackle. While only 34.5 percent of his career snaps have come at left guard, he spent most of his 2017 snaps at the position for the Vikings and didn't allow a sack. He certainly isn't the most polished offensive lineman, but for now he appears to have the leg up in what will be the most pivotal battle of Panthers training camp.
Remodeling the receiver room
Cam Newton has some new coworkers who just so happen to have some speed. The most intriguing of those options is obviously first-round pick Moore. At Maryland, Moore followed in the footsteps of Torrey Smith and Stefon Diggs as receivers who stretched the field vertically. Smith and Diggs have had very respectable careers to date, and now Moore gets to prove that he can match his college production. Moore was targeted no less than six times in a game in 2017, and only four NCAA receivers forced more missed tackles than he did last season.
Wright makes sense for the Panthers in the slot, where both of his two 2017 touchdowns came. It's worth noting that Curtis Samuel ran a third of his routes from the slot and has a shot at the starting spot as well. His production was hampered by injuries, but he does have the potential to take the spot if he can fix drop issues (four drops on just 26 targets in 2017).
Smith should fit in well with a current receiving corps with a speedster (Moore), a big body (Devin Funchess) and shifty slot players (Wright and Samuel). His deep-threat potential has already been proven in stints with his former teams, so he and Newton should have few issues gelling. Smith exceled over the middle of the field last year, catching 22-of-35 targets for 338 yards compared to just 21-of-41 targets for 226 yards elsewhere on the field in front of the line of scrimmage.
For more on Moore and the rest of the 2018 NFL Draft class – it's not too late to grab the 2018 Draft Guide with grades, prospect profiles and much more  –

Replacing Ed Dickson
The departure of Ed Dickson shouldn't be a worry for the Panthers, with more than one tight end capable of performing similar duties. Fourth-year tight end Chris Manhertz figures to be the favorite, but a foot injury will have him starting training camp on the PUP list, which leaves the door open for rookie Ian Thomas to impress.
Dickson was primarily used in run-block situations, with 44.0 percent of his snaps coming in the role. Thomas was used in run-blocking in 45.1 percent of his snaps in college, so the transition to replace Dickson certainly makes sense. Thomas graded poorly in run-blocking in 2017 (43.8), but so did Dickson (45.5). It's unlikely Thomas will upend Manhertz for the backup tight end role for now, but the rookie has time to prove his worth with Manhertz sidelined for the start of training camp.
POSITION BATTLES TO WATCH
2018 PFF NFL Training Camp Previews
---
Arizona Cardinals | Atlanta Falcons | Baltimore Ravens | Buffalo Bills | Carolina Panthers | Chicago Bears | Cincinnati Bengals | Cleveland Browns | Dallas Cowboys | Denver Broncos | Detroit Lions | Green Bay Packers | Houston Texans | Indianapolis Colts | Jacksonville Jaguars | Kansas City Chiefs | Los Angeles Chargers | Los Angeles Rams | Miami Dolphins | Minnesota Vikings | New England Patriots | New Orleans Saints | New York Giants | New York Jets | Oakland Raiders | Philadelphia Eagles | Pittsburgh Steelers | Seattle Seahawks | San Francisco 49ers | Tampa Bay Buccaneers | Tennessee Titans | Washington Redskins