Dallas Cowboys
Pass Game Supporting Cast – Tier 3
Overall Team Supporting Cast – Tier 1
[Editor's note: The Supporting Cast metrics measure performance of players other than the quarterback, utilizing PFF grades and clustering analysis to group them into tiers from best (Tier 1) to worst (Tier 4). Passing Game Supporting Cast is indicative of supporting players contributing more to passing stats while Overall Team Supporting Cast includes other portions of team performance as well. For more information on support cast rankings, listen in weekly to the PFF Forecast podcast.]
Despite the Dallas Cowboys record regressing in 2017, there were definitely some positives to take from the season. While Sean Lee missing time hurt the defense, young players from that side of the ball gave reason for optimism. Demarcus Lawrence was the third highest-graded edge rusher in 2017 and had 79 total pressures on the year. Others such as David Irving and Chidobe Awuzie had stretches where they also showed they could be building blocks for the defense.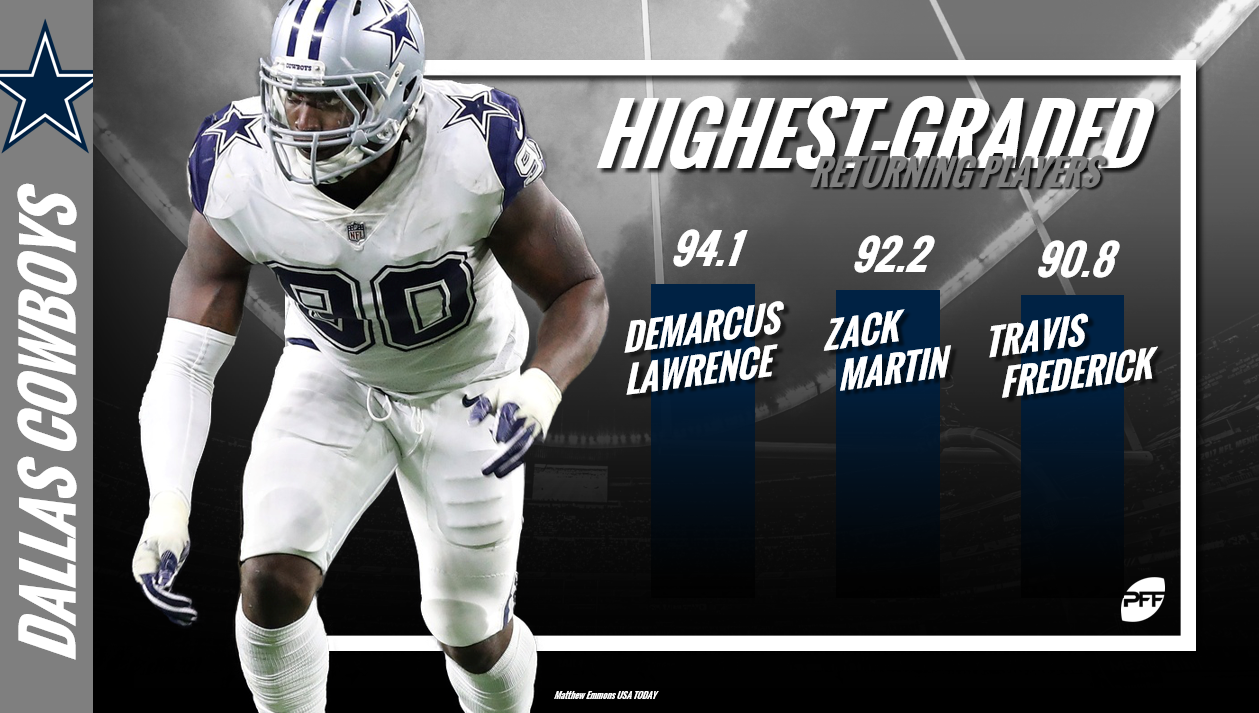 On offense, they get a boost with a healthier Tyron Smith who is coming off an injury-plagued year. Ezekiel Elliott once again will be the offensive focal point out of the backfield and unlike last year, doesn't have a six-game suspension looming to start the season. The biggest story for the Cowboys to answer in camp will be who emerges as Dak Prescott's top targets after Dez Bryant's release and Jason Witten's retirement.
What to make of Prescott
Some feel Prescott dropped off in his second year, but if that was the case it wasn't drastic. He once again had an overall grade over 80.0 and showed some strengths which were highlighted in PFF's 2018 QB Annual. His passer rating when blitzed of 109.9 led all quarterbacks, he ranked in the top 10 at avoiding turnover-worthy plays at 2.81 percent and his adjusted completion percentage on deep throws (20-plus yards) of 46.5 ranked fourth. The biggest drop off for Prescott in terms of passer rating came when he was kept clean, and wasn't blitzed. After a 116.5 passer rating when kept clean as a rookie, he had a 95.0 rating that was below league average. When not blitzed, the 101.3 passer rating dropped to 77.4 in 2017.
For more on Prescott and the rest of the league's signal-callers – it's not too late to grab the 2017 QB Annual with grades, pass charts and much more  –

Replacing Dez
Allen Hurns was signed this offseason and projects to be the Cowboys' No. 1 receiver. After battling injuries in 2016, Hurns came back in 2017 and had the 23rd highest grade among wideouts. The past two years with the Jaguars, Hurns primarily lined up in the slot, but that's unlikely in Dallas with Cole Beasley on the roster.
In his breakout 2015 season, Hurns primarily lined up on the outside and was extremely efficient in the process. That year, his passer rating when targeted of 116.2 ranked ninth among the league's receivers, and was very productive on deep passes finishing in the top 10 in terms of catch rate and yards. Considering he hauled in 10 touchdowns on 99 targets that season, Hurns' passer rating when targeted is likely unsustainable when he lines up on the outside in Dallas. Regardless, he showed during his Jaguar tenure that he's capable of a big passing game role.
Bottom line
Assuming defensive improvements carry over, Prescott's and Elliott's play will likely determine the Cowboys' 2018 fate. While the offensive line had some struggles last year, it's still an elite unit which makes things easier for both players. Elliott in particular could benefit as runs of 15-plus yards accounted for 33.7 percent of his yardage total as a rookie, and dropped to 17.5 in 2017. The line, and Elliott bouncing back, should likely help Prescott as his passer rating on play-action (122.0) is a big jump from plays without it (97.0).
Finding Witten's replacement will make for an interesting camp battle, but for the Cowboys this has been a relatively quiet offseason. Now given a full summer to focus solely on the big picture, they may realize that silence is golden.

POSITION BATTLES TO WATCH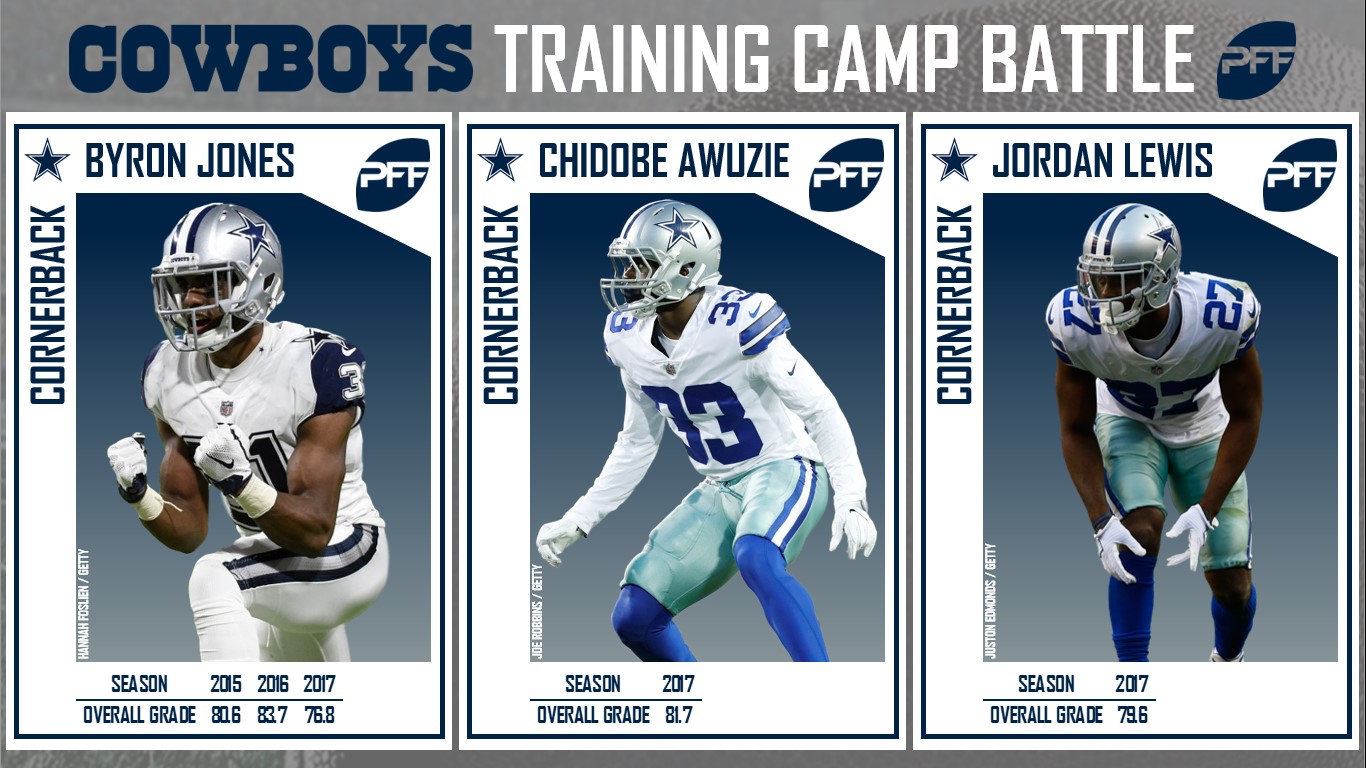 2018 PFF NFL Training Camp Previews
---
Arizona Cardinals | Atlanta Falcons | Baltimore Ravens | Buffalo Bills | Carolina Panthers | Chicago Bears | Cincinnati Bengals | Cleveland Browns | Dallas Cowboys | Denver Broncos | Detroit Lions | Green Bay Packers | Houston Texans | Indianapolis Colts | Jacksonville Jaguars | Kansas City Chiefs | Los Angeles Chargers | Los Angeles Rams | Miami Dolphins | Minnesota Vikings | New England Patriots | New Orleans Saints | New York Giants | New York Jets | Oakland Raiders | Philadelphia Eagles | Pittsburgh Steelers | Seattle Seahawks | San Francisco 49ers | Tampa Bay Buccaneers | Tennessee Titans | Washington Redskins