Buffalo Bills
Pass Game Supporting Cast – Tier 4
Overall Team Supporting Cast – Tier 2
[Editor's note: The Supporting Cast metrics measure performance of players other than the quarterback, utilizing PFF grades and clustering analysis to group them into tiers from best (Tier 1) to worst (Tier 4). Passing Game Supporting Cast is indicative of supporting players contributing more to passing stats while Overall Team Supporting Cast includes other portions of team performance as well. For more information on support cast rankings, listen in weekly to the PFF Forecast podcast.]
Although the Buffalo Bills made the playoffs in 2017, their situation at quarterback leading into training camp remains a mystery.
Three months ago, Buffalo traded up from the 12th overall pick to Pick No. 7 to snag their expected quarterback of the future while expending two second-round picks in the process. Fast forward to today, as training camp is about to open and Wyoming product, Josh Allen isn't being handed the keys to the franchise just yet. Even with the departure of Tyrod Taylor and the abandonment of the Nathan Peterman campaign, A.J. McCarron was an offseason addition that surprised some as he will likely hold down the quarterback position until Buffalo deems Allen ready.
Taylor, who threw for a 72.9 percent adjusted completion percentage, ranked 15th in the category a season ago. Allen ranked 74th at 66.5 percent during his final season at Wyoming, arguably his most glaring issue coming out of college. McCarron only saw 15 dropbacks last season as he sat behind Andy Dalton for four seasons in Cincinnati.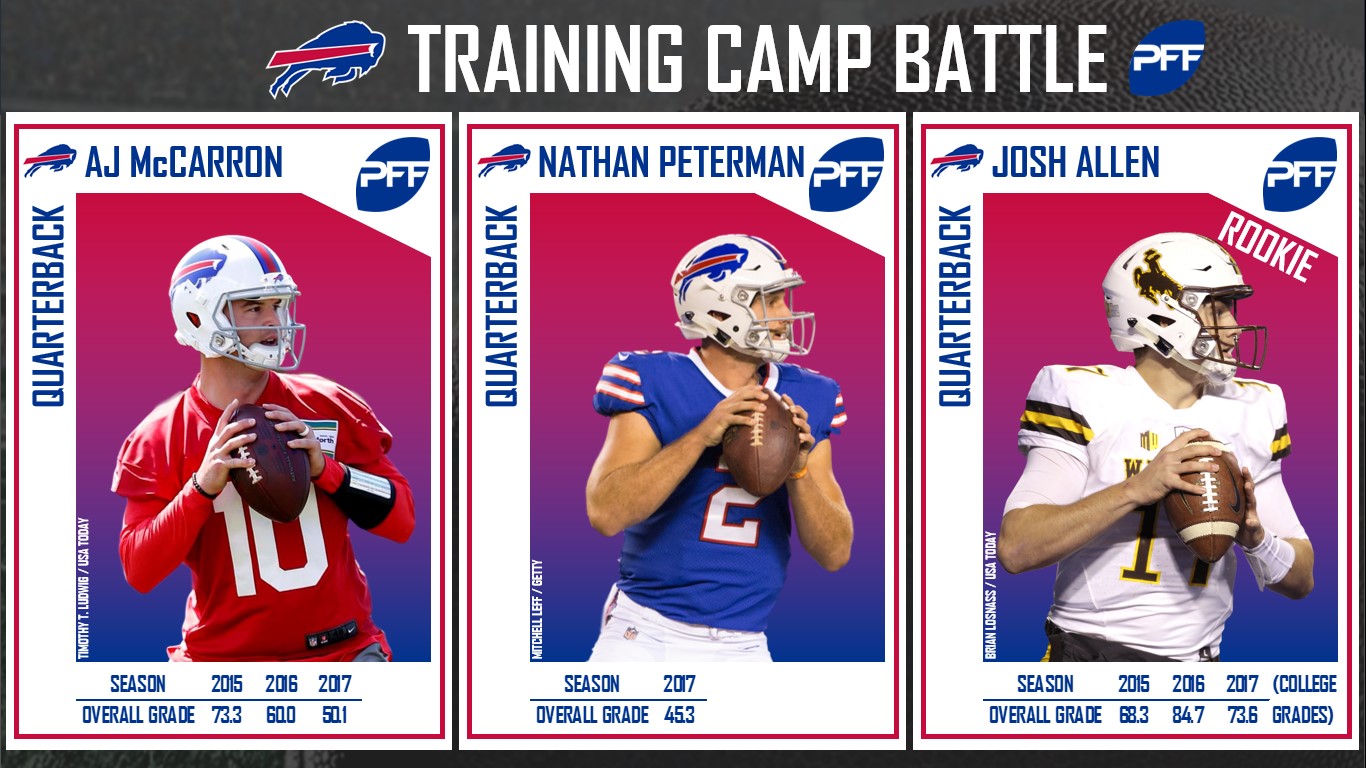 The quarterback position is the most valuable asset on the field, and Allen will be the talk of training camp, but there are many other captivating camp storylines in upstate New York.
For more on Allen and rest of the 2018 NFL Draft class – it's not too late to grab the 2018 Draft Guide with grades, prospect profiles and much more  –

Offensive line uncertainty
The words "position battle" will be ones that you hear quite often when discussing the Buffalo offense, especially the offensive line. There has been a lot of turnover on the offensive line as Richie Incognito, Cordy Glenn and Eric Wood are all gone.
Russell Bodine and Ryan Groy are clashing for the center position as the pair earned 2017 grades below 65.0 (Bodine at 46.8 and Groy at 61.3). Bodine played 952 snaps for Cincinnati last season and surrendered 18 pressures, which tied for 15th most in the league. Groy is undoubtedly the less experienced of the duo as he played just 66 snaps last year.
Aside from Dion Dawkins playing left tackle, its anyone's guess who will be slotted in at the remaining offensive line positions. Vladimir Ducasse should see some time at guard following a year where he earned a 75.5 season grade while John Miller has a chance to play at guard as well as Wyatt Teller, the Bills fifth-round selection from the draft.
Running back issues
The latest word on LeSean McCoy is that he is expected to be at the Bills' training camp and he returns as easily the highest-graded offensive player for the franchise in 2017, coming in at 84.4. Buffalo's offensive production has predominantly hinged upon McCoy the last three seasons, as he ranked third in 15-plus yard runs (16) and sixth in receptions out of the backfield.
Behind McCoy is Chris Ivory, who is now on his fourth NFL team after stints with the Saints, Jets and Jaguars. Ivory will step into Mike Tolbert's 2017 role in relieving McCoy, something he may be accustomed to, as he's played just 32 percent of his team's respective snaps in his career.

Bottom Line
A lot of questions surround this Bills team but if you look to the defensive secondary, you'll find the brightest spot on the roster. Tre'Davious White was the team's highest-graded player a season ago, earning a 91.6 mark as a rookie. This was general manager Brandon Beane's first first-round selection with the team. While it's highly unlikely to see this kind of success out of Beane's next first-round pick in Allen, fans will get their first look at who is expected to lead their franchise when rookies report to training camp.

POSITION BATTLES TO WATCH
2018 PFF NFL Training Camp Previews
---
Arizona Cardinals | Atlanta Falcons | Baltimore Ravens | Buffalo Bills | Carolina Panthers | Chicago Bears | Cincinnati Bengals | Cleveland Browns | Dallas Cowboys | Denver Broncos | Detroit Lions | Green Bay Packers | Houston Texans | Indianapolis Colts | Jacksonville Jaguars | Kansas City Chiefs | Los Angeles Chargers | Los Angeles Rams | Miami Dolphins | Minnesota Vikings | New England Patriots | New Orleans Saints | New York Giants | New York Jets | Oakland Raiders | Philadelphia Eagles | Pittsburgh Steelers | Seattle Seahawks | San Francisco 49ers | Tampa Bay Buccaneers | Tennessee Titans | Washington Redskins