The cornerstone of PFF's grades and the philosophical basis for play-by-play grading is the belief that consistency is paramount in football. We believe that repeatedly executing one's assignment is more valuable in the long run than a handful of highlight-reel plays over a few weeks or months.
The conclusion of the 2018 NFL season brought with it the completion of our 13th season of NFL grading. As those of you who are so math-inclined have probably figured, we can separate those 13 seasons into 11 full, three-year stretches (2006-2008, 2007-2009, 2008-2010…etc.). This allows us to look back and see which players, at each position, performed the best over a three-year sample size, and it allows us to examine (and admire) the consistency that was shown over that specific period.
Some of the players below have moved on from the life of football. Others are still very much wreaking havoc in the league and will find themselves on this list next year. Here, listed by each position, are the best three-year stretches of the PFF era.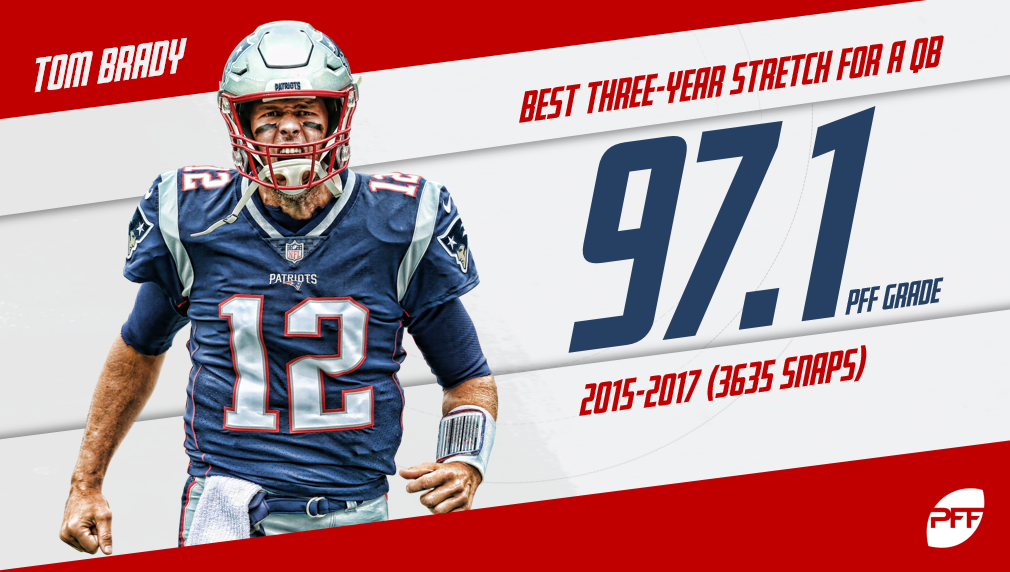 QUARTERBACK
Who else did you expect, really? Brady's three-year overall grade of 97.1 from 2015-17 narrowly beat out second-place Tom Brady (96.7, 2016-18) for the highest three-year stretch by a signal-caller in the PFF era. The Patriots quarterback earned overall grades of 91.9, 94.9 and 94.1 in 2015, 2016 and 2017, respectively, with the 2016 mark being the highest-graded single-season by a quarterback in the PFF era.
On 1,443 clean-pocket pass attempts over that period (including postseason), Brady threw just 17 turnover-worthy passes, and his clean-pocket turnover-worthy play rate of 1.2% paced all 39 quarterbacks who attempted at least 300 passes from a clean pocket over that span.
Honorable mention: Peyton Manning, Indianapolis Colts — 95.9, 2006-2008 
RUNNING BACK
A reign that ended in MVP honors in 2012, Adrian Peterson's three-year stretch as a runner from 2010-12 is unlikely to ever be seen again. He earned overall grades of 86.5, 83.7 and 92.4 in 2010, 2011 and 2012, respectively, and he led the league in yards after contact (2580) and yards after contact per attempt (3.4) over that span.
Honorable mention: Marshawn Lynch, Seattle Seahawks — 93.6, 2012-2014
FULL BACK
It's always nice to flashback to the times of power football in the NFL; a time where big, bruising fullbacks were a key component of the offensive gameplan. Few were as good as Vonta Leach as a run-blocker — nobody played more run-blocking snaps than Leach (1,022 snaps) from 2010-12, and his three-year run-blocking grade (90.4) ranked first among fullbacks with at least 200 snaps over those three years.
Honorable mention: Bruce Miller, San Francisco 49ers — 86.0, 2012-2014