Week 1 of the NFL season is in the books, which means we already know everything we need to about every single team in the league…right? Why they're still playing the games, I have no idea. Just put the Pats and the 49ers in the Super Bowl and give me a few months off.
This is PFF's first ever mailbag, though, and you've earned a special place in history just by reading it. We get criticism from time to time for being less than forthcoming with our grading system that, in some instances, doesn't appear to match up with raw statistics. Hopefully I can change that perception somewhat through this weekly mailbag, as I'll try to pull back the curtain as far as I can (without getting fired in the process). Now, to some weekly awards before we get to your questions.
Disclaimer: This is not a fantasy mailbag whatsoever. I do not want to insult the intelligence of Jeff Ratcliffe's amazing team by trying to act like a fantasy expert when I am most certainly not one
Busted Coverage of the Week
After quarterback, cornerback is probably the single position where I'd least want to rely on a rookie to start right away. Mental errors are as costly here as any position on the defense, as they result in touchdowns instead first downs. That's why I was genuinely surprised that the Cardinals were willing to roll with rookie third-rounder Brandon Williams as their starter opposite Patrick Peterson. Not only is he a rookie, but he also had only one year of experience in college playing cornerback, as he spent most of his time at running back for Texas A&M. Well, Arizona paid the price against the Patriots when Williams zoned off underneath Chris Hogan on a go route; everyone else's actions on the defense suggested Williams should have had deep-thirds responsibility. Rookie mistake.
Block of the Week
There were flashier pancakes this week, but Trenton Brown's utter domination of Dominque Easley gets the nod. On the goal line, the defensive line is firing upfield, and as you can see, almost every other offensive lineman is retreating backwards. Not Brown, though; he takes Easley 2 yards into the end zone man-on-man in an awesome display of strength.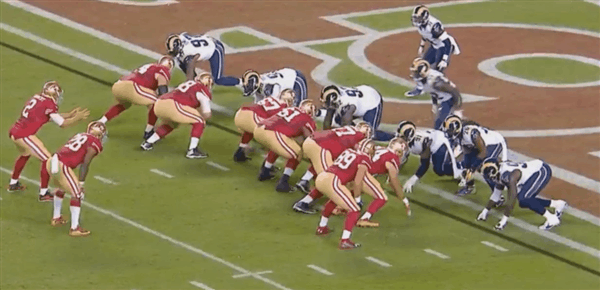 Your questions
@PFF @PFF_Mike is clay Matthews an elite talent or a pass rushing specialist?

— Sneaky Pete (@psteinqu) September 16, 2016
@PFF @PFF_Mike #askpff what's the biggest need for green bay in order to win super bowl? — Dan is Mr Moneymaker (@Dyhard) September 16, 2016
The first question is very interesting and timely, as we graded Clay Matthews as one of worst edge defenders in Week 1, even though he had a sack. The fact is that, since the start of 2015, Matthews has one lone sack that was the result of beating a block (against the Jaguars, when the QB fled backwards out of the pocket). Now, he played inside linebacker on the majority of his snaps last year, but Matthews still managed to line up 333 times on the edge, with almost all of those coming in obvious passing situations. That is a tad worrisome. I'll hold off on judgement until he gets a few games under his belt at his old position, but I think it's safe to say he's nowhere near the gold standard for edge rushers—Von Miller and Khalil Mack—at the moment.
The Packers' biggest need is the same as it's been for the last few years: a playmaking linebacker. Jake Ryan and Blake Martinez already look more competent a duo than any we've seen in recent Packers history, however that's not saying much. It can't be overstated how impactful Desmond Bishop was during the Packers' Super Bowl run in 2010. He was their last linebacker that could truly make an impact via the blitz, in coverage, or in run defense. Add him to this Packers' defense, and it's close to on par with the 2010 version.
@PFF @PFF_Mike what do you think i should hope for as a bills fan? A high draft pick? #Askpff

— Johnny Quattro (@JohnIsStraight) September 16, 2016
I'm definitely a proponent of the philosophy that if you're going to have a disappointing season, have an absolute disaster (the Colts in 2011, for example). Picking in the high teens is purgatory, and an 8-8 season is about the worst thing that could happen to Buffalo this year. Unfortunately, they're on a crash course to end up right around there. The defense isn't nearly as bad at it looked against the Jets; Ronald Darby and Stephon Gilmore both graded inside the top-20 CBs for us in 2015, and had career-low games at the exact same time. They'll rebound, but there are far too many holes on both sides of the ball to realistically overcome the poor situation they've already put themselves in.
@PFF @PFF_Mike Is Malcolm Butler an elite CB by your standards? Why or why not? #AskPFF — Drew (@HawaiianGronk) September 16, 2016
This question intersects two of my favorite Twitter-war topics: "Is he elite or not?" and "Which cornerbacks have the hardest assignments (man or zone/follows or doesn't follow)?" So, here is the list of CBs I would consider elite at the moment:
Richard Sherman
Patrick Peterson
Josh Norman
Chris Harris Jr.
Vontae Davis
That's it. After that there is a second tier of guys who are close:
Tyrann Mathieu
Desmond Trufant
Johnathan Joseph
Jason Verrett
Butler, to me, would then fall in the third tier of guys. He has amazing ball skills, and that's what you want for a man corner, though he was still far too boom-or-bust a year ago for me to put him in the top two tiers. He was fourth in the NFL with 14 pass breakups, but he also gave up the fourth-most yards, with 908, and the fifth-most touchdowns, with seven. If he can cut down on those big plays in 2016, he'll join the elite conversation.
@PFF_Mike what are your true thoughts on how the @RAIDERS will do this season #AskPFF

— Darius Diggs (@Mrdeveus) September 16, 2016
@PFF @PFF_Mike Are my Raiders going to be able to survive all the O-line injuries suffered in week 1 — NYRaider77 (@CsDaddy7777) September 16, 2016
I haven't been shy about my love for everybody's dark horse this season, the Oakland Raiders. The offensive line injuries obviously complicate things, but the only player expected to miss significant time as a result, Menelik Watson, was also the lowest-graded of their starting five heading into this season. I wouldn't be surprised one bit if they're 5-0 heading into their Week 6 divisional matchup with the Chiefs.
@PFF @PFF_Mike do the Eagles have any major holes that need to be filled? #FlyEaglesFly

— ⚖Malcohm⚖ (@harlemsdiplomat) September 16, 2016
The answer here is really the same as it was a year ago: wide receiver and cornerback. Unfortunately, those are arguably the two most important position groups after quarterback in the modern NFL. Jordan Matthews put up great numbers against Cleveland, but he still had two drops and well, it was against the Browns. Having a No. 1 receiver play primarily in the slot is rare in the NFL, as the Eagles are still without a true top wideout. At cornerback, Nolan Carroll is far more a starter by circumstance rather than anything he's done in the past, and on Sunday he gave up 114 yards to Browns receivers. Much like Philadelphia's receivers, there is some talent at corner, but in no way do they have a true No. 1 that you'd feel comfortable matching up with an elite wideout.
@PFF @PFF_Mike AP only ran for 31 yards, is that something we'll see quite a bit this year with a bad MN O-line? — Wyatt Stevens (@wyatt_stevens14) September 16, 2016
Adrian Peterson might not have the same juice as he once did, but defenses haven't started treating him any differently. Here are the number of defenders in the box AP saw on his 19 carries in Week 1:
Six in box: 1 carries
Seven in box: 3 carries
Eight in box: 7 carries
Nine in box: 8 carries
An eight-man box is considered "overloaded," while a nine-man front is ridiculous to run against. Yet they kept pounding him. The offensive line, while not great, is far from a liability in the run game, it's the fact that no one respects the passing game that's killing Peterson's numbers. An offensive line simply can't account for every defender in an overloaded box, and perfectly-blocked plays can go for minimal gains because of that. The main thing that can help out the Vikings running game? Sam Bradford exposing defenses down the field and forcing them to adjust their game plans. Until that happens, though, expect the Vikings' ground game to be running at a consistent disadvantage.
@PFF @PFF_Mike How bad is Blaine Gabbert? Is D Buckner going to be any good? #49ers

— Tim Sloper (@TSizzle24) September 16, 2016
@PFF @PFF_Mike what was your take on Buckner & Armstead after they finally played together on Monday? #49ers

— Jason Lee Wallace (@jasonleewallace) September 16, 2016
Even if the results were better than expected against the Rams, Gabbert is who he's always been, and that's a quarterback who's not accurate enough to legitimately lead a high-level NFL offense. He was errant on a screen early in the game, and then on a fourth-and-one in the second quarter, he forced his receiver to go to the ground to make the catch on yet another screen, turning the ball over on downs. He looked comfortable running the offense, but that kind of inaccuracy is unsustainable.
As far as the two former Oregon defensive linemen go, the early results are are encouraging. They each had four total pressures against the Rams in 55 combined pass-rushing snaps. That was good enough for the top two passing-rushing grades from Week 1 for 3-4 defensive ends, with Armstead edging out Buckner. If there is any minor reason to be concerned, it's that Armstead still isn't trusted to play running downs. I wouldn't be too worried, though, as he has the entire skill-set to be an effective run defender in the future.