We're one Thursday away from the 2019 NFL preseason coming to an end. The fourth and final week of the preseason will decide the back-end of all 32 NFL teams' rosters. There won't be a ton of star power playing Thursday, but the stakes are high for all who take the field.
To preview the fourth full week of preseason games, we at PFF have highlighted players to watch for all 32 teams in all 16 games. Enjoy!

[Editor's Note: All of PFF's ELITE subscribers have access to advanced stats and grades for every player that takes a snap in the preseason. Don't rely on the box score to find out if your favorite team's backups are performing above expectation. Subscribe to ELITE today!]
Colts rookie edge defender Ben Banogu has earned a 76.8 overall grade and a 74.6 pass-rush grade across his 48 defensive snaps so far this preseason, totaling five pressures in the process. Banogu is far from a finished product, but the former TCU standout is already progressing well enough to potentially earn a rotational pass-rusher role with Indy in the regular season. Bengals third-year edge defender Jordan Willis earned just a 54.8 overall grade across 537 defensive snaps in the 2018 regular season, but his 2019 preseason has been much better. Willis has earned an 83.7 overall grade, a 74.6 run-defense grade and a 75.9 pass-rush grade across his 95 defensive snaps in August. He's also recorded five total pressures, two defensive stops and a forced fumble.
Daeshon Hall, a third-round pick with the Panthers in 2017, has been on a tear this preseason. The former Texas A&M standout has earned a 92.0 overall grade and an even more impressive 94.5 pass-rush grade across his 85 defensive snaps, picking up 11 total pressures, six defensive stops and two forced fumbles in the process. He's playing himself into a roster spot and then some with Philly. Jets second-year cornerback Parry Nickerson, on the other hand, is struggling of late. The 2018 sixth-rounder earned just a 44.9 overall grade in 2018 and has earned a 41.3 overall grade across 83 defensive snaps this preseason. This game against the Eagles may be his last chance to earn a spot on New York's roster.
A third-round pick from the 2018 draft class, Deadrin Senat has seemingly taken a significant step forward in his development with the Falcons this season. The former USF standout has earned an 81.7 overall grade along with 70.0-plus marks in run defense and pass-rush. Senat has also recorded three total pressures, one forced fumble and a whopping seven defensive stops across his 116 preseason snaps. The Jags' first-rounder from a year ago, Taven Bryan, has had quite the opposite preseason. Bryan has earned just a 34.7 overall grade across his 74 defensive snaps, recording only three pressures, one defensive stop and a missed tackle in the process.
Brought in as a seventh-round pick from this year's class, Vikings rookie wide receiver Olabisi Johnson has caught 5-of-6 targets for 87 yards and a touchdown across 44 routes run this preseason. All five of his receptions have gone for first downs, and he's forced two missed tackles along the way. Jaquan Johnson, the Bills' rookie sixth-round pick out of Miami (Fla.), has earned a 92.1 overall grade and a 91.8 coverage grade across 130 defensive snaps in August. He's recorded one pressure, three defensive stops and three pass breakups.
Get to know the name Tuzar Skipper. The undrafted Toledo product has been quite the surprise for the Steelers' defense so far this preseason, as Skipper has recorded nine total pressures, seven defensive stops and a forced fumble en route to a 90.4 overall grade across 112 defensive snaps this preseason. He's done everything and then some to earn a spot on the 53-man roster. Brian Burns, the Panthers' first-round pick this year, has also dominated rushing off the edge this preseason. He has earned an 87.0 overall grade across 66 defensive snaps, recording five pressures and four defensive stops along the way.
Baltimore needs third-year edge defender Tim Williams to step his game up in 2019 with Za'Darius Smith and Terrell Suggs off the roster, and so far this preseason, Williams has done just that. Totaling seven pressures and five defensive stops, Williams has recorded an 86.5 overall grade across 79 defensive snaps in August. If he gets any reps this week, he needs to keep trending in the right direction. An undrafted free agent from the 2016 class, Redskins edge defender Cassanova McKinzy is a longshot to make the roster. However, McKinzy has recorded nine total pressures and an impressive 86.3 pass-rush grade across 54 pass-rush snaps this preseason. He could sneak onto the roster with a strong finish on Thursday.
Lions' Amani Oruwariye, a rookie fifth-round pick out of Penn State, has struggled in a big way this preseason. He's earned just a 41.1 overall grade and a 36.2 coverage grade across his 117 defensive snaps. It's highly unlikely he misses the cut when the axe comes swinging, but he still needs to turn his play around to warrant any level of playing time in the regular season. Second-year interior offensive lineman Austin Corbett is playing for a backup spot along the Browns' offensive line in 2019, and he's barely done enough to earn that. The 2018 second-rounder has earned just a 50.4 overall grade, a 29.5 pass-blocking grade and a 58.5 run-blocking grade in 130 offensive snaps this preseason. The move to center hasn't been a lucrative move for Corbett thus far.
While the spotlight has been stuck on rookie first-rounder Daniel Jones from the jump, second-year signal-caller Kyle Lauletta has been outstanding for the Giants this preseason. Lauletta has been very accurate throwing the football and has completed 15-of-22 passes for 206 yards and two touchdowns in August, earning a 90.1 passing grade in the process. He should get plenty of work on Thursday, another opportunity to put his progress on display. A constant highlight of the preseason, undrafted rookie Pats receiver Jakobi Meyers has caught 19-of-26 targets for 225 yards and two touchdowns across 92 routes run this preseason. He's gone from playing for a roster spot to playing for a significant share of Tom Brady's targets in 2019.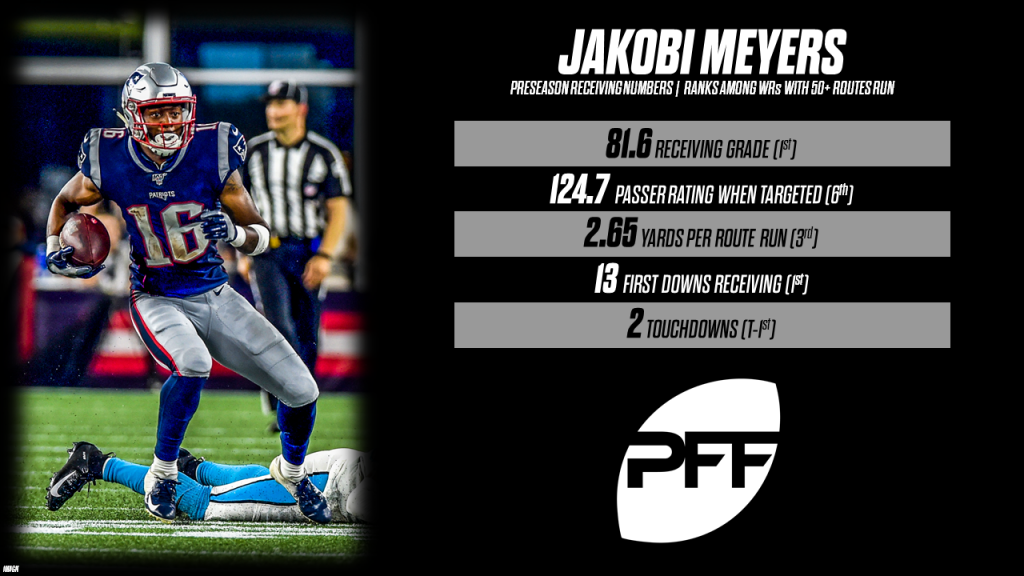 Rookie defensive back Juan Thornhill was stellar at Virginia before going to the Chiefs in the second round of this year's draft, and so far this preseason, he's been similarly impressive. Thornhill has earned a 76.0 overall grade and a 75.3 coverage grade, picking up two defensive stops and allowing just one reception for two yards in the process. Packers defensive interior Montravius Adams, a third-round pick from the 2017 NFL Draft, is playing himself into a rotational role in 2019. The big man has recorded three pressures and two defensive stops en route to an 80.9 overall grade across 105 defensive snaps this preseason.
Rookie Washington product Greg Gaines, a fourth-round pick for the Rams in this year's draft, has played above expectation so far this preseason. He's earned a 79.5 overall grade and an 80.1 pass-rush grade across 62 defensive snaps. He still has a long way to go to carve out a significant role in LA, but he's well on his way from a progression standpoint. With Lamar Miller on the shelf for all of the 2019 season, Texans' Damarea Crockett has an opportunity to play himself into a role behind Duke Johnson Jr. with a strong finish to the preseason. The undrafted rookie out of Missouri has rushed for 83 yards on 17 carries, recording four runs of 10-plus yards and four missed tackles along the way.
Titans veteran edge defender Kamalei Correa needs a big game on Thursday. After earning a 55.7 overall grade across 323 defensive snaps with the Titans in the 2018 regular season, Correa has earned just a 36.6 overall grade across 75 defensive snaps this preseason. Time is running out for the 2016 second-round pick to earn himself a role in Tennessee. The Bears' fourth-round pick in 2016, Deon Bush earned a 76.6 overall grade across 152 defensive snaps in the 2018 regular season and has built on such success this preseason, as he's earned a 92.6 overall grade across 78 defensive snaps this August. Bush has recorded three defensive stops, two interceptions and one pass breakup.
Signed as an undrafted free agent out of Southern Arkansas in 2018, tight end Tanner Hudson has been lights out this preseason. The 6-foot-5, 239-pounder has recorded an impressive 88.8 overall grade and a 90.3 receiving grade across 129 offensive snaps, hauling in 17-of-22 targets for 226 yards and two touchdowns in the process. Cowboys rookie sixth-round pick Donovan Wilson has also had quite the preseason, earning a 93.7 overall grade and a 92.1 coverage grade across his 102 defensive snaps in August. He's logged two defensive stops and two interceptions, as well.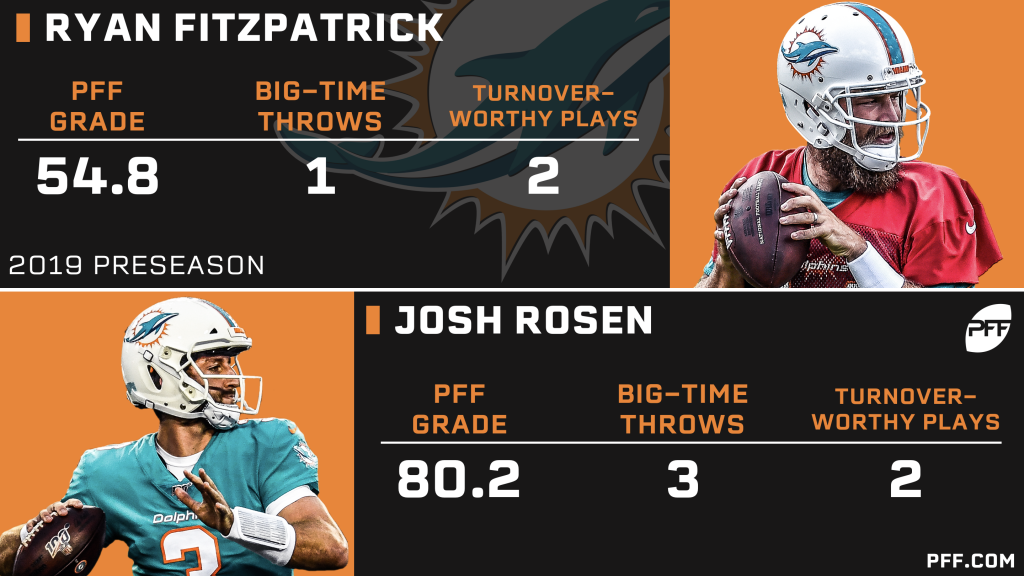 If Josh Rosen does get an opportunity to play on Thursday, all eyes should be on him. While Miami has yet to commit to a starter at quarterback, Rosen has done more than enough to earn the nod come Week 1. After earning a 90.9 overall grade against Jacksonville last week, Rosen has now recorded an 80.2 overall grade and a 76.3 passing grade across 56 preseason dropbacks. At 6-foot-3, 220 pounds, Simmie Cobbs was coveted for his size coming out of Indiana, but the 2018 undrafted free agent is running out of time to prove he's more than just a big body in the NFL. Now with the Saints, Cobbs has caught just four passes for 33 yards and logged a drop across 51 routes run. He needs a big Thursday night to stay in the Bayou.
There's a chance KeeSean Johnson doesn't play Thursday because Arizona's brass has already seen enough of the rookie Fresno State product. Johnson has caught 12-of-16 targets for 137 yards with zero drops across 75 routes run this preseason. With Hakeem Butler now sidelined on the Injured Reserve, Johnson has a chance to play himself into a decent target share in Arizona this season. Brought in as a second-round pick in 2017, Broncos defensive interior DeMarcus Walker has struggled to stay on the field in recent years, playing just 121 defensive snaps in the 2017 and 2018 regular season combined. So far this preseason, Walker has earned an 88.9 overall grade, an 86.3 run-defense grade and an 84.0 pass-rush grade across 117 defensive snaps.
Undrafted rookie cornerback Keisean Nixon is another good game away from earning a spot on the Raiders' 53-man roster. The former South Carolina standout has earned a 79.1 overall grade and a 79.2 coverage grade across a whopping 141 defensive snaps this preseason. Oakland will have a hard time letting Nixon go considering the team's lack of talent at cornerback both at the starter level and from a depth perspective. Don't' sleep on Seahawks linebacker Austin Calitro. Shaquem Griffin, Cody Barton and Ben Burr-Kirven may be soaking up all of the attention at linebacker in Seattle, but Calitro is playing himself into a significant role on the team's defense. Calitro has earned an 89.0 overall grade, 85.4 run-defense grade and a 79.0 coverage grade this preseason.
Sam Tevi needs a good game just to give him some confidence heading into the season. The Chargers' projected starter at right tackle, Tevi earned a 51.4 overall grade and a 40.2 pass-blocking grade across 871 defensive snaps in the 2018 regular season. And so far this preseason, Tevi has recorded a 41.8 overall grade and a 44.1 pass-blocking grade across 104 offensive snaps. The guy could use a confidence booster against backups on Thursday. Second-year Middle Tennessee product Richie James Jr. has flashed elite talent in bursts with the 49ers this preseason, earning an impressive 89.8 overall grade in the process. James has caught 11 of his 14 targets for 111 yards and six first downs without dropping a single pass, as well.
[Editor's Note: All of PFF's ELITE subscribers have access to advanced stats and grades for every player that takes a snap in the preseason. Don't rely on the box score to find out if your favorite team's backups are performing above expectation. Subscribe to ELITE today!]