Only Aaron Donald, Damon Harrison Sr. and Fletcher Cox have earned higher overall grades inside the tackles than Carolina Panthers' Kawann Short (92.1) over the past three seasons. Only Donald and Harrison have earned higher run-defense grades than Short (92.2) from such pre-snap alignments, and Short's 85.2 three-year pass-rush grade inside the tackles ranks seventh among qualifiers.
Put simply, Short has proven to be an elite talent when head up or shaded on either guards or tackles, so much that he landed at No. 27 on PFF's list of the 50 best players entering the 2019 season. But he will seldom play from such pre-snap alignments this upcoming season.
With Carolina moving from a 4-3 to a 3-4 base defensive scheme in 2019, Short will play more four- and five-technique than he's ever played in his six-year NFL career. And while he's looking forward to the challenge, the position switch could lead to a drop-off in what has been sky-high production from Short over the years.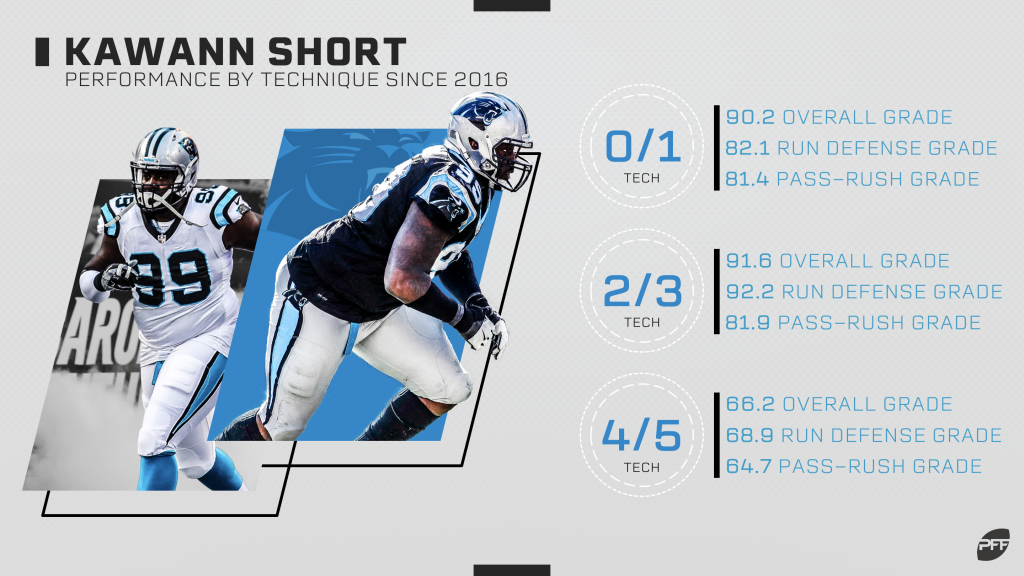 PRODUCTION BY ALIGNMENT
Short has played just 686 (16%) of his 4,286 career snaps along the defensive line head up or shaded over offensive tackles, and his production from said alignments has been unspectacular, to say the least. He's earned a career 65.5 overall grade, a 74.4 run-defense grade and just a 61.7 pass-rush grade from the alignment in his career, and his marks from four- and five-technique in the last three years aren't much better (66.2 OVR, 68.9 RUN, 64.7 PASS).
Now, that's not to say a full offseason practicing at the position and the addition of veteran Gerald McCoy won't lead to improved play at the alignment from Short. He should only improve on such marks moving to a full-time role at the position and having McCoy draw his fair share attention on the opposite end of the defensive line. However, it's unrealistic to expect the level of dominance we've seen from Short inside the tackles at his new position. He's just been too good working from inside alignments.
Short's three-year overall grade head up or shaded on the center (90.2) ranks fifth among the 44 interior defensive linemen with 300 or more such snaps since 2016. And his 82.1 run-defense grade and 81.4 pass-rush grade from the alignment rank ninth and second, respectively.
Only Donald and Cox – the NFL's two best interior defensive linemen – rank ahead of Short in three-year overall grade (91.6) when head up or shaded on the guards. Short ranks tied for second in three-year run-defense grade (92.2) and eighth in three-year pass-rush grade (81.9) from such an alignment, as well.
FINAL THOUGHTS
Fitted with a great combination of size, athleticism and much-needed arm length (34.25") for a 3-4 defensive end in the NFL, Short won't be a fish out of water in the Panthers' new defensive scheme. His proven dominance in one-on-one situations – both defending the run and rushing the passer – still makes him an elite talent regardless of alignment.
However, it's unlikely that he hits the ground running at the speed we've seen in previous years considering his lack of experience at the position and lackluster production from the alignment in his career.