As the opening line from Michael Lewis' book The Blind Side goes: "from the snap of the ball to the snap of the first bone is closer to four seconds than to five." And while that particular statement seems overly dramatic in 2018, the sentiment behind it is still as relevant as it was back in 2006.
For obvious reasons, quarterback is often referred to as not just the most important position in football, but rather in all of team sports, but what about the second-most important position? The case could be made for the guys who are responsible for keeping that franchise quarterback on his feet, free from pressure and as far away as possible from the harm that could be done by the opposing pass-rush. Metrics from a pocket kept clean from pressure have been found to be much more stable on a year-to-year basis than under pressure, so offensive linemen who can keep their quarterback upright are of the utmost importance in today's pass-heavy NFL.
Over recent years, nobody has been better at that than Green Bay Packers left tackle, David Bakhtiari. He was selected No. 33 on our list of the NFL's top 50 players for the 2018 season.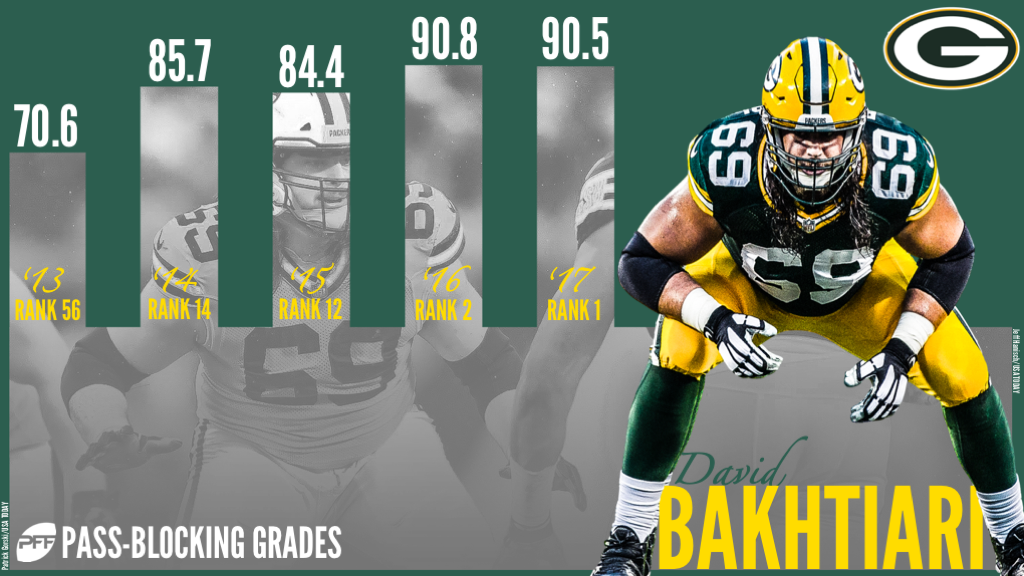 Bakhtiari was drafted by the Packers in the fourth round of the 2013 NFL Draft and he quickly saw game action after starting left tackle Bryan Bulaga succumbed to a torn ACL early in the preseason. Overall, Bakhtiari had an up-and-down rookie campaign, but showed real promise in pass protection. He ended his rookie campaign with a pass-blocking grade of 70.6, which was the fourth-best mark among rookie tackles.
Since that encouraging rookie season, Bakhtiari has improved with every year. In 2014 and 2015, he accumulated pass-blocking grades of 85.7 and 84.4 which put him 13th and 12th among the NFL's tackles, respectively. He then followed that up with two elite grades of 90.8 and 90.5 in 2016 and 2017, which ranked second and then first among players at the position.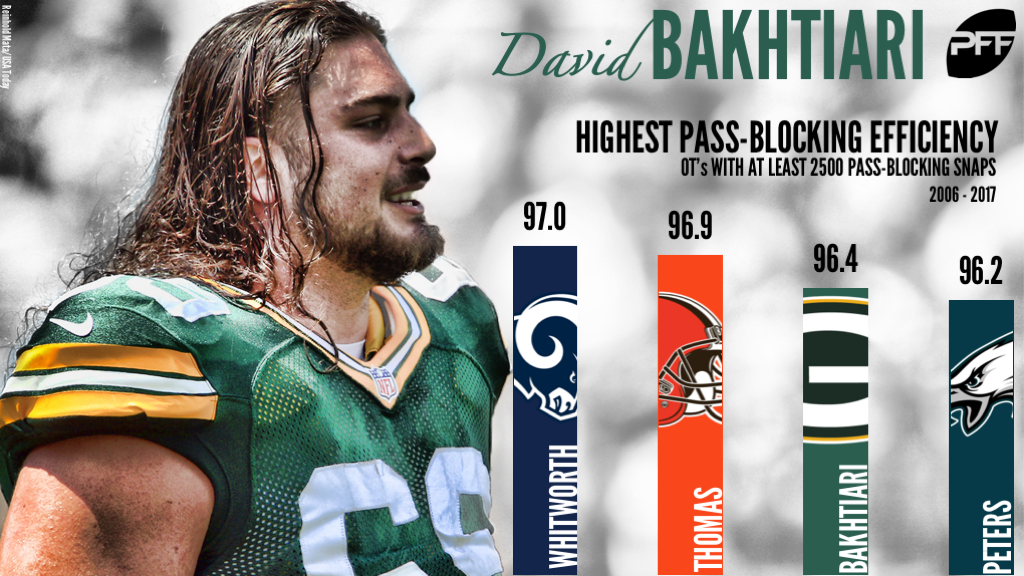 As PFF grades show, Bakhtiari has quickly developed into one of the best pass-blocking players in the entire NFL, but it's not just our grades that prove that. Here at Pro Football Focus, we have a wealth of Signature Stats that give a more thorough view than traditional box score stats, and our pass-blocking efficiency is one such metric. Pass-blocking efficiency (PBE) takes into account the number of sacks, hits and hurries allowed by offensive linemen on a per-snap basis, with weighting towards sacks allowed. The higher the rating, the better the performance. The fewer pressures allowed on a higher count of snaps in pass protection, the better.
During his rookie year, Bakhtiari allowed just 39 pressures from a draft-class leading 645 pass-blocking snaps, which led to a pass-blocking efficiency of 95.2, the best mark among rookie tackles that year and at the time, the ninth-best mark ever recorded by a rookie with at least 500 pass-blocking snaps in a season.
In 2014, he took a step forward and increased his PBE to 96.0, after he allowed just 29 total pressures from 585 pass-blocking snaps. He followed that up with a pass-blocking efficiency of 95.3 in the 2015 season, after he surrendered 33 total pressures from his 543 snaps, but he finished that season with just three sacks against his name, compared to the six that he gave up the year before.
In 2016, he improved his PBE further and ranked second among all tackles in the league with a rating of 97.6 after he allowed a measly 20 quarterback pressures from a staggering 672 pass-blocking assignments. However, the real feather in his professional cap came in 2017, where he allowed just one sack, two hits and nine hurries on his 455 pass-blocks and he ended the year with just 12 pressures against his name at an average of just one surrendered per game. His pass-blocking efficiency of 98.0 was not only the highest of his career to date, but it's tied for the fifth-best mark ever recorded by a tackle with at least 500 pass-blocking snaps in a single season.
Looking at his career numbers, it's easy to see that Bakhtiari is on his way to establishing himself as not only the best pass-protecting tackle in the league, but possibly one of the true greats of the PFF era (2006-2017).

Over the course of his career, Bakhtiari has logged 2,900 pass-blocking snaps and compared to all the tackles in the PFF era with at least 2500 pass-blocking snaps in that span, he's allowed the ninth-fewest sacks (22), the fewest quarterback hits (16) and the fewest quarterback hurries (95), which all adds up to the fewest total pressures allowed (133). All told, he's racked up a pass-blocking efficiency of 96.4, which is third behind only Andrew Whitworth and Joe Thomas, and puts him in what can only be described as Hall of Fame company.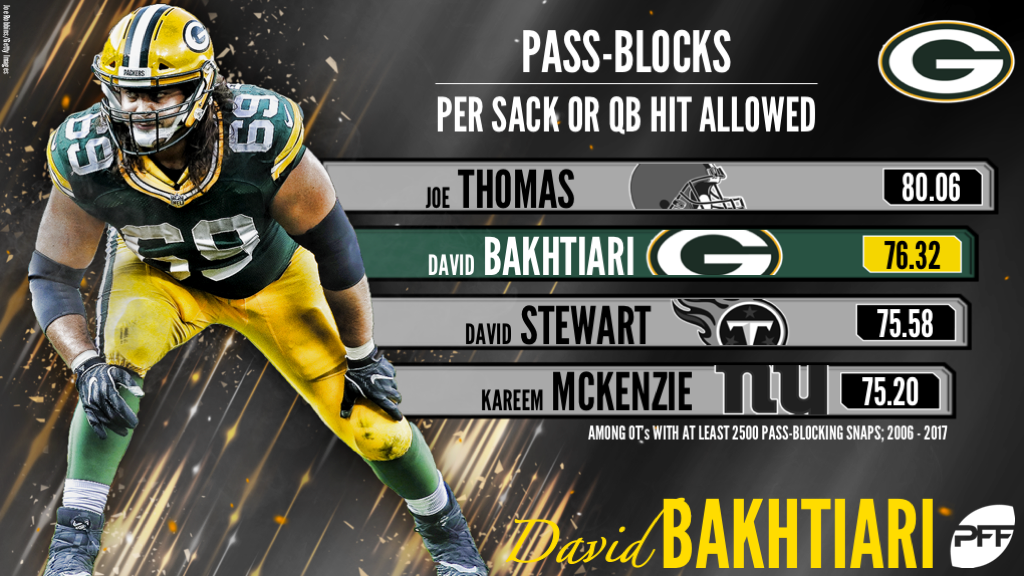 Bakhtiari's ability to fend off all pressure is remarkable, but it becomes a completely different story when we look at how good he is at preventing his quarterback from actually being touched.
Since he entered the league in 2013, Bakhtiari has logged 74 regular season games and he's finished a whopping 48 of those games without allowing a single sack or hit. What's remarkable about that, is the fact that he's spent most of his career pass-blocking for Aaron Rodgers, who has logged 1,216 dropbacks that took 2.6 seconds or longer, the ninth-most among quarterbacks since 2013.
With Rodgers' tendency to hold onto the ball and extend plays outside the pocket, comes the expectation that he will get hit fairly regularly, but this is not the case under Bakhtiari's protection. In fact, just 3.83 percent of Bakhtiari's pass-blocking snaps have resulted in his quarterback being contacted, which is the fourth-best mark among tackles with at least 2,500 pass-blocking snaps within the PFF era. His average of 76.32 pass-blocks played per contact allowed is second to only Thomas.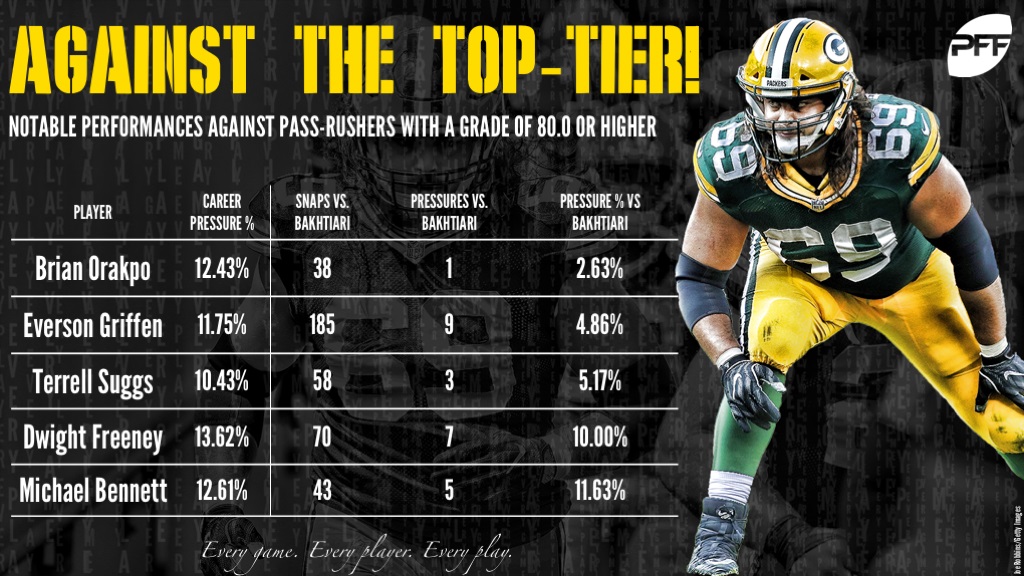 Another one of the other impressive feats with Bakhtiari's pass-blocking performance to date, is his performance against the league's best pass-rushers.
When facing pass-rushers with an 80.0 or higher grade, Bakhtiari has allowed just 60 pressures from 788 pass-blocking snaps, for a pressure percentage of just 7.61 percent, which is still better than NFL average. His most notable performances have come against Everson Griffin (89.2 overall grade in 2017), where he's allowed just nine total pressures from 185 pass-blocking snaps and Terrell Suggs (87.0 overall grade in 2017), where he's allowed just three pressures from 58 pass-blocking snaps.
Just to drive the point home, at PFF, we not only track wins and losses for offensive linemen, but also the severity of them. If you include holding penalties as a pass-blocker as well as blocks beaten by defenders but the ball came out before it could become a pressure, Bakhtiari lost just 16 pass-blocking snaps all season in 2017. That's just 3.3 percent of his pass-protection assignments, which was by far the best mark in the league among offensive tackles.
When he's healthy, there may be no better pass-protecting tackle in the NFL, and if he can keep on his current trajectory, he has the potential to thrust himself among the very best players that have ever played the position.