Marvin Jones Jr. has quietly been making highlight plays for the Detroit Lions for years, and last year was no different despite his injury-shortened season. The 29-year-old wide receiver has earned receiving grades above 70.0 for five straight years, with the past three taking place in Detroit after leaving Cincinnati after the 2015 season.
Jones played in only nine games last year after a knee injury landed him on injured reserve. Before then, he was a hot target for Matthew Stafford as he generated a passer rating of 101.5 when targeted that ranked second among Lions' wide receivers and trailed only Golden Tate (105.4). In total, Jones was targeted 59 times last season and had 35 receptions for 508 yards, five touchdowns and 22 first downs, all while dropping only two passes. It would be safe to say that he was well on his way to his third straight 1,000-yard season for the Lions before the injury.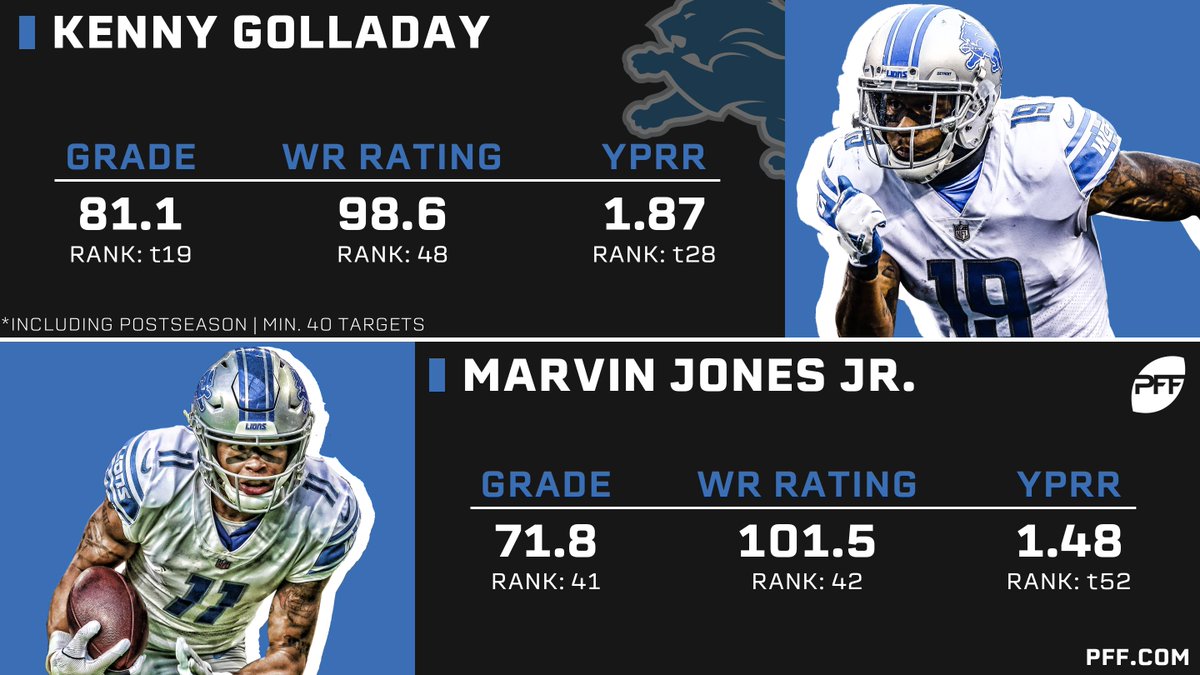 Standing at 6'2" and being able to jump with the best of them, Jones is a true outside wide receiver. Out of his 538 snaps last season, he lined up outside 444 times, with the majority of those outside snaps taking place on the left (248). Interestingly, Stafford's passing grades last season when throwing to the left (whether it be short, intermediate, or deep) are all higher than his grades when throwing to the right.
Jones earned a receiving grade of 71.5 last season, ranking 42nd out of 108 qualifying wide receivers. One reason why Jones ranked above average last season is because of his deep pass-catching ability. Including only the weeks that Jones played in (Weeks 1-10), he gained 157 yards on deep passes (throws 20-plus yards downfield), ranking 29th out of over 100 qualifying receivers. In addition, Jones also caught three touchdowns on deep passes, tying for sixth and trailing only guys with big names like Antonio Brown (5) and Tyreek Hill (4).
Jones' last healthy season was in 2017, and what he did in that year should give Lions fans a lot to be happy about if he can stay healthy for 2019. Among all wide receivers with at least 20 deep targets in 2017, Jones had the best catch rate (51.6%) on deep passes, and he also had the third-most yards (599) and tied for the third-most touchdowns (5). We can expect that same level of production on deep passes if and when Jones returns to the field.
With separation so hard to come by in today's NFL, the skill and ability to make contested catches is one thing that separates good receivers from average ones, and Jones has a history of making contested catches. In fact, Jones has caught 50% of his contested targets over his last three seasons with the Lions, which ranks ninth out of 21 wide receivers who have at least 50 contested targets over the last three years.
With a 6'2" frame and excellent leaping ability, Jones has proven to be a reliable target downfield even when his targets are being contested. Looking at just his go routes over his Lions career, Jones has caught 31-of-76 targets for 914 yards and 11 touchdowns, making it arguably his best route. If Jones can come back strong from his knee injury, he should pair up well with the rocket-armed Matthew Stafford in 2019 and will likely put together yet another solid season.