Odell Beckham Jr. makes one-handed catches and jaw-dropping plays seemingly every week. He's been an elite receiver on the field, dominating opposing defenders in absurd fashions, and crazy enough, he could be even better. 
Having Eli Manning under center for the New York Giants is keeping OBJ from reaching his full potential.
Beckham Jr. reached between 1,300 and 1,450 yards and caught 10 or more touchdowns in each of his first three seasons in the NFL. Though he is on pace to match his typical yardage, he has caught only two touchdowns on the season and his yards per reception and yards after the catch per reception have decreased in his last three healthy seasons. Manning's decline has led to a decrease in yards per attempt (down to 7.7 from 8.3 last year), and inaccurate throws have led to decreased opportunities for yards after the catch. Upon further examination, it's plain to see that Eli is holding him back.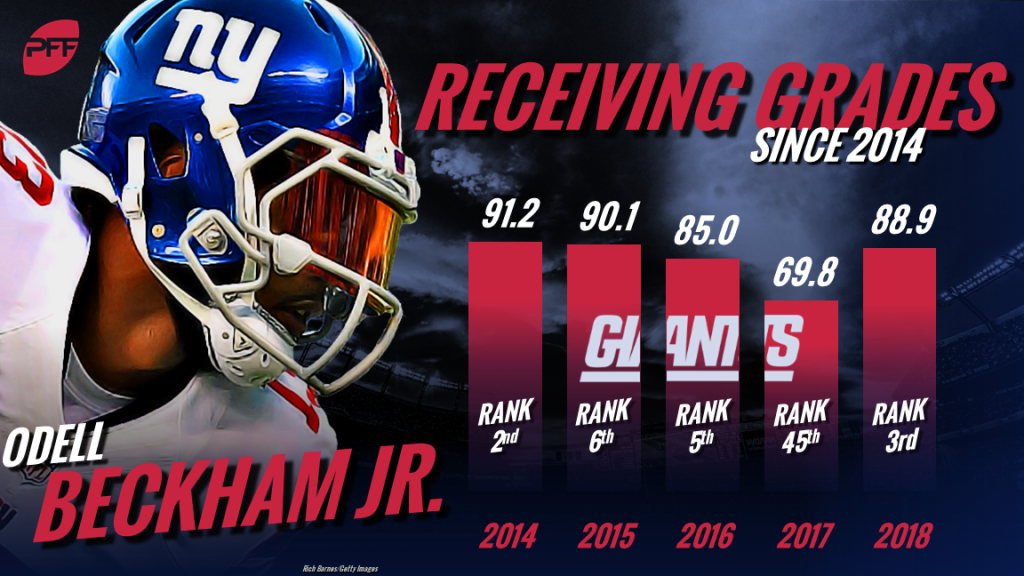 Some defenders of the Giants quarterback will say every quarterback misses throws throughout the game. Well, while that is true, he has been one of the least accurate quarterbacks in the NFL this season, missing more throws than most.
Manning's inaccuracy in all facets of the game is what is severely hindering one of the league's elite weapons. His accuracy percentage of 49.9 ranks 31st out of 35 qualifying quarterbacks, and his accuracy percentage on throws of 10 or more yards down the field is 32 percent, which ranks 24th. And it hasn't been any better in the short game, either. Throwing nine or fewer yards down the field, Manning's accuracy percentage (60.0) ranks 32nd among qualifiers.
Football at the NFL level is game with a small margin for error, and as a result, quarterbacks have to capitalize on opportunities when they arise. It's why plays like the one below are critical to hit.
If Odell Beckham played with Aaron Rodgers he'd go for 2,000 yards pic.twitter.com/9QU5a24rYn

— Mike Renner (@PFF_Mike) September 12, 2018
The poor placement of throws toward OBJ is not limiting his yardage numbers because he is making such spectacular plays at and after the catch point. He has already forced 19 missed tackles and is on pace to shatter his career-best mark of 30.
Only 64 of Beckham Jr.'s 87 targets through Week 8 have been charted as catchable. He is one of 18 receivers with at least 40 targets to have fewer than 75 percent or less of their targets charted as catchable. Of those receivers, his drop rate is the second-lowest, his receiving grade of 88.9 ranks first and his 2.29 yards per route run ranks third.

When Manning has targeted his favorite weapon 10 or more yards down the field, he has completed just 28 of 53 targets. Of the 25 incompletions, 16 were inaccurate throws that were either behind, in front of or over the head of Beckham Jr. As a result of the inaccurate targets, the fifth-year wide receiver has had to do more than necessary to reel in the inaccurate targets and make plays after the catch like the one below.
Manning overthrew Beckham Jr., but the star receiver leaped up and snatched it out of the air with one hand from two safeties who were drooling over the potential interception. He even somehow manages to break free of both awaiting defenders and look to pick up more yards. These are the kind of plays that make Odell's production more impressive because he is doing more with less just to match his insane output from years prior.
Five years ago, Manning was a proven, capable starter in this league. Through Week 8 in 2018, he has a 65.6 grade that ranks 25th among quarterbacks with at least 150 dropbacks. Bekcham Jr. is doing his best to keep his quarterback afloat, but he is unquestionably falling far below his ceiling potential with Manning under center.