The Indianapolis Colts visit the Houston Texans in Week 9 of the 2017 NFL season. PFF previews the top player matchups of the game.

PFFELO Ranking: 30
Coverage by: Mike Alessandrini
C Ryan Kelly vs. DI D.J. Reader – The Colts pivot has struggled since returning from a foot injury in Week 5. The 2016 first-round pick has surrendered six total pressures in four games this year while failing to impact the run game as well. His 96.9 pass-blocking efficiency grade ranks 21st among centers and his 44.0 run-block grade ranks 32nd (out of 35 qualifiers). Kelly will have his hands full with Houston's nose tackle this week. Reader is coming off an 85.4 overall grade performance against Seattle in Week 8, amassing four stops against the run. For the season, Reader has accumulated 10 stops while not missing a single tackle in run defense.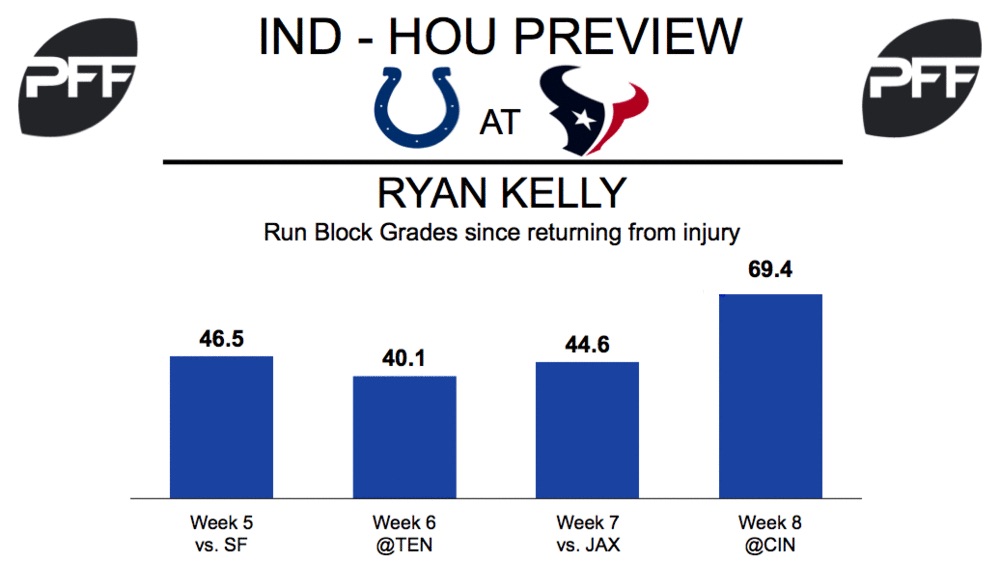 WR T.Y. Hilton vs. CB Johnathan Joseph – Hilton's struggles in 2017 are well documented. The wideout has accumulated just five catches for 61 yards over his last three games, dropping one pass in the process. His 31.3 catch percentage is the lowest among receivers playing at least 50 percent of their team's offensive snaps. On the season, though, Hilton still has a respectable 1.79 yards per route run (14th best at his position). Indianapolis' top offensive weapon will face off against veteran Johnathan Joseph, who is in the midst of a solid campaign. His 86.0 overall grade is 12th best among cornerbacks and his 18.1 coverage snaps per reception ranks seventh. Opposing quarterbacks have a poor 49.6 passer rating when targeting Joseph in 2017.
TE Jack Doyle vs. S Marcus Gilchrist – Doyle was one of the lone bright spots in last week's loss to Cincinnati. The tight end earned a 90.6 overall grade, which was the best at his position in Week 8. Doyle was targeted 13 times, hauling in 12 passes for 121 yards and one touchdown. His 3.27 yards per route run was second behind Travis Kelce last week. On the other side of the ball, Marcus Gilchrist is enjoying a solid first season in Houston. His 80.0 overall grade would be a career high if the season ended today. In primary coverage against top-tier tight ends Travice Kelce, Rob Gronkowski and Jimmy Graham, Gilchrist allowed six receptions on seven targets for 72 yards while defending one pass.

PFFELO Ranking: 18
Coverage by: Aaron Resnick
QB Tom Savage vs. S Darius Butler – After Deshaun Watson's unfortunate season ending injury, Savage is now back at quarterback for the Texans. Through the 37 snaps he has played in 2017, Savage has an overall grade of 68.9. On just 20 dropbacks, Savage has attempted eight passes where he was kept clean in the pocket and had an accuracy percentage of 62.5. If eligible to qualify, that mark would rank last among quarterbacks. Butler is filling the void left by Malik Hooker's season ending injury and responded last week with a season best game grade of 80.8. For the year, Butler's 0.99 yards allowed per coverage snap ranks 72nd among 84 eligible safeties. In the event Savage can take advantage of a clean pocket, another strong week from Butler in coverage would be a huge boost for a banged up Colt secondary.
WR DeAndre Hopkins vs. CB Vontae Davis – With each passing week, Hopkins continues to put his forgettable 2016 season behind him. His overall grade of 87.3 currently ranks third among receivers and his 2.33 yards per route run checks in fourth. Hopkins runs the majority of his routes on the left side, meaning he and Davis will be matched up frequently. To this point, Davis has struggled, as his overall grade of 45.2 ranks 98th among corners. His 1.29 yards allowed per coverage snap currently ranks 77th and quarterbacks have targeted him in coverage 27 times to the tune of a 98.7 passer rating. Watson's injury dampers Hopkins' potential numbers, but the targets should still be there so Davis playing at the Pro Bowl level he had been capable of would be a huge boost for the Colts.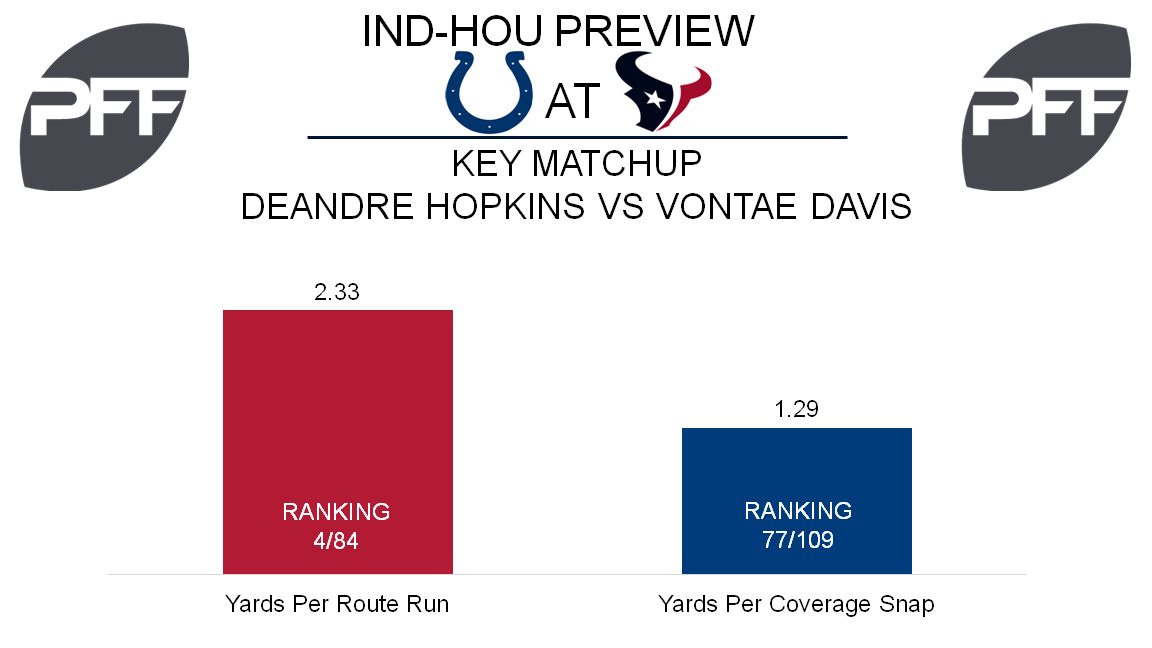 WR Will Fuller vs. CBs Rashaan Melvin & Pierre Desir – For the year Fuller has been targeted just 22 times but with seven touchdowns, he's certainly making the most of his chances. Known for his deep speed, Fuller is showcasing it as his 2.15 yards per route run  mark ranks ninth among receivers. With a current overall grade of 79.2, Fuller has seen an almost 30 point jump from what he recorded as a rookie. Melvin was in the concussion protocol and missed last Sunday's game, which led to Desir starting in his place. Against the Bengals, Desir allowed 0.74 yards per coverage snap and a reception once every 16.5 coverage snaps. Melvin's return would be a huge boost for the Colts as his overall grade of 86.4 currently ranks tenth among corners while his nine pass deflections is tied for first. Fuller didn't play with Savage in Week 1, but it's unlikely he'll be peppered with targets, but all it takes is one to allow him to break open a game. If Melvin or Desir can prevent that, it would be a big win for the Colt defense.