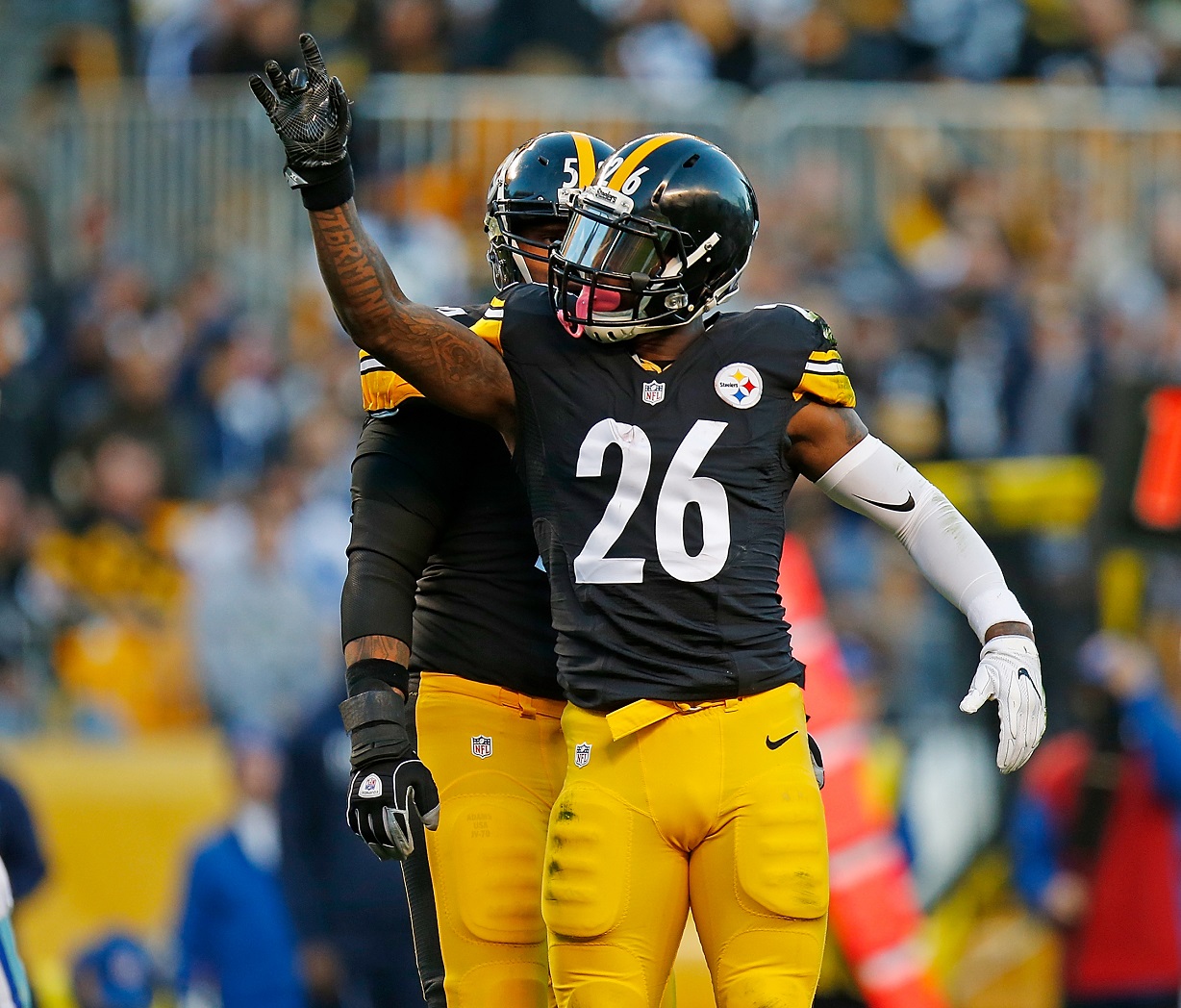 PITTSBURGH, PA - NOVEMBER 13: Le'Veon Bell #26 of the Pittsburgh Steelers reacts after rushing for a first down in the first quarter during the game against the Dallas Cowboys at Heinz Field on November 13, 2016 in Pittsburgh, Pennsylvania. (Photo by Justin K. Aller/Getty Images)
After a rough Week 6, we rebounded with our sixth-winning week during the NFL's Week 7 slate, going 4-1 (including improving our record to 4-0-1 on Monday Night Football). Our record after six weeks sits at 22-12-1 (64.7 percent). We're currently 14-7 (66.7 percent) on spread picks and 8-5-1 (61.5 percent) on totals. We're 42-37-2 (53.2 percent) against the spread overall through six weeks, and on over/unders we're 53-40-2 (57.0 percent).
Each week provides an exciting slate of games, along with the knowledge generated from additional 16 games of PFF data. We're picking Atlanta and Washington games this week against the spread… only this time we're backing the Birds and the 'Skins. We're picking two unders for the first time all season, while all our picks against the spread involve road favorites for the first time all year. Sunday Night Football is involved in our free picks for the sixth time in eight weeks.
Each of the five feature picks below comes with a point/counterpoint analysis, with a deeper dive into our "Lock of the Week" on the PFF Preview Podcast. The Lock of the Week is 5-2 so far (71.4 percent). For the remainder of our spread and over/under picks, check out PFF Elite and the PFF Elite Facebook Group. For our thoughts on Thursday Night Football's spread and over/under, follow us at @PFF_George and @PFF_EricEager on Twitter each week.

Pick: Falcons 26 – 20 (Falcons cover)
Point (Eric Eager): This might be the most-classic version of a "buy-low" scenario, where the defending NFC champs are coming off three-straight losses (to AFC East foes) to head on the road against a team that has exceeded almost every preseason expectation. Despite scoring just seven points last Sunday night, the Falcons are grading out as the best offense in the league. The Jets, on the other hand, are allowing the 12th-most yards per play (the Falcons are generating the second-most), leading to their ranking as our fourth-lowest defense through seven weeks. While Josh McCown (our 16th-highest graded quarterback) has played well enough to keep up through the team's first seven games, a regression is more likely, leading to a cover for Atlanta in the Big Apple.
Counterpoint (George Chahrouri): What if I told you the difference in deep passing accuracy isn't what you think? "When Falcons Cry" directed by Steve Sarkisian, a 30 for 30 28-3 production. Exquisite documentary ideas aside, McCown has thrown the deep ball better than Matt Ryan so far, this season, Josh the Jet is putting 48 percent of his 20-plus yard throws in a catchable spot (16th) compared to just 22 percent for Matty Ice (32nd). If Ryan can't right the ship and McCown is able to give Robby Anderson and Jermaine Kearse some chances downfield (each has three deep receptions), this one could turn into a much closer game than our model anticipates between a team ranked No. 5 in our PFFELO rankings and the team ranked No. 29. After consulting the encyclopedia of facts that is Twitter dot com, it has come to my attention that Sark is calling awful-terrible-horrible plays one after another, thus making him a poor choice for the director of such a high budget film.
Pick: Saints 28 – 19 (the under hits)
Point (GC): Throwing the ball is a vital ingredient to scoring lots of points. Mitchell 'Trubisque' is running a pass play on just 36 percent of his snaps – that is 11 percent below the second-most pass-immune QB, Blake Bortles, and the lowest pass play rate of any quarterback since 2006. Even when young Mitchell does air it out, his 62 percent adjusted completion percentage is the lowest in the entire league. Both the Saints and Bears have played well defensively of late, they've allowed passer ratings of 43.8 (seventh) and 33.8 (fifth) on throws 20-plus yards down field, respectively. New Orleans boasts the top-ranked cornerback, Marshon Lattimore (94.1), and edge defender, Cam Jordan (92.5), while Chicago ranks third in our PFF defensive power ranks through Week 7. Betting the under with Drew Brees playing is not for the faint of heart and neither is enduring the Bears offense, but you are strong and I believe in you Mitchell.
Counterpoint (EE): While the Bears defense has been great so far this year, they have yet to be in a position where Trubisky has had to carry their offense in any way. Brees (87.0, second in the league) has dragged all kinds of defenses up and down the field during his tenure with the Saints, so it's not out of the question for the Saints to generate a multiple-touchdown lead at some point in this game. If such a game situation arises, look for a Saints defense (fifth in the league in turnover percentage) to generate some quick scoring opportunities for the Saints offense, which could put this under in question. Ultimately, however, this number is too big for the pace that the Bears want to play and the defenses that have emerged on both sides.
Pick: Cowboys 24 – 23 (Washington covers)
Point (EE): Football is a game about matchups, and Washington has the guns to exploit a Dallas defense that has yet to prove themselves as a force in the league through their first six games. With Sean Lee (78.4) still coming off an injury, and Jaylon Smith (43.9) struggling in his first, full NFL season, look for Chris Thompson (3.08 yards per route run), Vernon Davis (3.11) and Jordan Reed (1.62) to own the middle of the field and make up for the potential loss of LT Trent Williams along the offensive line. While Washington's defense has been banged up in recent weeks, they are likely returning cornerback Josh Norman (79.7), and held Philly's potent ground game to 2.56 yards per carry Monday night. Look for the home dog to cover in this one.
Counterpoint (GC): The Washington S Pumpkins may be without perhaps one of the best left tackles we've seen, Williams (80.3), which is not so good considering that Kirk Cousins has made 5-of-6 turnover worthy plays when under pressure this season. That would likely put T.J. Clemmings into the lineup, he has a grade of 48.7 this season after earning a grade of just 31.0 playing tackle for the Vikings last year. Zeke Elliott started to get some room to eat last week, seeing 3.7 yards before contact per carry, his highest of the season. Betting on the underdog to prevail in the capital was a winning bet a few months ago, but dressing up as Indians on Halloween seems to be asking for a beatdown. On an unrelated (but very important) note, a source, that I may or may not have dreamt up, has reported that Jerry Jones is dressing up as Hugh Hefner for Halloween – just want you to think about that for a hot second.
Pick: Seattle 24 – 17 (the under hits)
Point (GC): In comparison to Brock Osweiler, Deshaun Watson has been a real savior, absolving the Texans of all their sins. But, the idea that Houston is an offensive juggernaut is likely overblown by the box score numbers that Deshaun has put up, the fact of the matter is that some of those aren't quite telling the whole truth. Watson is throwing deep on 17.2 percent of his attempts (most in the NFL) while the Seahawks boast two of the best safeties in the game with Earl Thomas (85.7 – 13th) and Kam Chancellor (86.7 – ninth) and are allowing a completion on just 19.0 percent of 20-plus yard throws this season (second-lowest). On the other side of the ball, the Seahawks O-Line has been rather offensive, allowing 99 QB pressures thus far (second-most). While DangeRuss Wilson has a "sick reputation for handling" pressures, it seems prudent to side with the under on this one. Let's hope freaky Petey loves us too. (Yes I did just rewatch some Ciara music videos, and yes it was worth it.)
Counterpoint (EE): Seattle's defense has been fantastic since they gave up 33 points in Tennessee. However, the Titan's offensive line has been the league's third-most efficient in terms of pass blocking (84.5). Houston's offensive line (the league's least efficient so far) is getting Duane Brown back from a holdout this week. Brown is truly elite, allowing only one sack and five quarterback hits in 543 pass blocking snaps a season ago. If he can give rookie Watson more clean pockets (where his passer rating is the fourth-highest in the league), the Houston offense can put up enough points to both challenge Seattle and the over in this one.
Pick: Steelers 26 – 21 (Steelers cover)
Point (EE): The metrics have been down on the Lions going back to last season, where a string of come-from-behind victories proved unsustainable come crunch time. This season, a 3-1 start had some of us thinking that Detroit was going to try to beat the game again, only to see expectations abated after two straight convincing losses to NFC South teams. This game appears destined for a similar result. Steelers running back Le'Veon Bell has gained 221 yards after contact on the ground the last two weeks, while Antonio Brown has 210 more receiving yards than the next-best wide receiver through seven weeks. They should help the Steelers put up enough points so that their defense (surrendering the league's lowest yards per play allowed) will make themselves comfortable against Matthew Stafford and Co. in Ford Field.
Counterpoint (GC): If Golden Tate can find a way to play after sustaining what was thought to be a multi-week injury, it will further my immense respect for him as a person who is good at living life and give the Lions a playmaker to counter all that the Steelers bring to the table. Tate's 13 forced missed tackles lead all receivers this year and has been Matt Stafford's go-to target on third down (18 targets on 80 throws). The Lions also have strong play in their secondary with two top 20 graded corners, Darius Slay (83.3 – 16th) and Quandre Diggs (83.6 – 14th), as well as the second-ranked safety in Glover Quin (91.8). Brown has been virtually uncoverable en route to the top overall grade among wide receivers but the Lions secondary could very well make enough plays against Big Ben who has put the ball up for grabs this season with eight turnover worthy throws on passes travelling 10-plus yards downfield (tied for second-most). We obviously can't forget that the Steelers wide receiver group is basically the NFL version of the Kardashians, Mike Tomlin seems to dislike the drama about as much as I despise Martavis Bryant's nose ring (Golden Tate doesn't have a nose ring…).