The 2017 NFL season has shaken out like some had hoped, while others have been left scratching their heads. There have been contract holdouts, unhappy superstars and a rapid string of injuries to playoff contenders that could all leave the NFL's trade deadline on October 31st with a plethora of movement.
Here at PFF, we give you the following deals that make the most sense, both per team and per athlete, backed by our unique PFF data in support.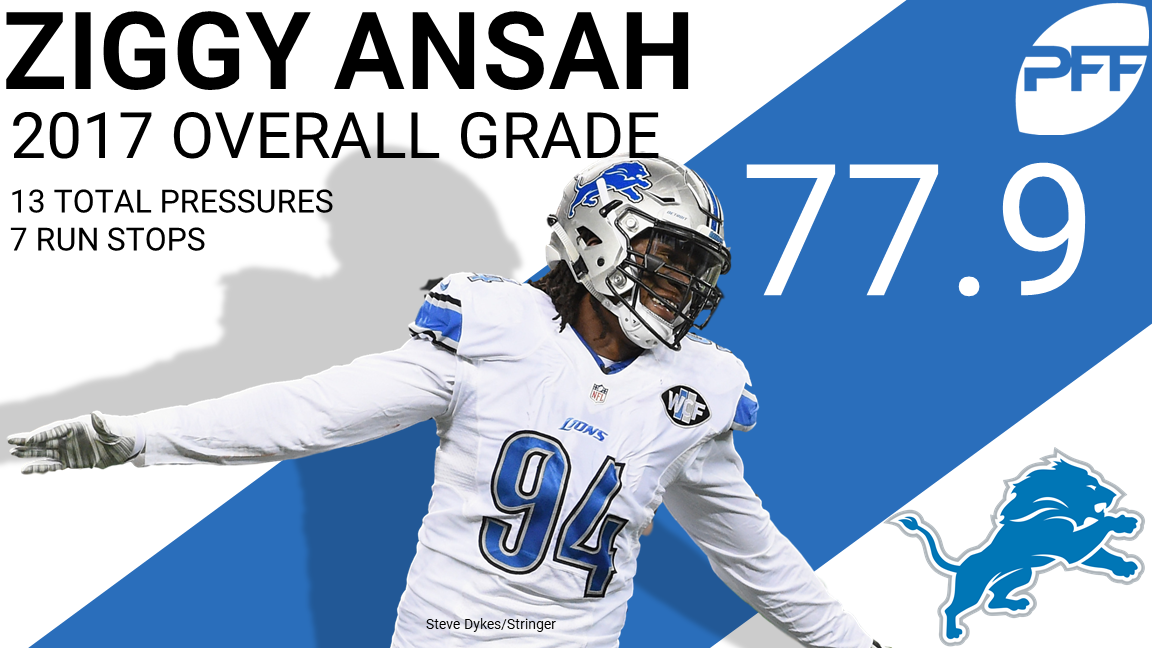 Ansah is in the final year of his rookie deal with the Lions, and with just 13 total pressures to his name this year after a disappointing (and injury-filled) 2016, it may be difficult for Detroit to rationalize paying him top dollar this offseason, especially when factoring the emergence of Anthony Zettel. Part of what makes the loss of Dont'a Hightower so significant for the Patriots is how they used him to manufacture a pass-rush, where he spent 32.9 percent of his snaps this season. The Patriots love size on the defensive line, and have been able to put Kyle Van Noy to good use, who was a trade deadline pickup from the Lions just last year.
For the Lions, they desperately need someone who can run with power between the tackles, as the current RB corps has managed to average just 2.8 yards per carry on runs that hit the gaps from guard-to-guard. Letting Ansah walk in the offseason would likely result in a 2019 third-round compensatory pick, thus dealing him now would result in an early Christmas present for Detroit.
Left tackle Duane Brown has held out all of this season, missing training camp, preseason and every game to date, but the fact remains he would be a huge upgrade in Seattle. The Seahawks have a porous offensive line as-is, and are in desperate need of an upgrade, especially protecting Russell Wilson's blind side. Getting Brown even without a snap played this season would fill that need for an upgrade. He has reportedly ended his holdout, and will suit up this week for Houston, but that doesn't necessarily mean a trade is off the table.
The Texans could optimistically hope for either the Seahawks or the left tackle-needy Philadelphia Eagles to come strong for Brown and drive his market value. They are left without a first- or second-round pick in the 2018 NFL draft, so accumulating draft picks makes the most sense for Houston on their end of the bargain. Brown finished last season graded as our 14th best offensive tackle, out of 78 qualifying tackles. This season, Seahawks left tackle Rees Odhiambo is currently the lowest graded tackle, among all 74 qualifying tackles with a 30.5 overall grade.
The kicker in this potential deal, the Seahawks play the Texans this week, in what should be Brown's first action this season. They'll get a first hand look at him, if they so wish to trade for the veteran.
Samaje Perine and Chris Thompson have had some success running behind right guard Brandon Scherff (they've combined for 187 yards on 30 carries to either side of him), but they are averaging just 2.82 yards per carry elsewhere. And with QB Kirk Cousins likely on his way out of town at season's end, the time is now to make a push for a true playmaker at the position.
Breeland is another Redskin with an expiring contract not expected back for 2018, and the surprisingly solid play of Quinton Dunbar in relief of an injured Josh Norman (who looks to be on pace to return to action this weekend) gives Washington an opportunity to get compensation for a deal now, as opposed to waiting for 2019 compensatories to be awarded. Dunbar has played 166 defensive snaps in Washington's last three games, and has given up just 11 catches on 20 throws into his coverage without giving up a score, and has notched an interception and three pass break-ups.
Dontae Johnson has had a rough year in San Francisco, as he has allowed completions on 60.0 percent of passes into his coverage and has a passer rating of 108.5 when targeted. Breeland, who has surrendered just two passes longer than 15 yards into his coverage this season, would be an immediate upgrade, and potential long-term replacement as opposed to tempting a 2018 draft class that appears to lack top end talent and depth at the position.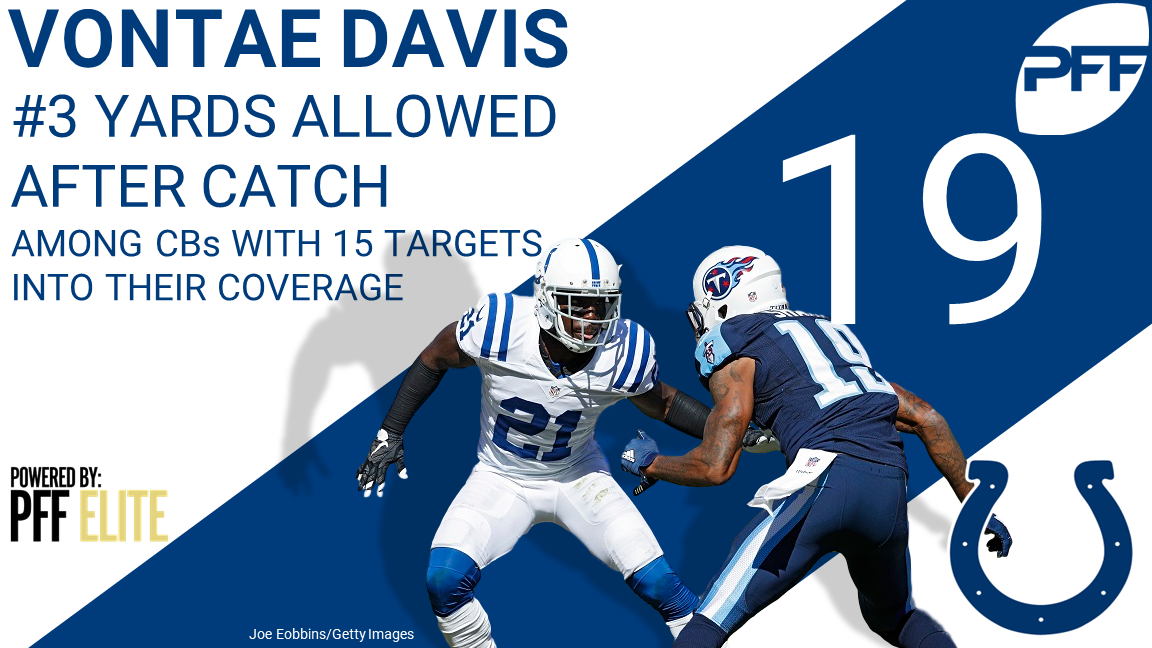 Davis is in the final year of his contract, the Colts are 2-5, in last place of their division and so at 29-years old, seems unlikely the Colts would re-sign Davis this offseason. That being said, the Chiefs are in need of a cornerback this season opposite Marcus Peters as they look for a lengthy playoff run. Davis would likely secure a compensatory draft pick in the fifth-round range if he signs elsewhere this offseason, so his potential production at a position of need for the Chiefs shouldn't be too much to ask.
Kansas City cornerbacks Terrance Mitchell (51.7 overall grade) and Phillip Gaines (33.3) rank 81st and 112th, respectively, out of 112 qualified cornerbacks this year. Davis' grade against the run is currently the league's 18th-best among cornerbacks at 81.0 and would be a huge impact. As mentioned, a fifth-round pick wouldn't be too steep of an asking price for the veteran who has displayed the ability to keep wide receivers in front of him this season. On 21 targets this season, he has allowed 13 receptions for 177 yards, only 19 of which came after the catch. He has yet to allow a touchdown in coverage this year while Gaines and Mitchell have allowed seven combined.
Much has been said about the disgruntled nature that is the Martavis Bryant-Pittsburgh Steelers relationship right now. After calling out his own teammate in WR JuJu Smith-Schuster on Instagram after his 1-catch, 3-yard performance against Cincinnati, Bryant has been told he will be inactive for the Steelers' Week 8 contest at the Lions. With the emergence of Smith-Schuster (3 TDs on 17 receptions), Bryant's production has plummeted and now relegated him to discussions of a trade. One suitor that makes the most sense is the WR-needy Denver Broncos.
Seemingly the entire Broncos WR corps has battled injury this year, most notably Demaryius Thomas and Emmanuel Sanders, the latter who missed Denver's 21-0 loss to Los Angeles last week. Bryant could potentially suit up outside or in the slot for the Broncos, either with great success. He is a legitimate deep threat whenever he is on the field evidenced by his 318 yards and three touchdowns on passes targeted 20 or more yards downfield in his last season of full action (2015).