The New Orleans Saints visit the Tampa Bay Buccaneers in Week 17 of the 2017 NFL season. PFF previews the top player matchups of the game.

Coverage by: Andrew Fleischer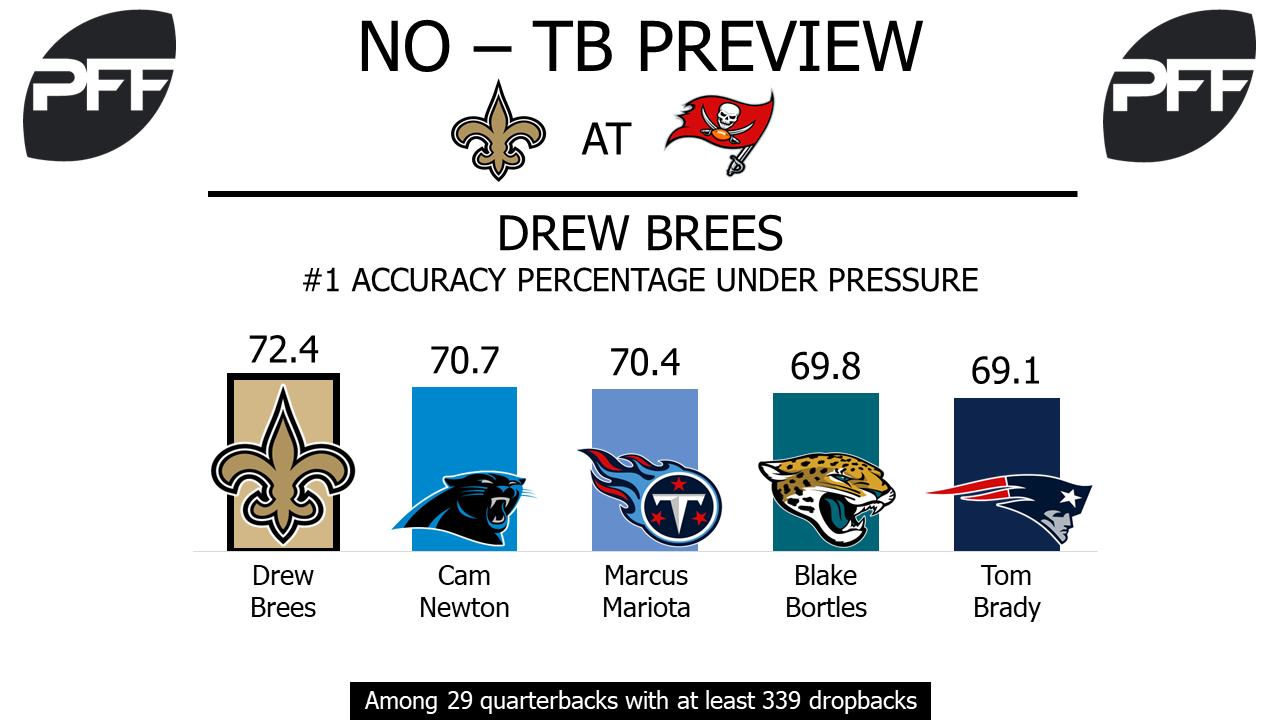 WR Michael Thomas vs. CB Robert McClain – Michael Thomas has continued to improve his overall grade for the season, and his 90.7 overall grade ranks third among 116 qualifying wide receivers. His 2.34 yards per route run is seventh among nine qualifiers, and his drop rate of 2.0 is third-best out of 40 wide receivers with at least 82 targets. In the Saints' Week 9 matchup with the Buccaneers, Thomas most often drew the primary coverage of Robert McLain, and should do so again. McClain's played 9.0 cover snaps per reception allowed, tied for the 25th-lowest figure out of 123 qualifying cornerbacks, and his 7.2 tackling efficiency number, 103rd out of 132 qualifying cornerbacks, demonstrates his poor tackling performance in coverage so far.
RB Alvin Kamara vs. LB Lavonte David – From Week 9 through Week 13, Alvin Kamara didn't earn an overall grade below an 81.3 for any single game. He's come back to earth a bit for the last few games, earning grades of 74.3, 76.8, and 68.5 in Weeks 14 through 16. His overall grade stands at 89.6, No. 3 among qualifying running backs. He'll look to put an exclamation point on the 2017 season with a strong performance against Tampa Bay, against whom he earned an 85.0 game grade in Week 9. Lavonte David will look to contain him whether he's running the ball or catching passes. David has excelled at both assignments, and his 94.2 overall grade is second-best among 93 qualifying linebackers. His 11.5 run-stop percentage is sixth-highest out of 92 qualifying linebackers, while his 0.85 yards allowed per snap in coverage is tied for 16th among 82 linebackers with 140-plus snaps in coverage.

PFFELO Ranking: 27
Coverage by: Bill O'Brien
WR Mike Evans vs. CB Marshon Lattimore – The Buccaneers will wrap up a disappointing season this weekend against the Saints. Evans has been one of the many Buccaneers who has not had as good of a year as was expected coming into the season. Despite his underwhelming play, Evans has still earned the highest overall grade (83.6) among Buccaneers offensive players. He will have one last opportunity to improve that grade and will likely see plenty of Lattimore in the season finale. The former Ohio State product has had a spectacular rookie season this year and has surrendered the third-best passer rating when targeted (43.2).
RB Peyton Barber vs. LB Manti Te'o – Barber has played well over the past few weeks after Doug Martin had his workload scaled back. Barber has earned an overall grade of 76.5, which is the highest grade among Buccaneers running backs this season. The Saints will counter with Te'o in order to try and slow down Barber. Te'o has been a force for the Saints in the run game this season, as his 10.0 run-stop percentage ranks 14th among the 92 qualified linebackers.
T Caleb Benenoch vs. Edge Cameron Jordan – Jordan has been one of the best defensive players in the league this season and will be a handful for the Buccaneers in the season finale. Jordan has earned the second-highest overall grade (94.5) among edge defenders. He rushes from the defense's left side on a majority of his snaps, meaning Benenoch will be tasked with matching up with Jordan. This matchup favors the Saints because Benenoch has struggled a bit in pass protection, as his pass-blocking efficiency of 93.2 that ranks 59th out of 81 qualified offensive tackles.