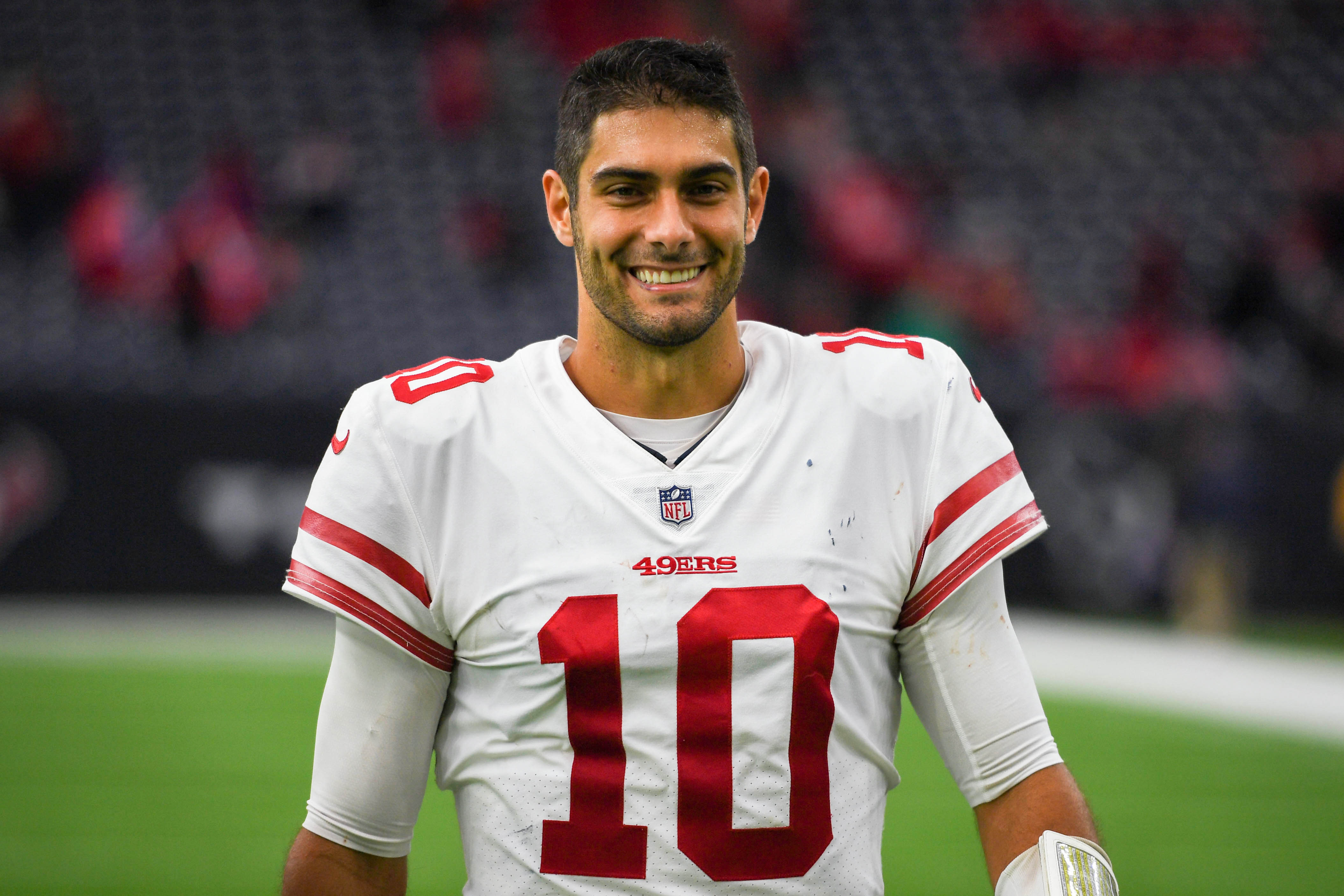 Dec 10, 2017; Houston, TX, USA; San Francisco 49ers quarterback Jimmy Garoppolo (10) smiles after the game against the Houston Texans at NRG Stadium. Mandatory Credit: Shanna Lockwood-USA TODAY Sports
After a second-consecutive 2-3 week of picking games, we're back for Week 15 of our spread and over/under picks. We're 39-28-3 (58.2 percent) on our article's picks the season, and overall we're 83-71-4 (53.9 percent) against the spread and 108-72-3 (60.0 percent) on over/unders. In Week 14, said picks we were 6-8 and 11-2, respectively, although we broke our four-game winning streak on our Lock of the Week by losing Seattle (+2.5).
Each week provides an exciting slate of games, along with the knowledge generated from an additional week's worth of PFF data. After preferring unders for a few weeks, we're going to back two overs, including one for our Lock. San Francisco has earned our backing for the second-straight week, and we go back to Atlanta on the road against Tampa Bay after they let us down against Minnesota in Week 13.
Each of the five feature picks below comes with a point/counterpoint analysis, including a deeper dive into our "Lock of the Week" that is heard on the PFF Preview Podcast that comes out each Friday morning. The Lock of the Week is 10-4 so far (71.4 percent). For the remainder of our spread and over/under picks, check out PFF Elite and the PFF Elite Facebook Group. For our thoughts on Thursday Night Football's spread and over/under, follow us at @PFF_George and @PFF_EricEager on Twitter each week. After no-picking Denver at Indianapolis, our Thursday night graphics finished 11-2 (84.6 percent) on the season, going 4-2 against the spread and 7-0 on over/unders.
Pick: Lions 26-22 (the over hits)
Point (George Chahrouri): Johnny Fox shaves every day, he runs on second and long, dreams of field goals, and thinks every quarterback is a bridge to 3-yards and a pile of concussions (running the ball). John Fox doesn't have time to shave because he's too busy figuring out how to score touchdowns and as a result he rocks some grey scruff that would make Sean Connery half jealous. We need John for this one. Young Mitchell had the best game of his career last week, his 89.9 game grade ranked second and over the last two weeks his completion rate from a clean pocket is 84.2 percent (also second) – a massive improvement from the 59.7 percent rate from his first seven contests. The good news here is that the Lions defense is allowing quarterbacks to throw from a clean pocket on 71.0 percent of dropbacks since Week 5 – second-most of any defense. The Bears have a much more highly-ranked defense but they also have the better quarterback with far superior weapons at his disposal. The Lions' wide receivers have 46 targets where they've earned the highest level of PFF play grade, the most of any receiver group. We've reached the point in history where Eminem's lyrics about the FCC are turning prophetic, soon we'll have to take out a loan just to watch live sports, the time to build up an apocalypse fund is nigh – take the over.
Counterpoint (Eric Eager): The Bears are not exactly a juggernaut offensively, with Trubisky earning just 26th-highest yards per attempt (6.7) among qualifying quarterbacks, which is in a class with guys like Brock Osweiler and Jacoby Brissett. Additionally, when the Bears do have success on that side of the ball, they do so on the ground with Jordan Howard (74.8) and Tarik Cohen (76.9), which can significantly slow the pace of a game and decrease the chance of an over hitting. Couple these with a Bears defense that is a top-10 group in our rating system, and there's a nontrivial chance that the Lions could be in a game under 45 points for just the fourth time all year.
Kai Forbath Memorial Extra Point: When points are at a premium, it's always nice to have a kicker that can make kicks from the parking lot. While the Bears have struggled at placekicker, the Lions have the highest-graded kicker in our system in Matt Prater who has made 7-of-10 field goals from beyond 50 yards this season. An extra three points here and that can do nothing but help our cause Saturday afternight.
Pick: Bills 23-17 (the over hits)
Point (EE): This isn't 1993, and while there's always a chance that poor weather can play a part in Buffalo (as it did last week), you're going to have to go out of your way to convince me that any game is more-than-likely to go under a number this small. If (as it appears) Tyrod Taylor starts the game on Sunday, he, Charles Clay and LeSean McCoy give the Bills more than enough firepower to put up their end of the bargain on the scoreboard. The Dolphins have found something of a groove offensively in recent weeks; both in the air and on the ground. Running back Kenyan Drake (78.1), like Jay Ajayi before him, is leading qualifying running backs in yards per carry after contact (4.7), which should continue against a Bills team that is surrendering the 12th-most yards per carry defensively (4.2), a number that has gotten worse since they traded Marcell Dareus midseason.
Counterpoint (GC): While I tend to think football is a sport played by those with grit, Jay Cutler, allegedly, has a tendency to display lackluster effort at times. If there was ever a situation, 28-degree weather in Buffalo should do the trick. Should Cutler start kicking rocks down the field and the Dolphins revert to the team that failed to crack 21 points in five of their first six games we could be in trouble. Cutler currently has twice as many turnover-worthy throws as he does throws that earn our highest level of grade, which is the worst ratio in the entire league, not exactly inspiring. Since my everyday life seems like it's pretty analogus to football, let me tell you that when it's freezing outside and I need 16 layers before I can build up the courage to spend five minutes outside, I have really struggled to score touchdowns and the extra clothing limits my throwing motion quite a bit.
Pick: 49ers 23 – 21 (49ers cover)
Point (GC): Oh you don't believe the Jimmy G-esus hype? Well, after this game happens, you will be too late, as Jimmy said at his weekly presser: "Because you have seen me, you have believed; blessed are those who have not seen and yet have believed." For all you doubting Thomas' out there, let me dip your hands into the evidence. Tom Brady currently leads the league with a 57.4 percent completion rate and 8.6 yards per pass under pressure. Through two weeks, Garoppolo sits at 56.5 percent and 9.1 yards per pass under pressure. The Titans defense ranks 24th in pressure rate this season and just lost to the one and only David Blaine Gabbert and his 'Zona Magic Show. Garoppolo has excelled over the last two weeks while his opponent has struggled all season. The Iron Chef Marcus Mariot-o has served up 12 interceptions throwing from a clean pocket this season – his only competition for James Beard Outstanding Chef of the Year is a rookie quarterback who plays for a team that doesn't even have real players on the field (Kizer has 13). In a game where points will likely be at a premium, we are more than happy to take the second-coming in his home debut.
Counterpoint (EE): Easy there, George. While the Titans are not as good as their 8-5 record suggests, they do have the second-highest rated pass blocking unit in the league, giving Marcus Mariota clean pockets at the fourth-best rate (although he's turned such pockets into 12 interceptions so far this year). If he has time to throw this Sunday, he'll be attempting passes against the league's lowest-graded defense in terms of pass coverage through 14 weeks, meaning they should likely have more success offensively than they did a week ago against the Cardinals (12th). If the Titans get a lead, it will be interesting to see if Garoppolo will be able to bring the 49ers back as he did in Chicago, especially if the Titans can improve on their 21st-highest graded run blocking offense and control the game better than the Bears did two weeks ago in Soldier Field.
Pick: Cowboys 23-22 (Oakland covers)
Point (EE): After a rock bottom performance in Arrowhead, it's likely that folks are viewing Oakland at the very bottom of their market this week. On the other side of the ledger, if you only saw the final score of the Cowboy's 30-10 road win against the Giants you might have missed the fact that the game was tied at 10 in the final stanza. Thus, the question is whether the Raiders are truly six points worse than the Cowboys on the neutral field (as the line suggests). Given that the Cowboys and Raiders are next to each other (25th and 26th) in our defensive rating system, relatively close to each other in yards per play allowed defensively (19th, 27th) and both have a premiere edge player to make life miserable on the opponent's offense, the answer to the previous question rests on the offensive side of the ball, and on the quarterback position specifically. While both guys have had disappointing years relative to expectations, Raiders quarterback Derek Carr (83.1 grade) has actually performed better on a play-by-play basis than Dak Prescott (79.6), hence our side in this one.
Counterpoint (GC): The Cowboys offense hasn't exactly wowed without Ezekiel Elliott. They had 10 points through 3.5 quarters in last weeks game against the Giants and Dak has seen his passer rating with play action fall from 126.2 in Weeks 1-9 (fourth) to 59.5 since the Zeke suspension (31st). Enter the Oakland Raiders defense – Oaklan_ has allowed a 71.0 percent completion rate against play action this season (second-highest). Prescott is targeting receivers 20-plus yards downfield on just 8.0 percent of this throws which is dead last in the NFL, this would be the time to find some aggressiveness – the Rai_ers are allowing the highest passer rating on deep passes this season and remain the only team to not intercept a 20-plus yard throw. The Raiders have dropped 32 of Carr's on-target throws this season (second-most) and any continuation of this trend leaves the door open a result that will make Chris Christie burst though his two-sizes too-small Christmas sweater.
Pick: Falcons 27-20 (Atlanta covers)
Point (GC): All season we've trumpeted how many of Matt Ryan's interceptions were unlucky, last week he threw some really accurate passes to the Saints and changed that narrative. Nothing like a trip to Florida for a recharge on the batteries. The Bucs defense has allowed the third-most completions on throws 20-plus yards downfield and are pressuring the quarterback on just 31.3 percent of pass plays (27th). This seems like exactly what our boy Statty Ice needs to put the Julio train back on the tracks. Since his return from injury, Jameis Winston has been feeding the other team Ws (consensually, of course) handing out seven turnover worthy throws – two more than any other quarterback. He isn't making up for it with any big plays either, he has just one big time throw in his two games back. The Falcons defense deserves some credit for their strong play this season, every starter has a grade of 73.0 or better and five of them boast grades over 85.0. Our model likes their chances to hold the Bucs to 20 or less, much like they did with the Saints 10 days ago. If they can do that, this one should cruise right over the six-point spread.
Counterpoint (EE): You'd think we'd learn from taking a large road favorite against a division foe on a Monday night in December, but here we are. While I mostly agree with what George is saying above, it's OK to note that the lack of value in the market this week is certainly driving this pick. In any game that involves Winston, though, there is always the chance that he will play two standard deviations above expectations and lead his team to success (as he did Week 1 a season ago in Atlanta). If Winston can generate the positively-graded throws he was earning earlier in the season (while mitigating a sufficient number of the negatively-graded ones), Tampa is more than capable of keeping up with what is sure to be a high-scoring Atlanta team and provide us with another Monday night sweat.