The New Orleans Saints visit the Atlanta Falcons in Week 14 of the 2017 NFL season. PFF previews the top player matchups of the game.

Coverage by: Andrew Fleischer
T Ryan Ramczyk vs. DI Grady Jarrett – The Saints traded away Brandin Cooks this past March along with the 118th pick to the Patriots for the 32nd pick in the draft, where they selected Ryan Ramczyk. It's a trade that's worked out well for New Orleans, as Ramczyk's 82.6 overall grade makes him the highest-graded rookie offensive lineman and the eighth-highest graded tackle overall. Ramczyk's pass-blocking efficiency rating of 96.3 is tied for the 10-best among 56 tackles with 266-plus pass-blocking snaps. He'll be dealing with Falcons defensive tackle Grady Jarret's interior pass-rushing throughout the game. Jarrett's pass-rushing productivity rating of 5.9 is tied for the 24th-highest out of 67 eligible defensive tackles, while his 9.3 run stop percentage is tied for the 20th-best mark among 77 eligible defensive tackles.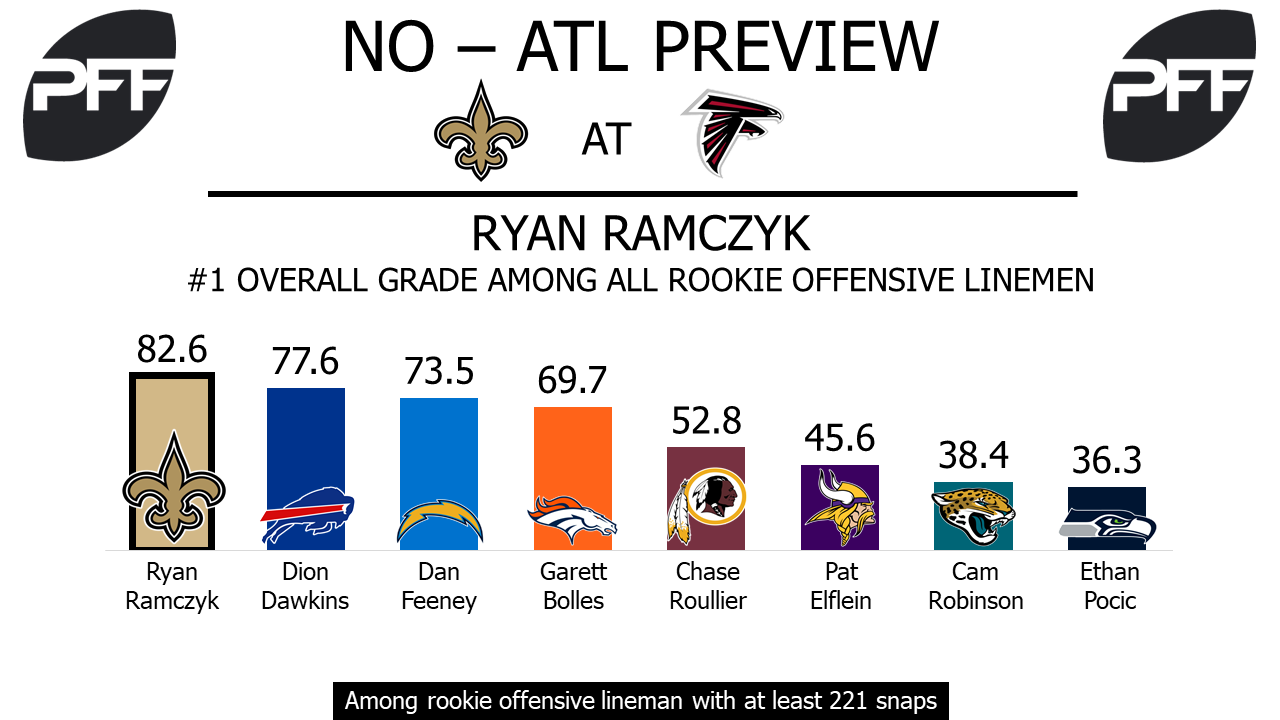 WR Michael Thomas vs. CB Robert Alford –Michael Thomas' overall grade continues to increase, and his current 86.8 is the seventh-best among 116 qualified receivers. His drop rate now stands at 2.60, fourth-best among the 31 wide receivers with at least 69 targets, and both of his drops came in his Week 4 matchup against Miami. He lines up on the offense's left side for 60 percent of his snaps, where he'll be covered by Robert Alford this week, as he spends 90 percent of his coverage snaps to the offense's left. Alford has earned a 73.8 overall grade through 13 weeks, and his 1.21 yards allowed per coverage snap is the 27th-highest mark out of 87 qualifying cornerbacks.
WR Brandon Coleman vs. CB Brian Poole – In Week 13 against Carolina, Brandon Coleman had his best performance since Week 8, earning a game grade of 70.1. He's been targeted on only 8.6 percent of his routes from the slot this season, the lowest percentage out of 59 qualifying slot receivers. His 1.07 yards per route run from the slot is 38th among 59 qualifying wide receivers, but he's had zero drops on 26 targets. Cornerback Brian Poole, who has earned a 77.0 overall grade on the season, is looking likely to return from injury for Thursday's game. Poole's the 16th-most frequently targeted slot cornerback out of 50 qualifiers, and his 7.2 coverage snaps per reception allowed is the 11th-lowest figure.

Coverage by: Bill O'Brien
WR Mohamed Sanu vs. CB Kenny Vaccaro – This Thursday's game between the Falcons and Saints will feature a primetime matchup on the outside between Falcons wide receiver Julio Jones and Saints cornerback Marshon Lattimore, provided Lattimore plays. With those two doing battle on the outside, it will be important for the Falcons to get their other weapons involved. Falcons wide receiver Mohamed Sanu figures to be one of the options that the Falcons will turn to, and he has earned an overall grade of 82.3, which ranks 18th out of 116 qualified wide receivers. The Saints will rely on cornerback Kenny Vaccaro to cover Sanu as both players often line up in the slot. Vaccaro has struggled in a transition from safety to cornerback this season and has earned an overall grade of 36.7, which ranks last out of 116 qualified cornerbacks.
RB Devonta Freeman vs. LB Manti Te'o – Falcons running back Devonta Freeman returned last week after a two-game absence and posted 74 rushing yards on slightly limited work. Freeman has been one of the most elusive running backs this season, as he has forced 27 missed tackles on run plays, which ranks eighth out of 50 qualified running backs. On the other side is Saints linebacker Manti Te'o, who is in his first season in New Orleans. Te'o has been one of the better run defenders for the Saints this season and has earned the 15th-highest run stop percentage among linebackers at a rate of 9.6 percent.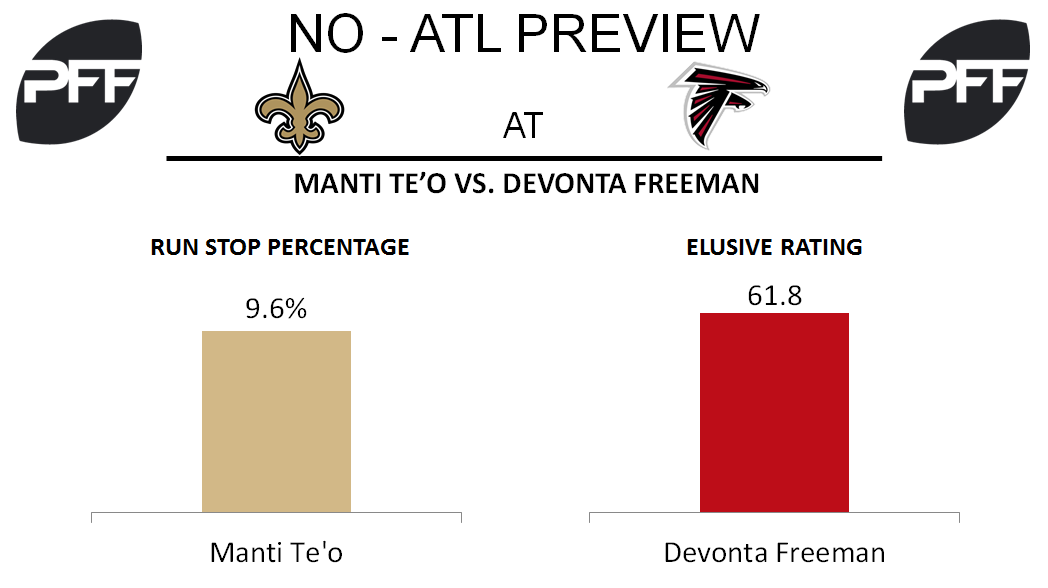 T Jake Matthews vs. Edge Trey Hendrickson – Saints edge defender Cameron Jordan is one of the league's best along the edge and figures to draw plenty of attention from the Falcons' offensive line. Jordan should open up opportunities for fellow edge defender Trey Hendrickson to have one-on-one matchups. Hendrickson rushes mainly from the defense's right side and has earned an overall grade of 70.8. Falcons left tackle Jake Matthews will see plenty of Hendrickson in this matchup. Matthews is having an up-and-down season in pass protection and currently ranks 42nd out of 81 qualified tackles in pass blocking efficiency with a rating of 94.4.