The Miami Dolphins visit the New England Patriots in Week 12 of the 2017 NFL season. PFF previews the top player matchups of the game.

PFFELO Ranking: 30
Coverage by: Cyrus Geller
WR Jarvis Landry vs. CB Malcolm Butler – This will be the matchup to watch in this game, as it features the Dolphins best offensive weapon against New England's best cornerback. Landry is currently the 17th highest graded receiver in the league at 81.5 (out of 115 that qualify) and Butler's overall grade of 78.7 is tied for 41st out of 118 qualified cornerbacks. Butler is coming off a solid game against Oakland, in which he was targeted five times and only allowed 28 receiving yards. The surging Landry will have his work cut out for him in this game.
T Sam Young vs. Edge Trey Flowers – Young has only been on the field for 49 total snaps this season, but has struggled in that limited time. His overall grade of 50.9 would rank 57th out of 81 offensive tackles if he qualified. Trey Flowers has accumulated 42 total pressures this season, 10th out of 62 4-3 defensive ends, and he has 14 quarterback hits, which is tied for the most with Robert Ayers. Flowers will move around, but the Patriots will be sure to seek out the most favorable matchup for their best pass-rusher.
WR Kenny Stills vs. CB Stephon Gilmore – Stills had a monster game in Week 11, catching seven balls for 180 yards and a touchdown, while also leading the league with a perfect wide receiver rating of 158.3. Gilmore had himself a solid game in his own right against Oakland, as he was targeted a team high 11 times, and only allowed a passer rating of 79.4. For the season, quarterbacks have a passer rating of 95.3 when targeting Gilmore (67th out of 118) and 117.4 when targeting Stills (13th out of 89).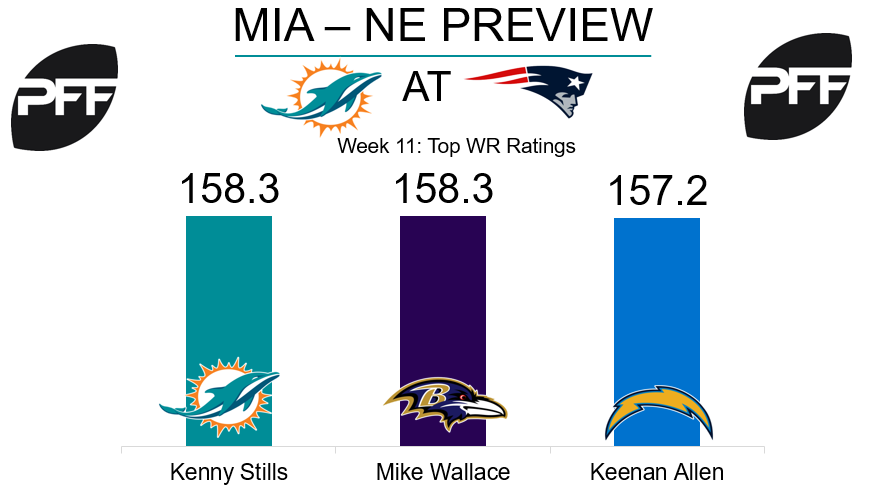 Coverage by: Andrew Fleischer
QB Tom Brady vs. S Reshad Jones — Tom Brady's 104.4 passer rating using play action is 12th among qualified quarterbacks. That's the only PFF Signature Stat in which he doesn't rank among the top 10. His 94.8 overall grade leads the league, his 73.3 accuracy percentage under pressure is second, his 78.2 adjusted completion percentage is third, his 47.1 accuracy percentage on deep passes is tied for eighth, and his 79.7 accuracy percentage from a clean pocket is ninth. One of the more impressive skills in his arsenal is his ability to manipulate the safety coverage before the throw, and Reshad Jones will be often be the man in his sights. It speaks to Jones' career performance that his current 81.3 overall grade would be his lowest over a whole season since 2013. His 15.6 snaps per target in coverage makes him the 33rd most frequently targeted safety out of 63 qualifying players, while his 16.5 tackle efficiency rating against the pass ranks him tied for 19th among 70 qualified safeties.
TE Rob Gronkowski vs. LB Kiko Alonso — Rob Gronkowski's 2.02 yards per route run ranks him third among qualified tight ends. His perfect 100.0 pass-blocking efficiency rating has him tied for first, and he's the only tight end to rank in the top 10 in both categories. He lines up on the right side of the offense 64 percent of the time, where he'll see regular coverage by linebacker Kiko Alonso, a matchup he's primed to exploit. Alonso's 38.8 overall grade is 76th out of 87 eligible linebackers. He's given up 1.68 yards per snap in coverage, the most among 50 qualifying linebackers, and his 5.3 cover snaps per target make him the third most frequently targeted linebacker in the NFL.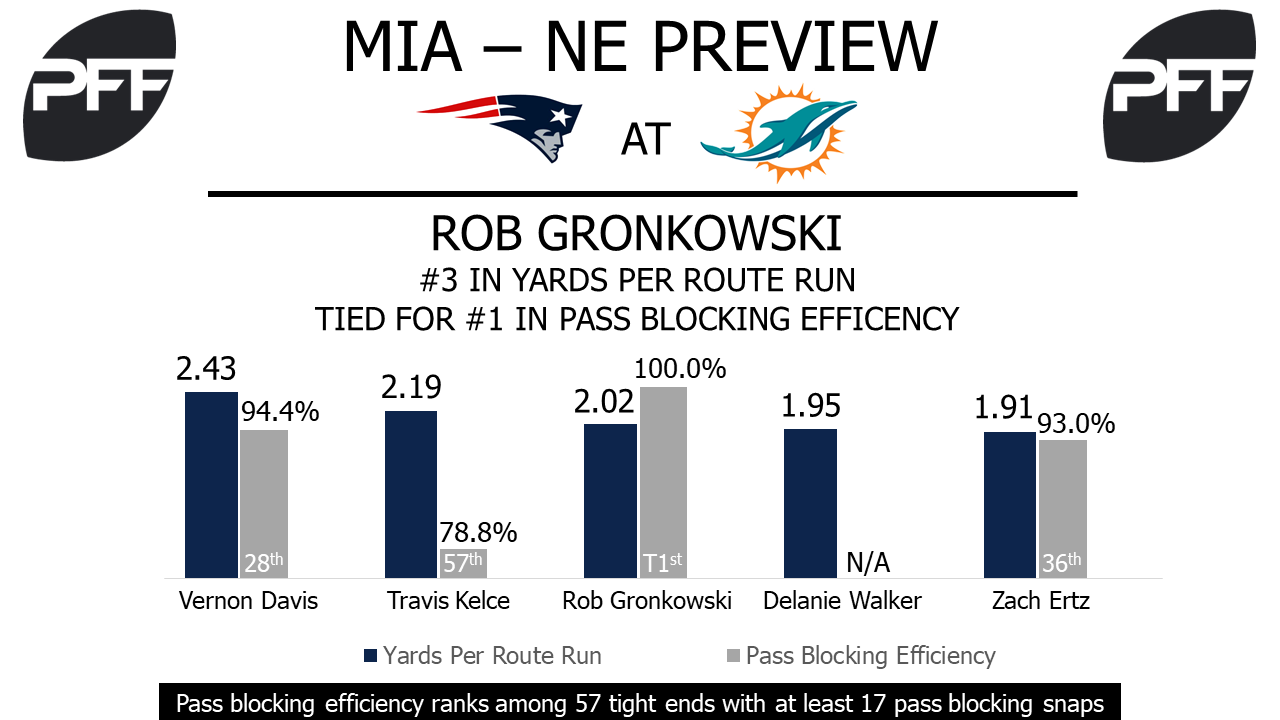 WR Brandin Cooks vs. CB Xavien Howard — Among his six catches in Week 11 against Oakland, Brandin Cooks had a 52 yard reception and a 64 yard touchdown reception. 30 percent of his catches have gone for 20 yards or more, the fourth-highest percentage among qualified wide receivers, and his 52.4 catch rate on those passes is the third highest. He'll frequently draw the coverage of Xavien Howard, whose struggles this year have earned him a 34.5 overall grade, the second worst among 118 qualified cornerbacks. His 5.8 tackle efficiency rating is tied for the ninth lowest mark out of 83 qualified cornerbacks.