The Tennessee Titans visit the Pittsburgh Steelers in Week 11 of the 2017 NFL season. PFF previews the top player matchups of the game.

PFFELO Ranking: 14
Coverage by: Sam McGaw
WR Rishard Matthews vs. CB Coty Sensabaugh – With Steelers starting cornerback Joe Haden out, Matthews will likely see a lot of Sensabaugh on the outside. In last week's matchup against the Colts, Sensabaugh allowed two catches on three passes into his coverage for 22 yards. He posted a PFF overall grade of 49.9 in 2016 and a mark of 41.6 in 2015. Matthews averages 1.75 receiving yards per route run. When lined up outside to the right, he's hauled in 14 catches for 174 yards and a touchdown with a wide receiver rating of 119.2. Sensabaugh lined up on the defense's left side for 25 of his 27 coverage snaps last week.
G Quinton Spain vs. DI Cameron Heyward – Spain is expected to return as the starting left guard after missing the last two games with a toe injury. He ranks 31st among guards with an overall grade of 63.4. He has a pass blocking efficiency of 97.1, which is tied with fellow Titan Josh Kline for 11th among guards. Heyward has an overall grade of 89.3, which ranks eighth among interior defensive linemen. He's tied for second in the group with a 12.1 pass-rushing productivity. Additionally, he has a run stop percentage of 7.6.
TE Delanie Walker vs. S Sean Davis – Walker's play has significantly improved over his last three games. During that span, he's averaged 2.14 receiving yards per route run. In addition, Titans quarterback Marcus Mariota had a passer rating of 98.8 when targeting him in those contests. Through the first six games, Walker averaged 1.65 receiving yards per route run, and Mariota had a passer rating of 70.8 when throwing to him. Walker's overall grade of 85.2 this season ranks third for his position. Davis has a coverage grade of 53.5. He's allowed 22 catches on 32 targets for 213 yards and one touchdown. A player has been targeted against him once every 9.3 coverage snaps.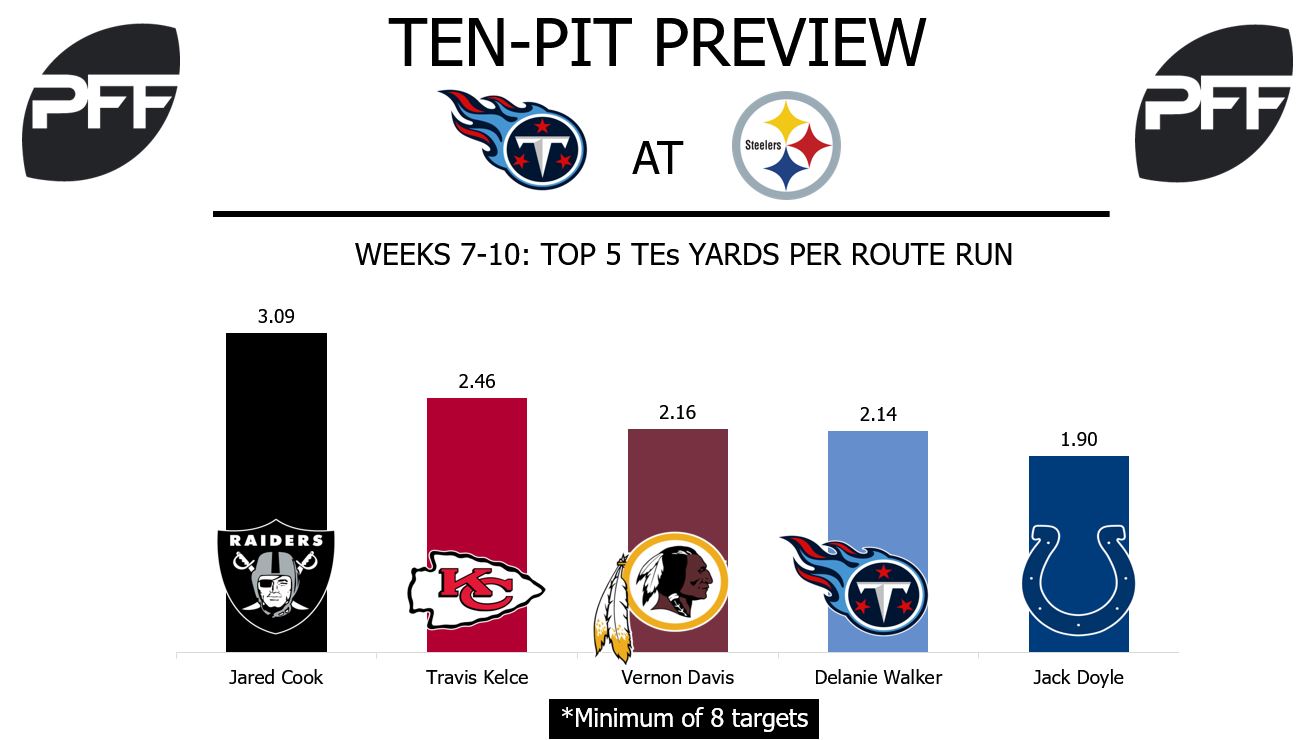 Coverage by: Mike Manning
Matchup: Pittsburgh Steelers offense versus Tennessee Titans defense
QB Ben Roethlisberger vs. S Kevin Byard – Roethlisberger has been having a down year in 2017 by his standards, but his passing grade of 81.1 is the eighth-highest among quarterbacks this season. Although Roethlisberger has targeted the middle of the field often in his career and this season is no different, his eight interceptions in between the numbers leads the league. But he has been able to respond well to blitzes, 2017 is the first season since 2014 that Roethlisberger has a higher passer rating under pressure than when not facing it. His passer rating improves 10.4 points from 81.4 to 91.8 when he is blitzed. The Titans as a team blitz 35.5 percent of the time, much higher than the league average of 29.7 percent this season. Byard's 38.7 percent playmaker index is the second-highest among safeties this season.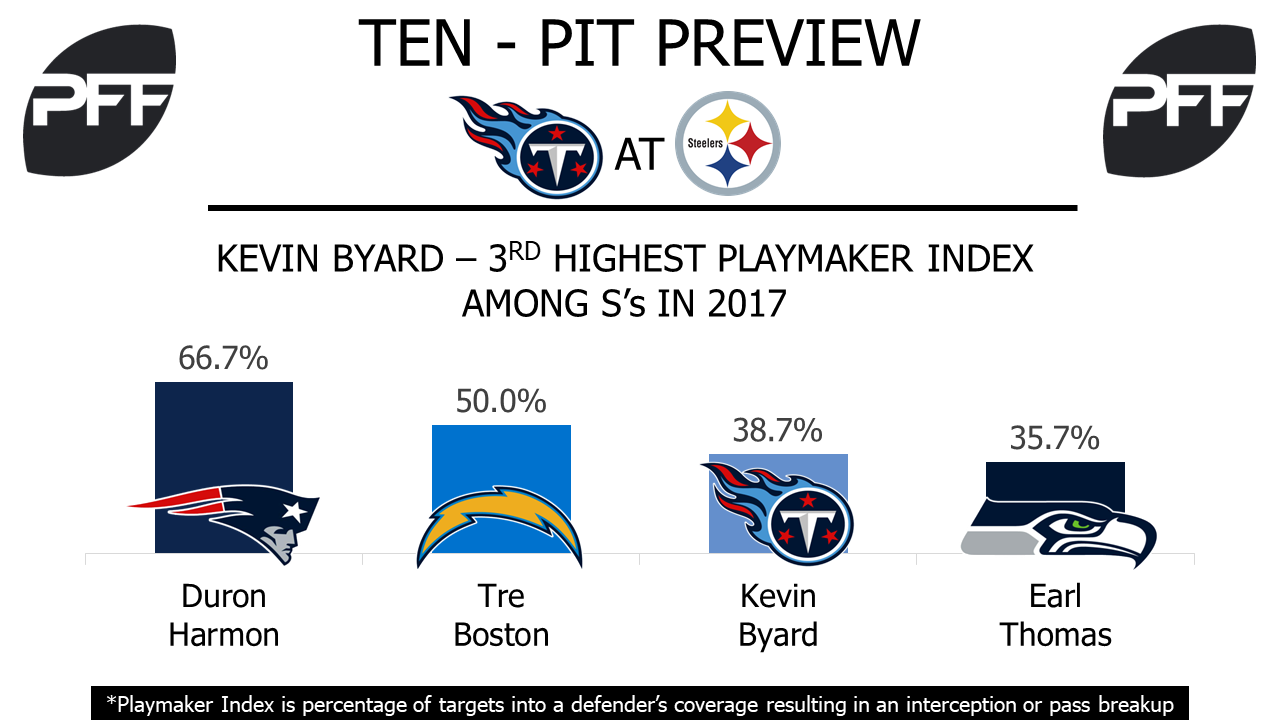 WR JuJu Smith-Schuster vs. CB Logan Ryan – Smith-Schuster has been a reliable weapon for Roethlisberger as the season has progressed, but he has been most efficient out of the slot. His 2.27 yards per route run from the slot ranks third among wide receivers this season on only 162 routes run from the slot, the 21st-most. Smith-Schuster's most effective route has been the go route, he has run four of his six go routes from the slot for 138 yards and a touchdown. Ryan has covered the slot receiver on 241 snaps this season, the fifth-most by a cornerback. But he is the Titans' second-worst defensive back at covering the 'go' route, allowing a passer rating of 120.0 in 2017 with 54 yards and a touchdown.
RB Le'Veon Bell vs. LB Wesley Woodyard – Bell's up and down year has continued, as he has touched the ball 58 times in the past two games without forcing a single missed tackle. It's the first time he has gone back to back games without forcing a missed tackle in his career. But he has picked up his big plays, with 10 runs of 15 or more yards, tied for the second-most by a halfback this season. Woodyard has been one of the Titans' strongest run defenders, his 87.1 run-defense grade ranks eighth among linebackers. His 22 run stops this season are already more than he had all last season and is tied for seventh-most by an inside linebacker.