The Minnesota Vikings visit the Washington Redskins in Week 10 of the 2017 NFL season. PFF previews the top player matchups of the game.

PFFELO Ranking: 12
Coverage by: Elliott Rooney
WR Adam Thielen vs. CB Kendall Fuller – Thielen continues to have a superb season, he is currently the seventh highest graded receiver with an overall PFF grade of 83.6. Thielen is his best when working the slot, where he ranks fifth with 27 receptions and 336 receiving yards from the slot. Thielen has also been an integral part of the Vikings deep passing game, catching all seven of his catchable passes thrown his way for 194 yards (a pass targeted 20 or more yards downfield). Thielen will be challenged by the 11th-highest graded cornerback this season in Fuller, who boasts an impressive PFF overall grade of 87.0. Fuller has been Washington's primary slot defender in 2017, playing the third most snaps of any defender in the slot this season (224). Fuller is only allowing a passer rating of 52.0 when targeted in the slot, the third best of any slot defender in 2017, he is yet to allow a touchdown and has two interceptions.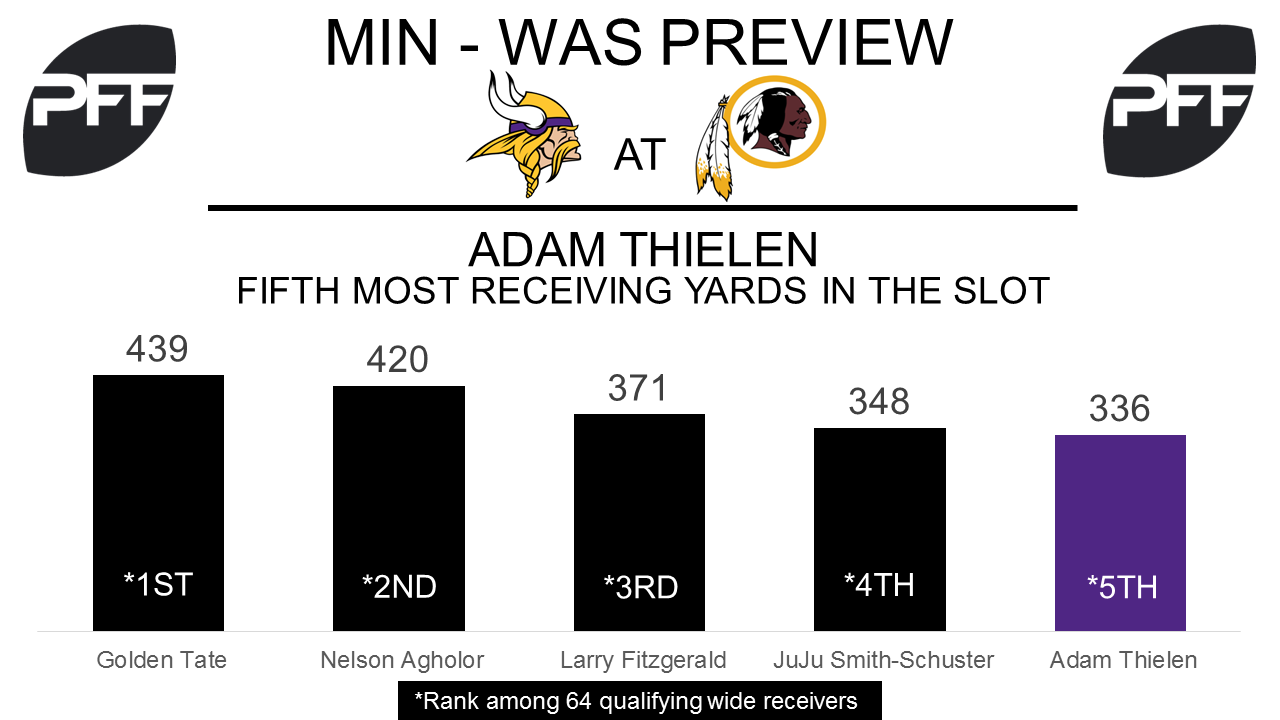 T Mike Remmers vs. Edge Ryan Kerrigan – Remmers is enjoying his best season to date, his PFF overall grade of 79.0 ranks 12th among offensive tackles and is the highest of his career. He has graded well in both the run (79.3) and pass (78.3), and is only one of six tackles not yet to allow a sack this season, minimum 181 pass-blocking snaps. Kerrigan has been Washington's best pass-rusher this season, he leads the team with 29 total pressures and ranks 21st in the NFL with a pass-rush productivity (PRP) of 11.3 (PRP measures pressure created on a per snap basis with weighting towards sacks).
RB Jerick McKinnon vs. LB Zach Brown – Since stepping in to fill the void of injured runner Dalvin Cook in Week 5, McKinnon has been one of the best running backs in 2017. His overall PFF grade of 81.2 is the 10th-best grade this season. Between Weeks 5 through 8, McKinnon has an elusive rating of 51.7, the 13th best mark by a runner during that time, his 14 total missed tackles are the fifth most between those weeks. Brown has been one of the best run defenders this season as his run-defense grade of 91.3 is the second best by a linebacker this season. He also ranks eighth with 20 stops in run defense this season (a run stop is a tackle made in run defense that results in a "WIN" for the defense).

PFFELO Ranking: 13
Coverage by: Mark Chichester
T T.J. Clemmings vs. Edge Everson Griffen – With All-Pro left tackle Trent Williams set to miss another game as he recovers from a knee injury, the stage is set for T.J. Clemmings to make his third consecutive start. Clemmings has been far from perfect in pass-protection so far and has allowed two sacks, two hits and four hurries on the 79 pass-blocking snaps he's played in the last two weeks, resulting in a pass-blocking efficiency of 91.8 that ranks 32nd of 37 offensive tackles with at least 50 snaps during that span. Entering the contest, Clemmings will have considerable experience squaring up against Everson Griffen, so hopefully he can use that to his advantage. Any prior experience against Griffen can be helpful, as the eighth-year pass-rusher is playing at an extremely high level this year. Through nine weeks, Griffen has produced 35 pressures from 273 pass-rush snaps, and his nine sacks from the right side of the line lead the league's 4-3 defensive ends.
TE Vernon Davis vs. LB Eric Kendricks – Through the first half of the season, the Vikings have fielded one of the best run defenses in the NFL and have allowed just 81.4 yards per game so far, good for third-best in the league. This means that the Redskins will have to emphasize the passing game if they are to have any success moving the ball, and with Jordan Reed struggling with injury, it inevitably means more action for tight end Vernon Davis. Through the team's first eight games, Davis has hauled in 23-of-25 catchable targets for 384 receiving yards, good for second among Washington's skill position players. To go with it, he's found the end zone once and averages 2.53 yards per route run, the best mark among tight ends. However, the wily veteran will have his work cut for him against Eric Kendricks, who is allowing a passer rating of just 80.2 when covering tight ends this year and has attained a coverage grade of 80.5 , good for 16th among linebackers.
WR Josh Doctson vs. CB Trae Waynes – The second-year wide receiver has seen his snap count rapidly increase over the last four weeks, and he's rewarded his coach for trusting in him. Over the last four games, Doctson has caught eight of nine catchable targets for 110 yards for two scores, and has generated a passer rating of 122.0, good for 13th among the 77 receivers with at least 11 targets in that span. He'll be looking continue his recent good-form against cornerback Trae Waynes, who has allowed 1.54 yards per coverage snap this season, which ranks 66th among 73 qualifying cornerbacks.