The New York Jets visit the Tampa Bay Buccaneers in Week 10 of the 2017 NFL season. PFF previews the top player matchups of the game.

PFFELO Ranking: 24
Coverage by: Cyrus Geller
T Kelvin Beachum vs. Edge Robert Ayers – This will be a fun matchup to follow, as it pits the Jets best pass blocker in Beachum against Ayers, who is having a phenomenal year on the edge. Beachum has a pass-blocking efficiency rating of 96.0, which is tied for 16th best among 76 qualified offensive tackles this season. Ayers is currently the 15th-highest graded edge defender (out of 110 that qualify) with an overall grade of 84.9. It will be interesting to see who gets the upper hand when these two go head to head.
WR Robby Anderson vs. CB Ryan Smith – Anderson is coming off a strong week against Buffalo, as he caught four of the five balls thrown his way for a touchdown and a passer rating of 146.3 when targeted. For the season he is averaging 1.78 yards per route run, which is ranked 27th out of 87 qualified receivers. He has a favorable matchup this week, as Ryan Smith has struggled in 2017. His overall grade of 40.5 is 109th out of 115 qualified cornerbacks. Look for the Jets to try to get the ball to Anderson a lot in this game.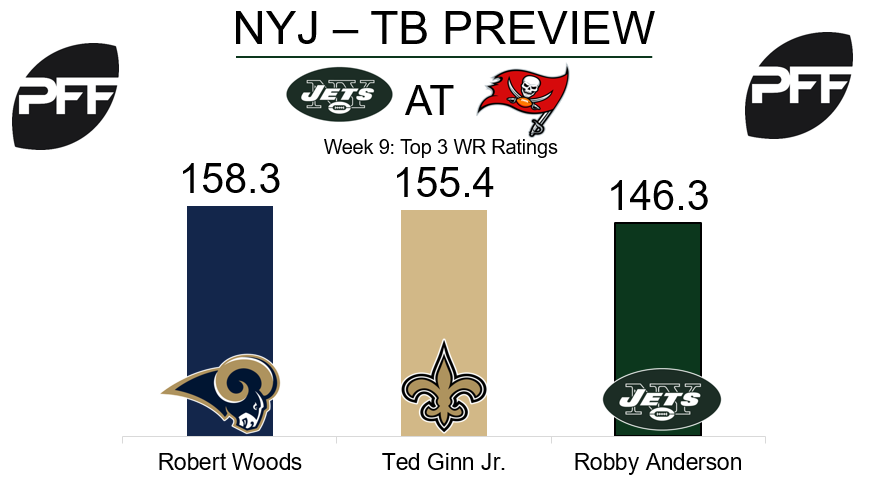 G Brian Winters vs. DI Gerald McCoy – This is a matchup that favors the Bucs, as it features Winters, who is ranked 42nd out of 80 qualified offensive guards in overall grade at 47.4, against Gerald McCoy, whose pass-rushing grade of 85.3 is sixth best out of 117 qualified interior defenders. McCoy has nine quarterback hits on the season, which is second only to DeForest Buckner among interior defenders. Winters, who is tied for 57th among 79 qualified guards in total pressures allowed with 14, will certainly have his hands full in this one.

PFFELO Ranking: 28
Coverage by: Bill O'Brien
WR DeSean Jackson vs. CB Morris Claiborne/Darryl Roberts – The Buccaneers made a splash free agency signing this past offseason by bringing in high-profiled wide receiver DeSean Jackson. So far in 2017, Jackson has not produced on deep passes like he has in previous years. Jackson has just 131 yards on passes of 20-plus yards and has only seen five catchable targets on such passes. Star wide receiver Mike Evans will be serving a one-game suspension, so Jackson will have a chance to increase his looks on deep passes. The Jets will counter with Morris Claiborne, provided Claiborne is healthy. The cornerback has been playing well, ranking 39th among cornerbacks in overall grade with a grade of 80.6, however, he missed last week's game with a foot injury. If Claiborne cannot go, the Jets will turn to backup cornerback Darryl Roberts who has played well also, registering a grade of 73.7.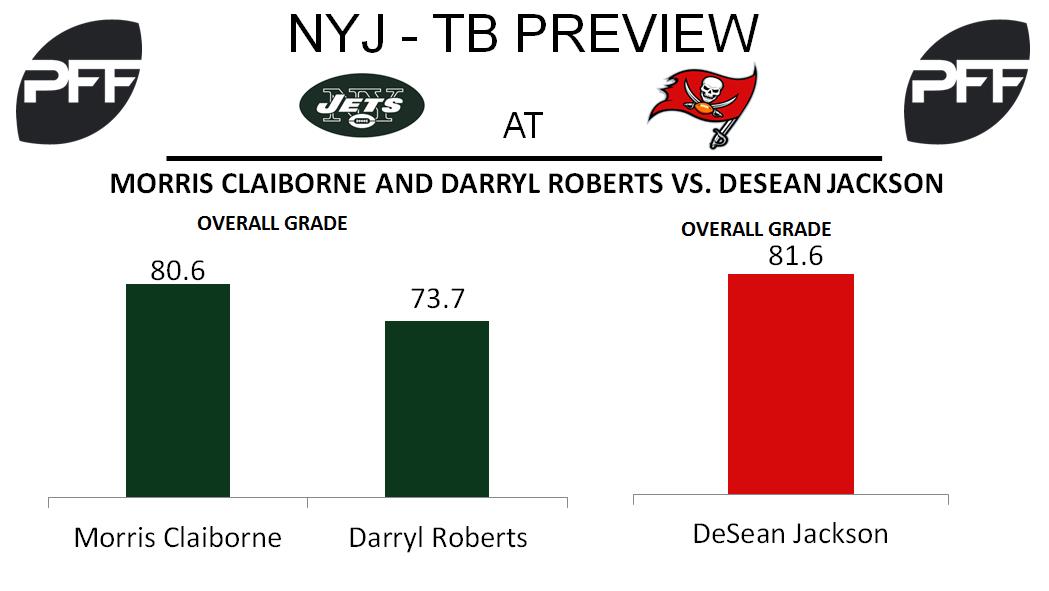 RB Doug Martin vs. LB Demario Davis – The Buccaneers have struggled to get their running game going so far this season. Doug Martin missed the first three games of the season due to suspension and provided an early spark that has since dissipated. Part of the reason is Martin's lack of elusiveness, as he 44th out of 50 qualified halfbacks with an elusive rating of 21.9. Martin will attempt to improve that rating this weekend against Jets' linebacker Demario Davis. Davis has been a solid contributor defensively for the Jets, as he sports an overall grade of 80.4, which is 19th among 81 qualified linebackers.
T Demar Dotson vs. DI Leonard Williams – Now in his third season in the NFL, interior defender Leonard Williams has become one of the best players on the Jets roster. Through nine games this season, Williams is the Jets' highest graded defensive player with an overall grade of 82.2. Williams will often be matched up against one of the best offensive tackles in the league, Demar Dotson. The Buccaneers' right tackle is having a great season and currently ranks second among tackles in pass-blocking efficiency with a rating of 98.1.