Each year in the NFL, there are a group of players that take a huge step forward and breakout to become top-flight starters. Sometimes we saw glimpses of that play in the past, often in limited snaps, but sometimes that play comes out of left field and takes everyone by surprise.
So here are the 10 biggest breakout players of the 2017 season.
2017 PFF Grade: 87.6
PFF Elite Stat: Wentz fielded an 81.7 passer rating under pressure, fourth-highest among the league's quarterbacks.
Wentz hit the ground running in the debut season a year ago with some stellar performances early in his rookie year, but then his play took a nose-dive as the year wore on, and heading into Year 2, his play was far from a given. He didn't just get back to that early form, but surpassed it and set about putting together an MVP caliber season before going down injured late in the year.
Found in our exclusive PFF QB Annual: Wentz was on another level when it came to third-down play this season, and his 87.6 overall PFF grade ranked fifth at the end of the season, representing almost a 10-point jump from his first year. It took until the final week of the season for anybody to surpass the 33 touchdown passes that Wentz tossed in a little less than 13 complete games. And while his passing under pressure had been an issue as a rookie, he threw eight touchdowns to just one interception when hurried this year.
2017 PFF Grade: 94.0
PFF Elite Stat: Among cornerbacks with at least 85 targeted passes this season, Ramsey finished with the second-lowest passer rating when targeted at just 63.9, also 13th-lowest among all qualified cornerbacks.
As a rookie, Ramsey certainly flashed the ability of what was to come this season, and in fact, he ended that rookie year on an impressive hot streak. That continued into 2017 in a major way. This season, Ramsey has been one of the best shutdown corners in the game and formed the best cornerback tandem in the game with A.J. Bouye.
Ramsey allowed just 51.1 percent of passes thrown his way to be caught this year and notched 10 pass breakups to go along with his four interceptions, earning the second-best grade among all corners and making PFF's All-Pro team.
2017 PFF Grade: 85.2
PFF Elite Stat: Garoppolo finished with a 110.1 passer rating when kept clean from pressure, sixth-highest mark in the league.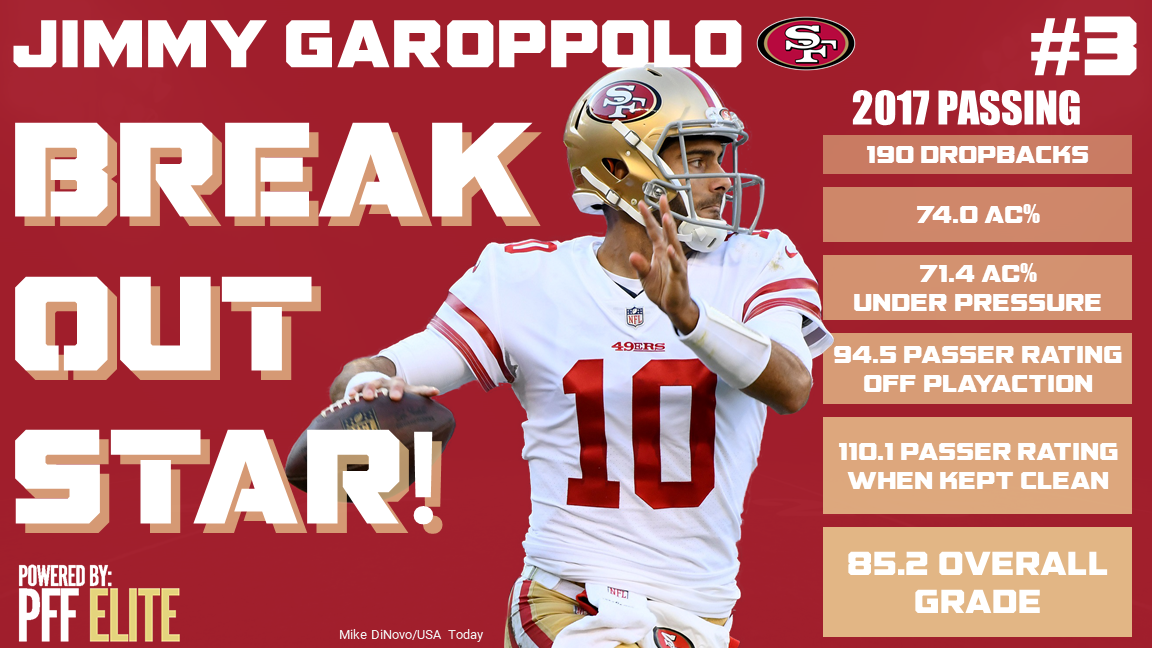 We all thought we knew that Jimmy Garoppolo was something special, but we were working from such small sample sizes that nobody could be sure. This season, he got his chance to start after being traded to the San Francisco 49ers, and from the moment he got on the field, he instantly transformed the franchise. Garoppolo was undefeated across his five starts for a team that had won just one game all year before handing him the keys.
His overall PFF grade was 85.2, which is good enough to round out the top 10 in QB rankings, and one of those victories came against a playoff-bound Jacksonville team that had the league's No. 1 defense at the time (Garoppolo is effectively the reason that team didn't finish as the league's No. 1 defense).
Found in our exclusive PFF QB Annual: Only Drew Brees had a higher adjusted completion percentage when pressured than Garoppolo's 71.4 percent, and he looks every bit the franchise quarterback of the future for the 49ers.
Subscribe to PFF Edge to continue reading
Already have a subscription? Sign In