For back-to-back years now, 12 former first-rounders have not had the fifth-year options in their rookie contracts picked up prior to the deadline. Here's a list of the 12 first-round picks from the 2016 NFL Draft that will now be playing in contract years in 2019 — all have one season left to prove their worth before hitting the open market in search of a second contract in the NFL.
[Editor's Note: Pro Football Focus' ELITE subscribers can view advanced stats and grades for all NFL players dating back to 2006 in Premium Stats 2.0. Sign up today!]
Career-high PFF Grade: 80.9 in 2016
Among the 50 NFL offensive tackles with 1,500-plus offensive snaps played (in the regular season) since 2016, Conklin ranks 25th in overall grade (77.3), 30th in pass-blocking grade (77.6) and 19th in run-blocking grade (73.3). He has allowed 77 total pressures across his 1,409 pass-blocking snaps in his career, ranking 24th in three-year pressure percentage allowed (5.5%) among qualifiers. A combination of middling to below-average production, a steep drop-off from his rookie season and injuries cost Conklin his fifth-year option; staying healthy and returning to his 2016 form (80.6 overall grade) in 2019 will increase his value on the open market.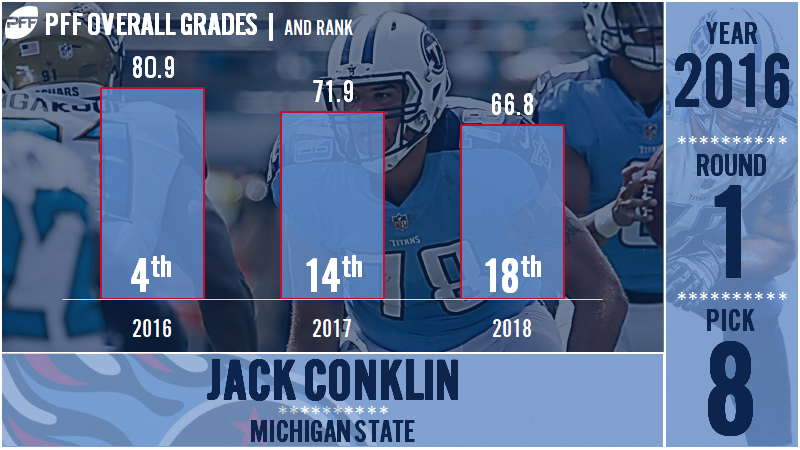 Career-high PFF Grade: 65.0 in 2018
Apple has fallen well below expectations after going 10th overall to the New York Giants in the 2016 NFL Draft. He earned 58.9 and 64.5 overall grades with New York in 2016 and 2017, respectively, and followed that up with just a 65.0 overall grade in New Orleans after getting traded to the Saints for a fourth- and seventh-round pick last year. Apple flashed high-end potential in bursts with the Saints in 2018, forcing a whopping 17 incompletions in the process, but consistency remains a concern with the former Ohio State standout. Year 2 in the Bayou needs to be quite the year for Apple from a game-to-game consistency standpoint in order for him to draw considerable interest in 2020.
Career-high PFF Grade: 74.5 in 2018
Joseph earned a career-high 74.5 overall grade playing a mix of free and box safety in Oakland, proving to be at his best against the run and rushing the passer. His two-year run-defense grade (80.2) ranks eighth among the 45 NFL safeties with 500 or more run-defense snaps in the last two years, and his two-year pass-rushing grade (92.6) leads all 38 safeties with 30 or more pass-rush snaps in the last two years, as he's totaled 13 pressures across his 33 pass-rush snaps since 2017. The concerns tied to Joseph's game, of course, all revolve around his coverage ability: he's struggled to keep pace in man coverage against bigger tight ends and has yet to have down-to-down consistency playing the deep third in zone coverage. His coverage grades have suffered as a result, as has his future with Oakland.
With Lamarcus Joyner and Johnathan Abram joining the team this offseason, Joseph will have a hard time finding the field barring injury to the aforementioned duo. And once on the field, he'll need to move mountains in coverage for Jon Gruden & Co. to push a new contract his way.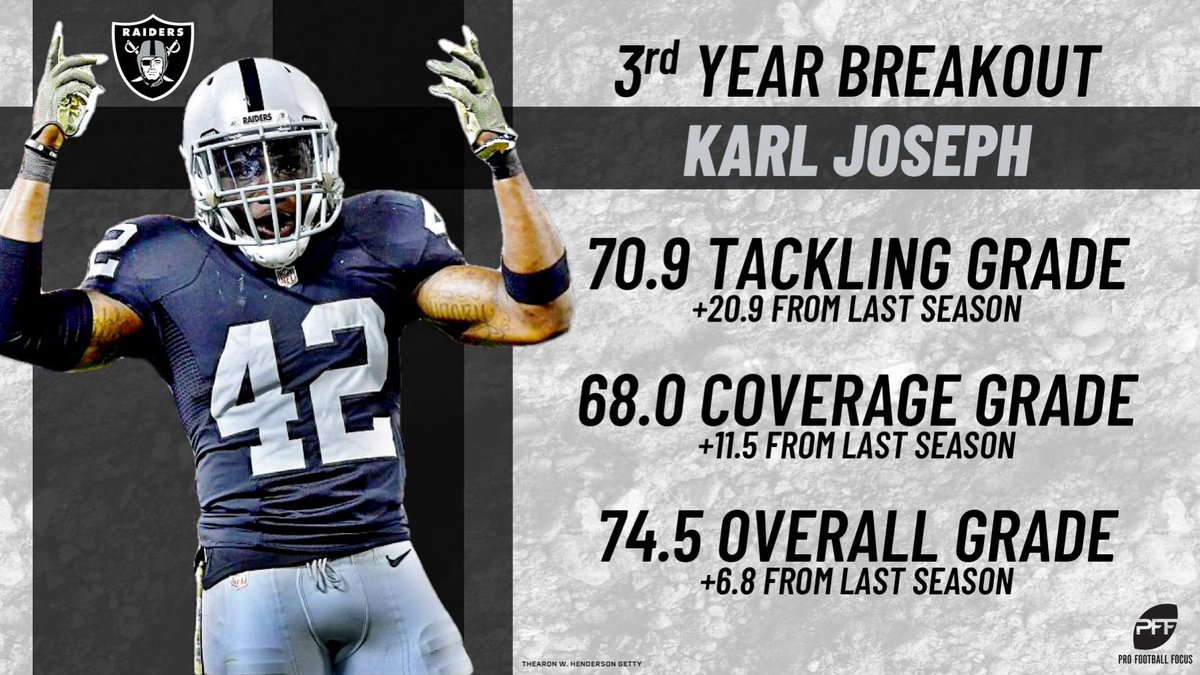 Career-high PFF Grade: 76.5 in 2018
Lawson turned in the best season of his career in 2018, earning a 76.5 overall grade and an 80.1 run-defense grade in the process. However, his pass-rushing ability still hasn't come anywhere close to what Buffalo likely hoped for when the team selected him 19th overall in the 2016 NFL Draft. Lawson's pass-rush win percentage in each of the past three seasons all fall under 11.0%, and his career-best season from a pressure total standpoint (2018) amounted to just 27 pressures. If he can't improve as a pass-rusher, his value in the NFL is low. His price on the open market in 2020 will reflect that if he doesn't right the ship in what is now a contract year for the former Clemson phenom.
Career-high PFF Grade: 72.4 in 2018
Among the 66 off-ball linebackers with 1,200 or more defensive snaps in the last three seasons, Lee ranks 62nd in overall grade (51.8) and 57th in coverage grade (54.1). And that includes what was a career year in 2018, where he earned a 72.4 overall grade and an 84.8 coverage grade. The writing is on the wall for Lee in New York, and his future in the NFL will largely be determined by how he builds on his career year in 2019.
Career-high PFF Grade: 63.3 in 2018
To say Doctson, the No. 22 overall pick in the 2016 NFL Draft, has underwhelmed would be an understatement. Now three years removed from his standout 2015 season with TCU, Doctson's best year in the NFL amounted to just a 63.3 overall grade, 47 receptions, 586 yards, and two touchdowns. He has struggled to separate against NFL defensive backs and has yet to develop his contested-catch ability enough to thrive with said defensive backs draped all over him down the field.
Career-high PFF Grade: 56.4 in 2016
Take what we said about Doctson and double-down on it with Treadwell. He's earned sub-57.0 overall grades all three years of his career all while struggling to see the field let alone separate against NFL defensive backs.
Career-high PFF Grade: 72.4 in 2017
Burns has been up-and-down in his time in Pittsburgh, coming away with four interceptions and 19 pass breakups but also allowing 13 touchdowns on 1,357 snaps in coverage over the past three seasons. There's been more down than up, for sure, making Steelers' decision to decline the fifth-year option in his rookie contract that much easier. He also played a career-low 308 snaps and wound up getting benched in 2018.
Career-high PFF Grade: 61.5 in 2016
Injuries have limited Garnett to just 59 offensive snaps in the two years, and the one year he did play a significant snap count (2016), he earned a 61.5 overall grade. If exercised, the fifth-year option in his contract would have been guaranteed for injury; San Francisco wanted no part of that gamble. Garnett can save his NFL career if he can push past Mike Person and Laken Tomlinson for a starting spot and thrive within it, but all signs are pointing to quite the opposite.
Career-high PFF Grade: 59.5 in 2018
All of the natural ability in the world couldn't save Nkemdiche from his lackluster production at Ole Miss following him to the NFL. His rare size and athleticism had talent evaluators drooling at the mouth thinking of his potential at the next level, but Nkemdiche has yet to come close to meeting expectations. He has earned a 56.9 three-year overall grade and failed to eclipse 60.0 in any of his three seasons in the NFL.
Career-high PFF Grade: 68.7 in 2017
A long-armed athlete with great size and a treasure trove of potential, Butler, like Nkemdiche, has underwhelmed. His lack of polish and overall technique has prevented him from nearing his sky-high potential in the NFL, as he has played fewer than 330 defensive snaps in all three years of his career and earned sub-70.0 overall grades in each. And his career-best pass-rush grade (61.9) is nothing to call home about, either. Still just 24 years old, Butler still has time to develop and get better in the NFL, but a giant leap forward in development will likely need to take place for him in 2019 for Carolina to re-sign him in 2020.
Career-high PFF Grade: 55.6 in 2018
The broken record continues to play. Another 2016 first-rounder chock full of potential, traits, tools, etc., Ifedi has yet to turn any of it into high-end, stable production in the NFL. His career-best grade (55.6) is a career-low for other starters in the NFL, and his three-year overall grade (52.8) ranks 63rd among the 66 offensive tackles 1,200-plus offensive snaps in the last three years, barely eclipsing the efforts of Bobby Hart (52.1), Julie'n Davenport (51.2) and Breno Giacomini (45.4). His pass protection has improved of late, but he's a complete liability in the run game – a bad thing to have as your Achilles heel in an offense that values the run more than any other team in the NFL.