Secret Superstars is our weekly feature where we'll be highlighting great play in the previous week's games from under-the-radar players.

While we'll give most weight to performance in the week just gone, an out-of-the-blue game isn't going to sway us too much. We are looking for some degree of confidence this wasn't just a one-off thing, whether it be played in other games this year, in college, etc.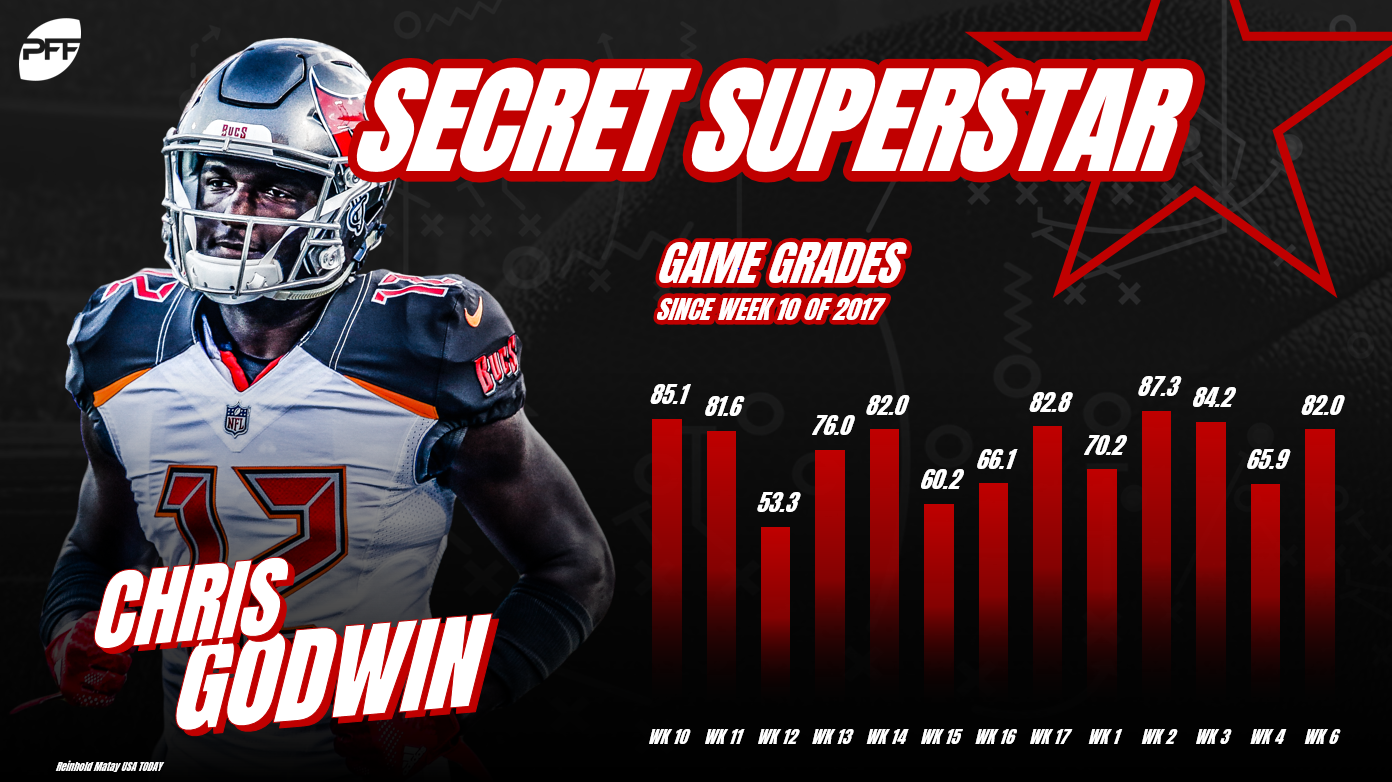 Week 6 Grade: 82.0
After an explosive start to the 2018 season, Tampa Bay may be falling away a little in the tough-as-usual NFC South, but Chris Godwin has remained hot. Indeed, since Week 10 in 2017 (his rookie year) he has had a grade of 80.0-plus in 7-of-13 games and over that span his grade of 89.9 ranks an amazing sixth among all wide receivers. Granted his 493 snaps in that period is far lower than any of the players above him but if they weren't, you could omit the word "secret" from the title of this article.
The only real thing keeping him back now is being the third receiver behind two great players in Desean Jackson and Mike Evans but that won't be the case forever and, at that point, expect the same level of production, more snaps and none of the secrecy.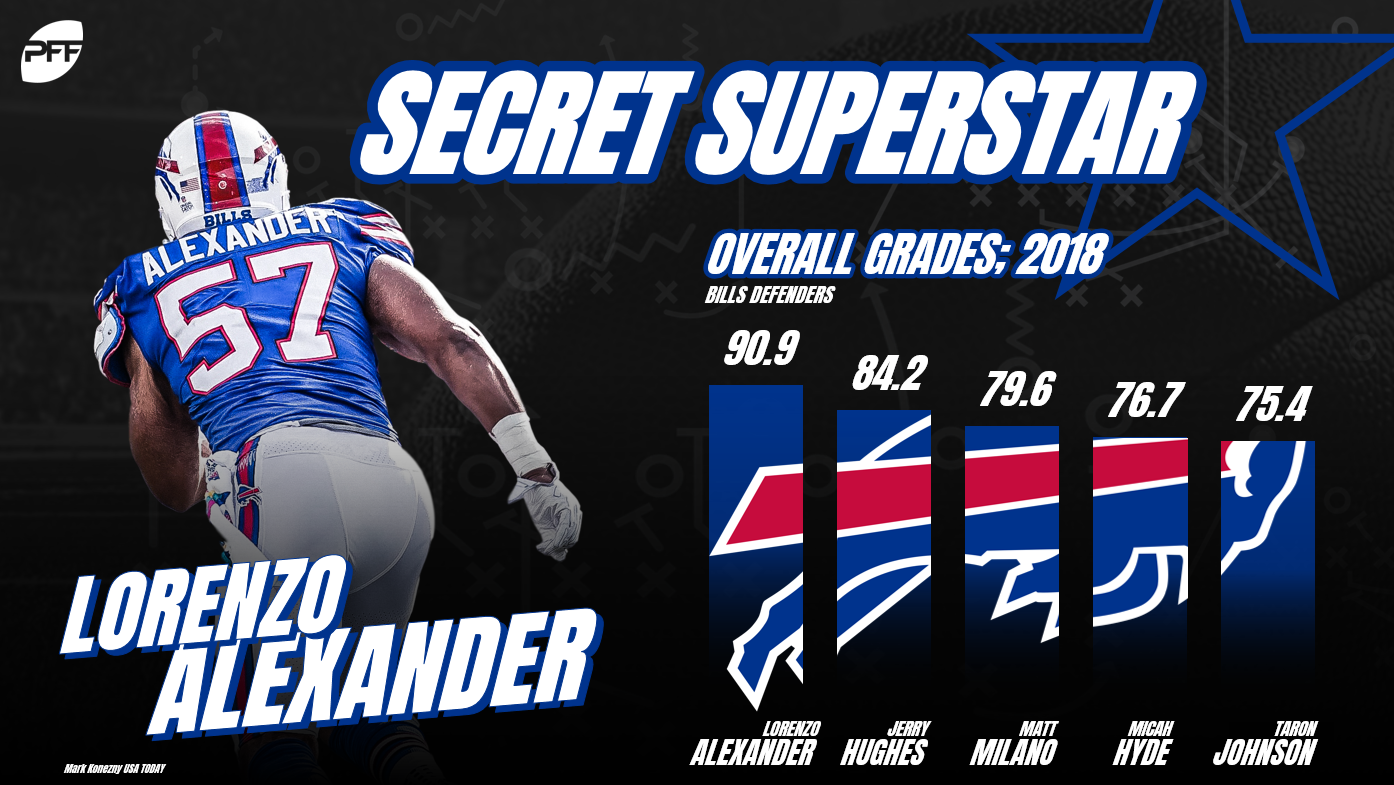 Week 6 Grade: 92.6
The Bills may be struggling now but that's almost all predicated on their offensive shortcomings as the defense ranks sixth in our PFF rankings. They have eight players with significant snaps graded above 70.0 and at the top of that list is Lorenzo Alexander. He's been outstanding in every facet of play, grading out well as a run defender (76.3), pass-rusher (18 pressures) and has had an unbelievable season so far in coverage being targeted seven times on 31 pass drops for only 20 yards while making an interception and breaking up one other throw. He's coming off a poor year in 2017 after a bit of a breakout in 2016 where he played well but sack numbers overly hyped a good performance into something better than it was. It's funny how things work out, but he's been worth every ounce of that 2016 hype and more but received very little of it.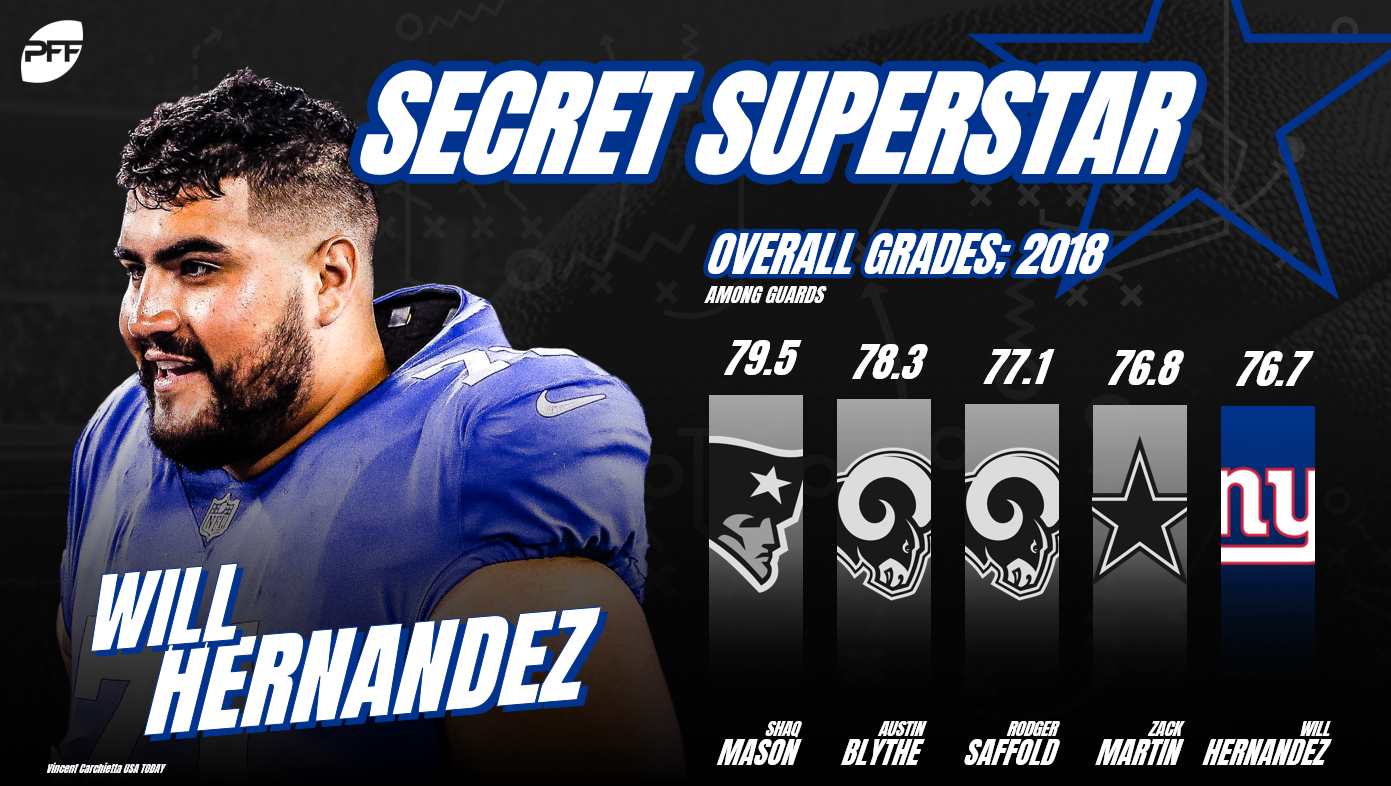 Week 6 Grade: 82.0
It's been a long time since Will Hernandez was a secret around the PFF offices. Back in 2015, rumors of some "monster" at UTEP started to emerge from some of the guys grading the games. In 2016, those noises became a deluge and by the time the 2018 Draft rolled around, Hernandez was installed as the 17th-best player on our "PFF Big Board." When the Giants selected him at 34th overall, he looked set to be a 'Day 1 starter' and so it transpired as he has played left guard on every Giants offensive snap. He's been superb, blocking well for the run and very good in pass protection as well, giving up only nine pressures to date. He's perhaps not got the credit he deserves because three of the nine pressures have been highly-visible sacks but give me any player in football and I can make them look terrible if I choose the wrong three snaps. Instead, I prefer to focus on the positive which is as a good a start to a career for a rookie guard as we've seen for some time and the No. 5 overall ranking in the PFF grades for guards.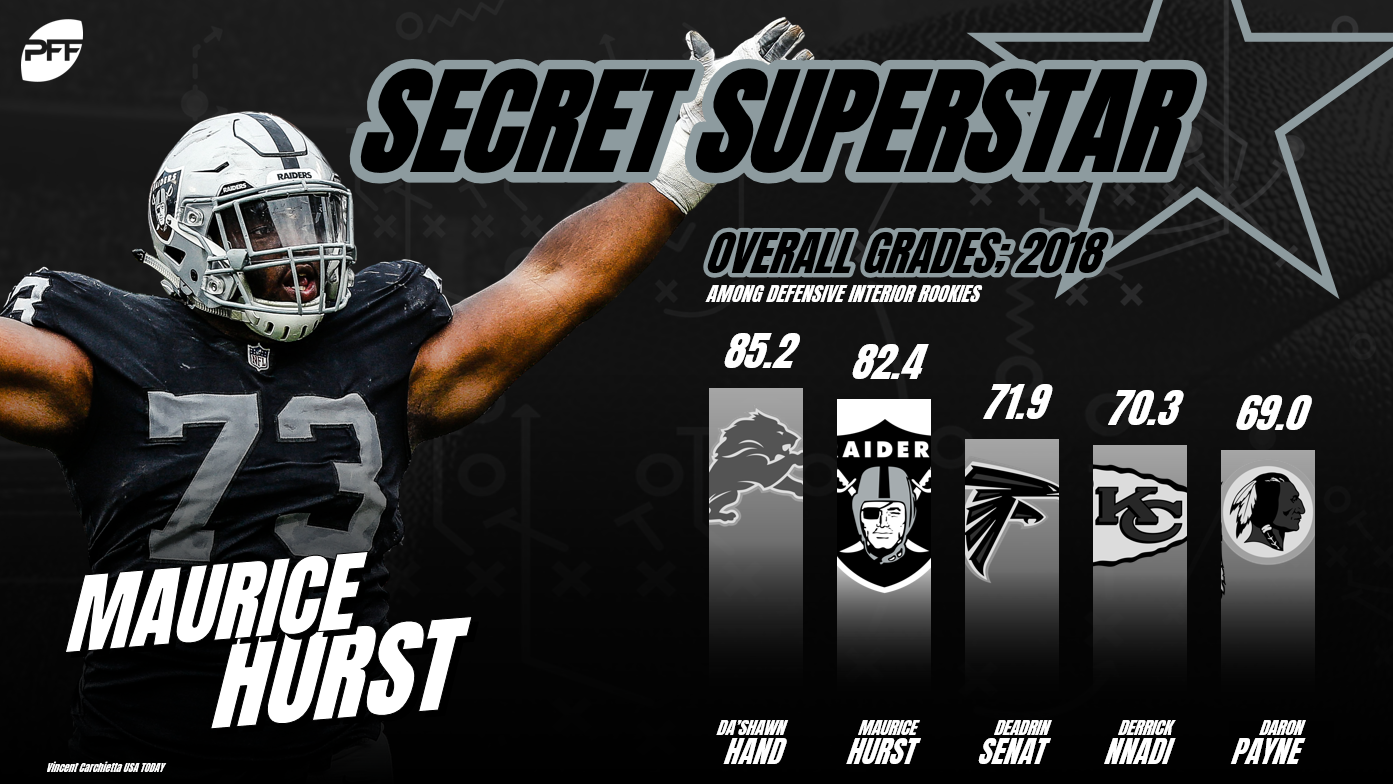 Week 6 Grade: 75.1
After a slow start to his NFL career – he graded 58.9 and 63.5, respectively, in his first two games – Hurst has begun to find a rhythm that currently sees him ranked 17th among all interior defensive linemen. The drop to the top of the fifth round is written off by many as simply a result of health issues, but truth be told, there were several teams that didn't see him as a fit for them at because of a lack of size and perceived issues against the run. However, that facet of his play has been equally as good as his pass-rush and, if anything has been his stronger suit with eight stops in run defense on 96 snaps. He's found his feet in the NFL now and looks set to kick on and prove every team that overlooked him just what they missed out on.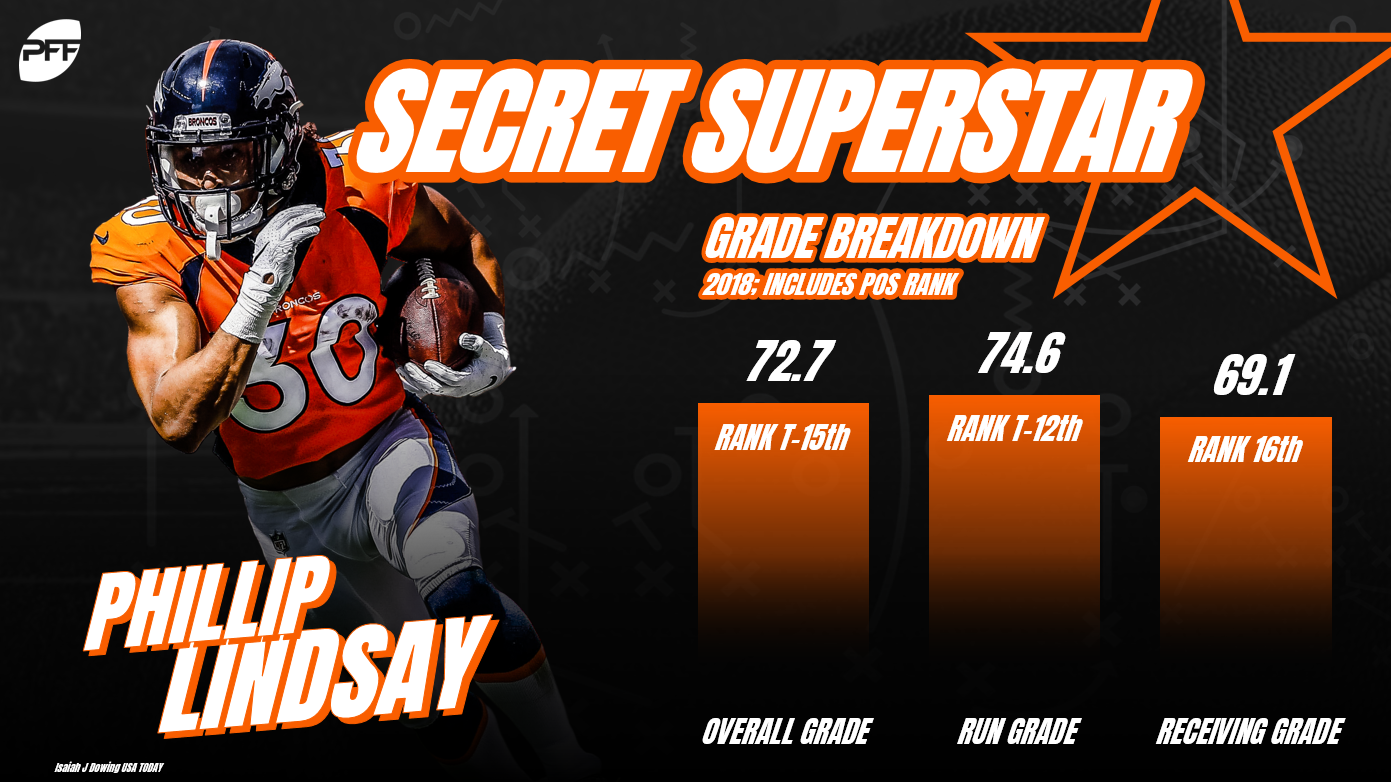 Week 6 Grade: 75.9
Everyone loves an undrafted free agent and who better to get behind than the running back many thought too small to play in the NFL. However at 5-foot-8" and 190 pounds, Lindsay was the workhorse back for Colorado each of the last two years, averaging 820 snaps a season with a style that saw him get 809 yards after contact in 2017. Only Le'Veon Bell played more snaps than that number in the NFL last year and in four more games. This is not someone likely to be intimidated by work and so it's played out. Despite sharing the backfield with third-round pick Royce Freeman, he's still graded as our 15th overall back and is 25th in yards after contact per attempt. He's had some issues pass-blocking but he's getting better as a receiver and had by far his best game in that regard last week against the Rams.