After each week of the NFL season, and once our exhaustive All-22 review process is in the books, PFF will be bringing you the insights from our play-by-play grading of every NFL game with our team of the week.
This year we will match the new and improved All-Pro system when it comes to offensive and defensive formation, with a flex player for both sides of the ball that can be either a receiver, slot weapon, tight end or running back on offense, and anybody in the defensive secondary on defense. This gives us the flexibility to reward the player that best deserves it across multiple positions, rather than shoehorning in somebody just to fit a slot receiver or cornerback role.
OFFENSE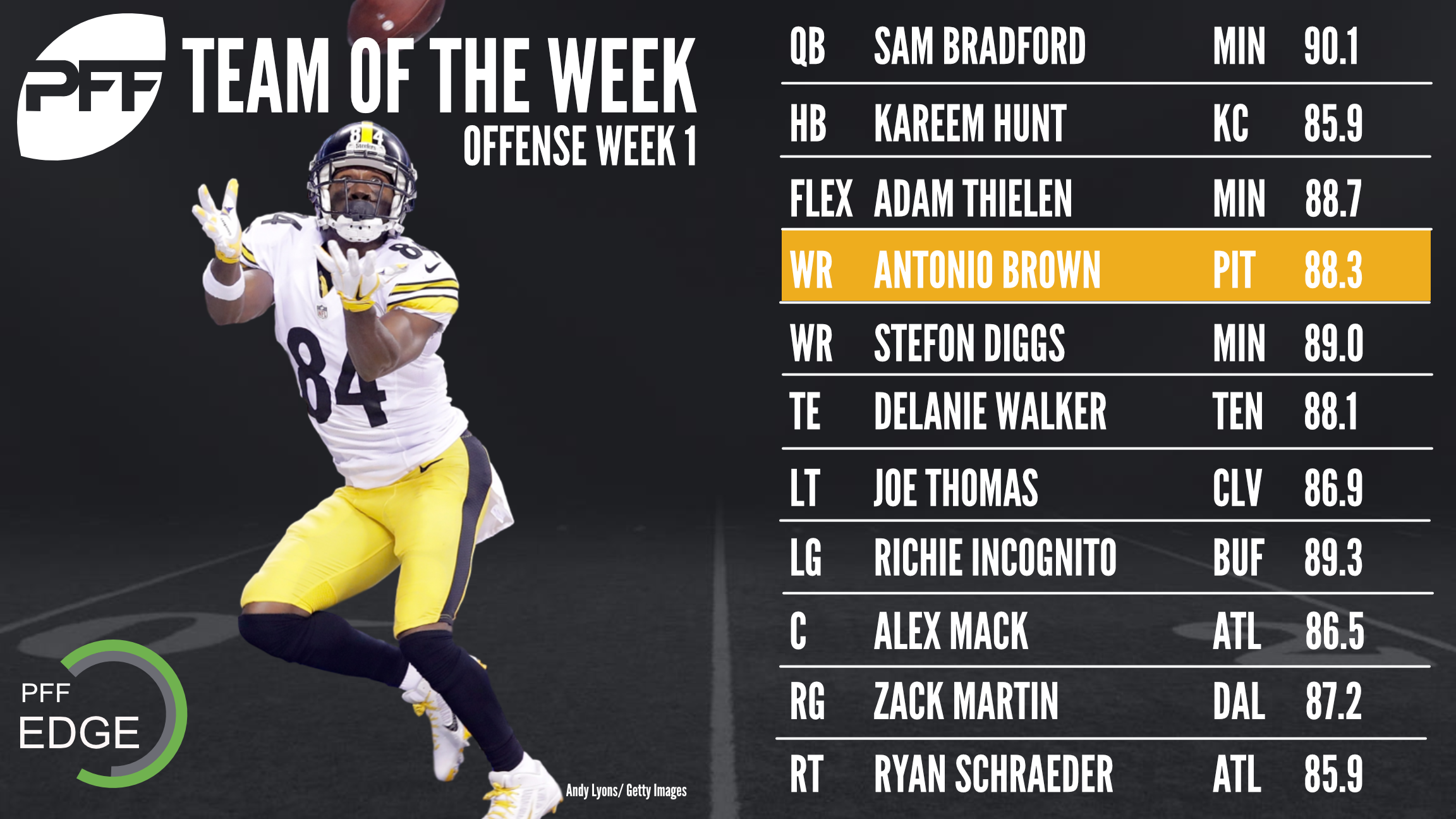 PFF Grade: 90.1
Elite Stat: Bradford's passer rating under pressure was 158.3, otherwise known as perfect.
Bradford had one of those games that reminds people why he was a No. 1 overall draft pick, and one of the most exciting prospects for years when he was drafted. He is capable of incredible accuracy and poise under pressure, and delivered some of the passes of the season on Monday night against the Saints. With the Vikings offensive line looking much more capable than last year, we could see the best of Bradford in 2017.
PFF Grade: 85.9
Elite Stat: Hunt averaged 4.0 yards per carry after contact, the best in the NFL.
Fumbling on the first carry of the game, Hunt's rookie season got off to the worst possible start, but from there he bounced back with remarkable effectiveness, racking up yardage on the ground and hauling in a deep shot from Alex Smith down the field in the passing game. Hunt broke seven tackles on just 17 carries.
PFF Grade: 89.0
Elite Stat: Sam Bradford's passer rating when throwing to Stefon Diggs was 154.7, second-best in the league in Week 1.
With Randy Moss in the house being inducted into the Vikings Ring of Honor, it was fitting that Diggs took his game to another level against a weak New Orleans secondary. Diggs found himself wide open on occasion, but also won contested catches and held on through a huge hit from S Kenny Vaccaro at one point to put his full skillset on display.
PFF Grade: 88.3
Elite Stat: Antonio Brown caught 100 percent of the 11 passes thrown his way, including one heavily deflected on its way past a linebacker.
Antonio Brown was just too much for the Cleveland secondary, even catching passes that were deflected on their way through to him. Brown gained 95 of his 182 yards after the catch, making four defenders miss after the catch.
PFF Grade: 88.1
Elite Stat: Walker's pass blocking efficiency rating is 100 percent, having allowed no pressure on three pass blocking snaps.
Walker caught seven of nine targets, but also sprung Marcus Mariota into the end zone for a rushing touchdown with an excellent cut block on Raiders safety Reggie Nelson, which he seemed to enjoy more than any of the passes he caught.
PFF Grade: 88.7
Elite Stat: Thielen gained 4.76 yards for every route he ran against the Saints, the second-best mark in the league in week 1.
Thielen spent the majority of his time inside in the slot against the Saints, catching multiple deep crossing targets and bringing in nine of the ten passes thrown his way, trailing only Antonio Brown in receiving yards after week one.
PFF Grade: 86.9
Elite Stat: Thomas allowed one total pressure on 41 pass blocking snaps.
His latest quarterback continued the trend of not making Joe Thomas' life any easier, but the veteran left tackle once again showed a masterful example of how to play the position. Thomas allowed just one hurry and run blocked well for a Browns offense that looks like it could have some success this season.
PFF Grade: 89.3
Elite Stat: Incognito had a pass blocking efficiency of 100 percent, allowing no pressure at all on 33 pass blocking snaps.
Incognito continues his impressive play heading into the 2017 season, with a perfect day in pass protection, a dominant run blocking performance, and only two penalties (both holding on run plays) marring an otherwise flawless outing.
PFF Grade: 86.5
Elite Stat: Mack allowed one hurry and no other pressure on 33 pass blocking snaps.
Mack had an impressive day against a formidable Chicago interior, allowing just a single pressure, but also run blocking well in the middle of the Falcons rushing attack. The struggles that Atlanta had running the ball weren't down to any struggles from Mack.
PFF Grade: 87.2
Elite Stat: Martin didn't allow a single pressure on 42 pass blocking snaps against the New York Giants.
The Dallas offensive line had its hands full with a strong New York Giants defensive front, but the one member that didn't struggle with the task was RG Martin, who had a perfect day in pass protection and earned positive grades in the run game into the bargain.
PFF Grade: 85.9
Elite Stat: Schraeder didn't allow a single pressure across his 33 pass blocking snaps.
Schraeder's run blocking wasn't stellar in this game, but his pass blocking was, and he kept Matt Ryan entirely clean throughout the game, with his assignment failing to generate so much as a single hurry.
Defense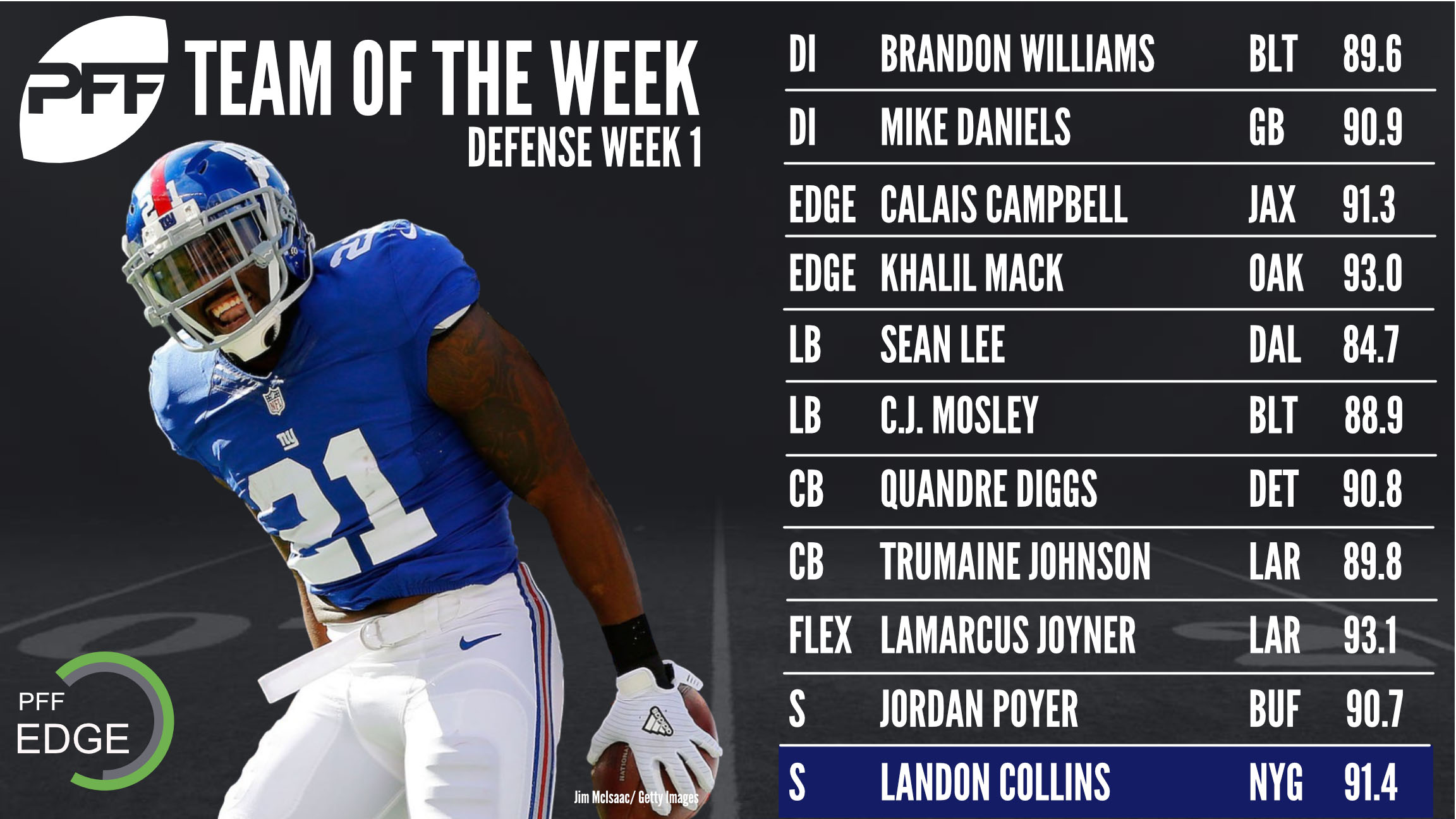 PFF Grade: 90.9
Elite Stat: Daniels led all interior defenders with a pass-rushing productivity score of 17.7.
Daniels abused a weak Seattle offensive line, racking up two sacks, two hits and a hurry as well as six defensive stops, a figure which led all interior defenders for the week. Daniels is one of the best interior defenders in the league, and he was simply too strong for a Seahawks line that again looks to be a weakness of the team.
PFF Grade: 89.6
Elite Stat: Williams notched four total pressures on 20 pass-rushing snaps for a pass-rushing productivity score of 15.0, good for third among interior defenders.
Known primarily as a run defender, Williams displayed some pass-rush in the game against the Bengals, with four hurries even if he failed to finish with a sack or hit on the quarterback. Williams was also too much for Bengals center Russell Bodine and RG Trey Hopkins in the run game.
PFF Grade: 93.0
Elite Stat: Mack had three defensive stops and four total pressures against the Titans.
Mack was a one-man wrecking crew against the Tennessee Titans, sometimes taking three separate blockers over the course of a play. With all of this attention he still notched five hurries, a batted pass, and three defensive stops, as well as blowing up multiple run plays in which he didn't earn the finishing tackle.
PFF Grade: 91.3
Elite Stat: Campbell sacked the quarterback five times and had a league-leading eight total pressures against the Texans.
Campbell played the majority of his snaps outside of the tackle against the Texans (hence his designation here), having been one of the game's best interior players for years in Arizona. It paid off to the tune of five sacks, a hit and four hurries as he destroyed a poor Houston offensive line.
PFF Grade: 88.9
Elite Stat: Mosley missed zero tackles from his seven total attempts, making five defensive stops between the run and pass game.
An interception was Mosley's highlight reel play, but he also made multiple other positive plays in the game, tackling Tyler Eifert for a short gain over the middle but also making an impact against the Bengals offensive line in the run game.
PFF Grade: 84.7
Elite Stat: Lee was targeted once every 3.7 coverage snaps against the Giants, but he allowed just 40 total yards from 11 targets.
If it seemed like Lee was everywhere on Sunday Night Football, it wasn't just your mind playing tricks with you. Even in coverage alone he saw 11 targets, making nine solo tackles and six defensive stops. Lee was also a force coming down hill in the run game, helping thoroughly bottle up the Giants offense all game.
PFF Grade: 90.8
Elite Stat: Diggs allowed just one catch for four yards across 39 snaps in coverage.
Diggs was thrown at five times, and broke up three of those passes, allowing just four yards in coverage and a passer rating of 22.1 when targeted.
PFF Grade: 89.8
Elite Stat: Allowed a passer rating of just 16.7 when targeted against the Colts.
Johnson scored a defensive touchdown on the first pass that Colts QB Scott Tolzein attempted, intercepting it and bringing it back for six. He was thrown at five times overall in the game, allowing just two receptions and 25 yards.
PFF Grade: 91.4
Elite Stat: Collins didn't miss a tackle on seven total attempts despite facing off one-on-one with Ezekiel Elliott multiple times.
Collins began the 2017 season as he ended the 2016 one, looking every bit a Defensive Player of the Year candidate. He was once again all over the field against the Cowboys, including more than one encounter with Ezekiel Elliott. Collins allowed just one catch for three yards in coverage.
PFF Grade: 90.7
Elite Stat: Poyer allowed four catches on five targets, but they went for a total of 26 yards.
Poyer notched an interception for the Bills, but also broke up a pass and allowed only 26 total yards despite being thrown at five times. He made three defensive stops over the course of the game.
PFF Grade: 93.1
Elite Stat: Targeted four times, Joyner allowed just one catch for three yards.
Joyner was targeted four times, and caught as many of those passes himself (one) as he allowed Colts receivers to bring in. He also broke up a pass, and when thrown at gave up a passer rating of exactly zero.
SPECIAL TEAMERS
A few weeks ago it would have been a surprise for Tavecchio to even be on an NFL roster, but no kicker in the league was as impressive in the opening week of the regular season. He went four-for-four on field goals, including two-for-two from 50 yards and beyond.
There were some phenomenal performances from punters in the NFL this week, and no fewer than seven guys have a claim to a place on the team of the week. What King did was a little bit special though, with two of his four punts (one was called back due to a penalty) receiving the highest grade we give to an individual punt. His punts yielded just five return yards this week.
Matakevich played on both kickoffs and punts in the win over the Browns, and made one of the biggest plays of the game in blocking a punt that was recovered for a touchdown.
He earned his plaudits for his play on offense, but the Bears fourth round draft pick made an impact as a punt returner too. He didn't break any for longer than 17 yards, but his three punt returns netted an average of 15.0 yards per return.