New England Patriots 16, Denver Broncos 3
Here are the top-graded players and biggest storylines from New England's 16-3 win over Denver in Week 15:

Quarterback grade: Tom Brady, 72.9
Brady has one of most average performances of his season
While Tom Brady was better than his 48.5 percent completion rate suggests, it was clearly one of his most pedestrian performances of the season. Part of this was due to the dialed-back nature of the offense, as he attempted just one pass at least 20 yards downfield and completed just four in the intermediate, 10- to 19-yard range. He was also hampered by a combined seven drops and throwaways, his second-highest total of the season. His 66.2 QB rating was his lowest effort of the season by more than 20 points.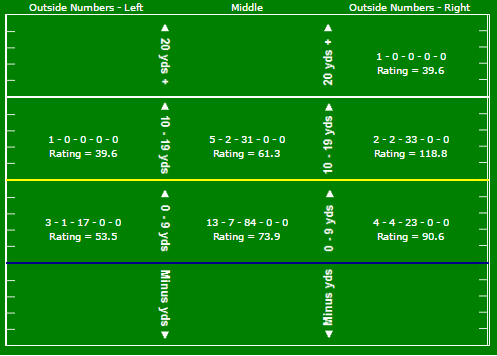 Top offensive grades:
OT Nate Solder, 83.8
 FB James Develin, 80.3
WR Julian Edelman, 78.6
OG Shaq Mason, 75.5
OT Marcus Cannon, 75.3
Patriots led by strong offensive line performance 
Considering the opponent, the New England offensive line had an outstanding day. While LG Joe Thuney had major struggles in pass protection with two sacks and three hurries allowed, the rest of the line yielded just one hit and five hurries. They were led by LT Nate Solder, who gave up just two hurries and was also solid as a run-blocker, and Thuney performed considerably better on run plays, posting the high run-block grade of the day for New England (81.2). While LeGarrette Blount scored the only touchdown on the day, it was Dion Lewis who led the Pats with 95 yards on 18 rushes. 51 of his yards and both of his forced missed tackles came on runs to either side of C David Andrews.
Top defensive grades:
CB Logan Ryan, 88.2
CB Malcolm Butler, 82.5
ED Trey Flowers, 80.6
S Devin McCourty, 79.5
DI Alan Branch, 78.4
New England pass rush, CB play shuts down Denver offense
New England's pass-rushers spent much of the afternoon in Denver's backfield, as they racked up four sacks, two hits and 14 hurries. They were led by Trey Flowers, who posted two sacks and three hurries by himself. In the secondary, both top CBs had excellent days for the Patriots. Logan Ryan and Malcolm Butler combined to give up six catches for just 58 yards, and Ryan added an interception and four defensive stops. 

Quarterback grade: Trevor Siemian, 52.5
Siemian has significant struggles in loss
With the run game posting just 58 yards, the pressure was on Trevor Siemian to solve the New England defense. He wasn't up to the task, however, as he struggled to get the ball to his outside receivers. He completed just three of 11 attempts outside the numbers and longer than 10 yards from the line of scrimmage for 40 yards, including going 0-for-2 on deep shots of at least 20 yards.
Top offensive grades:
OG Michael Schofield, 79.9
OT Russell Okung, 72.8
TE Jeff Heuerman, 71.9
WR Demaryius Thomas, 67.4
RB Justin Forsett, 65.5
Rough day for the offensive line
With the exception of RG Michael Schofield, the rest of the line had significant struggles on both run and pass blocks. The main culprits of Denver's lack of offensive output were RT Donald Stephenson, C Matt Paradis and LG Max Garcia, as the trio gave up three sacks and 13 total combined pressures while also not posting a run-block grade over 50. RBs Justin Forsett and Devontae Booker averaged just 3.4 yards per carry on the ground, and neither back was able to make a New England defender miss.
Top defensive grades:
ED Shane Ray, 81.6
LB Todd Davis, 80.1
S T.J. Ward, 77.4
CB Chris Harris Jr., 75.8
LB Corey Nelson, 75.3
Poor run defense up front allows New England to control pace of play
Shane Ray was the only Broncos defender able to consistently create pressure on his own (one sack and three hurries), and the starting defensive front had significant struggles getting off run blocks. NT Sylvester Williams and DEs Adam Gotsis and Jared Crick all posted run-defense grades under 50. One area in which the Denver defense did well was in tackling, as the entire unit missed just three on the day (two belonged to S T.J. Ward).
PFF Game-Ball Winner: Patriots DE Trey Flowers
PFF's player grading process includes multiple reviews, which may change the grade initially published in order to increase its accuracy. Learn more about how we grade and access grades for every player through each week of the NFL season by subscribing to Player Grades.