Coming in as the second installment of my "most-improved" series, I want to lay out a few caveats before diving into the list:
This list solely reflects the players with the greatest increase in PFF grade from 2015 to 2016, meaning most players here had to have poor/replacement-level 2015 seasons to make the cut.
This list only considers players who played enough snaps to qualify for a rank at their respective positions in both seasons. In A.J. Bouye's case, he played limited snaps in 2015, so for the purpose of this list, he wasn't considered eligible. I only included players who had a significant enough body of work in both 2015 and 2016.
With those issues out of the way, this list seeks to give credit to the players who had the biggest turnarounds from 2015 to 2016 on the defensive side of the ball.
Cornerback
1. Jamar Taylor, Cleveland Browns
2015 season grade: 36.7
2016 season grade: 82.8
Taylor was sent from Miami to Cleveland via swapping seventh-rounders during the 2016 NFL Draft. A key reason why he showed such drastic improvement had to do with how he was deployed. With the Dolphins, Taylor played only 5 percent of snaps in the slot. In Cleveland, he spent 32 percent of his snaps there. Because of this, he found more success shutting down out routes (51.3 passer rating allowed), slants (62.5), and crossing routes (48.8). After finding himself ranked 106th overall among CBs in 2015, Taylor emerged as our 19th-ranked CB in 2016.
2. Morris Claiborne, Dallas Cowboys (now with the Jets)
2015 season grade: 40.8
2016 season grade: 84.7
Injury-prone throughout his career, 2016 was more of the same for Claiborne in that regard – but his level of play improved significantly. Prior to 2016, he failed to allow a passer rating less than 94.3 in his coverage for a given season. During his 2016 campaign, Claiborne held QBs targeting him to a 63.0 rating (ranking eighth of 110 qualified CBs). What changed? Aside from playing in a much-improved Cowboys defense, another possibility is where he played the majority of his snaps. In 2015, he played 80 percent snaps at corner from the right side, compared to 89 percent of snaps at corner from the left side in 2016. Claiborne took his talents to New York, so take note of how Todd Bowles uses him and if he can stay healthy.
3. Brandon Flowers, San Diego Chargers
2015 season grade: 35.8
2016 season grade: 76.7
Despite playing only six games last season before suffering a concussion, Flowers' level of play in coverage, rushing the passer, and run defending saw a large uptick from 2015 to 2016. In the span of games Flowers did play (Weeks 1-3, 8-10), only six CBs (of 115 qualified) had a higher overall grade. The most interesting statistic from his 2016 season: he rushed the passer six times and generated five pressures. Despite players pass rushing at three times the rate or more, just seven CBs generated more total pressures than Flowers over the course of the entire season.
Safety
1. Maurice Alexander, Los Angeles Rams
2015 season grade: 44.6
2016 season grade: 83.4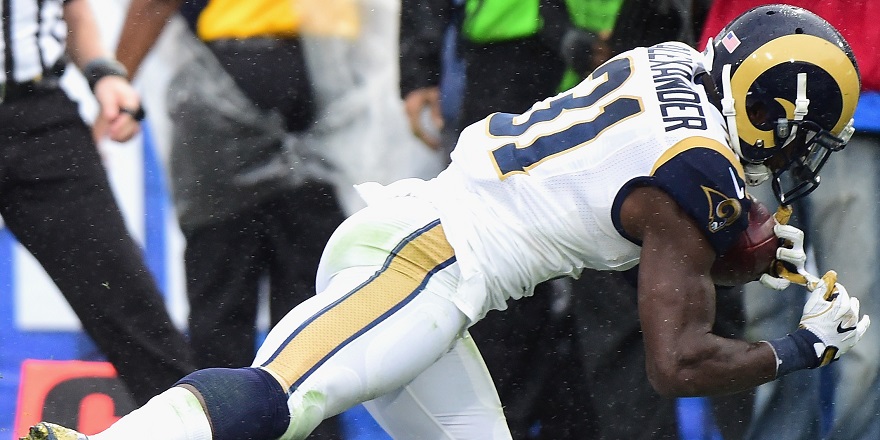 Alexander played nothing but special teams as a rookie in 2014. The next season, he got his shot on defense in Week 7 and ended up playing in every game to finish out the year. The Rams moved him all over the place; he spent 43 percent of his snaps as a free safety, and he struggled. Jump to 2016 and Alexander found his rhythm as the team's starting FS, playing over 75 percent of his snaps there. He displayed great coverage skills, as he was targeted once of every 32.4 coverage snaps (the fourth-best rate of 92 qualified safeties).
2. John Cyprien, Jacksonville Jaguars (now with the Titans)
2015 season grade: 50.7
2016 season grade: 87.8
Cyprien took his game to a whole new level this past season, finishing as our seventh-ranked safety overall, top-ranked against the run (98.8). During his three seasons prior to 2016, Cyprien failed to finish higher than 52nd and 34th in these categories, respectively. What clicked? In 2016, he was used like a chess piece, playing 11 percent of his snaps as an edge rusher, 38 percent as a linebacker, 27 as a cornerback, and 24 as a safety. In contrast, Cyprien was used less creatively in 2015 – playing more than half his snaps (55 percent) at safety. The Titans got themselves a versatile playmaker, who flashed big-time against the run (27 run stops ranked T-first among safeties) in 2016.
3. Landon Collins, New York Giants
2015 season grade: 58.0
2016 season grade: 91.7
Our 2016 Breakout Player award winner, Collins went from an ineffective rookie still learning the game, to the best player on one of the league's most dangerous defenses. Like the safeties listed above, much of his improvement can be accredited to how he was utilized. In 2015, he played 56 percent of his snaps at FS. In 2016, he played more near the line of scrimmage, spending only 37 percent of his snaps at FS. This helped him make a ton of plays all over the field – including 49 stops (ranked first among safeties), 70.1 passer rating in his coverage (20th), 5 INTs (T-second), and 6 PDs (T-fourth). Collins took the leap to an elite level and has all the tools to be a game-changing safety for years to come.
Linebacker
1. Perry Riley, Oakland Raiders
2015 season grade: 36.9
2016 season grade: 84.8
In moving from Washington to Oakland, Riley saw the most drastic increase in PFF grade among all 705 "list-eligible" players, not just linebackers. After failing to earn an overall grade higher than 50 since 2013, Riley's turnaround was a bit unexpected, but he truly revamped his game this past season. Stats may not tell the entire story, but for Riley, they do the job (rank in terms of qualified ILBs):
| | | | |
| --- | --- | --- | --- |
| | Tackling Efficiency | Coverage Snaps per Reception Allowed | Pass Rush Productivity |
| 2015 | 11.5 (18th of 70) | 10.0 (29th of 60) | 12.5 (T-25th of 60) |
| 2016 | 27.5 (8th of 68) | 14.7 (T-6th of 54) | 14.2           (18th of 56) |
2. Nigel Bradham, Philadelphia Eagles
2015 season grade: 39.2
2016 season grade: 86.5
Another case of changing scenery, Bradham's 2016 season with the Eagles was very impressive. Like Riley, his 2015 campaign featured below-average play across the board. Bradham played the most snaps in his career (989), while remaining consistent defending the run and in pass coverage. Particularly shining in coverage, he allowed only 0.80 yards per snap in coverage (third among 4-3 OLBs). On top of this, Bradham racked up 24 run stops, compared to only 14 in 2015.
3. Kwon Alexander, Tampa Bay Buccaneers
2015 season grade: 31.6
2016 season grade: 77.3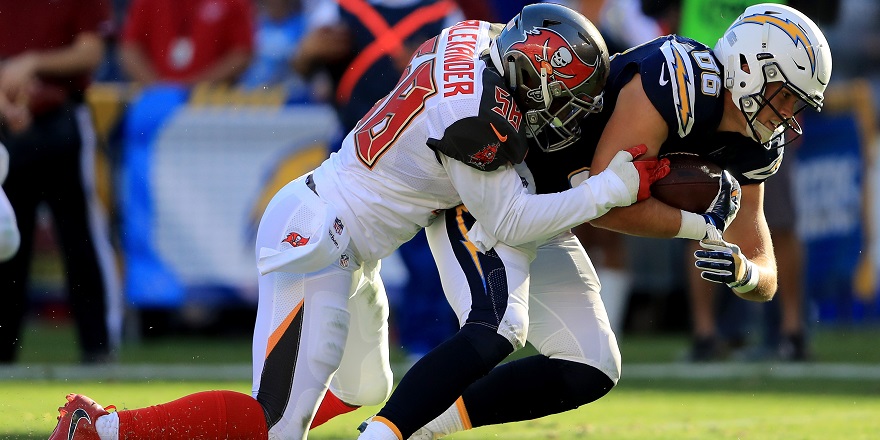 Alexander's rookie season in 2015 was a letdown. He was thrown into the fire as a fourth-round selection, making 12 starts before serving a four-game suspension for violating the league's performance-enhancing substance policy. While he flashed a bit as a pass-rusher, he was ineffective both in run defense and in coverage. His tackling efficiency played a large part in his disappointing rookie campaign. Alexander was among the worst in the league (67th of 69 ILBs) bringing down the ball carrier, missing a tackle for every 4.3 made. In 2016, he made a significant leap forward by cleaning up his tackling (7.3 tackling efficiency).
Edge rusher
1. Mario Williams, Miami Dolphins
2015 season grade: 38.5
2016 season grade: 70.7
From 2007 to 2014, Mario Williams didn't record a season grade lower than 80. His last season in Buffalo was a rough year for him disrupting the QB, as he finished with the 46th-ranked pass-rush productivity (5.6) among 51 qualified 4-3 DEs. This past season with Miami, Williams was more efficient causing pressure; he earned a 7.3 pass-rush productivity mark that ranked 36th of 53 qualified. Compared to 2015 (96 percent of pass-rush snaps from left side), Williams split his time more evenly on the left (69 percent) and right side (31) in 2016. He's seen his snap count dip over the past couple seasons, but Williams can still be fairly effective as a situational pass-rusher for teams in need.
2. Shane Ray, Denver Broncos
2015 season grade: 45.8
2016 season grade: 77.1
After being selected 23rd overall in the 2015 NFL Draft, Ray joined a defense with expectations of intensifying their already-dominant pass rush. However, he struggled in his rookie season, managing to generate only 25 pressures (4 sacks, 5 QB hits, 16 QB hurries) across 229 pass-rush snaps. Ray was much more efficient this past season, accumulating 45 pressures (10 sacks, 13 QB hits, 22 QB hurries) on 359 pass rush snaps. Among all second-year 3-4 OLBs, Ray's 11.1 pass-rush productivity ranked first. With a counterpart as game-changing as Von Miller, Broncos fans should feel confident in their pass-rushing duo off the edge going forward.
3. Chris Long, New England Patriots (now with Eagles)
2015 season grade: 43.0
2016 season grade: 70.3
A change of scenery can do a player wonders. In the case of leaving the Rams for the Patriots, Long experienced a significant improvement in his play. From 2008 to 2013, he was relatively productive, ranking as high as 20th among edge rushers. His grades plummeted in 2014-2015 before his resurgence in 2016. Playing in front of one of the league's most dominant coverage units, Long generated 53 QB hurries, the fourth-most among 51 qualified 4-3 DEs. In 2015, he rushed the passer from the left side 96 percent of the time. In 2016, he rushed from the left side only 28 percent of the time. As Connor Barwin's replacement, Eagles fans should be excited for Long as a likely upgrade.
Interior defender
1. Cullen Jenkins, Washington Redskins
2015 season grade: 45.4
2016 season grade: 71.7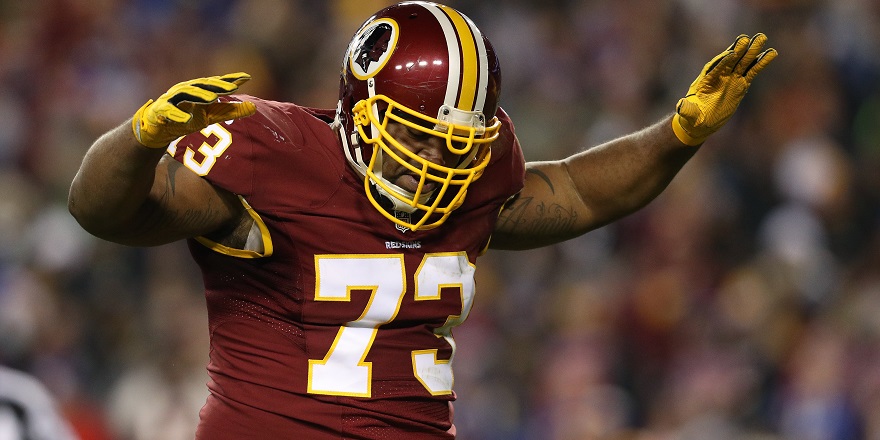 Jenkins experienced quite a bit of change from 2015 to 2016. Not only did he jump from one NFC East team to another, but he was utilized in a different defensive scheme. From the Giants' 4-3 to the Redskins' 3-4, Jenkins stayed steady in terms of pass rushing production. Mainly deployed as a rotational lineman (played 30 percent of snaps), the increase in his run-defense grade is what pushed him on this list. In 2015, Jenkins earned his lowest run grade (41.0) since 2006, finishing the season with a 4.4 run-stop percentage that ranked 59th of 71 qualified DTs. In 2016, he more than doubled his output, posting a 9.9 run-stop percentage. At 36 years old, it's unclear how much Jenkins has left in the tank, but a bounceback 2016 season and general consistency throughout his career should land him a job somewhere soon.
2. Abry Jones, Jacksonville Jaguars
2015 season grade: 56.6
2016 season grade: 81.5
What a breakout season for Abry Jones, huh? There's no doubt he earned his four-year contract because of his much-improved play in 2016. Prior to this past season, Jones failed to rank higher than 82nd at his position until finishing as our 21st-ranked interior defender this year. He saw an uptick in pass-rush effectiveness, but, like Jenkins, the main reason for his better play was due to his prowess in the run game. In 2015, Jones made a run stop on only 5.1 percent of run snaps and finished the season with 10 run stops. 2016 was a different story, as he totaled 22 run stops, finishing with a run-stop percentage of 8.7 that ranked 20th among 75 qualified interior defenders.
3. Tom Johnson, Minnesota Vikings
2015 season grade: 48.0
2016 season grade: 72.7
Johnson's career, statistically, has been a roller-coaster ride. Every year since 2011, he has experienced an increase in PFF grade followed a decrease. Because it was an even year, Johnson was on the upswing and had himself a relatively solid 2016 season. He is no different from the other two interior defenders above him, in that his improvement in play was a result of his increased production in the run game. Known more as an interior pass-rusher, Vikings fans hope he can break his up-and-down trend and put it all together for his best season yet in his upcoming contract year.