The stigma of being a slot receiver used to be considered a knock on pass catchers who were "too small" to play outside or "more quick than fast." Then the New England Patriots deployed Wes Welker in the slot, and he revolutionized the position forever. Welker is still the only player in the PFF era (2006 – present) to record 90 or more receptions from the slot in a season – and he did it four times.
Welker opened the eyes of the NFL, showing what a slot receiver could do for an offense and paving the way for players like Jarvis Landry, who recently signed a lucrative contract extension after spending 70.7% of his career snaps in the slot. Larry Fitzgerald is another player whose career has been prolonged because of the slot position, as the Arizona Cardinals great has spent the majority of the past five seasons in the slot after he spent his first 10 seasons lining up out wide.
In today's NFL, many of the top wide receivers in the league spend time both in the slot as well as out wide. Of the top-10 highest-graded wide receivers, five of them spent at least 30% of their snaps in the slot and eight of them saw at least 20% of their targets from an inside alignment.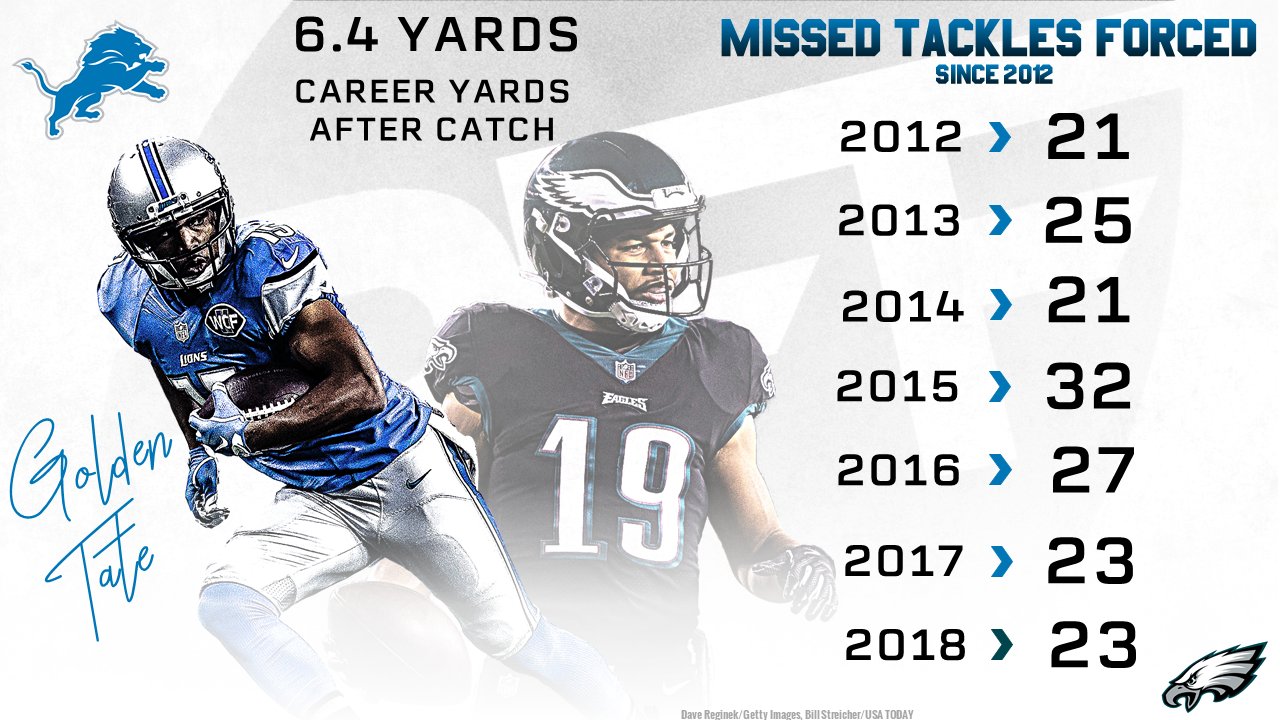 Shortly after the New York Giants traded away star wide receiver Odell Beckham Jr. to the Cleveland Browns, the team signed one of the first "slot receivers" that comes to mind after recent years. Since 2014, Golden Tate has been known for a few aspects of his game: making defenders miss, gaining yards after the catch, and thriving in the slot.
But that hasn't always been the case for the Notre Dame alumnus. In the first four years of his career with the Seattle Seahawks, Tate spent 77.9% of his snaps on the outside, where he earned an 85.7 overall grade with an 85.3 receiving grade. Even with the combination of Matt Hasselbeck, Tarvaris Jackson, and Charlie Whitehurst at quarterback from 2010 to 2011, he was still able to earn an impressive 1.85 yards per route run and a 108.5 passer rating when targeted out wide over the first three years of his career. Among the 111 wide receivers with at least 500 snaps out wide in that span, Tate's receiving grade ranked tied for 15th, and his passer rating when targeted ranked sixth.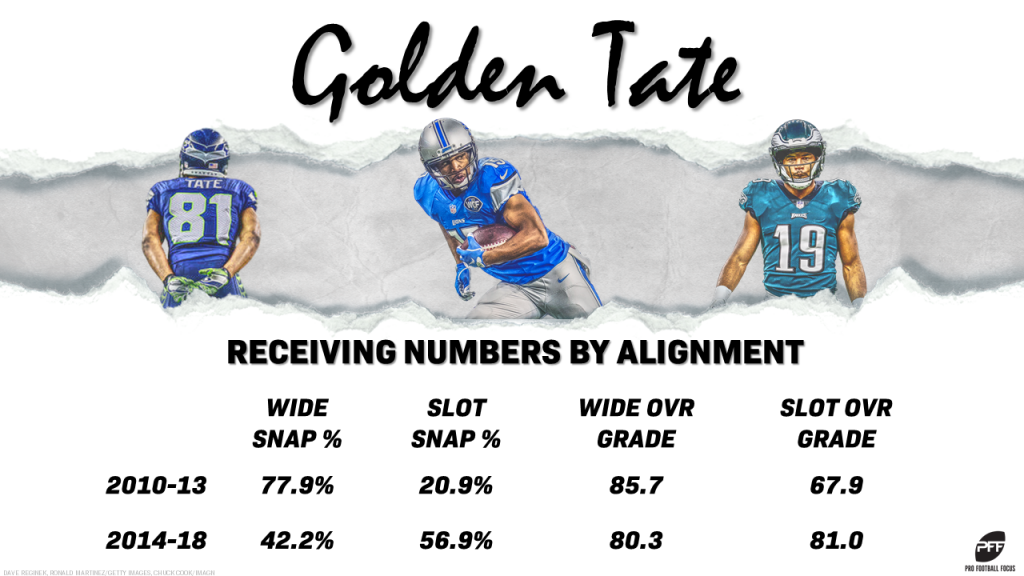 When you compare that to Tate's snaps in the slot over that time, which is admittedly a small sample size, you can see his overall grade dropped to 67.9, and his receiving grade dropped nearly 20 points to 69.3. His yards per route run average also dropped to 1.17, while his passer rating when targeted plummeted to 68.8.
After his departure from Seattle prior to the 2014 season, Tate joined the Detroit Lions, and he went on to spend the next four-plus years reinventing himself in the slot before a midseason trade to the Philadelphia Eagles in 2018. Since that 2014 campaign, Tate has spent 56.9% of his snaps in the slot and improved his overall and receiving grades both to 81.0 to go along with a 99.7 passer rating when targeted and an average of 1.70 yards per route run from the slot – a considerable improvement, and he has since become known as one of the league's premier slot receivers because of it.
Given his reputation then, one would suspect that Tate's play from outside alignment has dropped off in recent seasons, but the reality is that this is far from the truth, as Tate is still able to produce on the outside as well as he can from the inside. When lined up out wide over the past five seasons, Tate has earned an 80.3 overall grade and 79.1 receiving grade; his passer rating when targeted and yards per route run figure nearly mimic his numbers from the slot, with a 96.8 WR rating and an average of 1.85 yards per route run from the outside.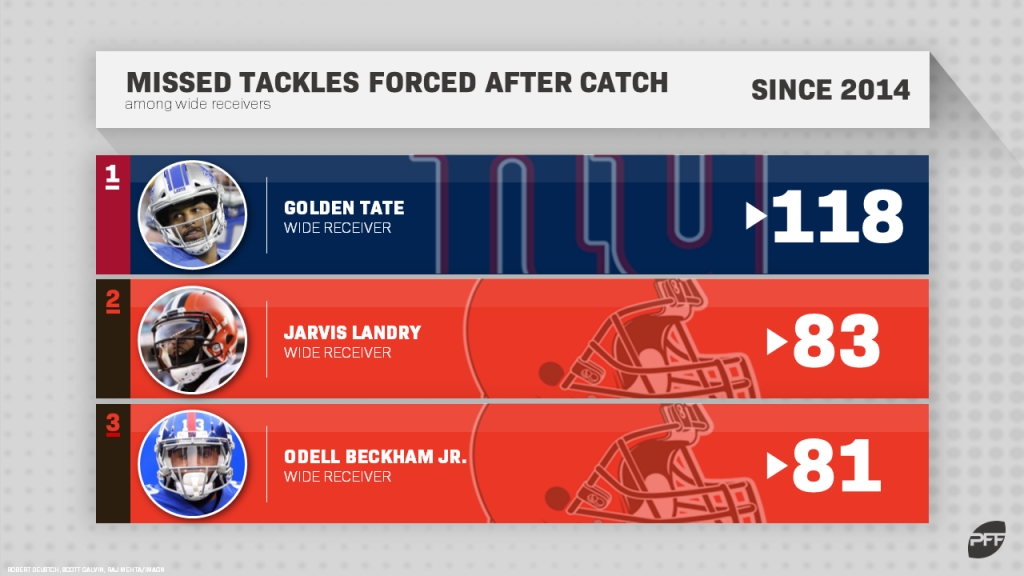 It may even be an understatement, but Tate has been nothing short of a menace after the catch since 2014, forcing 118 missed tackles – 35 more than the next closest wide receiver. That ability to make defenders miss is what has helped Tate gain a league-leading 2,936 yards after the catch since 2014, which is over 300 yards more than the next closest player at the position.
Thought out his career, Tate has developed into one of the most well-rounded players in the entire NFL. Not many receivers can produce at this level all around the field: he is one of only two active players with at least 2,000 snaps from both the slot and out wide who have earned at least an 80.0 grade at both. And no matter where Tate has lined up, he's proved to be one of the most elusive players in the game, as he's forced a missed tackle every 0.27 touches out wide and a missed tackle every 0.29 touches inside – both of which are the most by a receiver since 2006.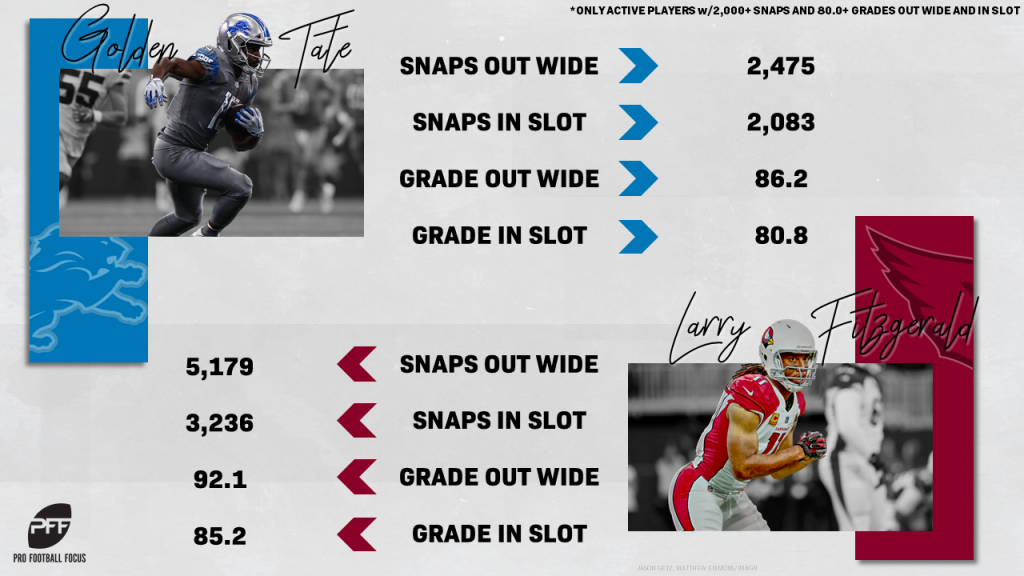 This will make him an excellent complement to new teammate Sterling Shepards' skill set. Tate, a more balanced receiver, has earned a career grade of 86.2 out wide compared to an 80.8 in the slot, whereas Shepard has fared much better on the inside, as his overall grade drops from 70.8 to 63.8 when he's been moved to the outside.
Tate may have the label of being a slot receiver, but he is much more than that. Like few receivers in the league, he has been able to produce regardless of where he's lined up, and at this stage, there is little doubt that he's the league's best when it comes to making defenders miss, when it comes to gaining yards after the catch, and when it comes to turning short passes into significant gains. The Giants may have lost one of the flashiest playmakers at the position, but they also acquired one of the most underrated in the same offseason.