The AFC North has had it rough out of the gate in 2019, to say the least. Entering Sunday, the division owned the worst combined record of the eight — with the Pittsburgh Steelers and Cincinnati Bengals leading the charge at 0-3 apiece.

Luckily, the AFC North is guaranteed to go a cool .500 this week with two intra-division bouts taking place. And perhaps even more fortunately for the Bengals and Steelers, one of the two struggling squads will walk away with their first win of the year, barring a tie.
Mason Rudolph is set to make his second career start, looking to make amends for a 32.9 game grade in Week 3 that placed him firmly in last place among 32 qualifying quarterbacks. Meanwhile, Andy Dalton has been tasked with battling back from multiple deficits this season and has already accumulated more than 35% of his passing attempts from 2018.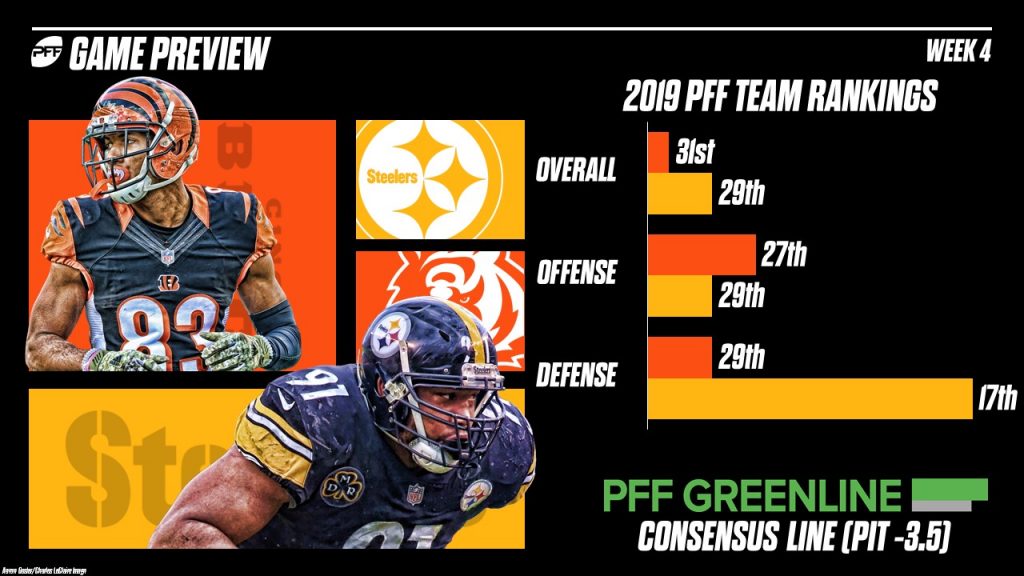 MASON RUDOLPH: WELCOME TO PRIMETIME
Rudolph wasn't half bad in his Week 2 relief appearance against the Seattle Seahawks, completing 12-of-19 attempts while going without any turnover-worthy plays. It was a glimpse at a risk-averse playstyle that some may have expected him to grow out of as he got more comfortable entering Week 3. That wasn't the case, as Rudolph had 10 of his 14 completions come from behind the line of scrimmage against the San Francisco 49ers. And when he did throw 10 or more yards downfield, he went just 2-of-9 — albeit for two touchdowns.
Now Rudolph will have the world watching as he stands under center Monday night, eager to see if the Steelers' 2019 season can be salvaged with him at the helm. Whether it was the play-calling or Rudolph's own decision-making against the 49ers, the second-year signal-caller has to let loose more often against Cincinnati. 
Just 10 of Rudolph's 46 pass attempts this season have come on intermediate routes (10-19 yards), where JuJu Smith-Schuster operated well in 2018. Smith-Schuster hauled in 6-of-10 contested catches in that range — and Rudolph needs to take advantage of his skill set by giving him a chance Monday night and embracing what will be a high-tempo atmosphere in primetime.
ANDY DALTON: TIME TO SHOW UP IN PRIMETIME
Dalton has been unsuccessful in his past four Monday night football attempts and has never won on Sunday night. The ninth-year quarterback has got to figure it out in big games; he's also 0-4 in the playoffs. Realistically, this is a less-than-ideal battle between two 0-3 teams. But it's also a chance to get back on track.
For Dalton, that means cleaning up accuracy woes and working on his pocket presence when there's no pressure. His adjusted completion percentage through three weeks, 75.2%, ranks 21st and his quarterback rating in a clean pocket is similarly concerning at 85.6 (32nd). 
However, not all of Dalton's play in 2019 has been insufficient. He's been one of the league's best under pressure, producing a 96.1 passer rating that ranks ninth after three weeks. And he's been developing a rapport with Tyler Boyd and John Ross while A.J. Green remains sidelined — Boyd has hauled in 80% of his targets, and Ross has generated a passer rating when targeted of 133.7.
WHICH RUNNING BACK STEPS UP IN THE PASS GAME?
Last season, Joe Mixon hauled in 43 passes while James Conner reeled in 55. Both of those totals ranked top-20 among running backs during the regular season, helping to buoy their respective passing games. Thus far in 2019, Conner has 11 receptions and is on pace to fall well short of his 497 receiving yards from last year. Mixon is in the same boat, lagging behind with just seven receptions through three weeks.
Players such as Austin Ekeler, Christian McCaffrey and Alvin Kamara — among many others — have been lethal weapons as receivers, and both the Bengals and Steelers could benefit from similar production. That said, it's up to the coordinators and the quarterbacks to get Conner and Mixon involved. Doing so effectively could prove to be the difference.
TWO WOEFUL COVERAGE UNITS WILL LOOK TO REVERSE THE NARRATIVE
Both the Steelers' and Bengals' coverage units rank in the bottom 10 of the NFL in passer rating allowed to opposing quarterbacks. And neither unit has been proactive in sticking with receivers. The Steelers rank 28th in forced incompletion rate (4.0%) and the Bengals sit right behind them in 29th (3.9%).
In his Steelers' debut last week, Minkah Fitzpatrick was active, forcing a fumble and snagging an interception. But Pittsburgh's linebackers were torched for 11 completions on 12 attempts for 115 yards and a touchdown. Of the five Steelers players who have faced 10 or more targets this season, just one owns a coverage grade higher than 55.0 (Steven Nelson, 78.0).
As for the Bengals, they employ a similarly dreadful linebacking unit in coverage.  On the backend, William Jackson III and Dre Kirkpatrick haven't quite lived up to expectations either, combining to allow 17 receptions for 283 yards and three touchdowns. The cornerback group has been fairly stout on deep throws, though, allowing just 7-of-16 to be completed for just one touchdown and an interception en route to an 84.4 passer rating when targeted (11th).