A position made great by the likes of Ed Reed, Ronnie Lott and Brian Dawkins, free safety is an easy role to play in theory, yet few can lay claim to having all the physical gifts it takes to play it well. A dominant single-high safety possesses exceptional range, a high football IQ and next-level instincts, and if called for, he will have the ability to cover the field in an instant, either as the last line of defense against the deep ball or as over-the-top support for a cornerback underneath.
Simply put, having an elite free safety roaming around the back end of the defense gives a team a whole lot of options defensively. And few have shown as much promise at the position over the last two seasons than Buffalo Bills safety Micah Hyde.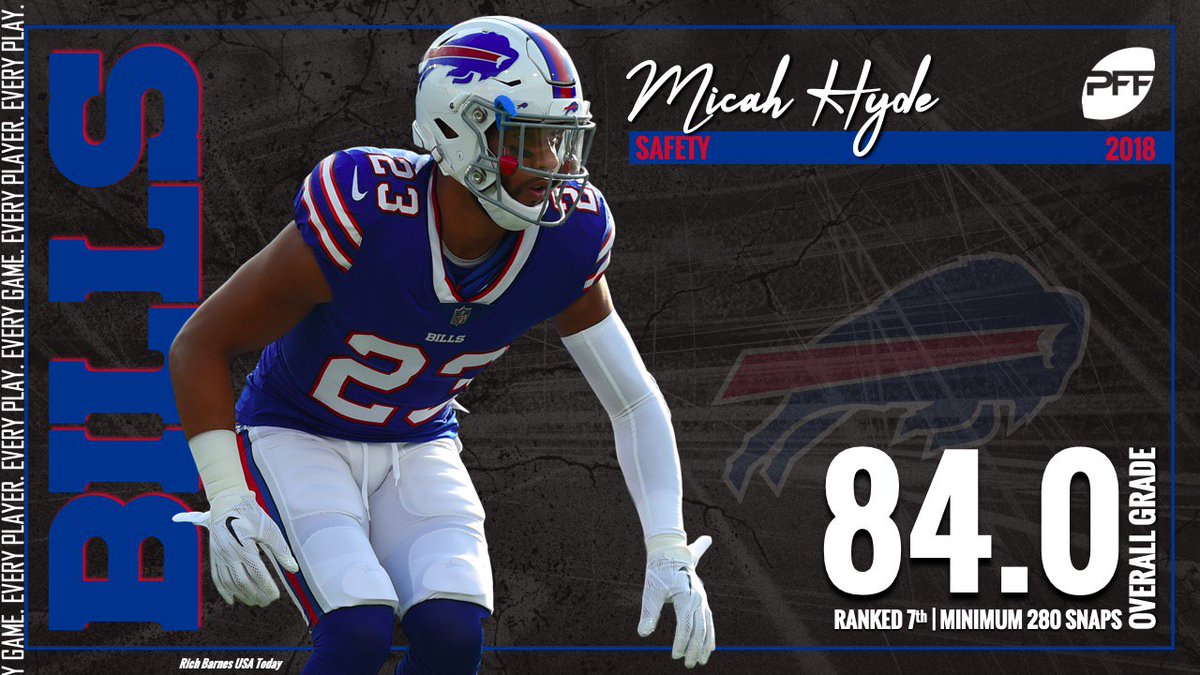 But things didn't always look so bright for the former Iowa Hawkeye. Initially selected by the Green Bay Packers the fifth round of the 2013 NFL Draft, Hyde was handed the slot cornerback role straight out of the gate. From 2013 to his final season in Green Bay in 2016, Hyde played 1,344 of his 2,648 (50.8%) defensive snaps as a slot cornerback, and he spent a combined 919 defensive snaps (37.7%) either in the box, as a wide cornerback or on the defensive line. He was asked to line up at free safety on just 383 defensive snaps during his time with the Packers — only 14.5% of his total defensive snaps in that span.
The Iowa product was effective, yet unspectacular in this role with Green Bay. When lined up as a cornerback, either in the slot or out wide — alignments that accounted for 1,189 of his 1,879 coverage snaps over that period — Hyde allowed 165 receptions from 244 targets for 1,795 yards, 13 touchdowns and eight interceptions. His 66.2 coverage grade ranked 62nd among the 146 cornerbacks with at least 100 targets over that four-year span, while his 9.3% forced incompletion percentage and his 96.3 passer rating allowed ranked tied for 90th and 87th, respectively, among that same group of players.
Ultimately, the Packers chose to move on from Hyde at the conclusion of the 2016 season without ever really seeing just what he was capable of at his natural position — free safety.
Luckily for Hyde — and Buffalo, as it happens —the Bills recognized just what they had in the then fifth-year defensive back, and they were quick to use him to his strengths. In his first year in Buffalo, Hyde, for the first time of his career, was asked to play more than 150 snaps at the free safety position — and he exploded.
Playing 733 of his 1,124 defensive snaps at free safety in Year 1 with Buffalo, Hyde was targeted 43 times on the year, but he allowed only 26 catches for 282 yards, and for the first time in his career, he was able to corral more interceptions (5) than the number of touchdowns he allowed in coverage (3). He was able to force an incompletion, either by way of a pass breakup, an interception or by close coverage, on 21.4% of his targets on the year which was the fifth-highest rate among the 41 safeties with at least 30 targets in coverage, while his 65.9 passer rating allowed ranked fourth among that very same group of players.
His work at free safety alone that year earned a coverage grade of 91.6 — the seventh-best single-season grade ever recorded by a player with at least 300 snaps at free safety. Jairus Byrd (2012), Ed Reed (2009), Eddie Jackson (2018), Charles Woodson (2015), Devin McCourty (2016) and O.J. Atogwe (2007) are the only safeties who have recorded a better single-season coverage grade at free safety than Hyde did in 2017 — and that list spans 860 players across 13 seasons.
It wasn't quite as jaw-dropping, but Hyde's 2018 season still showed much of the same. This time playing 531-of-899 snaps at free safety, Hyde proceeded to allow 10 receptions from 13 targets in coverage, but seven of those receptions resulted in a defensive stop, and one of those targets ended in an interception. While it wasn't quite the groundbreaking mark that we had seen the season prior, Hyde's free-safety coverage grade of 80.0 was good for eighth among the 57 safeties who played at least 200 coverage snaps as a free safety in 2018.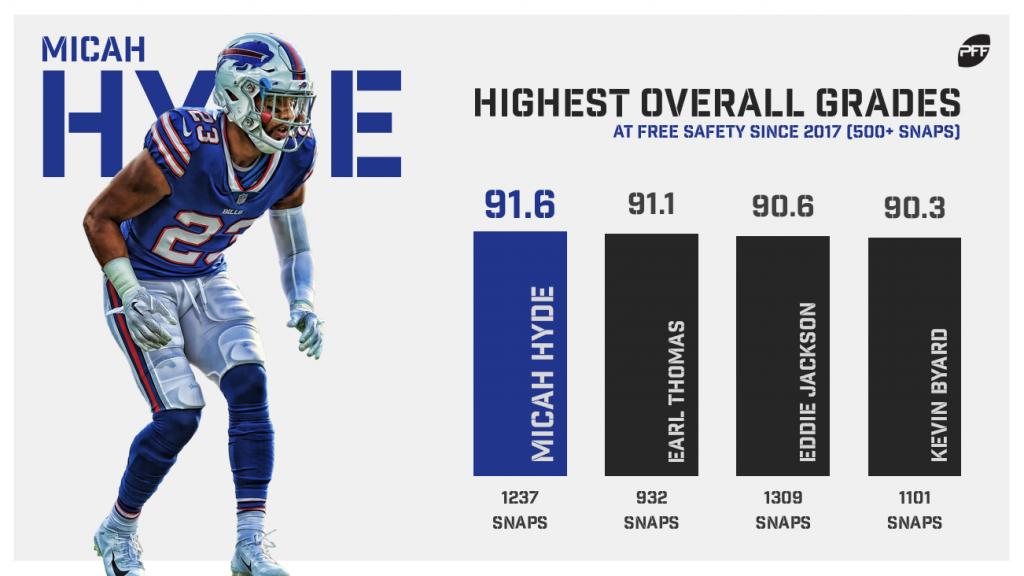 From middle-of-the-pack slot cornerback to superstar-caliber free safety, Hyde's work at the back end of the Bills' defense has quite simply been the best in the league over the last two seasons. Over that time, Hyde's overall grade of 91.6 at the position beats out a number of well-established stars, players like Earl Thomas, Eddie Jackson and Tennessee's Kevin Byard.
As one of the league's premier playmakers in coverage, the Iowa product has allowed just 18-of-31 throws into his coverage at free safety to be completed, and he's yielded just 174 passing yards, two touchdowns and just seven first downs in the process. His 11 combined pass breakups and interceptions are the second-most among all free safeties in that span, while his defensive success rate (forced incompletions+coverage stops/targets) of 58.1%, his forced incompletion percentage of 22.6% and his 55.8 passer rating allowed over that span rank third, eighth and sixth, respectively, among players with at least 15 targets in that span.
On throws of 20-plus yards over that same period, Hyde has allowed a single reception from nine targets; three of those targets ended in interceptions, another one ended in a dropped interception and another two resulted in pass breakups — if that doesn't tell you how much of a difference-maker he's been for the Bills at the top of the defense, nothing will.
The free safety position has been home to many greats over the past decade-plus. The best of the bunch needs no introduction, while the Earl Thomases and the Eddie Jacksons of the world will continue to catch the attention of fans for as long as they can keep making splash plays. Cast in that shadow is Micah Hyde, but if he can keep up this incredible run heading into the 2019 season, he will, rightfully, finally get to be spoken about in the same breath as those greats.