Melvin Gordon, the 6-foot-1, 215-pound former first-round pick, came into the season expected to take the lion's share of touches coming out of the Los Angeles Chargers' backfield. And while he does own 68.7 percent of the Bolts' total running back opportunities (attempts + targets), Gordon's backfield counterpart, Austin Ekeler, is proving to be one of the most efficient backs in football.
Together, Gordon and Ekeler stand tall as the NFL's best tandem of running backs. Ekeler leads all running backs with at least 70 offensive snaps in overall grade at 88.0 – 8.7 grade points above all other qualifying backs – and Gordon ranks T-16th (72.7) through Week 5. Ekeler also ranks above Gordon in forced missed tackles per touch (0.292) and yards after contact per attempt (3.94) so far this season.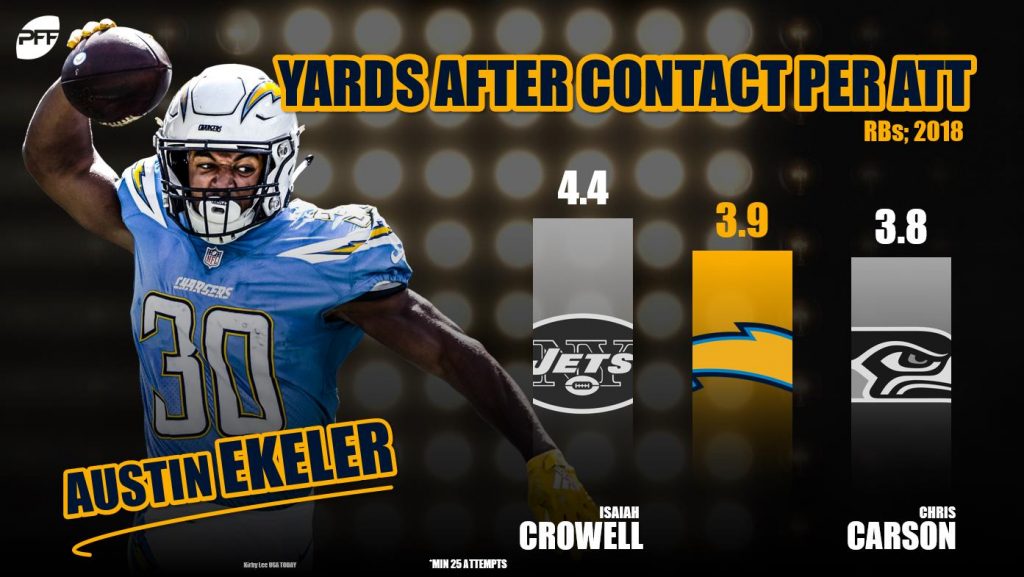 Ekeler, despite his slight, 5-foot-10, 200-pound frame, is one of the best backs in football when it comes to earning yards through early adversity. The undrafted, Western State Colorado product has averaged 3.81 yards after contact across the 16 attempts he's been contacted at or behind the line of scrimmage, leading all qualifying NFL backs. He also ranks eighth in percentage of carries he's remained upright through first contact (35.3).
Gordon isn't far behind his buddy Ekeler, either. He ranks third in percentage of carries he's remained upright through first contact (37.0) and T-fifth in forced missed tackles per rush (0.247).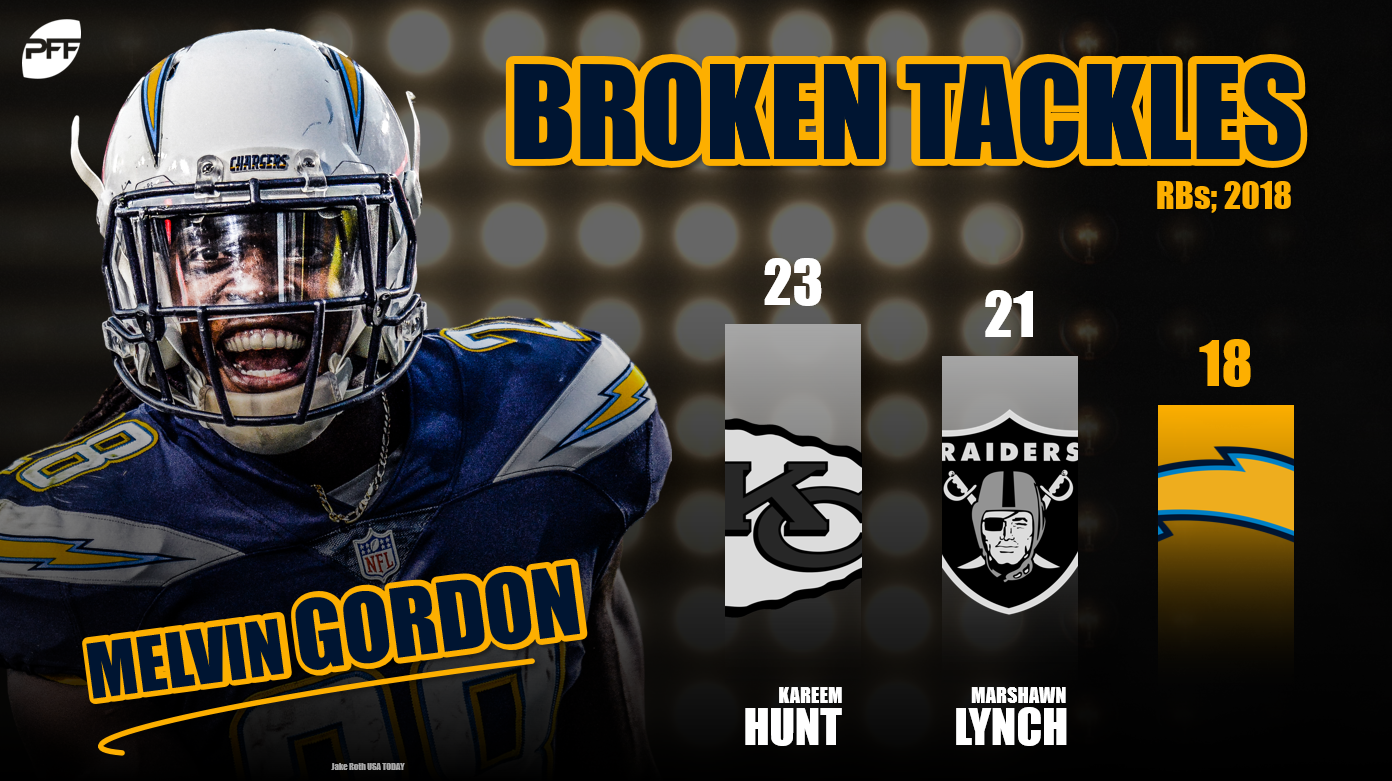 In addition to earning yards after first contact and forcing missed tackles, both Ekeler and Gordon have been among the league's best pass-catchers out of the backfield. Among the 69 NFL backs with at least five targets this season, Ekeler (3.51) and Gordon (2.35) rank first and seventh in yards per route run, respectively. As a duo, Ekeler and Gordon have averaged a whopping 2.75 yards per route run, which leads all top running back tandems in the NFL.
Chicago Bears running backs Jordan Howard and Tarik Cohen, who have earned 77.1 and 73.3 overall grades, respectively, are the only other NFL tandem playing close to the level of Gordon and Ekeler through Week 5. However, the Windy City duo ranks just seventh in yards per route run (1.78), and neither of the two ranks ahead of even Gordon in forced missed tackles per touch. In fact, Cohen (0.195) ranks just 20th, and Howard ranks 44th at 0.108.
The split may not be 50-50 like dominant duos of days past, but Gordon and Ekeler are playing at a level where both are deserving of a lion's share of praise – if not touches.